This Sunday, the 6-3 New York Giants will take on the 3-5 Cincinnati Bengals. The Giants did the Bengals no favors last week by losing to their biggest rival, the Pittsburgh Steelers.

This week the Giants will continue to make Bengals fans unhappy by garnering their seventh win of the season. The Bengal will fall to 3-6 and be effectively removed from the playoff hunt. Under the current format, no NFL team has reached the playoffs after a 3-6 start.

The Bengals are a solid team that plays complementary football. The last time they faced the Giants, they beat them 23-22. They boast a young and talented offense—led by sophomore stars A.J. Green and Andy Dalton. Their defense is more veteran and has been solid for the past two seasons.

Despite the opposition, the Giants are in a strong position to pull out the win and extend their lead in the NFC East. Here are the key aspects of the game to watch.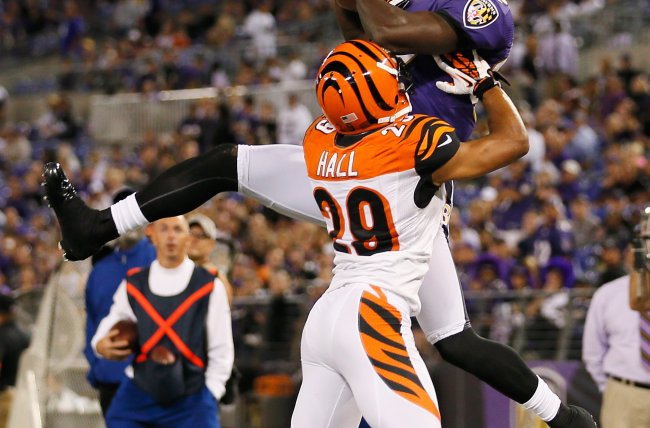 Rob Carr/Getty Images
The Bengals Secondary
The secondary in Cincinnati is not as good as it was last year. They are giving up 7.9 yards per pass attempt as a team, which is seventh worst in the NFL. Their defense as a whole has not been executing as well as they did 2011. The biggest difference has been big-impact plays. The Bengals have been giving up too many long-yardage plays, both on the ground and in the air.
Eli Manning and the Giants will be looking to take advantage with some of those big plays through the air. Running back Ahmad Bradshaw does not break off a lot of big runs, but Victor Cruz and the rest of the Giants receivers have no problem doing just that.
Hakeem Nicks will not be playing on Sunday, which will not help. Said head coach Tom Coughlin:
He had been doing some practicing. It is not a setback. I think what is going to happen is we are going to try to rest him this week and then through the bye and hopefully we get him back.
Regardless, the depth New York has at wide receiver will be enough. In addition to Cruz, Ramses Barden, Reuben Randle and Domenik Hixon have all come up big at times this season.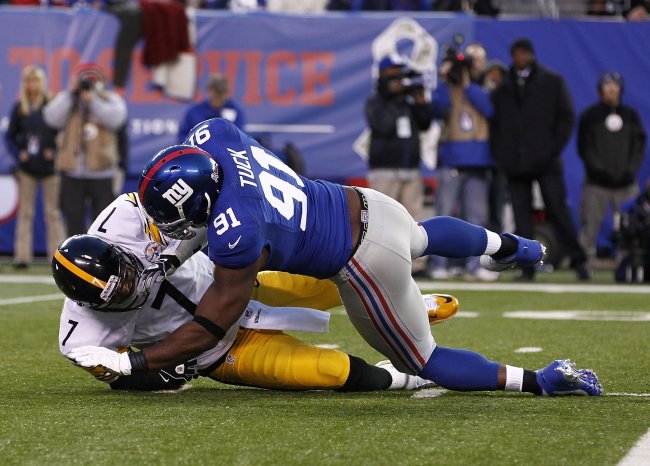 Jeff Zelevansky/Getty Images
The Giants Pass Rush
The New York pass rush has not been spectacular yet this season, but it is getting there. They added four sacks and 14 pressures last week against the Steelers. They are currently sixth in the NFL in sack percentage on the season.
Yet, they still have significant room for improvement. Veterans Justin Tuck and Osi Umenyiora were both subpar for the first half of the season. They both rank well below average so far this year. All the Giants need from them is mediocre play to suddenly be even better than they already have been. Third-year star Jason Pierre-Paul has been great (as expected) but could use some help from his veteran teammates.
Eli is Fine
During Eli Manning's supposed slump, the Giants are 4-1 in their last five games, averaging 29 points per game. That is some pretty good offense for a slump. If Manning continues his "slump," then you can expect him to put plenty of points on the board. If he breaks out of the slump, then I guess you should expect him to be even better.
Manning is having a somewhat quiet but productive year. He is seventh in the NFL in yards per attempt and second in total passing yards. He is rated sixth overall in the passing game by Pro Football Focus, behind Matt Ryan, Tom Brady, Peyton Manning, Aaron Rodgers and Drew Brees. The Bengals—who have given up 240 yards per game through the air—can be passed on.
The Pick
The Giants will win this game and progress to 7-3 heading into their bye week. During the bye they will need to get prepared for a nasty closing stretch, including the Green Bay Packers, Atlanta Falcons, Baltimore Ravens and finally the rival Philadelphia Eagles, who beat them in Week 4.
Last week's picks: 4-1

Adam Waksman is a featured columnist for the Bleacher Report New York Jets community. Be sure to follow Adam on Twitter to receive updates right away.