Breaking Down the Road to the NFL Playoffs for the Steelers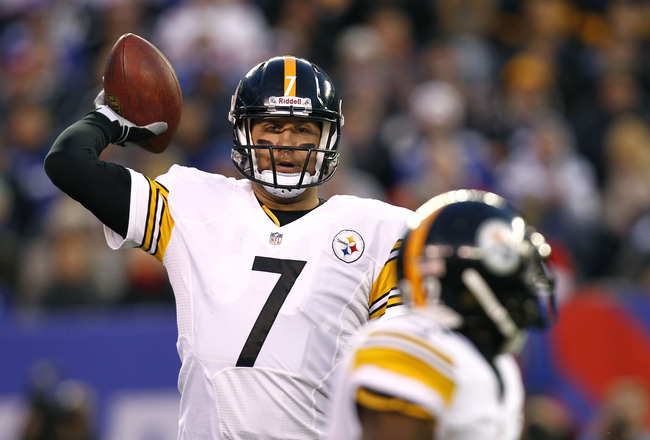 Jeff Zelevansky/Getty Images
The Pittsburgh Steelers are coming together at the right time.
After starting the season 2-3, with terrible road losses in Tennessee and Oakland, all looked lost for a team many deemed "old and slow." But since the loss to the Titans, Pittsburgh has rattled off three-straight wins over the Redskins, Bengals and Giants, two of which came on the road.
With half of the season finished, the Steelers will play five of their final eight games at Heinz field and five more games in the division.
So, let's break down the road to the playoffs for the Steelers.
Week 10: Kansas City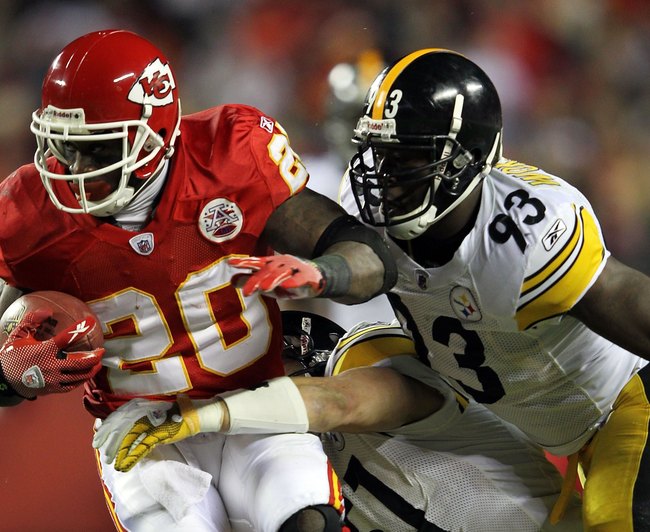 Jamie Squire/Getty Images
When: Monday, November 12th, 8:30 p.m.
TV: Monday Night Football, ESPN
I'm sure, earlier on in the year, this game was projected to be an exciting matchup between two teams in Playoff contention. But Kansas City has been a miserable team all season and has only been able to pull of one win.
The Chiefs are 29th in the league in points per game, averaging just over 16, but they're third best best in the NFL on the ground.
The Steelers must stop the Chiefs electric running back Jamaal Charles if they want to win this game. On offense, they should be able to move the ball at will.
A home game against a poor team almost always translates into a win for the Steelers, and this Monday's contest should be no different.
Prediction: Steelers 31, Chiefs 10
Week 11: Baltimore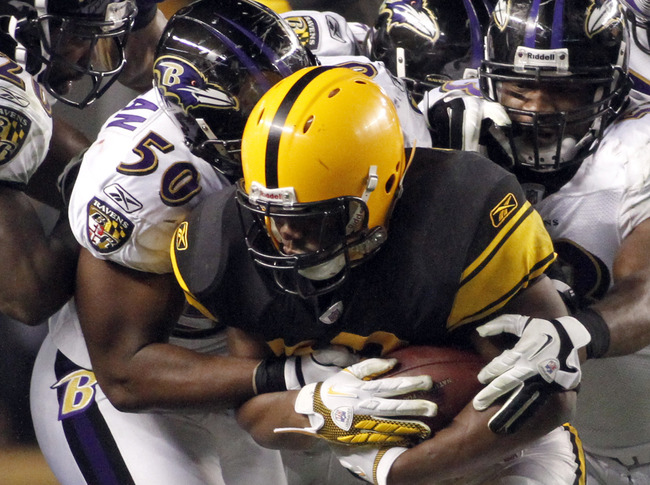 Justin K. Aller/Getty Images
When: Sunday, November 18th
TV: NBC's Sunday Night Football, 8:20 p.m.
It's the game fans of defensive football look forward to every year, but it might not be what they're expecting.
The Steelers and Ravens will come into this game from pretty different ends of the spectrum. Pittsburgh will most likely be getting healthier and may even see the return of All-Pro safety Troy Polamalu. While the Ravens will still be without some major players defensively.
For two teams who are known for their defense, this could turn into a shootout. Pittsburgh's passing attack is probably the best it's ever been, and if the Ravens ever choose to get the ball to Ray Rice, he's always up for making some big plays.
Baltimore swept the Steelers last season and you know that has to leave a bad taste in their mouth. Pittsburgh is the hotter team right now, and unless Kansas City can somehow turn it around, that shouldn't change.
Prediction: Steelers 28, Ravens 24
Week 12: @ Cleveland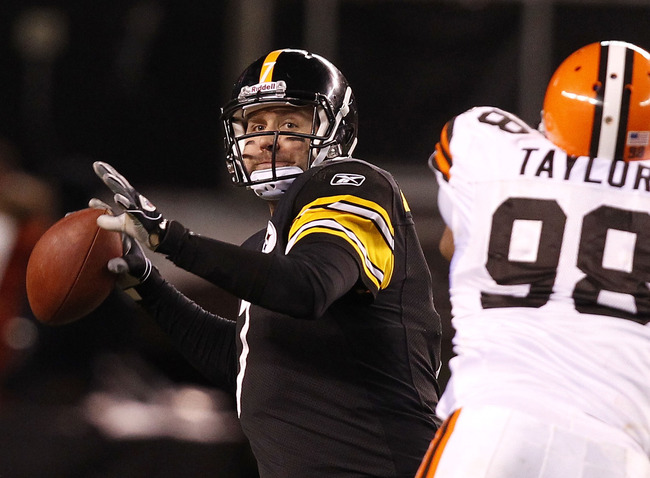 Matt Sullivan/Getty Images
When: Sunday, November 25th
TV: CBS, 1:00 p.m.
I'll be the first to admit I was wrong about the Cleveland Browns. At the beginning of the season, I ripped into the Browns for a draft class that, after Trent Richardson, seemed to take a sharp turn downwards.
But this team has hung in just about every game they've played this season and probably should have beaten the Ravens last week.
This is all thanks to what has become a legitimate defense, especially in division games. The Browns are 1-3 against the AFC North this season, but have a point differential of just -14 in those four games.
Cleveland's offense still has a ways to go, and quarterback Brandon Weeden is easily rattled under pressure. The Steelers defense seemed to regain some of their old pass rushing ways against the Giants, and if they can keep it up, they should have no problem with the Browns.
Prediction: Steelers 27, Browns 10
Week 13: @ Baltimore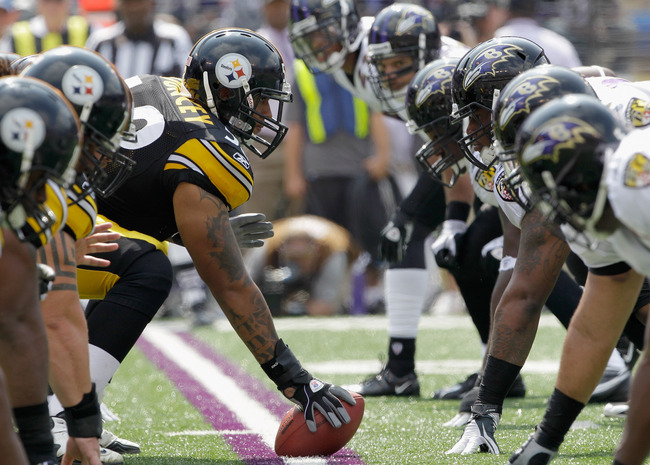 Rob Carr/Getty Images
When: Sunday, December 2nd
TV: CBS, 4:25 p.m.
Round 2 of the AFC North's heavyweight fight continues on in Baltimore.
According to these projections, the Steelers are on a roll and have rattled off six-straight victories en route to an 8-3 record, including a win two weeks before over these same Ravens.
Baltimore's defense is no question not the same as it used to be, but by this point, 2011 Defensive Player of the Year Terrell Suggs should be nearing full strength, as should defensive lineman Haloti Ngata.
The Steelers have struggled all season on the road, but they have seemed to hit their stride the last two weeks in Cincinnati and New York.
This game is shaping up to what could be the decisive factor as to who wins the AFC North. It's rare to see one of these teams completely dominate the season series and 2012 shouldn't be any different.
Prediction: Steelers 20, Ravens 24
Week 14: San Diego
Gregory Shamus/Getty Images
When: Sunday, December 9th
TV: CBS, 1:00 p.m.
The Chargers are having a very Charger-like season. They won't be very good, or very bad; they'll just be average enough to finish with somewhere around an 8-8 record.
Since Ben Roethlisberger came into the league in 2004, he and draft-mate Philip Rivers have met five times, including the playoffs, with very similar results. The Steelers may have a 4-1 advantage in the meetings, but no game has finished with more than a 10-point margin of victory.
I don't see anything different in this matchup.
San Diego is good enough to beat a team that's better than them, and when Rivers is on, he's on. I'd expect Big Ben and the Steelers to defend the home turf against a team they're superior to.
Prediction: Steelers 28, Chargers 17
Week 15: @ Dallas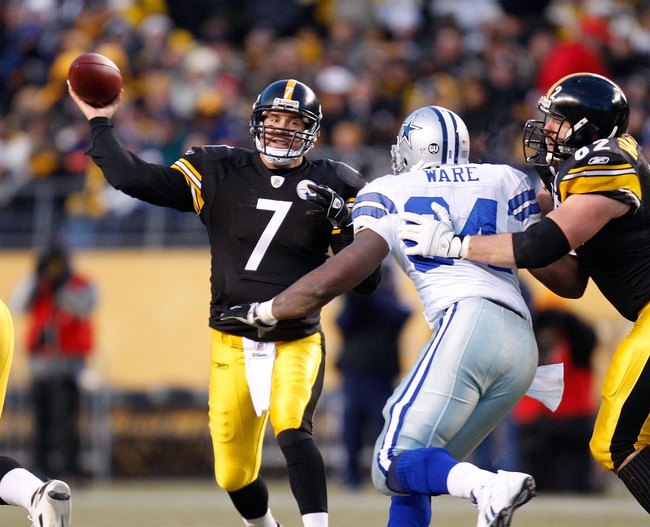 Gregory Shamus/Getty Images
When: Sunday, December 16th
TV: CBS, 4:25 p.m.
To this point, the Steelers have beaten the Eagles, Giants and Redskins. Now, in week 14, they'll try to complete the sweep of the NFC East.
Dallas has been a much maligned team to this point in the season. They've got a ton of talent, but they haven't really figured out how to put it all together, especially offensively.
Defensively, the players seem to be buying into coordinator Rob Ryan's system, and it's showing on the field. Last week, they held the undefeated Atlanta Falcons to just 19 points. Unfortunately, the offense couldn't keep up.
The Steelers should undoubtedly win this game, but this is the kind of game you'll see the Steelers struggle in, no matter what the Cowboys record is. Last time Pittsburgh played in Cowboy Stadium, they lost football's ultimate prize. In 2012, they could lose a stunner.
Prediction: Steelers 17, Cowboys 21
Week 16: Cincinnati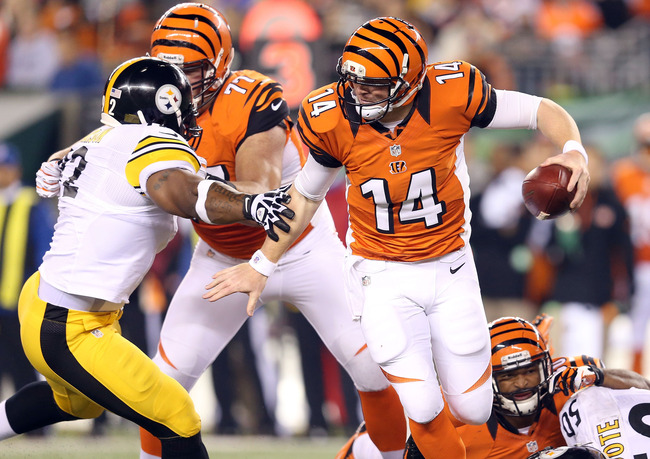 Andy Lyons/Getty Images
When: Sunday, December 23rd
TV: CBS, 1:00 p.m.
I have to admit, going into the team's Week 7 game in Cincinnati, I didn't hold out a lot of hope for the Steelers, seeing as they'd lost every road game to that point. But they played a great second half and really got their defense jump-started.
For the Bengals, Andy Dalton seems to be hitting the sophomore slump pretty hard this year. Cincy's offense is proving to have very few weapons outside of A.J. Green, and their defense isn't what it was last year.
At this point in the year, the Bengals will be pretty desperate for a win, seeing as they should be in the hunt for a wild-card spot. The Steelers would like nothing more than to knock them right out.
Prediction: Steelers 30, Bengals 16
Week 17: Cleveland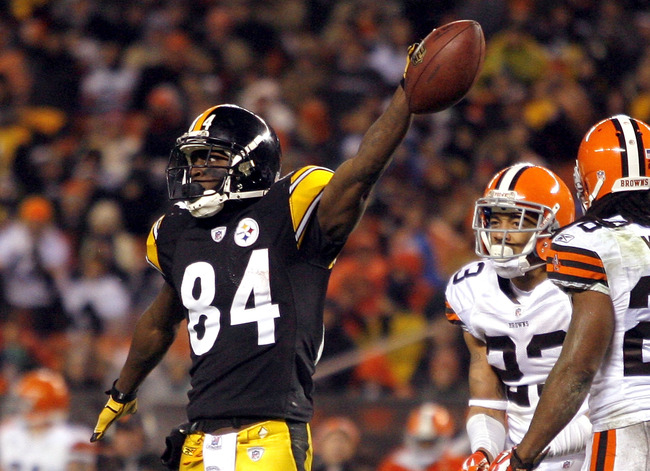 Matt Sullivan/Getty Images
When: Sunday, December 30th
TV: CBS, 1:00 p.m.
The Steelers season finale against the Browns could end up meaning the difference between a division championship and a wild-card spot.
As I said before, Cleveland has been very competitive against their division opponents, and its been awhile since they knocked off the Steelers. They'd like nothing more than to keep them from a home-playoff spot.
On the other hand, the Steelers saw how important it was to be playing at Heinz Field in January last season as Tim Tebow and the Broncos ran all over them. There's no way the Steelers will miss out on an opportunity to play at home again.
Prediction: Steelers 31, Browns 14
Season Wrap-Up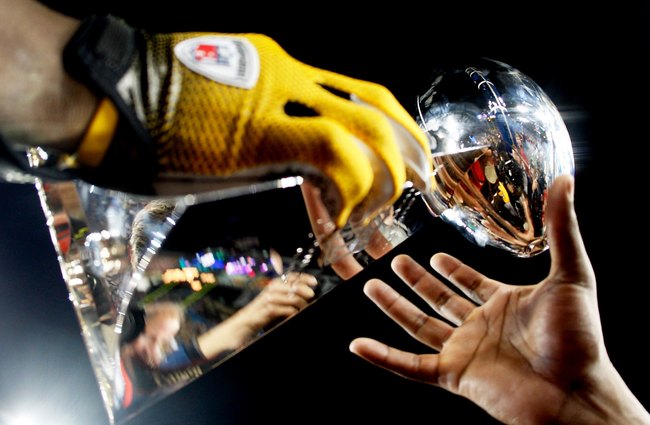 Jamie Squire/Getty Images
So, as the season wraps up in this projection, I've got the Steelers ending the season with an 11-5 record and, most likely, an AFC North title.
Although they're 11-5, I doubt that'll be enough to get the team a first-round bye as, most likely, the Texans and Patriots/Broncos would be ahead of them.
And just because the photo in the slide is of the Lombardi Trophy, it doesn't mean I'm picking the Steelers for Super Bowl glory just yet. But I'm saying they have a shot.
Season Wrap-Up
- Record: 11-5
- AFC North Title (5-1 record in division)
- Home Playoff Game
Keep Reading

Pittsburgh Steelers: Like this team?