10 Reasons Behind Arsenal's Current Slump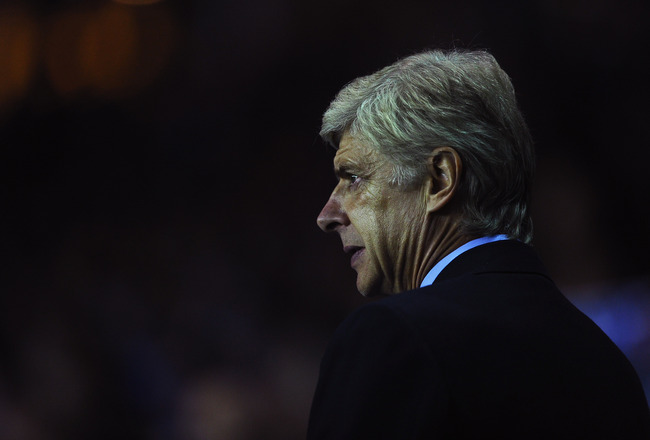 Laurence Griffiths/Getty Images
It hasn't been a smooth few weeks for Arsene Wenger and Arsenal.
Apart from a nervy 1-0 win over Queens Park Rangers in the Premier League and an extra-time miracle against Reading in the Capital One Cup, Arsenal have lost three times and drawn once.
All this, of course, on the back of some solid and encouraging performances at the start of the season that suggested that this could be the first season in quite a few that Arsenal finally get their hands on some silverware.
It's still entirely possible that they do finish the season with a trophy—especially if Wenger considers a fourth-place finish as a trophy—but there's no denying that the Gunners are going through a recent slump.
Let's look at 10 reasons behind Arsenal's current run of poor form—and, as usual, feel free to have your say in the comments below.
Andre Santos Filling in for Kieran Gibbs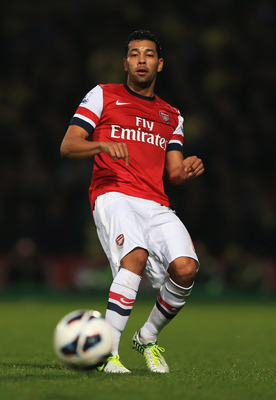 Richard Heathcote/Getty Images
First, the most widely used reason of all: Andre Santos.
In fact, Santos has been blamed so frequently for Arsenal's recent troubles that it's beginning to seem like he's being made a scapegoat.
But there is lots of merit to such a claim, because Santos' recent run in the side has coincided with some very poor defending and goals conceded from the Gunners' point of view.
The fact that he has had to come in to replace the injured Kieran Gibbs—whose loss incidentally came in Arsenal's last convincing win against West Ham in early October—means that his performances have been judged against Gibbs' impressive early-season form.
In Santos', it's hard to pinpoint one particular thing that is his downfall: his all-out attacking philosophy, his lack of tactical awareness, his aloofness in defence, his inexplicable positioning.
And that's because the whole is unfortunately greater than the sum of its parts.
Thomas Vermaelen's Poor Form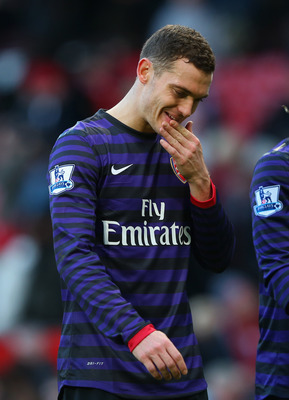 Alex Livesey/Getty Images
After Robin van Persie's departure from the Emirates Stadium, Thomas Vermaelen was appointed Arsenal's new captain.
With a couple of clean sheets opening the Premier League season seemingly earning praise the way of the Gunners defence and their new assistant manager Steve Bould, it was clear that Vermaelen and his new first-choice partner, Per Mertesacker, were beginning to strike up a good understanding at the back.
Unfortunately, that all has gone out the window, as Vermaelen has suffered a recent slump in personal form as well.
His calamitous error in just the third minute against Manchester United gave van Persie an early opening goal against his old club at Old Trafford.
The problem with having Laurent Koscielny—who can be brilliant when on form but infuriating when not—on the bench is that he can only conceivably come in the side at the expense of Mertesacker, such is the new status of Vermaelen in the squad.
Of course, if Andre Santos were better disciplined in defence, he might not leave his skipper so exposed down that left-hand side.
Abou Diaby's Injury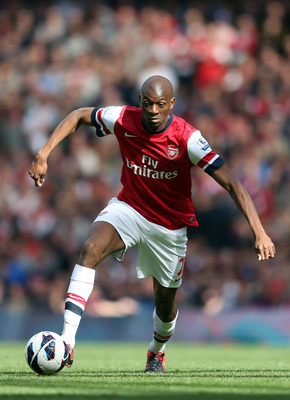 Richard Heathcote/Getty Images
Moving forward from the backline, and we arrive at one of the most important factors of all: Abou Diaby's injury.
For all of the inconsistencies that he has displayed over the years in an Arsenal shirt, Diaby started the season in absolutely scintillating form, with his display against Liverpool a real reminder of his true potential and ability.
His hip injury put an abrupt end to that run of form, and since then he has not been deemed fit enough to make it back into Arsene Wenger's squad.
Without Diaby, Mikel Arteta has at times been the sole defensive player in the Arsenal midfield—though Jack Wilshere's return has added some teeth in the central midfield—but Diaby's physical presence and box-to-box playing style has been missed at the Emirates.
Aaron Ramsey as a Right-Winger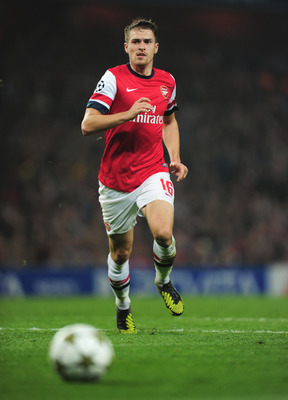 Shaun Botterill/Getty Images
With Alex Oxlade-Chamberlain also out in recent matches due to injury, there is also the small matter of not having any specialist right-winger in the squad.
Santi Cazorla could conceivably play in that position—and to predictably good effect at that—but Wenger seems to trust the energy and passing ability that Aaron Ramsey brings to the side.
Unfortunately, his playing style belongs more to that of a central midfielder, and out on the right he is not only wasted but ineffective as well.
As Ramsey lacks that out-and-out pace and dribbling to beat a defender like Oxlade-Chamberlain, he frequently slows down Arsenal's build-up play through the flanks.
For a side that relies so heavily on midfield creativity and movement, it's curious to say the least that Ramsey is first choice on the right.
Theo Walcott on the Bench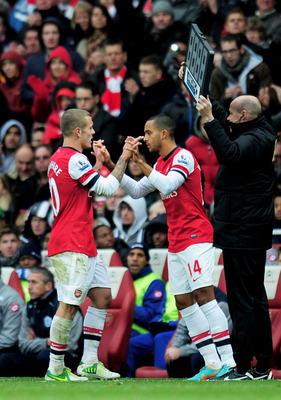 Shaun Botterill/Getty Images
Arsene Wenger's decision to start Aaron Ramsey on the right is all the more baffling given that he already has a (relative) specialist right-winger at his disposal.
And while Theo Walcott has been pushing to earn a stint in the side as an out-and-out striker, he hasn't even made Wenger's recent starting XIs on the right wing.
Walcott has delivered an impressive goals record so far this season, with seven goals and four assists in just 12 matches, only three of which were starts.
Yet Wenger's obdurate stance continues, and Walcott is continually left with a place on the Arsenal bench.
That would make slightly more sense if the Gunners weren't short in the goals department, but given their recent form, Walcott should no longer be ignored.
Lukas Podolski's Inconsistencies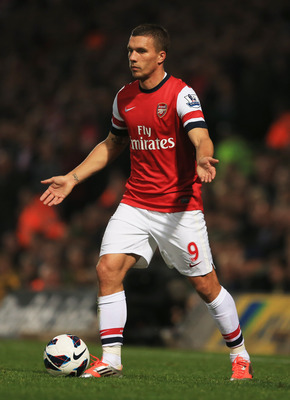 Richard Heathcote/Getty Images
Last summer, Arsene Wenger made a huge mistake by waiting until the end of the transfer window to sign replacements for Samir Nasri and Cesc Fabregas.
So his early-summer preparations a year on landed him Lukas Podolski, Olivier Giroud and Santi Cazorla to fill the Robin van Persie-shaped void in attack.
On paper, this was a great decision by Wenger, as the prospect of replacing a single goal scorer with a history of injuries with a dynamic three-pronged forward line was plenty to look forward to.
While Arsenal didn't burst out of the traps scoring goals and displaying the full potential of the new attacking trio, their subsequent displays hinted at a prolific season to come.
And Lukas Podolski was supposed to be one of the stars of the new Arsenal, with his finishing, passing, movement and, most of all, hard work contributing to the team and the defence.
But in recent weeks, whether due to stamina issues or whether he's still adjusting to the Premier League, Podolski's dropped off the radar with several largely anonymous displays.
Arsenal are badly missing his contributions in attack, but perhaps that's because Andre Santos' disaster-proneness requires Podolski to spend more of his time as a makeshift left wing-back than a left forward.
Olivier Giroud Not Suiting the System Yet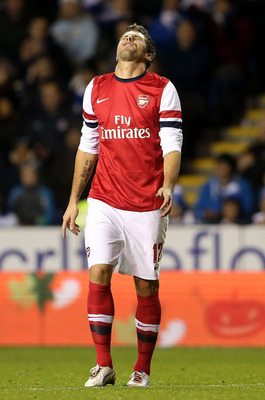 Scott Heavey/Getty Images
The second of that aforementioned trio unfortunately can't be mentioned in the same breath as Podolski yet.
Olivier Giroud arrived with plenty of fanfare after his goal-scoring exploits with Ligue 1-winning Montpellier last season, but the reality is that he has been a victim of circumstance.
With the impressive goal haul that Robin van Persie left behind as his legacy from last season, Giroud, as one of the few specialist strikers on Arsenal's books, has had huge shoes to fill, and he hasn't brought the right pair of shooting boots thus far to do that.
He struggled with well-publicized confidence issues at the beginning of the season, but while he has started to score goals in fleeting occasions, perhaps his struggles in front of goal are a reflection of the larger issue that he faces integrating into Wenger's passing-centric system.
Giroud, by and large a target man, does have the physique and pace to run onto passes, but a combination of poor crossing and an as-yet unaccomplished understanding with his teammates has rendered his efforts up front largely ineffective.
To avoid his big-money signing from being labeled a flop in his maiden season in English football, Wenger must start drilling in a system that centers on Giroud as his lone striker.
Overreliance on Santi Cazorla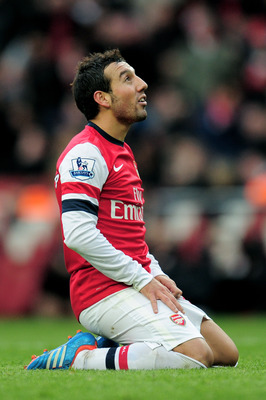 Shaun Botterill/Getty Images
And now we arrive at that last star arrival at the Emirates: Santi Cazorla.
Cazorla has lit up the Emirates and the Premier League since his summer arrival from Malaga, and he has proved to be an inspired signing by Wenger.
His dribbling, vision, goal-scoring ability and passing are simply delightful to watch, and they have made him an instantly indispensable member of the Arsenal starting XI.
But that, paradoxically, has contributed to the problems facing Arsenal now.
In the days of Cesc Fabregas, who used to run Arsenal's midfield, he had players like Samir Nasri and Robin van Persie (among others) to share the team's creative burden.
Robin van Persie, who was the talisman himself last year, was a goal scorer, and his responsibilities were limited chiefly to that of a striker.
That is not the case for Cazorla, who has had to bear the vast majority of Arsenal's creative responsibilities from the midfield amidst a goal-shy attack.
No wonder, then, that when Cazorla is shut down, Arsenal are shut down as well, as Norwich City found to their great pleasure.
Lack of a Vocal, Inspirational Presence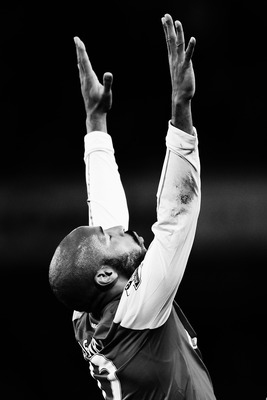 Clive Mason/Getty Images
Which brings us to a bigger-picture conclusion: that Arsenal currently lack that important vocal and inspirational presence in their squad.
There's no need to go down the years and list the phenomenal number of such players that Arsene Wenger has coached, but in recent years they've had Cesc Fabregas and Robin van Persie, players you could rely on to win you a match out of nothing.
Right now, they don't have anyone in this class just yet. And not only that; they don't have any vocal leader in the team as well.
Of course, the argument for a lack of one specific star player is that it can create a better overall cohesiveness and teamwork, as recognized by Thierry Henry's departure and its effect on Arsenal's young squad.
Unfortunately, the overall cohesiveness and teamwork haven't been clearly implemented on this current Arsenal side.
Lack of a Pure Winning Mentality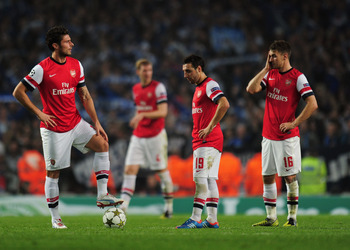 Shaun Botterill/Getty Images
And so all this contributes to a general well-pronounced lack of a pure winning mentality at Arsenal, encapsulated by that little error in judgment by Andre Santos during halftime at Old Trafford, when he asked Robin van Persie for his shirt.
To be sure, there have been plenty of overreactions to this incident, but it perhaps is a fair reflection of where Arsenal currently are in comparison with their rivals Manchester United, who, despite possessing weaker squads in recent years, still finished level on points with Premier League champions Manchester City last season and are currently top of the table.
As for Arsenal: All is well and good for the Gunners when the going is smooth, when goals are scored and when the opposition are largely incapable of handling some incessant attacking moves.
But when the going gets tough? Where's the passion and the fight going to come from?
Arsene Wenger desperately needs to address this.
But surely that's just a bit too much pressure on young Jack Wilshere's shoulders.
Your Thoughts
Alex Livesey/Getty Images
We discuss all this with the knowledge that a football season is made up of peaks and troughs.
While Arsenal are undoubtedly going through a sticky patch of late, the impending returns of a few injured stars should provide massive encouragement and hopefully a spike in terms of results and points as well.
What do you think about Arsenal's current slump? How can they address this, and will it all be fine in the end? Let us know your thoughts in the comments below.
Also check out: Why Wenger Should Try Theo Walcott as a Striker
For extensive coverage on the Premier League, please check out my Bleacher Report writer's profile. For all things Liverpool—match reactions, opinions et al—please subscribe to The Red Armchair.
Keep Reading

Arsenal: Like this team?