Cincinnati Reds: Is Joey Votto the Best First Baseman in Baseball?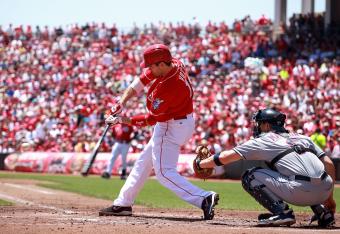 Andy Lyons/Getty Images
Joey Votto cemented himself in this discussion winning the NL MVP in 2010. Although his numbers dropped in 2011 and an injury set him back in 2012.
Injury or not, Votto is still one of—if not the best—first baseman in all of Major League Baseball.
In Votto's last three seasons, he's managed some of the best all-around numbers of any first baseman in the game.
Joey

Votto

G
AB
H
2B
HR
RBI
R
SO
BB
AVG.

OBP

.

SLG

.
OPS+
2009-12 totals
553
1989
639
158
105
356
348
445
365
.321
.429
.565
163
2009-12

avgs

.
138
497
160
40
26
89
87
111
91
.321
.429
.565
163
162 game

avgs

.
162
583
188
47
31
105
102
131
107
.321
.429
.565

163
Now let's compare Votto's 162 game averages from the past four seasons to five players people considered to be in the upper echelon of MLB first basemen.
Name
G
AB
H
2B
HR
RBI
R
SO
BB
AVG.

OBP

.

SLG

.
OPS+
WPA
Joey

Votto



162
583
188
47
31
105

102
131
107
.321

.429

.565

163

8.1
Albert Pujols

162
612
187

43

41

120

112

72

87

.305

.383

.577

163

5.9
Paul Konerko

163
593
176

30

34

104

82

102

72

.297

.376

.519

136

2.8
Prince Fielder

162
580
170

33

37

114

94

117

104

.293

.410

.542

154

6.3
Adrian Gonzalez
163
611
186

39

30

108

92

115

84

.304

.389

.517

146

4.2
Mark Teixeira

162
615
162

37

37

117

102

118

83

.263

.357

.506

126

2.7
Now, to rank the six players, I'll assign values to each category, a player receives a one if he leads a category in descending order to six. The lowest total represents a more complete player. Here's how that comes out.
Albert Pujols (22)
Joey Votto (27)
Prince Fielder (40)
Adrian Gonzalez (47)
Mark Teixeira (56)
Paul Konerko (57)
Votto comes in second in this ranking method but look at the areas that hurt him the most. Votto ranked last in strikeouts, fifth in home runs and fifth in RBIs.
Nitpicking at 131 strikeouts per 162 games is difficult considering Votto walks 107 times per 162 games in the same time span. Additionally, Votto's RBI production can be directly linked to the issues at the top of the Reds batting order.
Votto's shortened 2012 actually serves as good evidence for him being the game's best first baseman.
Even while missing 49 straight games, Votto led all first baseman in walks (94), WAR (5.6) and all three components of the triple-slash (AVG/OBP/SLG). Granted Votto's lack of at-bats and plate appearances help him lead in the triple-slash, consider the margin he leads by.
Is Joey Votto the best first baseman in baseball?
Among first basemen with over 200 at-bats, Votto's .337 batting average is 24 points better than Prince Fielder's second ranked mark of .313. Among the same sample of batters, Votto's OBP and SLG percentages are 62 and 10 points better than second place finishers.
While Votto is technically not qualified (per MLB rules) to be considered the season leader in the triple slash statistics, it's hard to believe that he would give up a 24-point lead in batting average or a 62-point lead in OBP. Additionally, Votto's slugging percentage actually dipped by 40 points after returning from a torn meniscus.
Votto's season could have been one for the ages had he not been hurt, but the fact of the matter is that he did. However, even with the injury, Votto still had a great season that even saw him contend for a second straight National League Gold Glove Award.
Finally, consider the age and career track of Votto compared to these players.
Pujols, Teixeira and Knoerko are 32, 32 and 36 years-old respectively. All three are still very competent and productive, but unless you're Roger Clemens or Barry Bonds, you don't generally increase your production from your age 33 to age 43 seasons.
Votto's only 28. He's in his physical prime and, to date, has suffered only one injury that caused him to miss any significant amount of time.
For me, choosing the best first baseman comes down to Prince Fielder and Joey Votto. Prince Fielder's production is undeniable. He's got impressive power and drives in plenty of runs.
However, unlike Joey Votto, Prince Fielder has always had a premier offensive player protecting him in the lineup, first Ryan Braun, now Miguel Cabrera. Votto produces his numbers largely unprotected.
If I had to pick one first baseman to build around for the future, I'd be sure to take Joey Votto.
This article is
What is the duplicate article?
Why is this article offensive?
Where is this article plagiarized from?
Why is this article poorly edited?

Cincinnati Reds: Like this team?