L.A. Clippers vs. L.A. Lakers: Live Score, Results and Game Highlights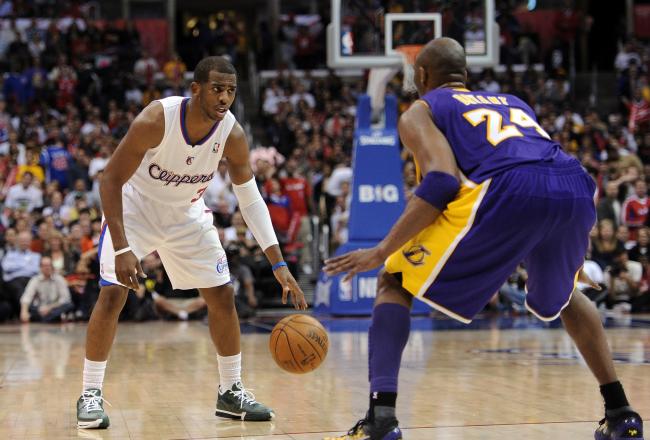 Chris Paul and Kobe Bryant headline tonight's matchup
Harry How/Getty Images
In a game the Los Angeles Lakers seemingly had to have in order to silence their critics, they couldn't get past the Los Angeles Clippers, losing 105-95 at the Staples Center.
After Dwight Howard picked up two early first quarter fouls, the Lakers just couldn't find consistency on the offensive end. Kobe Bryant was a stabilizing force with 40 points, but Howard and Pau Gasol could only muster a combined 23 points.
Without Steve Nash the Lakers had to lean on Steve Blake to run the point, and he did so effectively to the tune of eight points (2-of-3 from three-point range) and some solid defense on Chris Paul.
Paul was the best player on the floor Friday night, recording a double-double with 18 points and 15 assists.
Now 0-3 for the first time in 34 years, the Lakers face some serious questions. Can the Princeton offense be effective? Is Dwight Howard fully recovered from his back injury? Are the Lakers just too old to compete with teams like the Thunder and Clippers?
These are all valid concerns, and it will be up to Mike Brown and his coaching staff to right the ship in the coming weeks.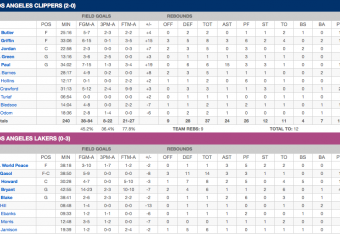 Here's the final box score from the Clippers' victory over the Lakers.

Final statistical notes:
Kobe Bryant led all scorers with 40 points (14-of-23 shooting), but received very little help from his teammates. Dwight Howard (-3) could never find a rhythm and finished with 13 points, 8 rebounds and five blocks. Howard also shot 50 percent (5-of-10) from the free-throw line.
Pau Gasol (-8) posted a double-double with 10 points and 14 rebounds, but was a virtual non-factor all night long.
Not one Laker player finished with a positive plus/minus rating, and only three Laker players (Bryant, Gasol and Howard) finished in double-figures.
As for the Clippers, Jamal Crawford led the way with 21 points off of the bench, with four other players finishing in double-figures.
Chris Paul (+19) finished with the most complete stat line, posting 18 points and 15 assists in 34 minutes of work. Only Eric Bledsoe (-7) and Lamar Odom (-6) finished with negative plus/minus lines.
Blake Griffin (+15) was steady all night, recording 15 points and eight rebounds.
The Lakers lost the turnover battle 20-12, and squandered more than a few opportunities as they attempted to figure out the Princeton offense.
Final Score: Clippers 105, Lakers 95.
A wire to wire victory for the Clippers, one in which they showed superior effort and poise on both the offensive and defensive end. Kobe finished with a game-high 40 points, but his supporting cast simply wasn't good enough to get the job done tonight.
The Lakers, with Dwight Howard, Kobe Bryant, Pau Gasol and Steve Nash, are 0-3. I'm not sure many people saw this one coming.
Clippers 101, Lakers 91 - 45.2 seconds remaining in Q4: A very shaky performance from the Lakers' starting five in this one (with the exception of Kobe):
38, 8, 13, 8, 8. Those are the Lakers' starters scoring numbers.

— Darius Soriano (@forumbluegold) November 3, 2012
Clippers 99, Lakers 87 - 1:04 remaining in Q4: The Lakers have two good looks from three and can't convert. Chris Paul answers on the other end with a layup that he makes look all too easy. That's the kind of night it's been for the Lakers.
Clippers 97, Lakers 85 - 2:50 remaining in Q4: With a fast break layup by Jamal Crawford, this one appears out of reach. The only conceivable ways the Lakers can win this game is if Kobe goes, well, Kobe on everyone.
See: below.
Kobe has 36. I honestly think he'll need 50 for the Lakers to win. There's 4:18 left in this game.

— Darius Soriano (@forumbluegold) November 3, 2012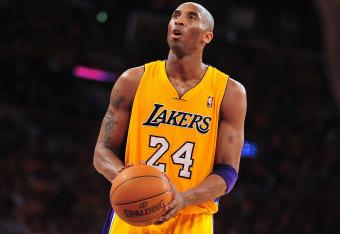 Clippers 95, Lakers 85 - 4:18 remaining in Q4: Don't look now, but Kobe is heating up, fast. Mamba has 36 points total, and he's shooting efficiently (13-of-22 from the field).
Clippers 91, Lakers 82 - 5:02 remaining in Q4: The Lakers finally get consecutive shots to fall and keep the Clips off the board. Chris Paul set to re-enter the game. That's not good news for Steve Blake, folks.
Clippers 89, Lakers 77 - 7:33 remaining in Q4: Say what you will about Jamal Crawford's performance in Portland last season, but he's clearly found a home with the Clippers.
Crawford now leads all bench scorers with 15 points.
Also, this is where Odom knocked down that three from. Just a little outside his range. (h/t to @bleacherreport)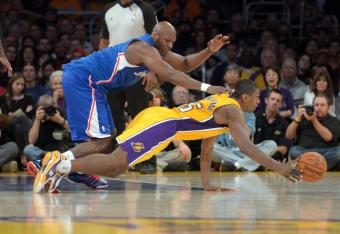 Clippers 87, Lakers 77 - 8:10 remaining in Q4: Lamar Odom hits a DEEP three with the shot-clock winding down. A 28-footer, easily.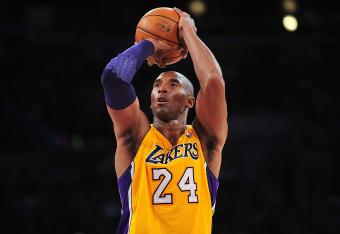 Clippers 82, Lakers 73 - 10:04 remaining in Q4: Kobe Bryant opens the game's final stanza with six straight points, and suddenly the Lakers are in this game. Kobe with 29 points on 10-of-18 shooting.
Get ready for the Kobe Bryant Isolation show.
Clippers 82, Lakers 67 - 11:40 remaining in Q4: Here's video of DeAndre Jordan's monster putback slam earlier in the third quarter.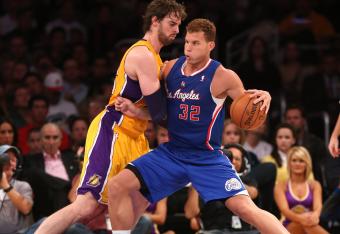 Clippers 82, Lakers 67 - End of Q3: Very little flow to the Laker offense. A lot of standing around and a lot of bad shots late in the shot clock.
Kobe continues to lead all scorers with 23 points, but his supporting cast simply cannot find a rhythm. Gasol is stuck on six points while Howard has four fouls and just cracked double-digits with a pair of dunks.
The Clippers' stars are beginning to shine, as Chris Paul has 12 points and 14 assists, while Blake Griffin leads the way with 15 points and eight rebounds. Caron Butler did not score in the third quarter, and his scoring total remains at 14 points.
Clippers 77, Lakers 65 - 1:50 remaining in Q3: Lakers' coach Mike Brown picks up a technical foul after saying one of those magic four letter words to the refs. This game getting testy, fast.
Clippers 75, Lakers 65 - 1:56 remaining in Q3: Dwight Howard is sitting with four fouls, and the Clippers are taking advantage.
LAL go small here with Jamison at the 4, Griffin posting him up & scoring off glass to put LAC up 75-63, their biggest margin.

— Mike Trudell (@LakersReporter) November 3, 2012
Clippers 73, Lakers 63 - 2:44 remaining in Q3: One positive for the Lakers tonight, they're shooting at a 50 percent clip from beyond the arc. Kobe continues to lead all scorers with 21 points.
Clippers 73, Lakers 63 - 2:44 remaining in Q3: The Lakers just cannot get out of their own way, and continue to turn the ball over at a high rate. Too many wasted opportunities.
Lakers: 13 turnovers
Clippers: 7 turnovers
Clippers 69, Lakers 63 - 3:55 left in Q3: DeAndre Jordan with a MONSTER putback slam while getting pulled to the floor.
This sums things up nicely:
HOLY DJ

— Hardwood Paroxysm (@HPbasketball) November 3, 2012
Clippers 64, Lakers 61 - 4:37 remaining in Q3: One thing is clear: If the Lakers are going to win this game, it's going to be on the shoulders of Kobe Bryant. When he's gone into isolation mode he's been tough to stop, especially with Willie Green guarding him.
A great stat from ESPN's Chris Palmer:
Assists: Chris Paul 11, Lakers 11

— chris palmer (@ESPNChrisPalmer) November 3, 2012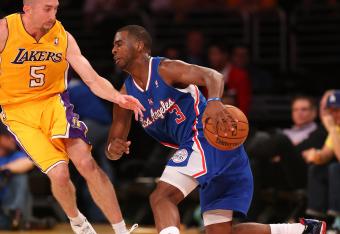 Clippers 64, Lakers 59 - 5:45 remaining in Q3: Chris Paul gets Pau Gasol on a switch and makes him look foolish, knocking down an 18-foot jumper in his face. The Lakers continue to turn the ball over, with 12 compared to the Clippers seven.
Clippers 62, Lakers 56 - 7:24 remaining in Q3: The Clippers continue to find open looks on the perimeter as Metta World Peace and Kobe Bryant look just a step slow. Kobe converts a three-point play that only Kobe could convert on the next trip down.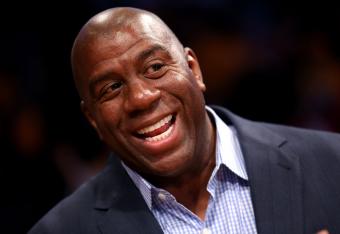 Clippers 59, Lakers 53 - 8:10 remaining in Q3: With a steal and an easy layup, Kobe Bryant sets the Lakers' franchise record for steals. The man he passed? Magic Johnson.
And with that steal, Kobe becomes the Lakers' all-time leader.Sticky hands, Mr. Bean.AK

— Kamenetzky Brothers (@ESPNLandOLakers) November 3, 2012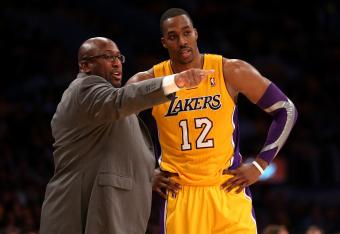 Clippers 55, Lakers 47 - 10:30 remaining in Q3: Lakers trying desperately to get Howard involved, but it's simply not working. Howard not looking like himself.
Halftime: A rundown of the plus/minus ratings from the first half of tonight's game:
Clippers: Blake Griffin +3, Caron Butler +3, DeAndre Jordan +2, Jamal Crawford -1, Chris Paul +5, Willie Green +2, Lamar Odom 0, Matt Barnes +4, Ronny Turiaf +2, Ryan Hollins +3, Eric Bledsoe +2.
Lakers: Pau Gasol 0, Metta World Peace -5, Dwight Howard -9, Steve Blake +5, Kobe Bryant 0, Darius Morris -7, Antawn Jamison 0, Devin Ebanks 0, Jordan Hill -9.
Clippers 52, Lakers 47 - end of Q2: Kobe Bryant goes scoreless in the second and remains stuck on 14 points (4-10 shooting from the field). Dwight Howard played a meager 10 minutes, posting five points and two rebounds in two quarters. Pau Gasol with 6 points on 3-of-6 shooting from the field.
For the Clippers, Caron Butler leads all scorers with 14 points (5-7 from the field and 2-3 from three-point range). Thanks to Jamal Crawford (nine points), Eric Bledsoe (nine points) and Matt Barnes (6 points) the Clippers bench is outscoring the Lakers bench 25-11. Blake Griffin with six points and four rebounds.
This article is
What is the duplicate article?
Why is this article offensive?
Where is this article plagiarized from?
Why is this article poorly edited?

Los Angeles Lakers: Like this team?