NASCAR: 5 Reasons Why You Must Watch Sunday's AAA Texas 500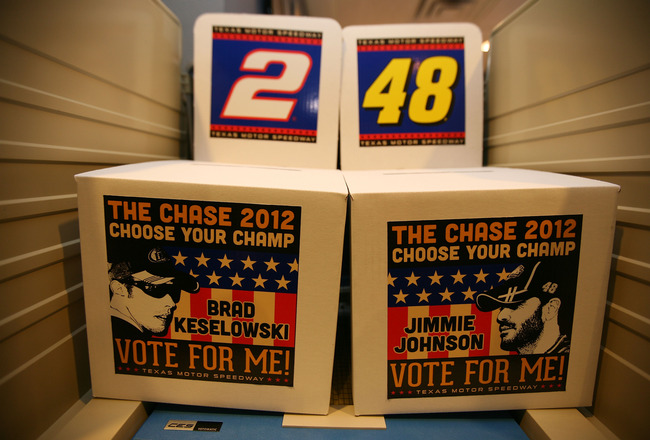 Who are you voting for to win the 2012 Sprint Cup championship, Brad Keselowski or Jimmie Johnson?
Jerry Markland/Getty Images
As the saying goes, things are always bigger and better in Texas.

And that certainly describes Sunday's AAA Texas 500 NASCAR Sprint Cup race at Texas Motor Speedway. Take the potential of having one of the largest crowds of the season (TMS can hold up to 150,000 fans), coupled with arguably the fastest or second-fastest (depending upon who you talk to) non-restrictor plate racetrack on the Cup circuit, and you're sure to have tons of action and excitement.

Oh yes, and they give the race winner a Stetson cowboy hat, a pair of cowboy boots and a pair of six-shooters (with fake bullets, thankfully). Pretty cool prizes, don't you think?

If you're planning on spending your Sunday watching the NFL or NBA, you might want to think twice and reconsider.

Neither the NFL nor NBA are even remotely close to their playoffs, but NASCAR is right in the thick of its playoffs.

Sunday's race is the third-from-last of the season. It features one of the tightest points battles we've seen in the Chase for the Sprint Cup, as Jimmie Johnson, who is seeking a sixth Cup championship (in seven years), squares off with young Brad Keselowski, seeking his first career Cup title.

Need more convincing? Check out the 5 Reasons You Need to Watch the AAA Texas 500:


(Follow me on Twitter @JerryBonkowski)
1. A Potential Battle Royale Between Jimmie Johnson and Brad Keselowski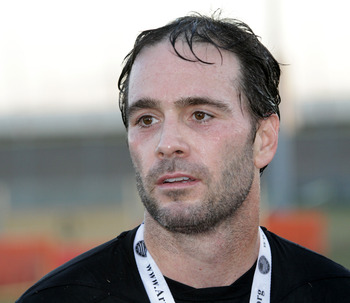 Is Jimmie Johnson already sweating about Brad Keselowski?
Jerry Markland/Getty Images
It was a year ago that the points battle between Tony Stewart and Carl Edwards really heated up—and continued neck-and-neck over the final three races of the season until Stewart emerged the Sprint Cup champion by just one point (via tiebreaker for having more season wins than Edwards).

I mean, how much closer can you get, right?

We're in the midst of another equally tight battle this weekend, as Jimmie Johnson leads Brad Keselowski by a mere two points, and there's promise of an even tighter battle over the two remaining races following Sunday's 500-mile event in Texas.

While points leader Johnson is in his element at this time of year, Keselowski may actually be in a slightly better position as the hunter rather than the hunted.

Keselowski has already found a way to get inside Johnson's head once (remember what happened in the Chase opener at Chicago?) and is ready to do so again, given the opportunity.
2. The Numbers for the Rest of the Chase Unquestionably Favor Jimmie Johnson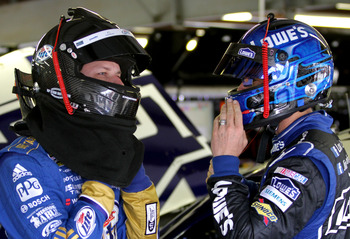 The two warriors are prepared to do battle on Sunday.
Jerry Markland/Getty Images
Compare the overall records of both Jimmie Johnson and Brad Keselowski at the three remaining tracks this season—Texas, Phoenix and Homestead—and judge for yourself who has the edge right now.

It's not even close.

Johnson: Texas: 18 starts, one win, eight top-fives, 13 top-10s. Phoenix: 18 starts, four wins, 12 top-fives, 15 top-10s. Homestead: 11 starts, zero wins, four top-fives and seven top-10s.

Keselowski:Texas: eight starts, zero wins, zero top-fives and zero top-10s. Phoenix: seven starts, zero wins, one top-five and no other top-10s. Homestead: four starts, zero wins, zero top-fives and zero top-10s.

Add all those numbers up, and here are the results:
Johnson has a combined five wins, 16 top-fives and 35 top-10s at the three remaining venues on the schedule this season.
Keselowski has a combined zero wins and one top-five. That's it. Period.
3. Gamblin' Men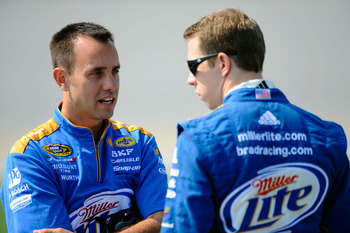 Paul Wolfe (left) and Brad Keselowski are the gambling type.
Jared C. Tilton/Getty Images
Brad Keselowski and crew chief Paul Wolfe are unquestionably gamblers on the race track. They play the odds like bettors play the ponies, looking for the slightest edge or advantage that will end up with a winning ticket.

Keselowski and Wolfe have gambled their way to five wins this season—tied with fifth-ranked Denny Hamlin for most triumphs among drivers thus far in 2012. But something tells me they're not done gambling just yet.

Sure, sometimes gambles go south and fail—much like the off-sequence strategy Keselowski and Wolfe used last week at Martinsville. Rather than a potential top three finish, maybe even a win, the driver of the No. 2 Miller Lite Dodge was relegated to a sixth-place finish, while Johnson drove his No. 48 Chevy to victory lane.

Johnson felt Martinsville was going to be a statement race for him if he had any hope of winning his sixth Sprint Cup crown this season, and he went out and did everything he needed to do to fulfill that statement.

Now it's Keselowski's turn. Although he may have a better chance of making a statement at a place like Phoenix next week, the writing is pretty clear on the wall: He has to make a statement at each of the three remaining tracks in the Chase to just have a shot at Johnson, let alone overtake him for the title.

And getting back to the gambling situation for a moment, if there's one thing Johnson and crew chief Chad Knaus do not like to do this late in the season and at this stage of the Chase, it's to deviate from their routine. They like things simple, straight forward and consistent. Keselowski and Wolfe are completely the opposite. They have nothing to lose and everything to gain—well, within reason. If they do something overly crazy, it could be the end of the Chase for them.

But if they work the odds in their favor and give Johnson and Knaus a bit of heat, we may very well see Johnson make a mistake that Keselowski can take advantage of and ride all the way to the bank. As I keep saying to folks who believe Johnson is a shoe-in to win title No. 6, remember Chicago seven weeks ago (when Keselowski snookered Johnson late in the race and went on to the win). That's all that needs to be said.
4. One and Done?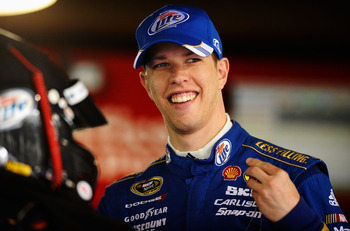 Will Brad still be smiling after Sunday's race at Texas?
Jared C. Tilton/Getty Images
Brad Keselowski knows what is at stake Sunday.

He has to stay as close to Johnson as possible, gamble where he can and take chances that could have either a great payout or a disastrous result.

The most important thing is Keselowski cannot leave Texas any more than 10 points behind Johnson in the standings.

If anything, staying close to Johnson or even regaining the lead in the points like he held after four of the first seven Chase weeks is the ideal scenario.

But if Keselowski winds up suffering a similar fate as that which befell Denny Hamlin last week at Martinsville, the Cup Series may leave Texas with its 2012 champion pretty much already decided.
5. Can Someone Give a Brother a Hand?
Will Roush's Fords help Penske's Dodges to stop Hendrick's Chevys?
Chris Trotman/Getty Images
Brad Keselowski has a reputation for never backing down, not during his time in the Nationwide Series, nor in his nearly four seasons in the Sprint Cup Series.

While it's noble that Keselowski gives no quarter and takes no quarter, so to speak, some of the drivers he's had run-ins with in the past may refresh his memory Sunday about past skirmishes with them.

Let's see. Carl Edwards, Kevin Harvick, Kyle Busch and pretty much every member of the four-car Hendrick Motorsports team have drawn Keselowski's ire.

Bad Brad needs help Sunday in the shape of other drivers either setting a pick to slow down Johnson or helping push Keselowski's car forward in the draft.

But with only teammate Sam Hornish Jr. in another win-capable Dodge, not to mention his past history with other drivers, Keselowski may wind up having very few friends on Sunday.

You know guys like Kasey Kahne, Jeff Gordon and Dale Earnhardt Jr. are going to help their HMS teammate, Jimmie Johnson.

And Toyota drivers like Denny Hamlin, Kyle Busch, Martin Truex Jr. and Clint Bowyer are likely to stick together in a one for all and all for one formation. That leaves Keselowski a potential sitting duck with little help to count on.

But there may be a silver lining. Remember that Penske Racing is shifting from Dodge to Ford power next season. Given that Matt Kenseth and Greg Biffle are out of the running for the Chase, not to mention guys like Marcos Ambrose and Aric Almirola from Richard Petty Motorsports, might we potentially see some rare inter-manufacturer help on Sunday, where Ford drivers may actually help a rival Dodge pilot?

Sure, it's highly unlikely, but if Ford-sanctioned team owners like Petty or Jack Roush can't bear the thought of another Johnson and Chevrolet-powered championship, they may very well give Keselowski a hand.

After all, if you're a Ford guy, isn't it better to lose to a Dodge than to a dreaded Chevy?
Keep Reading