Manchester United vs. Arsenal: How Gunners Can Win at Old Trafford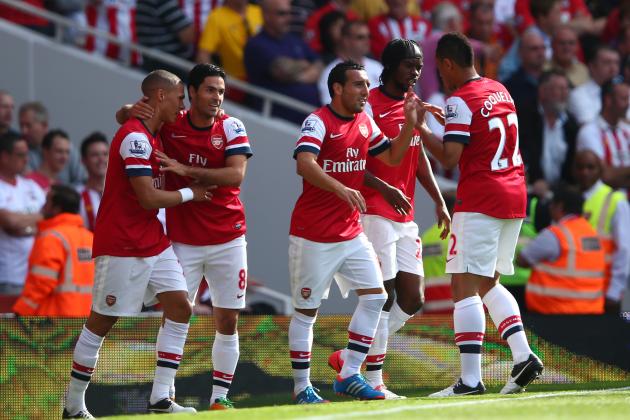 Clive Mason/Getty Images

Given Manchester United and Arsenal's involvements in two Capital One Cup epics that will each live long in the memory, it's easy to forget that they will play each other in the Premier League this Saturday.
But when the dust eventually settles from those storms involving Chelsea and Reading, respectively, it's time to turn our eyes to more exciting league action, as United host Arsenal at Old Trafford in just two days.
This has long been a fixture in the English footballing calendar to look forward to, made even more so by the 8-2 drubbing by United that occurred in the same fixture last year.
Arsenal might not be enjoying a stellar run of results (Reading aside), but unlike last year, this should be a very winnable fixture for Arsene Wenger and co.
Let's take a look at how Arsenal can take home all three points from Old Trafford on Saturday—and, as usual, feel free to have your say in the comments below.
Begin Slideshow

»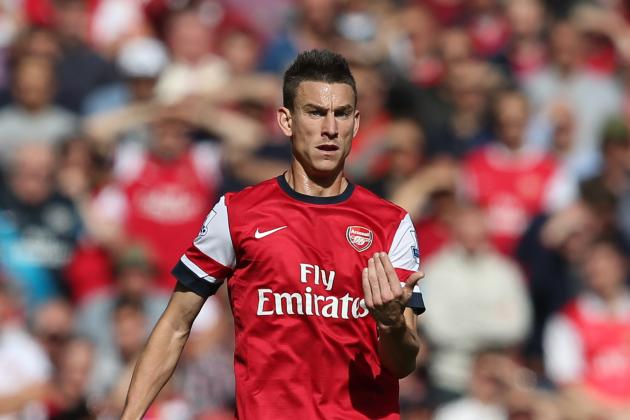 Richard Heathcote/Getty Images

Arsenal's first-choice center-back partnership this term has been Thomas Vermaelen and Per Mertesacker, but Arsene Wenger should change things up at the back at Old Trafford.
While Mertesacker has improved considerably from his uncertain and hesitant first season, his strengths are still his height and reading of the game.
Against a Manchester United side who are ruthless on the counterattack and who possess pace and flair in numbers, Mertesacker would struggle against the likes of Robin van Persie and Wayne Rooney.
In Tom Cleverley, Paul Scholes and Michael Carrick, United also possess players capable of getting a quality pass through to the their front men, and without pace Mertesacker would struggle to get himself back into key defensive positions to stop such attacks.
Conversely, Laurent Koscielny has the required pace and agility, as well as the ability to play the ball out of defence, which will be crucial against a forward line that throws caution to the wind.
Of course, Koscielny also chips in with his fair share of goals, which just might end up making the difference on the day.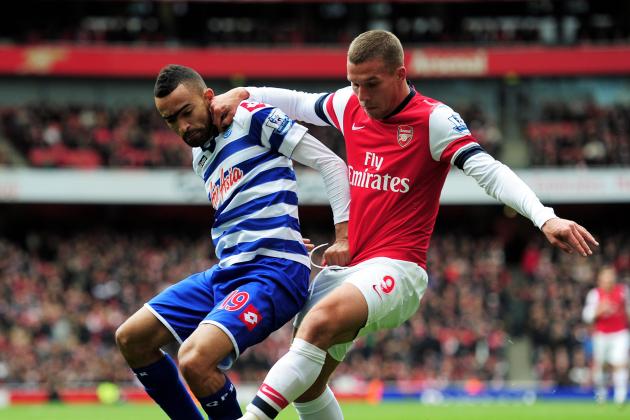 Shaun Botterill/Getty Images

Central defence is Arsene Wenger's biggest worry, but his chief concern should belong solely to Andre Santos, Arsenal's wonderfully attacking left-back who unfortunately lacks the tenacity, positioning and tackling ability to make it as a Premier League defender.
But in the absence of Kieran Gibbs, Santos is perhaps Wenger's only choice on the left, which means that he will be counting on left winger Lukas Podolski to help out on Arsenal's left flank.
Because not only is Santos suspect defensively, they will also be coming up against a Manchester United right flank consisting of no other than Antonio Valencia and Rafael da Silva, both famed for their contributions in attack and for bombing down the right touchline.
Fortunately, in Podolski, Wenger has a trusty winger/forward who is more than willing to track back and put in a tidy defensive shift.
Unfortunately, he will need to do just that all afternoon.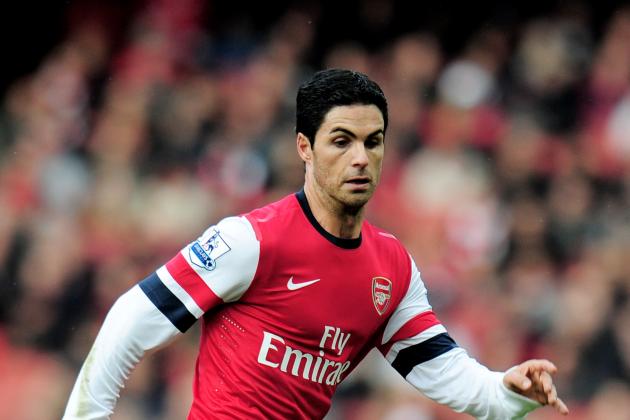 Shaun Botterill/Getty Images

Now that the defence is covered, let's talk about the midfield.
First, on Manchester United's end: To accommodate their forwards and midfielders, Sir Alex Ferguson has moved to a midfield diamond formation, packing several forward-looking midfielders more centrally, with Michael Carrick as the base.
Without an out-and-out defensive midfielder in the side, this creates a narrow midfield that always looks to move the ball forward.
Arsene Wenger, while not using a diamond, has also set his side up in a similar way, in that Mikel Arteta plays a cultured passing midfield anchor, especially in the absence of Abou Diaby.
To stop United's midfield enjoying their possession and time on the ball, Arsenal can stifle their creativity and movement by packing the midfield area.
With the strength in depth that Wenger enjoys this season, this should be easily achievable.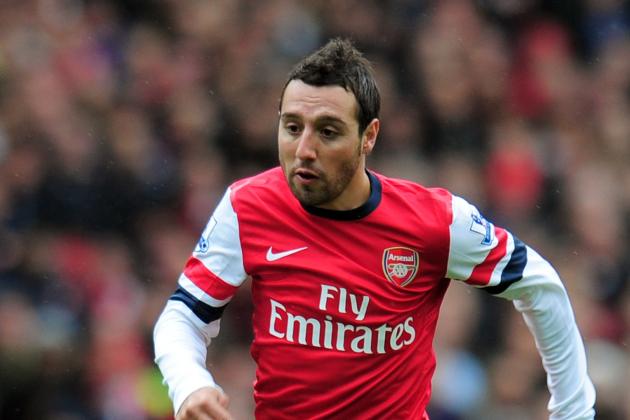 Shaun Botterill/Getty Images

But outside of overloading the midfield, the easiest option to cause United trouble would be to build play through the flanks.
By definition, United's midfield diamond limits their prowess out wide, and even though Antonio Valencia enjoys his space and running down the right, his starting position is more of an unorthodox wide right winger than any nailed-down position.
Theoretically, the aforementioned combination of Andre Santos and Lukas Podolski should give him enough to worry about.
Onto Arsenal's wide players, who have rarely been found so abundant in Arsene Wenger's recent teams.
The Gunners' slick passing and possession play enable them to switch flanks at will with Mikel Arteta at the heart of the midfield, and they should focus their relative strength on the flanks.
Santi Cazorla, who has been a revelation since joining the club this summer, has done his damage through a central attacking midfield position but, with Jack Wilshere's return, could be moved out onto the right to take advantage of the poor positional play of United left-back Patrice Evra.
Add the likes of Alex Oxlade-Chamberlain, Theo Walcott, Gervinho and even Andrei Arshavin, and Wenger has all the tools in his arsenal to force United back.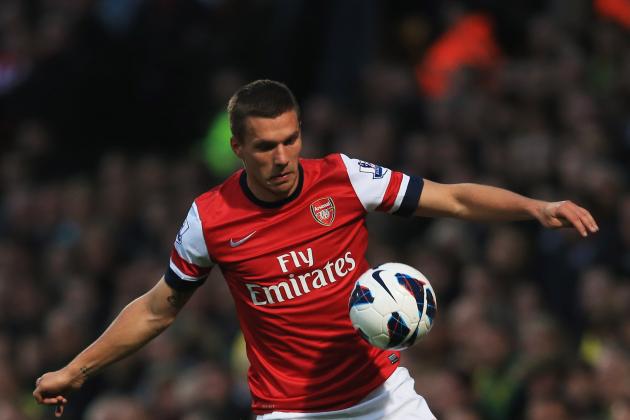 Richard Heathcote/Getty Images

Onto the attack.
While Arsenal possess attackers in numbers this season and are capable of going the "Arsenal way" in terms of passing their way toward the goal line, undoubtedly one of their biggest strengths is playing on the counter.
Which, incidentally, is one of Manchester United's most potent weapons.
So here is a case where Arsene Wenger could very well give Sir Alex Ferguson a taste of his own medicine.
With a relatively lightweight midfield and a porous defence, United are vulnerable on the break, especially with a relatively statue-like central defensive partnership in Rio Ferdinand and Jonny Evans, and the positionally suspect full-back pair of Rafael da Silva and Patrice Evra.
Mikel Arteta's passing could well set them off on a counter spearheaded by Lukas Podolski or any of the aforementioned attacking midfield options.
Arsenal's pace is what can really hurt United on the break.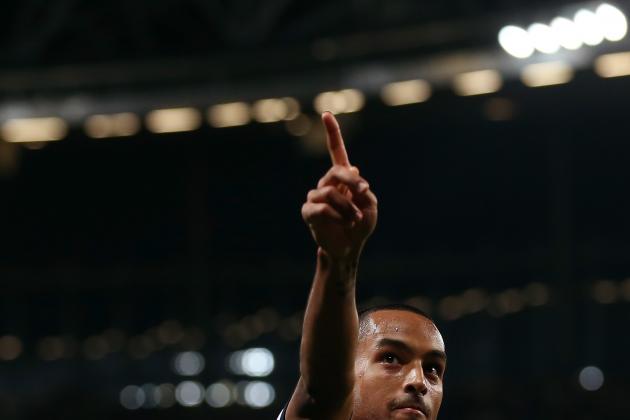 Julian Finney/Getty Images

Now comes the very crucial debate that will no doubt have Arsene Wenger racking his brains until the game: Olivier Giroud or Theo Walcott?
Walcott will have strengthened his claims for a striking position with his awesome hat trick against Reading in the Capital One Cup on Tuesday, but for the Old Trafford clash, perhaps Giroud might be the better choice.
This in many ways goes against the counterattack-heavy approach discussed in the previous slide, but Giroud would present another excellent option up front in terms of his positioning and passing.
While he hasn't set the Emirates alight (let alone the league) in terms of goal scoring, he has proven to be a very useful outlet up front and indeed holds the same number of assists (five) as Mikel Arteta at this stage of the season.
Walcott himself would be a fearsome prospect off the bench for a tiring United defence who would dread his direct running and much-improved finishing.
Take advantage of the work done by Giroud and kill off a tired United?
Sounds like a win-win for Theo Walcott.
Also check out: Why Wenger Should Try Theo Walcott as a Striker
For extensive coverage on the Premier League, please check out my Bleacher Report writer's profile. For all things Liverpool—match reactions, opinions et al—please subscribe to The Red Armchair.