5 Keys to Los Angeles Lakers Winning NBA Championship in 2012-13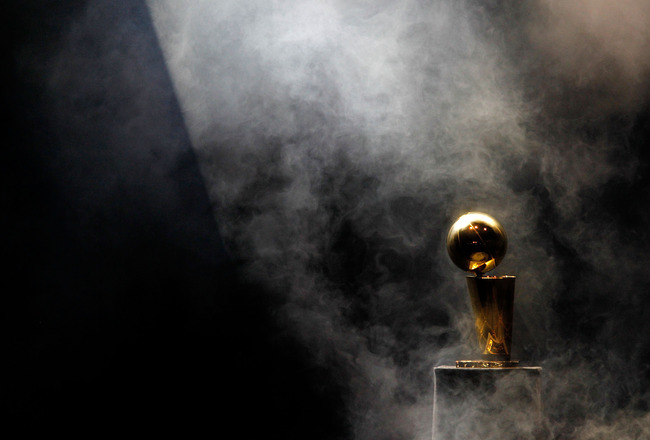 Mike Ehrmann/Getty Images
The Los Angeles Lakers got a whole new look this offseason, bringing in two of basketball's best players at their respective positions in Dwight Howard and Steve Nash, along with other key contributors and role players, in an attempt to make a run at this year's NBA championship. Along with new faces will be the installation of a third offense, the Princeton offense, in as many years as Mike Brown has been at the helm.
The Lakers will have much to adapt to while continuing to compete with the best, as the Western Conference is compiled of a few teams who will also be putting up a fight to bring home the Larry O'Brien trophy in 2012. The seamlessly never-aging Spurs and a new-look Thunder roster will both look to slow down Los Angeles' title aspirations. There are many entities that factor into a championship recipe, and these are five ingredients that will lead to a 17th Lakers championship.
Kobe Bryant's Efficiency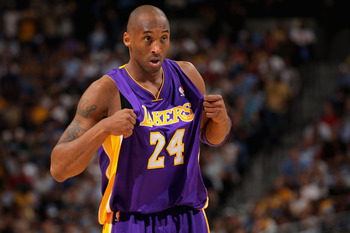 Doug Pensinger/Getty Images
Although the "Black Mamba" has established himself as arguably one of the greatest players to ever grace the NBA hardwood throughout his illustrious 16-year career, Bryant must learn to be the deadly assassin he is capable of being on fewer shots this season, if the Lakers are going to bring home a record-tying 17th NBA championship. Kobe has had to (if not had to, then felt the need to) carry much of Los Angeles' offensive load since the departure of Shaquille O'Neal in 2004-05, but with the addition of a few new toys—a former back-to-back MVP, a three-time Defensive Player of the Year and a 17-PPG scorer in the 2011-12 campaign—Bryant shouldn't feel the need to shoulder the workload as much as in years past.
He will need to defer to his teammates more and have better shot selection if he wants to start a ring collection on his second hand. His most efficient season shooting the ball from the field was in 2001-02 at a 47 percent clip, while he shot a career best 38 percent from deep in 2002-03. Kobe's shooting percentages must hover at, if not above, those numbers if he is going to help, rather than hinder, the development of this revamped squad.
Dwight Howard Continues Reign as Game's Best Center...And Keeps His Mouth Shut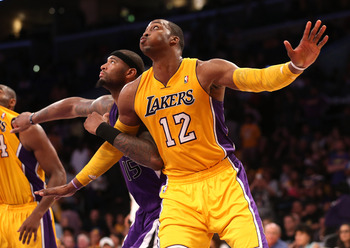 Stephen Dunn/Getty Images
After seeing Howard's return to the court in the final couple of preseason games, his first as a Los Angeles Laker, it should be safe to say that "Superman's" back injury should not be a worry for the organization or fans at this time. Dwight will, however, need to worry less about Shaq's thoughts on him and his skill set and more about doing whatever it takes to help his team win basketball games. There is no question that he will be out to prove that last year's lack of a DPOY trophy was a fluke and more media-influenced by the "Dwightmare" saga than anything.
Howard's villain persona will be something that he must ignore, along with Shaq comments and other media-inspired nonsense that will no doubt arise in 2012. Dwight Howard is amongst the biggest physical freaks in the Association, and besides some competition from former Laker Andrew Bynum, he is viewed as the NBA's premier center and a rare talent around league circles. But, the issue with Howard will be that he simply needs to avoid feeding what will undoubtedly be the media's obsessive question of this season—Will you play for the Lakers beyond this year?—and just play the game of basketball.
Steve Nash Avoiding Father Time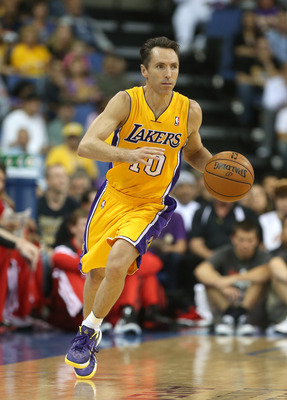 Stephen Dunn/Getty Images
At 38 years of age, you would understand if Steve Nash's skills had diminished, causing him to be only a shell of the player he once was as a 31- and 32-year-old MVP, but that is not the case for the ageless Canadian, as he continues to defy any "expert" predictions about a drop off in his play. Though the points per game numbers may not be the same as those during his MVP years, and the hair may be a bit less Fabio-esque, Nash still has a tremendous impact on the performance of his team. He has truly been one of the most exciting playmakers to watch from the point guard position throughout his time in the NBA and will take almost all of the ball-handling duties that Kobe has shared with prior point guards in his career.
While never having elite athleticism, Nash has still managed to make everyone around him a better and more efficient player through his selflessness, unparalleled court vision and the ability to call his own number, and capitalize, when necessary. He is one of the only consistent 50-40-90 guys in the NBA, has dished out 9.7 assists per game or more for the last eight seasons, topping the 11-per-game mark five times, and has averaged a double-double through points and assists seven out of the last eight campaigns.
Nash has led mediocre talent to the playoffs before and beaten the Lakers in the process, so if he can avoid the injury bug like he has managed to for the past 16 years, he should have plenty of fun and success playing with the new-look purple and gold.
Bench Play Must Rival 2008-09 Squad in Impact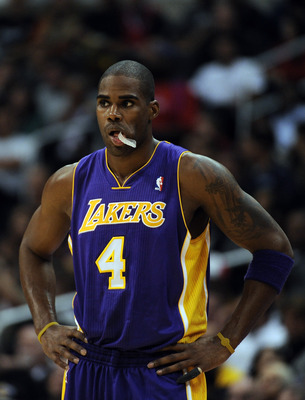 Harry How/Getty Images
It's not very often that a team can sign a player who averaged 17 PPG just a season ago to a minimum contract and convince him to be a sixth man, but that's exactly what the Lakers did this offseason when signed combo forward Antawn Jamison to a one-year, $1.35 million contract. Jamison has been a very good scorer in his time in the Association, averaging 19.5 PPG over 14 professional campaigns. If he can adapt to being a bench contributor for the first time in his career, he could help bolster what has been a relatively weak second unit since the 2008-09 championship run.
The team also added to its depth by signing former 76ers guard and Kentucky product Jodie Meeks, adding a spark-plug dynamic off the pine. The Lakers also re-signed forward/center Jordan Hill, who had a great playoff run in 2011-12, displaying the talent and potential that made him the eighth selection of the 2009 draft, and picked up veteran point guard Chris Duhon in the Dwight Howard blockbuster deal, thus solidifying the point guard depth behind Nash. The success, or lack thereof, of these new additions, along with rotational guys like Steve Blake, Devin Ebanks, Earl Clark and rookie seven-footer Robert Sacre will determine the Lakers' season just as much as the starting five.
If the second unit can perform admirably throughout the year with their time on the court, as they are fully capable of, and allow older guys like Kobe and Nash to rest and sit out some games as the regular season comes to a close, Jerry Buss, Mitch Kupchak, Mike Brown and company should be happy with where they're sitting come playoff time.
Team Chemistry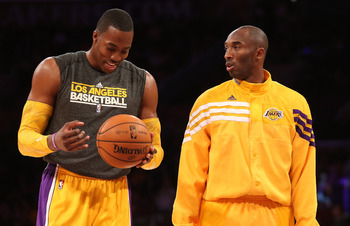 Stephen Dunn/Getty Images
Over everything else, however, this team's biggest obstacle will be trying to overcome the lack of time spent on the court together. Will they be able to gel in a year's time like Boston's "Big 3" were able to, or will it take them a couple of seasons like Lebron and company? There are plenty of big personalities on this Lakers squad, and it will be interesting to see how the whole scenario plays out after an 0-8 preseason that has left the Lakers' fan base with questions left unanswered.
Metta World Peace and Pau Gasol will have huge roles, as their play must complement that of this team's three aforementioned stars. Gasol will no longer be the second or third scoring option and will be relegated to the fourth or fifth option out of Mike Brown's newly installed Princeton offense. Pau should be able to thrive in his new role, as he is one of the better passing big men in the league and a true "team comes first" kind of player. However, this year Pau will need to play with the same grit that led to his first championship over the Celtics with this organization, after having been labeled "soft" for most of his career.
Team chemistry starts with sharing the same mentality, and the rest of Los Angeles' starting five will be playing the role of hungry predator. Howard and Nash have yet to hoist the Larry O'Brien Trophy, Kobe will be trying to cement his place in history as one of the NBA's greatest winners and World Peace is still Ron Artest, who's always game to mix it up a bit with the opposing team and bring some solid defense to the table. MWP will need to be the defensive stopper that his game has earned its reputation for, while also being smart with the ball on the offensive end, playing as close to mistake-free basketball as he can. It's up to Gasol and World Peace to play with the same fire and intensity, game in and game out, and to learn to play their roles to the fullest of their capabilities.
If the starting unit plays with that killer mentality, the rest of the team will feed off that energy and bring everything they have every time they step foot in the gym, whether it be practice or game day. Championship teams have an attitude that they are the best, and if the whole roster can adopt that mentality, the city of Los Angeles, and Lakers fans around the nation should be in for a special year.
Keep Reading

Los Angeles Lakers: Like this team?