Patriots' Most and Least Improved Players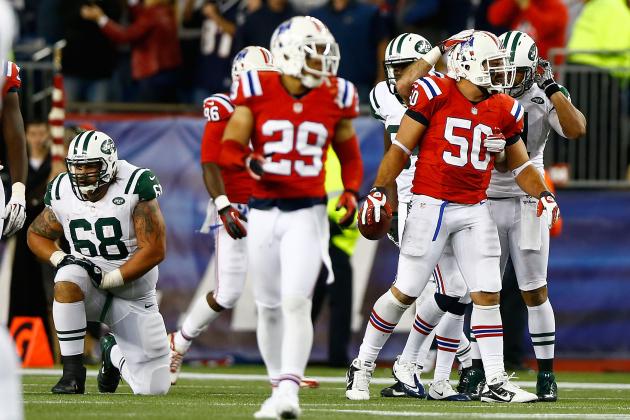 Jared Wickerham/Getty Images

The Patriots are 4-3 and headed to London. Awaiting them are the Rams, a worthy defensive adversary with an upset on its mind.
Heading into this game, New England has the most productive offense in the league with 3,053 total yards (436.1 per game) and 217 points (31.0 per game).
Someone who forms his opinion based on statistics will look at those numbers and say the Patriots are conducting business as usual. Tom Brady's having another remarkable season, Wes Welker is furthering his case for the Hall of Fame and the machismo of New England's tight ends is in full effect.
On the other hand, someone who relies more on what he sees will cite the fact that the Patriots haven't had a smooth game since Week 1 against the Titans. The last six games have been defined by slow starts, offensive inactivity, dropped balls, fumbles, penalties, defensive woes in the backfield, lost leads and tight games that should've been snooze-fests.
So, what's it going to be? Numbers or intangibles? You make the call.
One thing is certain: The Patriots must get better, no matter what the numbers insist to be true, no matter what intangibles have prevented them from being more consistent the first seven games. Improvement is crucial.
Here are New England's most and least improved players.
Begin Slideshow

»
Jim Rogash/Getty Images

Heading into 2012, Stephen Gostkowski's stunning accuracy made him a historically significant kicker for the New England franchise. Faith in his ability was sky high.
But after missing a potentially game-winning field goal in Week 2, his record took a hit.
In Week 4, while the Patriots were getting trounced in the first half of the Bills game, Gostkowski missed two field goals. The proverbial crack in his windshield seemed to be growing into a full-scale shatter.
But Gostkowski settled the shakiness.
In Week 7, he nailed a huge field goal against the Jets and sent the game into overtime. Then he nailed another beauty, which effectively won the game for New England.
Those were arguably the two most pressure-packed field goals of his career, and he met the challenge in style.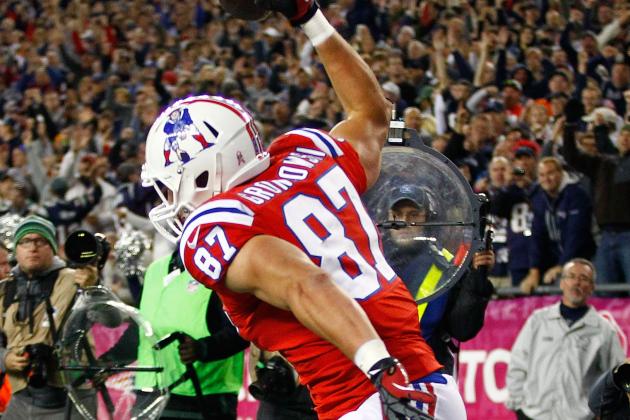 Jared Wickerham/Getty Images

Last season, Rob Gronkowski was unstoppable. He ripped opponents apart with his bare hands, reduced their willpower to dust and forced their helmets to hang in sorrow before the game was over.
He isn't producing that same feeling this season, despite stats that are strikingly similar to his production through the first seven games of 2011.
He's playing well, but he isn't dominating. His field presence is dwindling.
Victor Cruz and Arian Foster have strong numbers and dominant field presence. In many ways, their field presence exceeds their raw production. These players dictate how games are played. They intimidate. They compete with an air of inevitability, as if their team's success is already written in the stars.
That kind of swagger has a psychological and physical impact on other teams. Swagger is partially why the Giants and Texans are having such magical seasons. Swagger can also win championships (see: the Giants in Super Bowl XLII).
Gronkowski used to roll with that same swagger. He needs to get it back. It's a hidden weapon for New England. The Patriots need it to win a championship.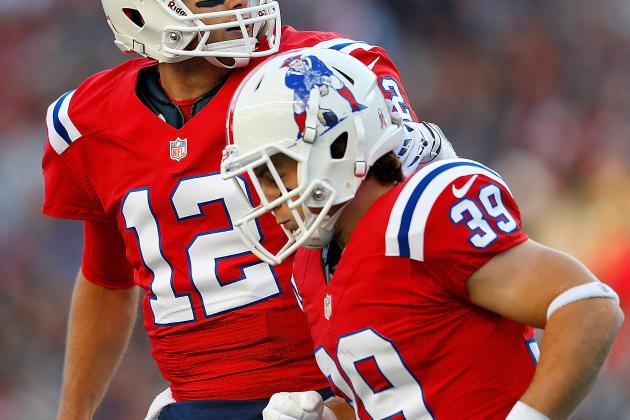 Jim Rogash/Getty Images

When the season started, New England was overflowing with talent. Julian Edelman and Brandon Lloyd were being integrated into an offense dominated by Wes Welker and two superstar tight ends. Stevan Ridley, Brandon Bolden and Shane Vereen were alternating carries at running back.
Danny Woodhead seemed like the odd man out at every position. In many ways, he was. He's not a great receiver, nor is he a franchise running back. He isn't an ideal backup running back, either.
He is, however, an excellent backup-backup running back.
Woodhead isn't the guy who's going to rush for 125 yards in a game, but he's definitely the guy who's going to bail the team on of a crushing 3rd-and-17 situation by running 19 yards.
He's a supporting character, best used in spurts, with an amazing ability to convert pressure-packed downs when the team needs a hero.
He's finally found his sweet spot on this team.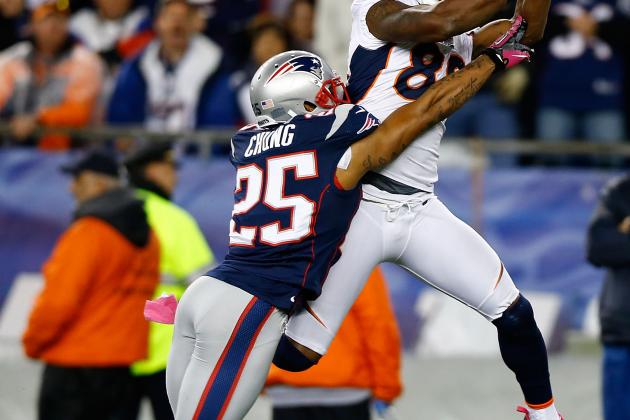 Jared Wickerham/Getty Images

Not too long ago, Patrick Chung was on the verge of assuming a major leadership role on this team. Granted, his health has always been his Achilles' heel, but still, his sheer willpower (coupled with his taste for brutality) seemed like enough to make him a dominant figure who could push this defensive backfield to new heights.
But at this point, it feels like Chung's health has really slowed him down. He's not the same guy. His commanding field presence is fading fast.
Sterling Moore and Kyle Arrington have also hit the skids lately.
Moore's lack of speed has killed his ability to make big plays. Arrington still doesn't have a single interception (he had four in the first seven games of last season, seven overall). Both have been poor in coverage all season. The same goes for Chung.
These three guys were supposed to be crucial building blocks in this young secondary. But as of now, they're all slipping fast.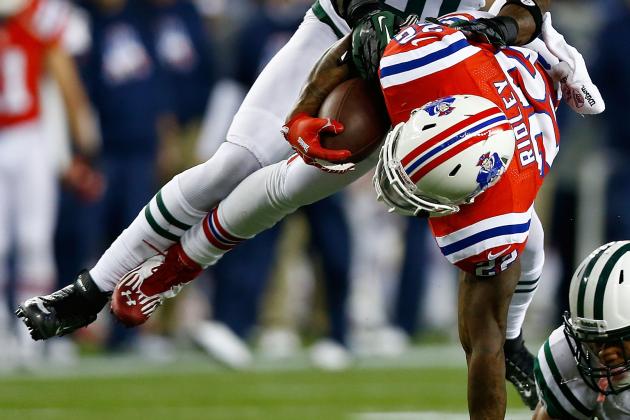 Jared Wickerham/Getty Images

Last season, Stevan Ridley was a raw project. When you looked at him, it was easy to see a franchise running back, but it didn't seem like he'd get there for another two or three years.
But here we are, only one year later, watching this raw project blossom into a top-shelf running back. Ridley's evolution has been sudden and profound. He's flirting with elite status.
Through seven games, he has 135 carries, 589 rushing yards and four touchdowns. He's already eclipsed his 2011 production in all three categories.
Without a doubt, he's the most improved player on the Patriots.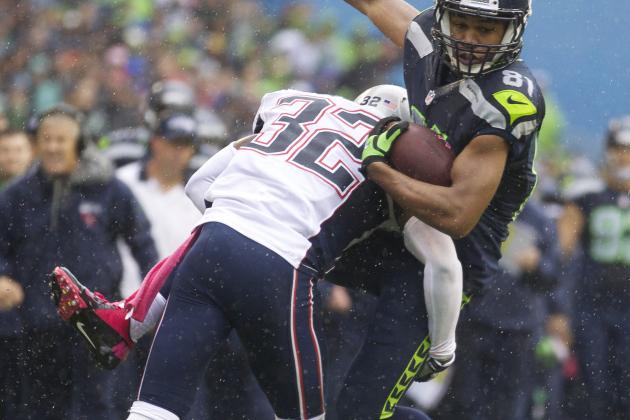 Stephen Brashear/Getty Images

Devin McCourty's season has been far from perfect.
He's already had two costly pass interference penalties and a holding flag thrown on him. He also nearly fumbled away the Jets game last Sunday.
Nevertheless, McCourty has two terrific interceptions. He's been consistently active and engaged through seven straight games. His technique is flawed, but his effort is always top-notch.
Also, he just won AFC Special Teams Player of the Week for his 104-yard kickoff return for a score last Sunday against the Jets. Impressive stuff.
Overall, he's having an impact and getting better.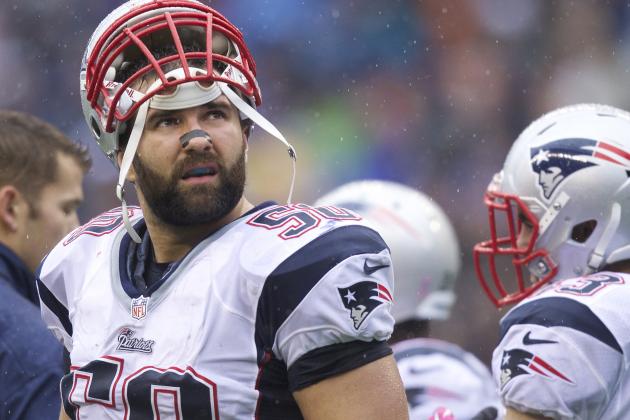 Stephen Brashear/Getty Images

Defensive end Jermaine Cunningham headed into the offseason looking like he would be cut. Instead, he emerged triumphantly, with the Patriots naming him as one of the top-10 performers of their offseason.
He got off to a hot start with a brutal hit on Michael Vick during a preseason contest. Since then, Cunningham has continued to perform at a high level.
Last Sunday, he helped defensive lineman Rob Ninkovich register a huge strip sack on Mark Sanchez late in overtime. Ninkovich recovered the ball to seal the deal.
Ninkovich has 26 tackles, four forced fumbles and three sacks. His pressure on Peyton Manning and Willis McGahee helped bury the Broncos in Week 5. His fingerprints are all over the team's biggest victories.
Cunningham and Ninkovich are earning their stripes right now. It's great to watch them evolve and become stars on this team.