NASCAR: 5 Crew Chiefs Who Have the Biggest Impact on Their Team's Success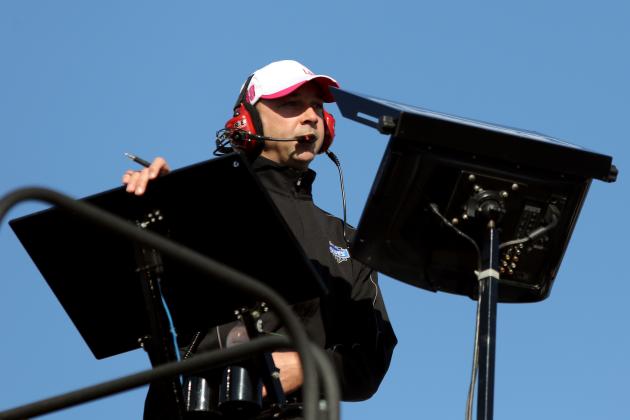 Ed Zurga/Getty Images
Whether you're a fan who loves him or hates him, there's no question Chad Knaus has set the standard for all crew chiefs to aspire for.
There's an old saying in business that behind every successful man is a good woman.
Well, if you're among the most successful drivers in NASCAR, you may have a good wife or girlfriend behind you, but in most instances it's more important to have a good crew chief behind you as well.
What makes a good driver-crew chief combination? Chemistry is of utmost importance. You have to have an almost brotherly-like feel for the other man. Being a bit psychic—essentially being able to read each other's minds—is also a big help.
At the same time, successful driver-crew chief combinations realize the path to success is a 50-50 partnership. One person can't control the other or tell him exclusively what to do or not to do.
That's why so many drivers today have had issues with not just one, but numerous crew chiefs during their NASCAR tenure. Too often, drivers feel they know what's best for their car mechanically when it's the crew chief and car chief that set the car up, prepare the crew and do everything else but drive.
It's those kinds of combinations where one person feels it's his way or the highway that are inherently bound to fail. That's why you see so many crew chief changes during the course of a season—sometimes more than one change within the same 36-race campaign. And more often than not, unless the driver becomes fully vested and is all-in with making the relationship between himself and the guy atop the pit box work optimally, it's going to continue to be more of the same—disappointment, not success.
Dale Earnhardt Jr. learned that lesson. Upon moving to Hendrick Motorsports in 2008, Earnhardt struggled with cousin Tony Eury Jr. Then, Earnhardt's fate grew even worse when he was paired with Lance McGrew, when the pair would publicly—and at times, embarrassingly—squabble over the team's radio on what direction to take when it came to strategy, setup and pit calls.
But if you have a great driver-crew chief pairing and relationship, success is bound to follow.
So here are Bleacher Report's top five NASCAR crew chiefs that have the biggest impact on their team's successes.
Also, follow me on Twitter @JerryBonkowski
Begin Slideshow

»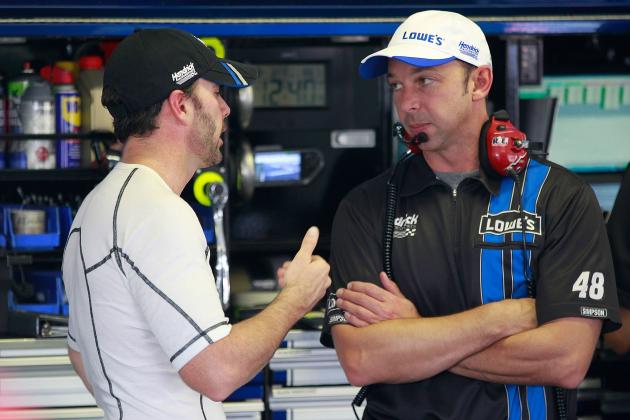 Geoff Burke/Getty Images
Communication is the key between Johnson (left) and Knaus.
Without question, the pairing of Chad Knaus and Jimmie Johnson has not only raised the bar in Sprint Cup racing, but it's also established a whole new level that very few other crew chief-driver combos will likely ever be able to come close to, let alone equal or even surpass.
Their relationship admittedly has had a few bobbles along the way, but every time that has happened, they have come back together even stronger than ever before.
Knaus is a master at strategy, not to mention pushing the mechanical envelope, while Johnson likely would never have achieved the kind of success he has enjoyed to date had it not been for having Knaus calling the plays from atop the pit box.
Ever since the duo was paired together starting in 2002, they've gone on to win a record-breaking five Cup championships in a row (and appear headed toward a sixth title this season), 58 race wins and race earnings closing in on an amazing $120 million.
They didn't just set the standard, they continue to be the standard-bearer in the sport.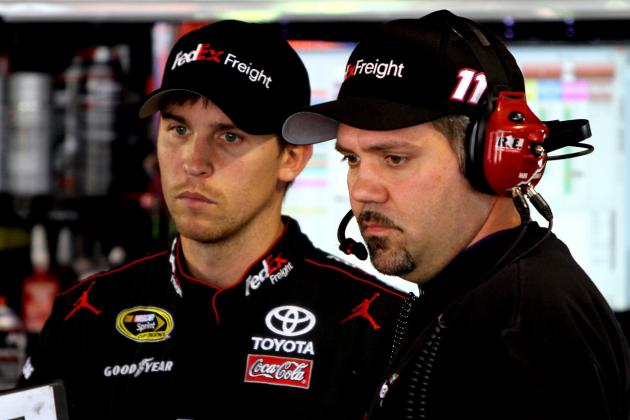 Jerry Markland/Getty Images
Grubb (right) is going for his second straight Cup title as a crew chief.
Gee, given that he's currently in seventh place and just about out of contention to defend last year's Sprint Cup championship, do you think Tony Stewart may already have had several private moments where he wondered "What was I thinking?" when he fired Darian Grubb? Grubb led Stewart to not only five wins in last year's Chase, but ultimately to the Chase championship, the third of Stewart's career.
While we may never hear the real story of what happened in the Stewart-Grubb parting of ways, one thing is for certain: Grubb has gone on to get the better end of the deal as Denny Hamlin's crew chief.
Not only has the team won five races this season, they're also only 20 points out of first place in the battle for the Chase.
With four races left to go, don't be surprised if Grubb and Hamlin ratchet things up even more so and potentially end up giving Grubb his second straight Cup win and Hamlin his first.
Grubb is a master tactician, and he and Hamlin have developed one of the best and closest chemistries in the sport.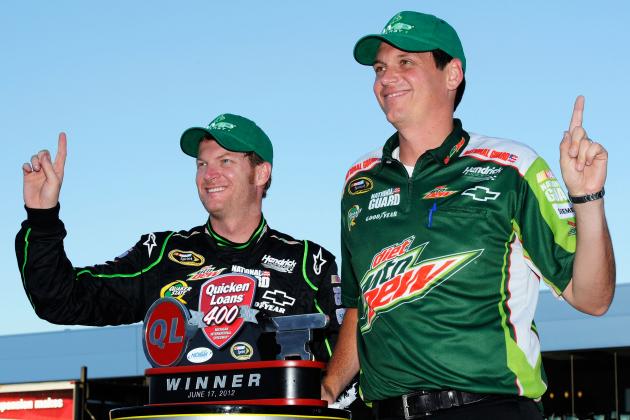 John Harrelson/Getty Images
One day soon, Earnhardt and Letarte will indeed be No. 1.
Although Dale Earnhardt Jr. still has not won a Cup championship in his career, he's getting there.
Ever since he was partnered with Steve Letarte (Jeff Gordon's former crew chief) at the beginning of the 2011 season, Earnhardt has become a much better driver, individual and person both on and off the race track.
Gone are the public feuds he had with former crew chief Lance McGrew. Letarte has been able to extract the best from his driver, been more willing to listen to what Earnhardt wants from his race car and has become both a crew chief and, perhaps more importantly, a good friend to Earnhardt.
Even though Junior is eliminated from this year's Chase due to the pair of concussions that knocked him out of the last two races, look for the Earnhardt-Letarte combination to bounce back even stronger next season.
In fact, I'll be one of the first to go on record and say that for all the long-suffering Junior fans who have craved a Cup title, 2013 is likely going to be the best chance ever.
And as long as the partnership between Letarte and Earnhardt continues to remain close while also continuing to grow, Junior will ultimately and eventually become a Cup champion—maybe even more than once.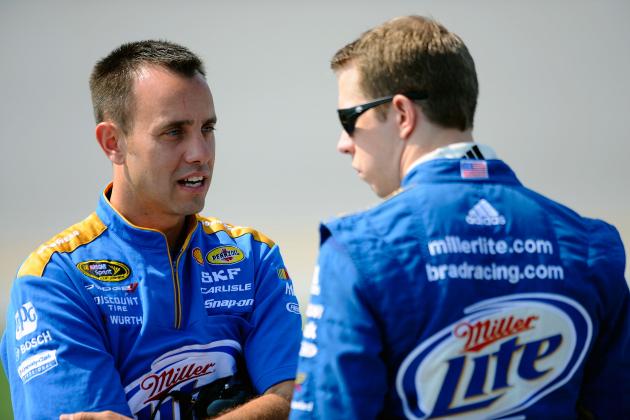 Jared C. Tilton/Getty Images
Wolfe and Keselowski are just getting started success-wise.
This is one of the most underrated crew chief-driver pairings in the business.
The soft-spoken Wolfe leads by example and strategy, while Keselowski has been a fountain of information in helping fix issues with the car during the course of a race, as well as trusting Wolfe implicitly.
It's no wonder why Keselowski has had such a great season in 2012 and continues to lead the Sprint Cup points standings with four races left in the season.
If Wolfe and Keselowski can ignore the increased pressure that will come with the passing of each of the next four races, there's a very good possibility Keselowski and Wolfe will be championship winners less than a month from now, not to mention giving team owner Roger Penske his first NASCAR Sprint Cup championship.
But here's the scary part: as good of a relationship as Wolfe and Keselowski have formed, the longer they remain with each other—and they're both still young—the tighter and more formidable that pairing will continue to evolve into.
ESPN analyst and NASCAR Hall of Fame inductee-elect Rusty Wallace told Bleacher Report last week that he felt Wolfe and Keselowski are the newest incarnation of Chad Knaus and Jimmie Johnson.
So true, Rusty, so true.
Jerry Markland/Getty Images
Loyalty is the key word to describe Kahne (left) and Francis.
This pairing may seem out of place in this list; quite the contrary.
Kenny Francis has remained with Kahne since the final race of 2006 and has led Kahne to 13 of his 14 career Sprint Cup wins.
If there's one word that best describes the relationship between the two, it's "loyalty." Even when Kahne found himself in bad equipment and, at times, poorly run organizations, almost like a brother/best friend combo, Francis remained at Kahne's side even though he had opportunities to go elsewhere.
Francis believed in Kahne so much that he refused to even listen to overtures from other teams and drivers, feeling that one day, Kasey would indeed hit it big, and that prophecy has definitely seemed to come together this season.
In fact, even though they're 25 points out of first place heading into Sunday's race at Martinsville, don't be surprised if Kahne makes a late-season surge in the next four races to really tighten up the Chase battle.
I'm not saying he'll win the championship in 2012, but I can guarantee one thing: If Kahne doesn't win the title, whoever does will definitely have to come through and get past Kahne to win it.