Who Wears the Crown: Identifying the Chargers' Best Player at the Midseason Mark
Harry How/Getty Images
Even though the San Diego Chargers have stumbled to a sporadic 3-3 record at midseason, five players have managed keep the Bolts afloat with their dazzling play. But, who wears the crown?
The Chargers got off to a hot start at the beginning of the season, but a 27-3 whooping at the hands of the Atlanta Falcons triggered a downward spiral for San Diego. After picking up a win over the Kansas City Chiefs at Arrowhead Stadium, the Chargers dropped two primetime games in a row to the New Orleans Saints and Denver Broncos. San Diego led early on in both games but failed to close out victories, allowing Drew Brees and Peyton Manning to lead game-winning comebacks in the second half.
The Chargers may be down on their luck coming off two heartbreaking losses but at least this team has enough talent to pick themselves back up. The following five players have performed well enough to stake their claim as San Diego's best player this season, and only one has earned the right to wear the crown at midseason.
Malcom Floyd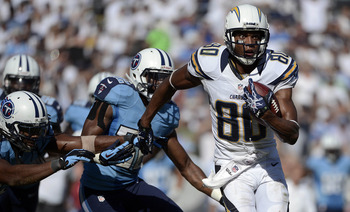 Donald Miralle/Getty Images
Malcom Floyd has been one of the few bright spots on offense for the Chargers. At the beginning of the season, many wondered if this offense would be able to function without Vincent Jackson, but Floyd has proven he's more than capable of picking up the slack.
As expected, Floyd is San Diego's leading receiver with 25 receptions for 418 yards and one touchdown. Time and time again, Floyd has been the guy to bail out Philip Rivers when the Chargers need a completion. He's also been the most efficient deep-ball threat for Rivers, averaging 16.7 yards a catch. In fact, Floyd is among the league's top five receivers for most receptions of 20-plus yards. He may not be a scoring machine, but Floyd is still one of San Diego's biggest contributors on offense.
As Rivers continues to struggle with developing some sort of chemistry between his newer receivers, Robert Meachem and Eddie Royal, Floyd will remain a constant target in the passing game. For the most part, this offense has managed to keep drives alive because of his clutch play. Because of what he brings as an athletic receiver to San Diego's offense, I would consider Floyd a strong candidate for the crown on this team.
Antonio Gates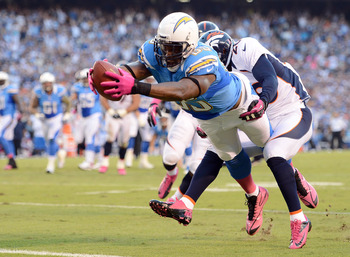 Harry How/Getty Images
Antonio Gates has been another one of Philip Rivers' security blankets this season. Despite missing a Week 2 contest against the Tennessee Titans, Gates has still come up big for the Chargers all season long. With 19 receptions for 224 yards and two touchdowns to his name, Gates is San Diego's third-leading receiver.
After battling foot injuries for the better part of his career, among other injuries, Gates has managed to stay pretty healthy in 2012. Yes, he did sit out Week 2 with a rib injury which he suffered in the season opener against the Oakland Raiders, but it hasn't seemed to bother him as of late.
Like most tight ends, Gates is a quarterback's best friend, and with way Rivers has been playing recently, he could use as many friends as possible. Because of his reliability and effectiveness in the red zone, Gates is another consideration for the crown.
Ryan Mathews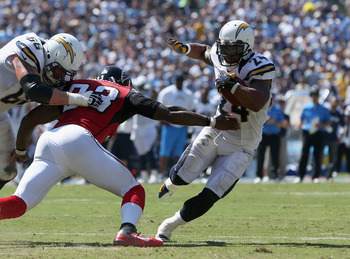 Jeff Gross/Getty Images
If Ryan Mathews hadn't suffered a broken clavicle in the preseason, he wouldn't have had to fight his way out of the dog house after Norv Turner doubted his ability to take on the role as a feature back upon his return from injury.
Personally, I like the fact that Mathews feels he has a chip on his shoulder as its forced him to earn back his place as the starter. The 25-year-old has just 259 yards and a touchdown at the midway point of this season, but numbers don't justify his efforts on the field. Ever since he was benched in favor of Jackie Battle and Ronnie Brown, Mathews has been running with an added strength, hitting the hole with authority. You can see by the way he's running the ball that he wants to prove he can handle the full workload.
Not only has Mathews done his thing on the ground but he's also provided some support in the receiving game, catching 17 balls for 131 yards. He's been especially sufficient when San Diego calls for the screen pass. When you take all that into consideration, it would be a shock to keep him off the list for the crown.
Donald Butler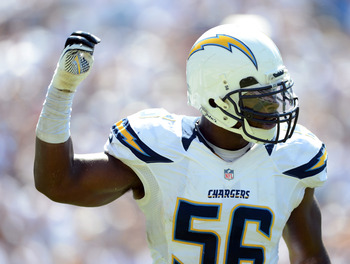 Harry How/Getty Images
Donald Butler is on pace to match his breakout season of 2011, and he's been an absolute stud on San Diego's defense this year. His maturity on the field is impressive considering he's a third-year player and just 24 years old.
Playing alongside Takeo Spikes has truly graced the career of Butler, but the young linebacker is beginning to form his own legacy at the middle of San Diego's defense. Butler is like a safety at the middle linebacker spot, swallowing up ball-carriers, picking off passes and forcing turnovers. At the halfway point of this season, Butler has 35 tackles, one sack and one interception for a touchdown. In addition to his production last season and this season, San Diego should be ecstatic with Butler's development and his bright future.
Defensive players that can do it all are hard to come by in the NFL, and the Chargers should consider themselves extremely lucky to have Butler on their side. As the season progresses, Butler's value will skyrocket as San Diego attempts to make the postseason. The offense has struggled in the second half almost every week, forcing the defense to make a stand when the game is on the line, and key turnovers could make the difference in a close matchup. Butler is easily one of those guys who could get his hands on a pass or knock a ball loose. You have to give him a crack at the crown.
Eric Weddle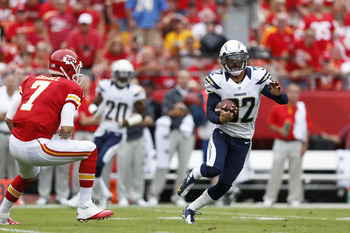 Joe Robbins/Getty Images
Eric Weddle does it all from the free safety position. He breaks up passes, makes tackles in the box and creates turnovers.
The league's highest paid safety has been playing like he should this season, accumulating 33 tackles, one sack, two interceptions and a forced fumble. Quarterbacks around the league should be weary of Weddle's presence on the field as he's the ultimate opportunist when it comes to bad throws and miscues between receivers. When Weddle has the ball in his hands, he's always a threat to bring it all the way back for a score.
Weddle's versatility in San Diego's defense is something the Chargers would sorely miss if he were absent. The pass coverage is there, and there's never a moment when he'll pass up a chance to lay his shoulder into a running back.
At times, that aggressiveness can hurt the defense when a weaker defender has no help over the top in deep passing situations. We've seen cornerbacks get beat numerous times this season when Weddle plays closer to the box or to one side of the field. While that's not his fault, it just goes to show you how important he is to this defense and more importantly to this team. That alone is reason enough to place him in the conversation for the crown.
The Winner: Ryan Mathews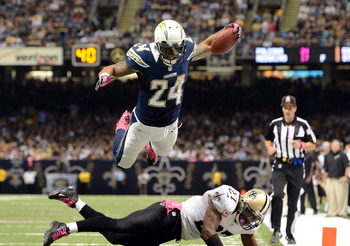 Harry How/Getty Images
Picking a winner for the crown in San Diego was no easy task. It was extremely hard to not pick a defensive player, especially because the defense has been playing so well collectively. But that's just the thing—the defense plays well as a unit. Each player has contributed in some part to the success.
Offense is a whole other monster for the Chargers. Malcom Floyd came in a close second for the crown because of how vital he's been in the passing game, but Ryan Mathews takes the cake on offense. Missing the first two games of the season hurt his numbers, but Mathews has quickly become a factor as a running back and a receiver.
After the New Orleans' game, Mathews' rushing attempts drastically increased from 12 to 22 in Monday's loss to the Denver Broncos. As the Chargers feed him the ball more, I expect Mathews to start flourishing in his role as the feature back. Incorporating more of the run game could also limit Philip Rivers' need to force passes. Mathews earns the crown because of how valuable he is to the offense and Rivers alike, both of which are struggling.
Keep Reading

San Diego Chargers: Like this team?