Pats vs Jets: New York's Biggest Winners and Losers from Week 7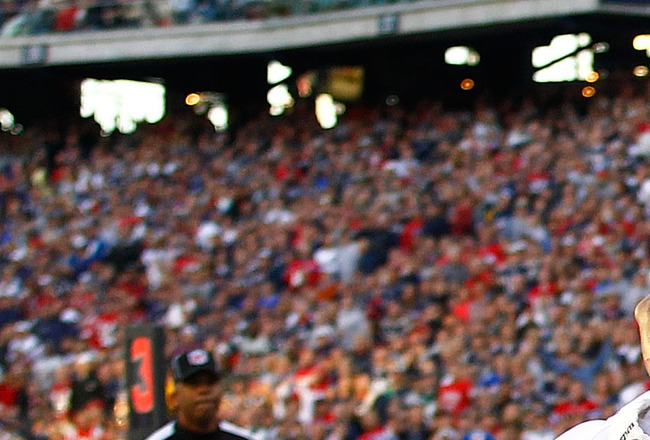 Jared Wickerham/Getty Images
This was certainly a tough loss or the Jets, falling to 3-4 and losing to their most hated rival, but there were a lot of good signs to come from this game.
The team as a unit showed a lot of grit and determination, shutting down the Pats offense for most of the game and coming back from a two-score hole to send it into overtime.
Here are this week's winners and losers.
Winner: Mark Sanchez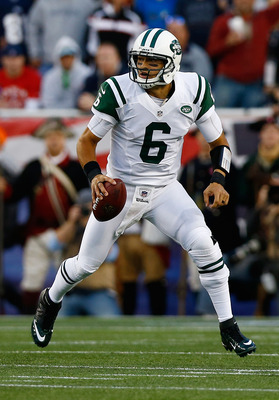 Jared Wickerham/Getty Images
Say what you will about Mark Sanchez, but this was a gutsy effort any way you slice it.
After making a handful of bad throws in the second quarter, Sanchez responded with an epic 92-yard drive to tie the game before overtime.
This was just the performance he needed, showing the grit and intensity that those who were calling for Tebow were clamoring for. He emerged as a leader in the game, even if it did result in an overtime loss.
He made a lot of difficult stick throws, particularly on his touchdown to Dustin Keller.
This was a tough loss for the Jets, but Sanchez's leadership was evident when things were not looking up.
Loser: Chaz Schilens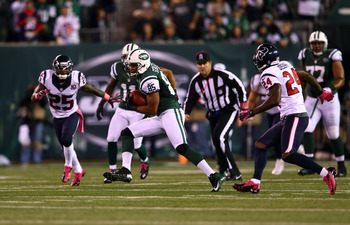 Elsa/Getty Images
Schilens was one of the most underwhelming Jets of the day.
He did not have a catch all game and worst of all, he had a crucial drop in the end zone that would have put the Jets ahead and could have been the difference in the game.
I thought Schilens would put up a better showing now that he has been thrust into the starting lineup, but he has been a pretty massive disappointment so far.
Muhammad Wilkerson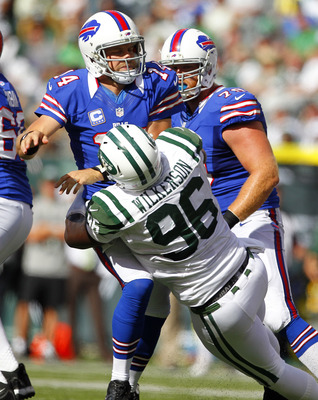 Rich Schultz/Getty Images
This was one of the most dominant performances I saw from Wilkerson. He was perhaps the Jets' best pass-rusher, even if the sack numbers do not show for it.
What makes Wilkerson so unique is his incredible length that allows him to disengage from blockers with ease. The Jets were able to keep the Patriots' new-found run game in check largely thanks to his efforts against the Patriots' interior offensive line.
Loser: Matt Slauson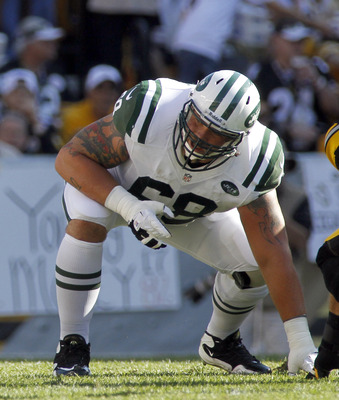 Justin K. Aller/Getty Images
Slauson was already slowly losing his starting job to Vladimir Ducasse, but this game might just have been his last as the starter. He gave up the pressure on Vince Wilfork that forced the fumbled handoff and safety.
He was consequently pulled in favor of Ducasse, who played the rest of the game in his place.
Perhaps it was no coincidence that the Patriots' pass rush slowed down and the Jets rushing game picked up in the second half. We may have seen the last of Matt Slauson as the starting left guard.
Winner: Antonio Cromartie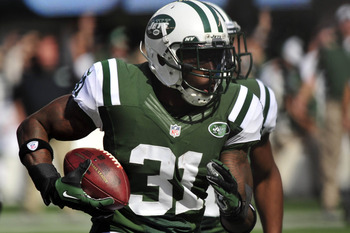 Joe Camporeale-US PRESSWIRE
Cromartie may take some flack for not hanging on to the interception near the end of the game, but he played a great game otherwise.
The Jets chose to put Cromartie on Rob Gronkowski for a significant part of the game, which turned out to be a fairly successful approach. All of the big plays that Rob Gronkowski had, including his two touchdowns, were against safeties and linebackers in coverage.
Other teams should use this approach against the Patriots, but there are not many corners that are nearly as tall as Rob Gronkowski.
Loser: Stephen Hill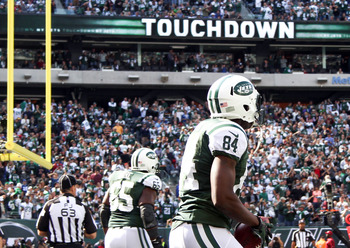 Debby Wong-US PRESSWIRE
Not only did Hill catch just four passes, but he dropped the easiest pass of the night to kill a drive that could have ended in a touchdown.
Hill has shown a lot of promise so far as a rookie, especially since he has been thrust into the starting lineup. But he has an issue with drops that can be maddening.
Hopefully, his case of the dropsies is only temporary and will go away as he gets more experience.
Winner: Rex Ryan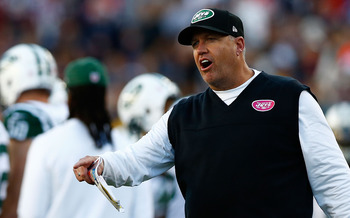 Jared Wickerham/Getty Images
Say what you want about Rex Ryan, but he had his team ready to play.
As a defensive play caller, this was nothing short of a masterpiece. He had Tom Brady off his game almost the entire afternoon, mixing coverages and keeping the Patriots from getting into any kind of rhythm.
His team never quit, even when down by two scores and giving up a kick return for a touchdown. The Patriots' talent won out in the end, but Rex Ryan and his coaches did everything they could have to put their team in a position to win.
Keep Reading

New York Jets: Like this team?