Comparing/Contrasting Marcus Paige to Recent Former UNC Freshman PGs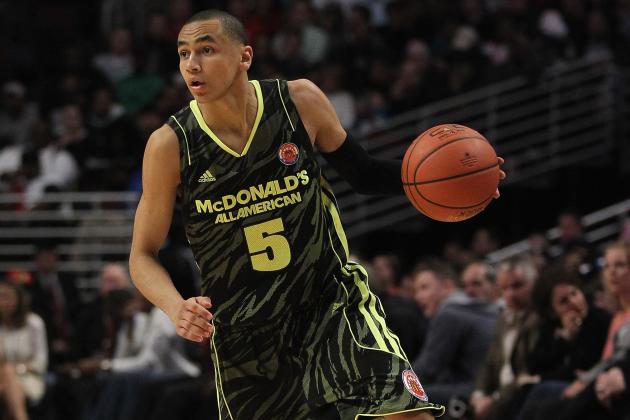 Jonathan Daniel/Getty Images

It's rare that a freshman, let alone a point guard, starts for Roy Williams in the first game of the season.
Barring any injuries or a horrific series of showings at practice, this will be the task that is handed to North Carolina's latest floor general, Marcus Paige.
That's a lot to ask of a freshman, but I've been on record throughout the offseason saying he should be the starter. Not only is he ready in terms of his basketball IQ, but he also provides a scoring threat for a Tar Heels squad that saw their only double-digit scorers enter the NBA.
Not only will his performance impact UNC's success this season, but he will also have to face comparisons with the long list of stellar point guards that have played in Chapel Hill.
Though they didn't all start in their first game at UNC, the last four elite point guards did get a good chunk of playing time by mid-season.
And all of them proved they deserved to run the show from tipoff.
There is no doubt in my mind Marcus Paige will be the next star point guard at Carolina. I'm willing to go ahead and put him on the list of elites with the other four.
But which one does he draw the closest comparison to?
I'll save him for last.
Begin Slideshow

»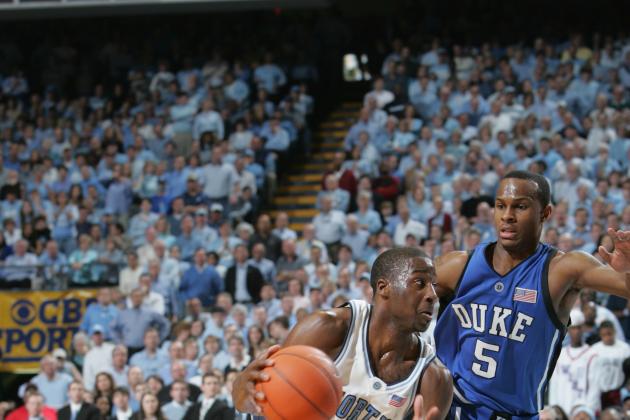 Streeter Lecka/Getty Images

Height: 6'1"
Weight: 180 lbs.
Stats: 35.4 MPG, 39.8% FG, 35.8% 3P, 69.3% FT, 6.7 APG, 1.6 SPG, 12.9 PPG
Like Paige, Raymond Felton was the top point guard in his class coming out of high school.
Carolina fans would soon learn that was with good reason.
Felton started off on a good note in Carolina, dishing out 10 dimes in an 85-55 win over Penn State. He would later earn three ACC Rookie of the Week awards and become the first UNC freshman to put up over 400 points and 200 assists.
Felton played at a speed unknown to humankind at this time.
His quickness was his greatest asset on offense and defense; he always seemed to stay in front of his guy on defense and would explode through the paint on offense.
Felton's hands seemed just as fast as his feet, picking pockets and snatching errant passes.
He was also an excellent finisher in the paint, despite his smaller frame. He didn't mind contact, either; Felton was very physical and knew how to use his body.
This is one area he and Marcus Paige differ.
Paige is very creative with his shots inside the paint, but he tends to avoid physical contact. Both are good finishers, but you won't see Paige by the rim as much as Felton.
Paige is also quick, but not nearly as fast as Raymond Felton. He also isn't as strong, which could hurt him on both sides of the ball.
However, I do feel Paige is smarter with his shot selection, so he will probably have a higher field-goal percentage than Felton in his freshman year. He will certainly be a better free-throw shooter; Paige shot 86 percent from the free-throw line last season at Linn-Mar.
As long as he doesn't have to deal with Speedo Guy, his transition from high school to college should be flawless in that aspect.
Paige is also smarter than Felton in terms of his pace, as he lets the situation determine his pace.
There was no gear to Felton—he was in overdrive the whole game.
Their greatest similarity seems to be decision-making in the passing game. Neither of them throw many unorthodox passes to showboat or create something out of nothing; they are both excellent passers, but they just don't take many risks.
Overall, we're basically scraping for comparisons to Raymond Felton.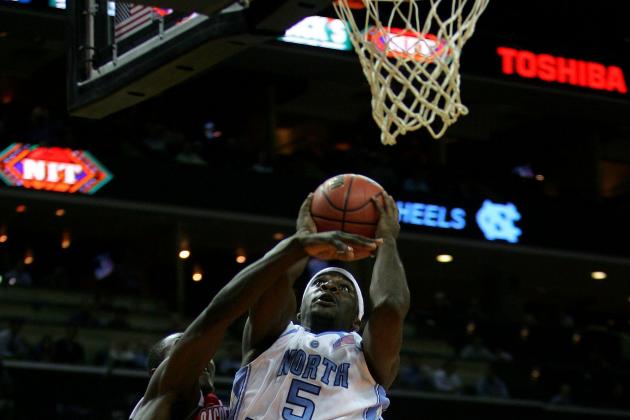 Streeter Lecka/Getty Images

Height: 5'11"
Weight: 185 lbs.
Stats: 25.7 MPG, 50% FG, 35.6% 3P, 68.8% FT, 5.6 APG, 1.5 SPG, 10.2 PPG
Ty Lawson didn't start right away, as Bobby Frasor was the returning starter for North Carolina in 2006. He would eventually take over and lead the Tar Heels to a share of the ACC regular season title and the ACC tournament.
Lawson was very similar to Raymond Felton with his speed and physicality. However, Lawson's speed is still unknown to humankind.
The way he would just fly past everyone on a break was beyond ridiculous. It was simply unfair for the college competition.
Even NBA players are having a hard time keeping up with the little bugger.
He did have a little better grasp on pace than Felton, though.
Despite his 5'11" frame, Lawson found ways to score, usually using his stocky body to absorb contact and finish at the rim. Because of that, Lawson lived on the foul line and constantly finished three-point plays.
If he wasn't churning out three-point plays in the paint, he was dropping treys. He shot a decent 35.6 percent his freshman season, but improved that to 47.2 percent his junior, and final, year.
Much like Felton, he didn't get too creative with his passing. He did get carried away at times in his freshman season, but he would later develop into a much more efficient passer.
As I mentioned with Felton, Paige is very similar in that manner.
He doesn't try to do too much in the passing game, but we'll have to wait and see if he is as good with alley-oops as Lawson.
Paige will be able to knock down threes the way Lawson did at UNC. He comes in as a 44 percent shooter from high school range.
Naturally, that will drop with the arc set further back.
But Paige shot 117 threes his senior year at Linn-Mar, so it's a part of his game he takes pride in. And now he has assistant coach Hubert Davis to help him work out any kinks.
He doesn't have the stocky frame or the speed of Lawson. He certainly doesn't have the physicality, so we won't see Paige absorb contact and finish.
Lawson was also a ruthless defender, averaging 2.1 steals per game by his senior year. And anyone who watched the 2009 championship can't forget his eight steals against Michigan State.
Though he's a very able defender, I don't see Paige putting up those kind of numbers in any year. He did average 3.1 steals in prep, but that gets much harder to come by at this level.
There are some similarities between the two, but Ty Lawson was simply not of this earth.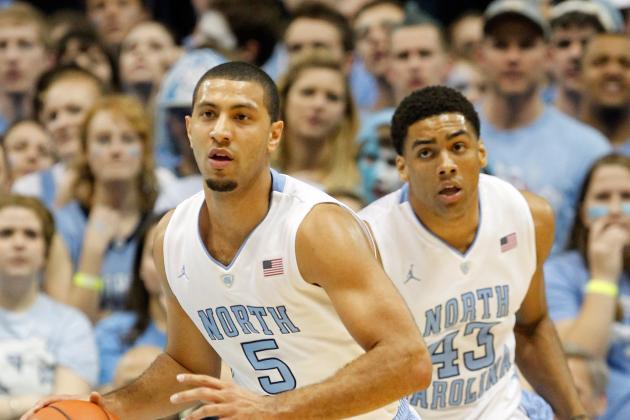 Streeter Lecka/Getty Images

Height: 6'3"
Weight: 180 lbs.
Stats: 24.6 MPG, 41.8% FG, 37.7% 3P, 69% FT, 6.2 APG, 1.1 SPG, 6.2 PPG
North Carolina is only one year removed from Kendall Marshall running the show. The memories of what he did are still very clear and will add to the pressure Marcus Paige is already under.
There are few players I have seen run the point with the efficiency of Marshall.
With Larry Drew leading the way in 2010, the Tar Heels were off to a 12-5 start. After losing to Georgia Tech 78-58, Roy Williams inserted Marshall into the starting lineup, and the rest is history.
From that point on, UNC only lost two more games during the regular season (both to Duke). Then he led them all the way to the Elite Eight before being taken down by Kentucky.
By no means was Marshall the athlete of Felton or Lawson.
Marshall was slow and had no ups, but he made up for that with his change of pace on drives and long passes in transition.
Paige is like Marshall in that way.
He is a better athlete than Marshall, and can actually dunk the ball. But Paige finds ways to make up for his size like Marshall had to with his athletic impairments.
Despite his lack of ups, Marshall could still finish at the rim—many times without even drawing contact. We will see the same from Paige, but he also has a broader repertoire of shots he can take if the hole closes.
Marshall's vision was uncanny, and it would be unfair to expect that from the young Paige. Marshall could receive an inbound and immediately turn around and launch a 90-foot bomb to Tyler Zeller.
He was just amazing.
I think Paige's passing game will probably be closer to that of Felton or Lawson.
Though Paige won't be looking for his own shots first, he will be more willing to take the open looks than Marshall. Kendall Marshall didn't really come around in that aspect until late in his sophomore season, when he started taking open threes and penetrating the defense.
Paige also sports a high basketball IQ coming in and has a true feel for the game like Marshall did. The pace he plays with will be similar to his predecessor, but, overall, these are two different specimens.
And unlike Paige, Felton and Lawson, Marshall wasn't the top-ranked point guard in his class. He was actually ninth on the list.
Shocking, isn't it?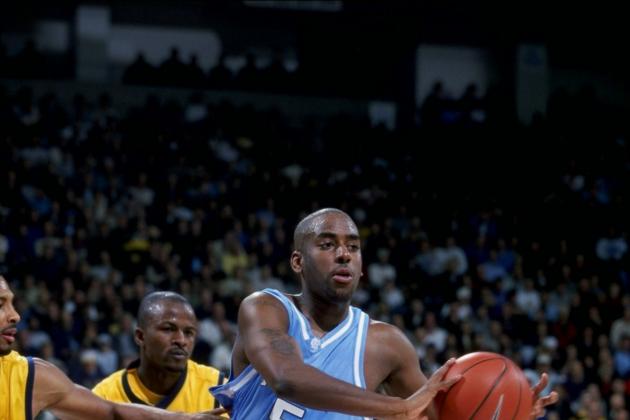 Jed Jacobsohn/Getty Images

Height: 6'0"

Weight: 175 lbs.
Stats: 28.3 MPG, 48.7% FG, 32% 3P, 71.2% FT, 6.9 APG, 1.7 SPG, 8 PPG
To this day, I still don't understand why Ed Cota never got a real shot at the NBA.
Sure, I didn't watch basketball on the same level back then, but I fondly remember the way he would slice up a defense.
Size was always a concern, as it ultimately kept him from reaching his dream.
That didn't stop him from becoming legendary in Chapel Hill. It shouldn't stop Marcus Paige, either.
All three of the previous elites were good passers, and I would put Kendall Marshall in the "great" category. However, none of them were nearly as creative as Ed Cota.
Behind the back, between his legs and in mid-air, Cota could lay down some of the sweetest passes you've seen on the college hardwood. He even incorporated his creative passing into some creative dribbling.
He had a behind-the-back dribble that initially looked exactly like his behind-the-back pass. Defenders would bite on the fake pass and he'd be at the rim.
Marcus Paige is a creative dribbler, but he isn't nearly as creative in the passing game—at least not yet. He should really study some film of Ed Cota.
There are plenty of tricks worth stealing.
Thanks to Kendall Marshall leaving early, Ed Cota still holds the UNC record and is third all-time in career assists with 1,030. He also has the highest assist average of any Carolina freshman at 6.9.
Marcus Paige has a way of scoring, even with his slight frame. That's probably what reminds me most of Ed Cota.
Cota was a master of the floater, and Paige is becoming that, too.
Also like Cota, Paige can still score on the inside with his ups and smart angles to avoid blocks. The up-and-under is another weapon these two share.
Paige isn't blazing fast like Felton or Lawson, but he is quick and athletic like Cota was. Cota had a great understanding for pace, just as I've already mentioned Paige does.
Paige will be a better three-point and free-throw shooter than him, and I doubt if he will ever be the flashy passer Cota was.
But if there is any Tar Heel that Marcus Paige can be closely compared to, it would have to be Ed Cota.