UNC Basketball: Predicting the Next Wave of Tar Heel Stars
Grant Halverson/Getty Images

With NC State back in the ACC mix, more pressure will be put on Roy Williams and the North Carolina Tar Heels to produce stars that can compete with the rapidly growing competitors of the ACC.
Four Carolina greats just left for the NBA, but at least they were replaced with four freshman that found a home on the 2012 ESPN 100—including the top point guard in the country, Marcus Paige.
But can Paige, Brice Johnson, J.P. Tokoto and Joel James all become stars in Chapel Hill?
Don't count on it this year. But this group has the potential to become just as lethal as the Kendall Marshall, John Henson, Harrison Barnes and Tyler Zeller combo.
Chances are, the freshman class won't spend that much time on the floor together. Paige and James will likely start, but Johnson and Tokoto will be a little further down the depth chart in 2012-13.
Losing the big four also means a bigger role for the returners on this squad. Though I don't agree, James Michael McAdoo seems to be the consensus choice for the next Star Heel. So predicting him to be one of the next stars would be like predicting a tornado after the sirens go off.
On top of that, I'm sure he'll head to the NBA after this season. This is why he won't be on this list.
But there are a couple other players that will step in to fill the shoes of the recently departed, while we wait for the youngsters to grow. I'll even take it a step further and add 2013 recruits to the list, including one that hasn't committed.
Begin Slideshow

»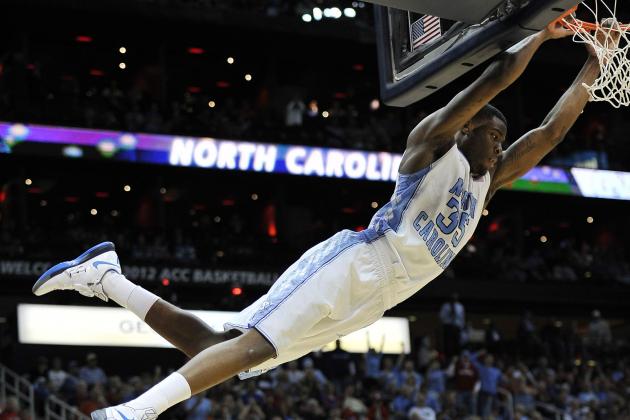 Paul Abell-US PRESSWIRE

It's tough to say what the future holds for Carolina's rising junior, Reggie Bullock. If he has the kind of year I feel he is fully capable of, he may end up in the 2013 draft with McAdoo.
In my mind, though, he would need to have a season beyond comprehension for his draft status to rise that much after two years of being in Barnes' shadow. There is very little media play around Bullock, even after being the obvious replacement for Barnes at the 3.
I think it's a pretty safe bet we will see one more year out of him. Over the next two seasons, it will become blatantly obvious who the man is in Chapel Hill.
Reggie Bullock had little opportunity to make an impact while on the court with the big four. There was just too much offensive firepower, and Bullock spent most of his time dropping treys—and he did it pretty well at a 38.2 percent clip.
Now that he will be looked upon as a leader and play closer to the basket at the 3, Bullock will be asked to get to the rim and occasionally work the post. It will surprise a few people when they see he is more explosive and has better handles than his predecessor.
He also may be a better rebounder than Barnes, too. From the shooting guard spot, he had 5.1 rebounds per game to Barnes' 5.2.
Harrison Barnes will probably end up the better pro, but Reggie Bullock will be the better Tar Heel.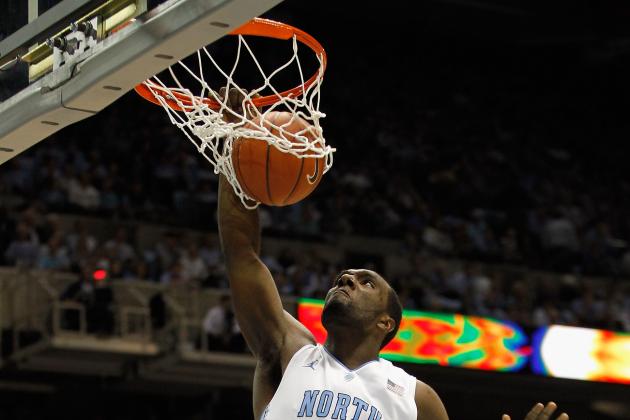 Streeter Lecka/Getty Images

There isn't much to go on other than a dominant performance in the NC Pro-Am and a nice showing at "Late Night with Roy." But I have a feeling P.J. Hairston has worked out the freshman jitters and will be able to make a huge impact on the team the next two years.
Of course there is a chance he goes the way of McAdoo, since his name was ending up on the 2012 NBA draft boards, too. But will he go if he doesn't start this season?
After all, there is a lot of talent at the wing this year.
He won't start over Bullock at the 3, but he has the potential to knock off Dexter Strickland or Leslie McDonald at the 2. Then Roy would have to find a way to get McDonald and Strickland more playing time, which could be a problem.
Good luck figuring that out, coach.
Hopefully Hairston will stay another year and let us see his game blossom. This year we will already see improved dribbles, more physicality and a sweeter stroke after Hubert Davis worked on him.
P.J. Hairston absolutely has the body and the talent to take over a game. We will at least see glimpses of that this year. If both he and Bullock stay for 2013-14, they will become the next Dynamic Duo at UNC.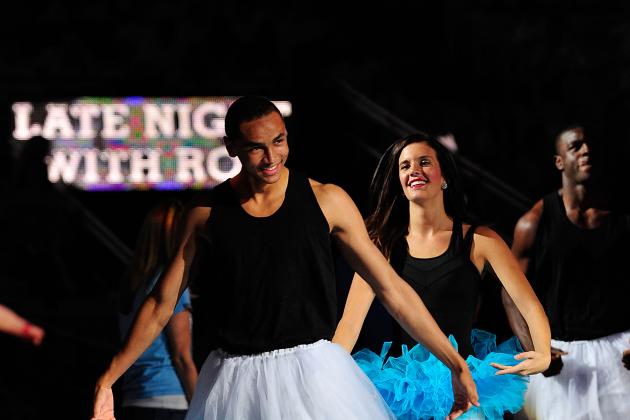 Grant Halverson/Getty Images
Sorry, Marcus. I couldn't resist..
Yes, that little fella over there in the tutu is next in line to be a Star Heel.
Aside from Larry Drew II, Roy Williams has a pretty outstanding knack for finding top-notch point guards to play at North Carolina. Marcus Paige is no exception to the rule.
Unlike the other three freshmen, Paige could very easily reach star caliber in his first season. By all accounts, it would appear Coach Williams is set on Paige starting at the 1. That will give him ample opportunity to put his stamp on the program.
Sure, there will be freshman mistakes. His position is easily the hardest to step into as a freshman—especially in a system that is dominated by, and reliant upon, quality point play.
Marcus Paige has great vision and an excellent feel for the pace of the game. Those are areas in which Kendall Marshall excelled, and Paige doesn't appear to be much different in those regards.
However, he is a much more adept scorer than Marshall—even at 6'1" and 160 pounds. We caught glimpses of his versatility in Friday's scrimmage, as he dropped a couple floaters, an up-and-under on a break and nailed a three off a screen.
Don't tell this kid he's too small to play with the big boys. As good as he will be in 2012-13, he will only get better with experience and some help from UNC's strength and conditioning program.
Marcus Paige is the next great point guard at Chapel Hill.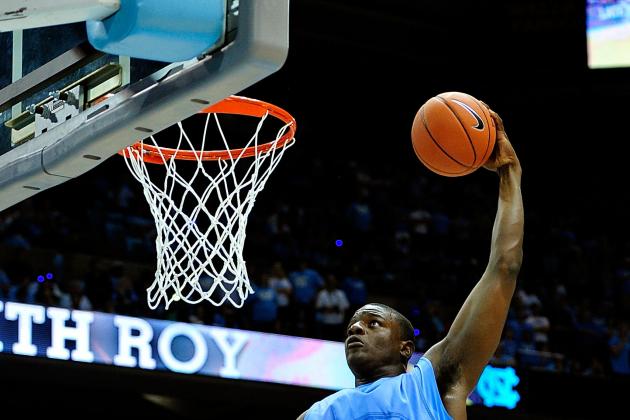 Grant Halverson/Getty Images

Welcome to Jo-Hell, ACC centers.
At 6'10" and 260 pounds, Joel James will be a dominant force in the paint with his physicality alone. He is already a fine defender and rebounder, but he is only just now building an offensive repertoire. After all, he has only been playing the game for three years.
I feel sorry for the competition when he gets that part down.
James already expanded his game with summer play, almost making the USA Basketball U18 squad. Though he didn't make the cut, he was the last one to get the snip. That's not too shabby, considering the amount of time he has spent on the hardwood.
Now he is under the wings of one of the great post developers in Roy Williams.
Not only does Roy have a big body to work with, James also displayed a very nice touch throughout the summer and in Friday's scrimmage. I've seen him sink free throws and face-up shots as far out as 15 feet, but I didn't see a turnaround jumper coming from him.
James dropped one of those from about 12 feet out during the scrimmage.
Don't expect to get blown away by Joel James' offensive performances this season. But even the least trained eyes will see rapid development from this hoss. As solid as he will be this season, James will only get bigger, stronger and better over the coming years.
This is NASCAR country, and there is a new "Intimidator" in town.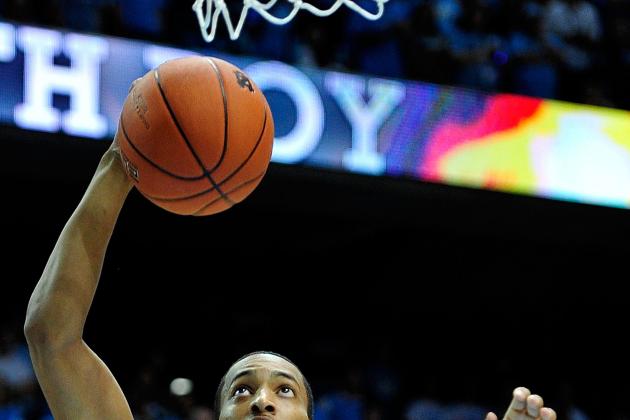 Grant Halverson/Getty Images

As much as Vince Carter's name has been thrown around, it won't be easy for J.P. Tokoto to live up to the hype.
Fortunately for him, he won't be catapulted into the starting lineup in his freshman season. He may even be third on the depth chart, depending on how Roy works his wing players.
Tokoto is pretty raw at this point. With his long arms, Carter-esque ups and quickness he is a pretty solid defender that can make some big-time plays. But he hasn't quite developed an impressive offensive game.
He is pretty good at knocking down shots when he is in rhythm off a feed.
However, he isn't much of a spot-up shooter or a shot creator at this point. Between his athleticism, guidance from Hubert Davis and at least a year to develop, I have no doubt he will improve in those areas of his game before he is truly "needed."
If his game ends up matching his potential, he will be one of the more exciting players to watch in college basketball.
Grant Halverson/Getty Images

Brice Johnson is a bit of a wild card for this list.
I love Johnson's game and his athleticism, but there are three big concerns I have with this young pup. At 6'9" and 187 pounds, he doesn't have great size for a post player. ACC posts are pretty tough, and he will get knocked around a lot.
Just ask John Henson and Desmond Hubert. The good news is Carolina's strength and conditioning program is outstanding, and both Hubert and Henson were able to pack on a quick 20 to 30 pounds.
Another issue I have is his tendency to disappear from time to time.
He will have a run of great plays, but then he goes into stealth mode. I have a feeling adding strength will help build his consistency on the floor.
My last concern is the player coming in behind him. Isaiah Hicks is more physically developed at this point. Over the next year, Johnson will have to prove he is starter material before he loses that opportunity to the 2013 recruit.
Don't get me wrong, though. Johnson can ball.
He will also log quite a few minutes this season filling in for James Michael McAdoo, giving him invaluable experience. Johnson will impress a lot of folks with his play this season, but he will need to gain weight and develop a solid arsenal in the post before he can reach star status.
Isaiah Hicks should be signing his letter of intent sometime in mid-November. He has already given his verbal commitment and there are no indications he will change his mind before the early signing period.
Hicks will come into North Carolina in 2013 with a very similar game to Brice Johnson.
Both are very athletic and sport similar games on the offensive end. Neither has developed back-to-the-basket moves, but both have a pretty solid face-up game.
The difference that stands out the most between the two is size.
They both stand at 6'9", but Hicks is about 30 pounds heavier at 210-plus pounds. This is why I feel Johnson will have to spend a good portion of his time in the weight room to keep Hicks on the bench next season.
Hicks also has his senior year to develop his game even more.
Whether he starts his freshman year or not, Hicks will eventually end up in the spotlight—and I have no doubt he will shine in the Carolina post.
Nate Britt will also be joining Hicks in signing on to North Carolina for 2013.
Coming into Chapel Hill just one year after the top-ranked point guard has potential for disaster, but Britt doesn't look at it that way. Joining Paige is actually what he is most excited about, according to ESPN's Dave Telep:
The thing I look forward to the most is probably playing with Marcus Paige. I feel like us two in the backcourt together could be great. When Coach Williams was at Kansas he had Kirk Hinrich and two other point guards and that was one of his better years at Kansas.
One would assume this knowledge came from the top, and Britt wasn't just pulling out memories of watching Kansas 10 years ago.
Could Roy Williams really be breaking out a dual-point set with Paige and Britt? I've been wondering why he hasn't been looking at shooting guards, considering UNC could lose some of the current players to the NBA. This could be one of the reasons.
My only issue with that would be a dramatic drop in size. Nate Britt is only slightly bigger than Paige at 6'1" and 165 pounds. But, like Paige, he does sport a boatload of moves to make up for his lack of size.
As a matter of fact, their games are almost identical. The only difference is Nate Britt runs point with Ty Lawson speed.
If everyone else on the floor steps up their game in 2013, it will be pretty exciting to watch this pair work the floor.
Once Paige moves on, the show will belong to Britt. He'll just be another player to add to Roy Williams' long list of stellar point guards.
Finally, we have a player that has yet to commit to the Tar Heels for 2013.
Since Britt and Hicks, recruiting simply hasn't gone Roy's way. Every time someone cuts their list down, it seems Carolina is one of the programs knocked off. Then, of course, there has been the fiasco that is the recruitment of Troy Williams.
It's tough to say if anyone else will end up signing to North Carolina. But Kennedy Meeks is one player that cut his list down and hasn't dropped UNC.
According to Recruiting Nation, Georgetown, Indiana, Kentucky, NC State and Ohio State join North Carolina on Meeks' list.
So far, he has an official visit to Georgetown on Oct. 19 and an official to North Carolina on Oct. 26. But he did also attend "Late Night with Roy" with his AAU buddies, Nate Britt, Isaiah Hicks, Troy Williams and Justin Jackson (2014 prospect).
Meeks also informed Inside Carolina's Sherrell McMillan (subscription required) that Roy isn't the only person pushing him to Chapel Hill.
Those are my boys (Britt, Hicks, Williams and Jackson). We played with each other this summer and at camps and stuff. We laugh and joke around. Sometimes we just try and stay from recruiting and all that so we can have fun. But, Nate and Isaiah were definitely on me.
As they should be. Kennedy Meeks would be a great follow-up to the beast that is Joel James.
Like James, Meeks had a little bit of a weight problem and is working to trim his frame. While the weight drop wasn't dramatic, there was obvious improvement in his mobility and endurance this summer.
I actually wasn't on the Meeks bandwagon earlier because of his lack of mobility.
Meeks has trimmed down to about 275 pounds (from 290) and sprouted an extra inch, making him 6'9". With that, he has become more of a force on the hardwood.
Everyone raves about his soft hands, comparing him to another North Carolina great, Sean May. With those hands, he is superior rebounder and he displays a very nice touch on his shots. Meeks has even pushed his game to the arc over the summer.
Kennedy Meeks has the beef and the touch to become a force at Chapel Hill.
Hopefully, a strong freshman performance from Joel James won't steer the young center away. Meeks is a great fit in North Carolina—and I'm not the only one that feels this way.
"If I were to go to UNC, I'd fit in perfectly," Meeks told McMillan. "I was just happy I got to come tonight (to Late Night with Roy)—it was a great experience."