NBA Preseason New Orleans Hornets Player Power Rankings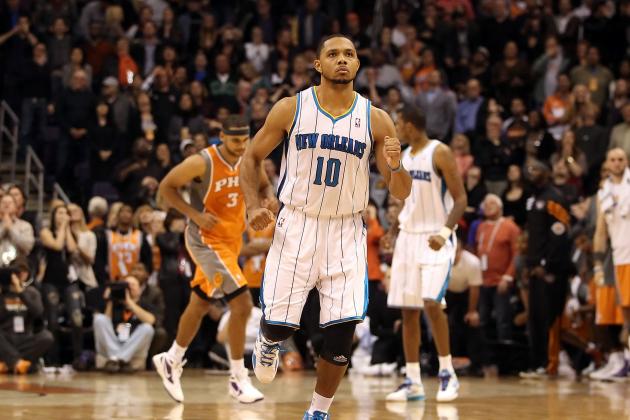 Christian Petersen/Getty Images

From top to bottom, the New Orleans Hornets are a team with a promising future and an intriguing present. Led by guard Eric Gordon and No. 1 overall pick Anthony Davis, the Hornets have the talent to compete for a playoff spot as early as this upcoming season.
The revamped roster, which includes seven new faces, is a stark contrast from the floundering franchise that finished with the worst record in the Western Conference last season. The addition of Davis as well as fellow rookie Austin Rivers and prized acquisition Ryan Anderson has instilled hope in a team and city that looked lost in the wake of the Chris Paul trade.
General manager Dell Demps did an extraordinary job of clearing cap space while also adding young talent that will grow with the team as they develop into a legit title contender. Once guys like Davis and Rivers become better acclimated to the pros, the Hornets will have a strong young core to build around.
The roster currently stands at 14 players deep. Of that group, only guard Brian Roberts and rookie forward Darius Miller are signed to non-guaranteed deals. With the preseason underway and the regular season approaching, it will be interesting to see how the roster takes shape going forward.
For now, we will rank the 14 players on the roster from worst to best to give you a better understanding of this year's Hornets team. Guys like Solomon Alabi, Chris Wright and Dominique Morrison (who were signed to the training camp roster earlier this month) were not included in the rankings because they are long shots to make the cut.
Here are the preseason player rankings for the 2012-13 New Orleans Hornets.
Begin Slideshow

»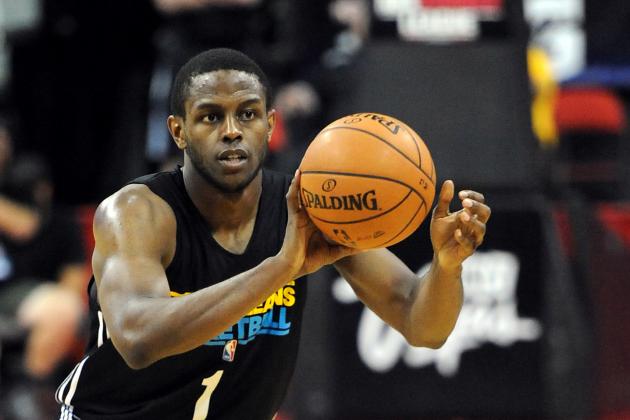 Jayne Kamin-Oncea-US PRESSWIRE

Darius Miller nabbed a spot at the bottom of the list by default. Miller, the team's 2012 second-round pick out of Kentucky, is a virtual unknown. With Al-Farouq Aminu, Hakim Warrick and Ryan Anderson all expected to log minutes at small forward, there isn't going to be much playing time left for Miller.
That doesn't mean Miller can't still develop into a decent backup. The problem with Miller is that he isn't particularly strong in any one area. Even during his college days at Kentucky, he was content with being more of a role player and standing back while guys like Anthony Davis and Michael Kidd-Gilchrist became stars.
Miller has a solid mid-range jumper. He hustles on both ends of the court and he's a capable defender. Once he gets adjusted to life in the NBA, he could see his role expand down the road for the Hornets.
Miller put together his best contribution so far this preseason in the Hornets' 95-75 loss to Houston. Miller scored in double-digits for the first time this season, dropping 10 points in 26 minutes on 3-of-7 shooting.
The depth at small forward and on the roster in general makes Miller's chances of sticking with the team an uphill battle. As one of only two players on the team with a non-guaranteed contract, Miller is at a disadvantage.
However, he does have a couple of things in his favor that could save him. He's a better shooter than Warrick and defends better than Anderson. His minutes will be limited in his first season, but enough performances like his most recent effort against the Rockets could compel the Hornets to hang on to their least-heralded rookie.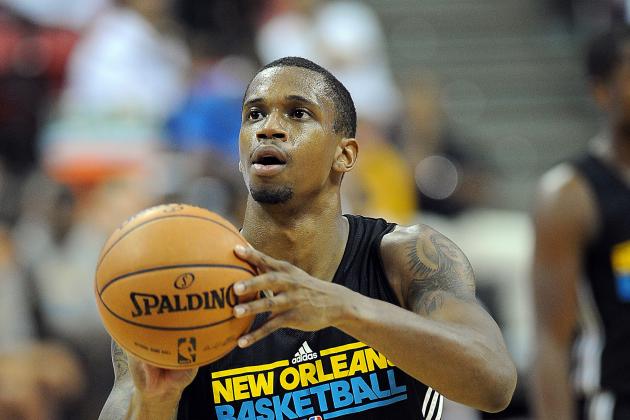 Jayne Kamin-Oncea-US PRESSWIRE

I count myself among the select few that are members of the Lance Thomas fan club. To me, Thomas reminds me of a slimmer version of former Hornets forward Lee Nailon. Like Nailon, Thomas is a 'tweener who lacks the size to play his natural power forward position.
However, Thomas has shown a knack for getting after it on the boards. At 6'8" and 225 pounds, Thomas manages to get good position under the rim to grab rebounds. He also can score when given the opportunity to show what he can do. In the team's third preseason game of the season, Thomas scored 14 points against Charlotte. He followed that up with a 10-point performance in a loss to Houston.
The problem for Thomas, much like Darius Miller, is playing time. The Hornets are deep at forward, with Anthony Davis and Ryan Anderson all options to log minutes at the four. Thomas isn't a bad option as an emergency third forward in case of injury or foul trouble, but he isn't going to see much action on the court.
Thomas still has potential though. He filled in nicely down the stretch last season and managed to put together some solid games when given significant playing time. With so many forwards in the fold now, the chances of Thomas replicating last season's success are slim.
Still, it's not bad to have a 24-year-old forward who can score in the paint and grab rebounds at the end of your bench.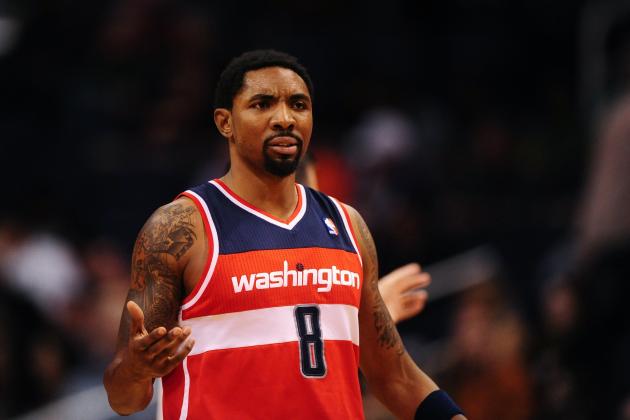 Mark J. Rebilas-US PRESSWIRE

At 32 years old, Roger Mason is the Hornets' elder statesman. He was signed late in the summer to provide depth at both guard positions after injuries to Xavier Henry and Austin Rivers required minor surgeries.
The biggest contributions Mason will make to this young New Orleans team will be his veteran experience and his lethal three-point shooting. Mason is a career 38 percent shooter from behind the arc and has been a serviceable weapon for teams in the past. Most notably, Mason was a key contributor for the San Antonio Spurs in 2008-09, averaging 11.8 points per game and shooting 42 percent from the three-point line.
The addition of Mason will come in handy this season as his shooting acumen will make up for rookie Austin Rivers' struggles from the three-point line so far this season. A deadly shooter at Duke, Rivers hasn't found the range yet in the pros. He's yet to hit a three-point shot in two games in the Summer League and four in the preseason.
Rivers' inconsistency could open the door for Mason to log more playing time when the team needs a more reliable shooter on the court. It will also be good to have Mason around in case the injury bug continues to bite starting shooting guard Eric Gordon.
Roger Mason could end up being one of the sneakiest signings of this offseason. He's never lost the ability to shoot, and a young team such as the Hornets could benefit greatly from a mature veteran in the locker room. Time will tell how much of a role he plays on the court, but Roger Mason will find a way to make his presence felt this season.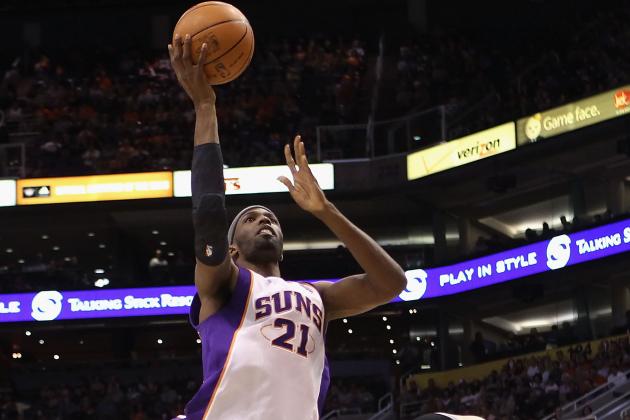 Christian Petersen/Getty Images

Hakim Warrick is an athletic combo forward whose game is best suited in an uptempo offense that allows him to be active around the rim. He isn't much of a shooter and his rebounding numbers leave much to be desired, but he's a serviceable veteran who can play both forward positions.
Warrick's main role this season will be as the backup to Al-Farouq Aminu at small forward. He could see some time at power forward when the team opts for a smaller lineup, but his lack of bulk keeps him from being a reliable option at the four.
With second-round pick Darius Miller fighting to remain on the team, Warrick could see some competition for playing time from the rookie out of Kentucky. The team could best utilize Warrick in transition, where he could score off fast breaks when the team uses its youth and speed to push the ball up court.
With no real jump shot to speak of, Warrick will make his contributions attacking the hoop on offense and using his length to hinder opponents on defense. His versatility is a welcomed trait on a team that will throw a number of different looks at teams this year.
As one of the older members of the team, Warrick as well as Roger Mason will be counted on to keep this young Hornets team in check. Warrick's a potential free agent at the end of the season, so his best contributions this season might be as either trade bait or as a mentor to the team's slew of young forwards.
The team could also sub Warrick in when it needs a scoring spark off the bench, as he's a better offensive weapon than the defensive-minded Aminu.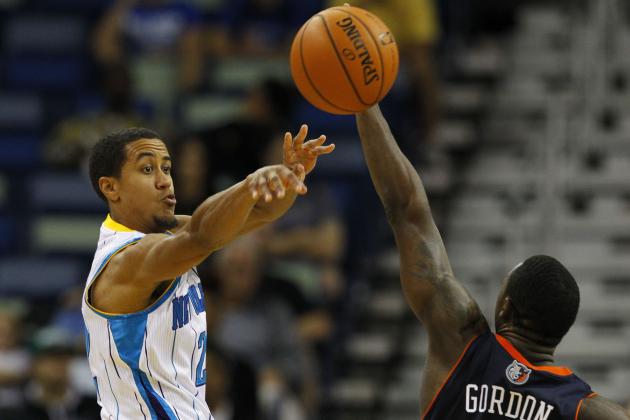 Derick E. Hingle-US PRESSWIRE

Brian Roberts has been one of the Hornets' best players throughout the Summer League and preseason. He averaged close to 14 points per game in Vegas and has led the Hornets in scoring in most of their exhibition games.
With rookie Austin Rivers still coming along in his transition from college shooting guard to NBA point guard, the opportunity is there for Roberts to stake his claim to the backup job behind starter Greivis Vasquez. He's made the most of his time so far with some inspired performances.
Roberts' presence could allow the team to keep Rivers at his more natural shooting guard position. He's proven to be a capable scorer during the exhibition season and he also shows a willingness to get others involved in the offense. In the team's second preseason game against Charlotte, Roberts led all Hornets with 16 points and also added eight assists.
With his contract non-guaranteed, Roberts needs to hope Rivers continues to struggle to help secure a spot on the team. He's played well enough to deserve at least a flier for this season. He's a little small at 6'1" and 180 pounds, but the undrafted guard out of Dayton has looked good so far.
The point guard spot will one day belong to Rivers. In the meantime, Roberts can keep the momentum going to prolong his NBA career. He's been one of the biggest surprises on a Hornets team with a lot of promise. If he can manage to keep it going, his spot on an NBA roster will be a lot less tenuous.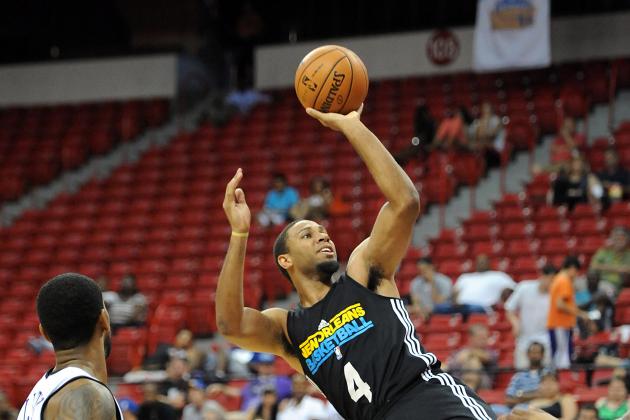 Jayne Kamin-Oncea-US PRESSWIRE

Xavier Henry could turn out to be a sneaky addition for the Hornets. He's still only 21 and he has shown flashes of the ability that made him a lottery pick a couple years ago. Acquired from Memphis before last season, Henry's role could expand this season if Eric Gordon's troublesome knee continues to give him problems during the regular season.
Henry had some good moments last season while Gordon was injured. He hasn't shown the same range in the pros that he had in his college days at Kansas, but there is still time for Henry to grow. He has good size at 6'6", 220 pounds, and he continues to get better year after year.
If Gordon's knee manages to hold up for most of the season, Henry will be Gordon's chief backup. Along with Austin Rivers, Henry will be relied upon to provide some scoring off the bench. While not a Sixth Man of the Year candidate by any means, Henry has the talent to put up some decent numbers.
If his jumper returns to its college form, it will round out a nice set of skills. Henry can attack the basket and rebounds well for a guard. With the team's focus on making Rivers a point guard, Henry won't have much competition for minutes on the second unit beyond Roger Mason.
Henry may not have lived up to expectations for the Grizzlies, but it's still too early to close the book on him. Going forward, he will grow on a Hornets team that will only get better with more experience under their belt. He probably won't be the star some expected he'd be when he left Kansas, but he could develop into a solid role player on a Hornets team with a solid nucleus already in place.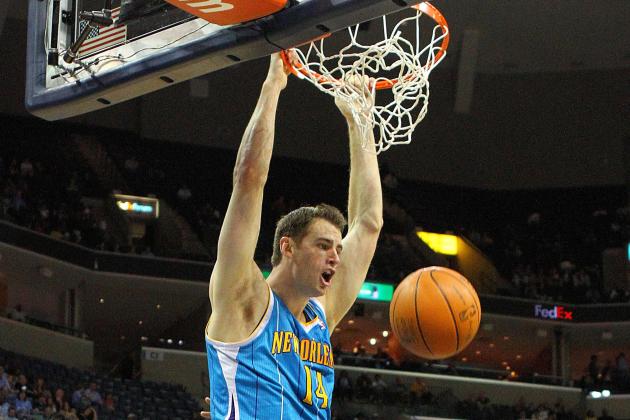 Spruce Derden-US PRESSWIRE

Jason Smith is a promising young center who could steal the starting job away from Robin Lopez before season's end. Smith has proven he can put up numbers when given solid minutes. He averaged double digits in scoring the final three months of last season as his playing time increased.
With Lopez hardly a sure thing and Anthony Davis better suited to play power forward, the team might give Smith a shot in the starting rotation. Smith is a big body at 7' and 240 pounds, and he's a capable scorer in the paint. He even has an underrated mid-range jumper. Smith can contribute on the defensive end as a shot-blocker.
The odd thing about Smith is that he doesn't rebound as well as you'd think for a guy his size. In his short career, the best he's done was last year's 4.9 rebounds per game. With guys like Davis and Ryan Anderson garnering so much attention, it's important that Smith prove he can be a better rebounder if he is going to steal the starting job from Lopez.
Lopez was a solid rebounder in college and had his moments with the Suns before losing his job to Marcin Gortat. Even if Smith can't wrestle the starting job away from Lopez, he's still a viable backup center. His ability to contribute on both ends of the court certainly comes in handy on a team deficient in both areas.
With no proven center on the roster, this could be the year Smith steps up. The additions of Davis and Anderson will make life easier inside for Smith. It will be an interesting battle to watch between Smith and Lopez, but the hope is that the competition makes both men stronger in the long run.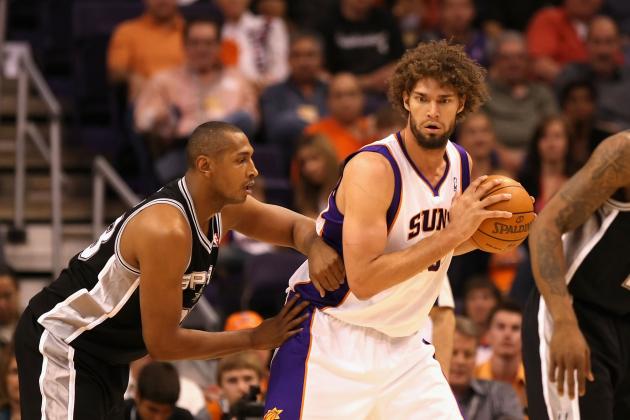 Christian Petersen/Getty Images

This spot was a toss-up between Robin Lopez and Jason Smith. In the end, Lopez's potential won out. Lopez is listed on most depth charts as the Hornets' starting center. With his size, he's a more natural fit than No. 1 overall pick Anthony Davis.
Lopez made a name for himself at Stanford alongside his brother Brook as a capable shot-blocker and rebounder. His lack of ideal speed made him a poor fit on a fast-paced Suns team, but he might find his niche on a less active Hornets team.
With Davis in the fold, Lopez won't be asked to do much except contribute on defense and on the boards. If Lopez can either take advantage of Davis' presence or draw opponents away from the promising rookie, he will prove himself to be a worthy addition.
Lopez never really got an opportunity to show what he can do in Phoenix and he's still young enough to breathe life back into his career via a second chance in New Orleans. Robin doesn't have the same offensive skills as his more highly touted brother in Brooklyn, but he can finish around the rim and is someone teams will need to put a body on under the basket.
Lopez will face some tough competition with Smith breathing down his neck, but he's a hustler who isn't afraid to bang inside. With a second chance to show the world what he can do, here's hoping that the Suns' loss is the Hornets' gain.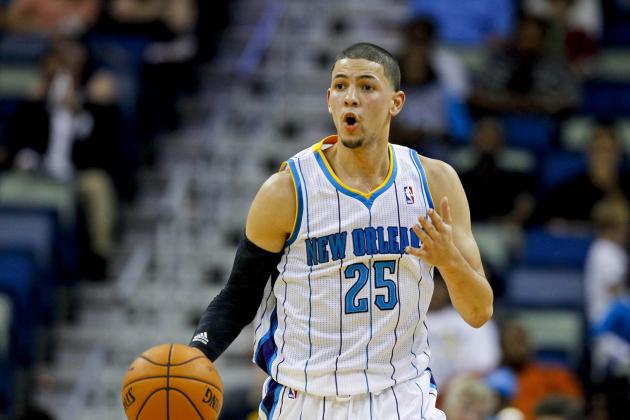 Derick E. Hingle-US PRESSWIRE

The inability thus far to knock down the three-point shot he was so known for hitting at Duke is a bit troubling for Austin Rivers and the Hornets. The team used the No. 10 overall pick on Rivers in hopes that he would provide a scoring punch to a team sorely lacking offense.
The team also hoped that Rivers could develop into their point guard of the future. As of right now, there have been as many hits as misses. Rivers has cut down on the turnovers that plagued him at Duke, but hasn't proven himself as a reliable scoring option. He's also still developing as a passer after spending his college days calling his own number.
The Hornets knew it was going to take time for Rivers to develop into a viable option at point guard. Lucky for them, they have a decent starter in Greivis Vasquez to give Rivers time to learn the ropes. However, what set Rivers apart from other prospects was his lethal jumper. So far this preseason, it has been nonexistent.
Rivers hasn't nailed a three-pointer yet this season. Even fellow rookie Anthony Davis managed to hit a shot from behind the arc for Team USA in an exhibition game against the Dominican Republic, and he's a power forward. The struggles could be a result of nerves or feeling the pressure to contribute early on.
It is up to head coach Monty Williams, a friend of the Rivers family. to reel in his young guard and get him through these issues. The Hornets have options to pick up Rivers' slack, but the team will eventually need him to be the key part to the team's nucleus that they hoped he'd be when they drafted him.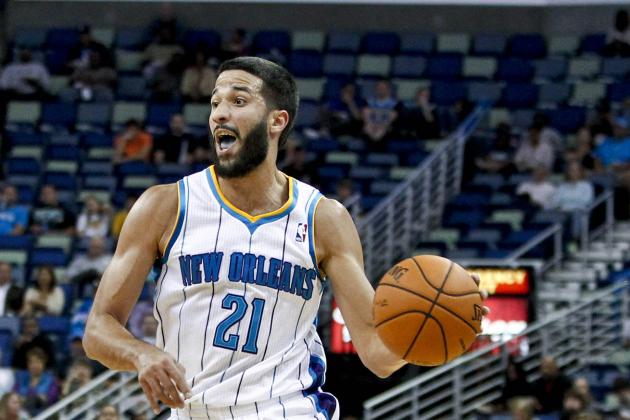 Derick E. Hingle-US PRESSWIRE

Among the NBA's starting point guards, Greivis Vasquez would probably be ranked near the bottom. That has more to do with Vasquez being unproven than a lack of talent. Vasquez showed glimpses of being a capable starting point guard when he took over for an injured Jarrett Jack last season.
At 6'6", Vasquez offers unparalleled size for an NBA point guard. He's also a willing passer who likes to get others involved. Vasquez can also score, if need be, with an excellent array of offensive abilities. He has a decent jump shot and can hit the mid-range jumper or the three-pointer. He also uses his size well to post up smaller guards or attack the basket.
Vasquez will be at his best this season utilizing the pick and roll. With so many talented big men on the roster, Vasquez will be able to pick defenses apart. The former Maryland Terrapin will also be a factor on the boards, using his elite height to snag rebounds.
The key for Vasquez will be cutting down on turnovers. He's already shown some carelessness with the basketball in the preseason and his leash will get shorter if backup Brian Roberts continues to impress. The team also has rookie Austin Rivers, whom they'd like to see take over the point guard position at some point.
Vasquez may not be a household name, but he has the skills to be a viable starting point guard. With Rivers and Roberts breathing down his neck, the hope is that he uses that competition to be smarter with the basketball. Like many of his teammates, Vasquez has an opportunity to prove himself on a Hornets team will continue to grow together.
By the end of the season, don't be surprised if Vasquez moves up the point guard rankings and these rankings as well.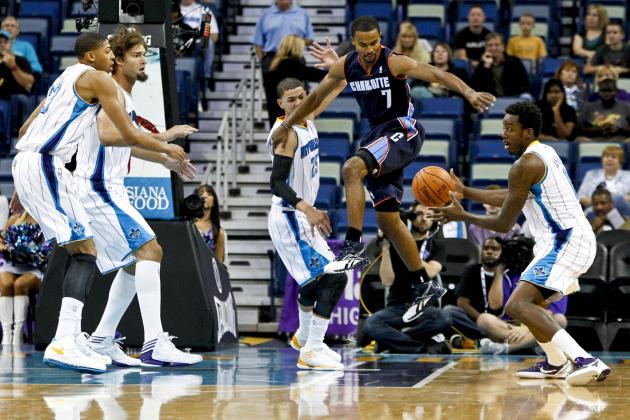 Derick E. Hingle-US PRESSWIRE

Since taking the starting small forward job from Trevor Ariza late last season, Al-Farouq Aminu has been on a campaign to establish himself as one of the game's best perimeter defenders. It was evident in the team's defensive play with him in the lineup last year and even more so in the Olympics as a member of Team Nigeria.
With Aminu and rookie Anthony Davis, the Hornets have two guys who can turn this team into something special on defense. Aminu has great length and athleticism for a small forward. He has become a master at hindering opponents' shots and forcing turnovers. In the Olympics, he showed off more of his shot-blocking abilities.
With so many talented players on the wing in the NBA, it's good to have a guy like Aminu on your team that you can deploy in the hopes of shutting them down. Aminu isn't much of an offensive weapon, so he can focus all of his attention on defense. Inevitably, he will become a better shooter and, in turn, become a more well-rounded player.
Every championship contender has needed a defensive stopper in the lineup to make life miserable for opposing offenses. The Spurs had Bruce Bowen. The Kings had Doug Christie. The Lakers have had guys like Ariza and Ron Artest. The Thunder have Serge Ibaka. Aminu can be that type of guy for the Hornets.
With no real competition to worry about, Aminu doesn't have the same pressure to produce as others on the roster. This is a team that will need its defense to set up their offense. There aren't too many creators on this roster, but there are plenty of guys who can block a shot or steal a pass and get the transition game going.
Aminu is only 22 years old. This will be his third NBA season and his second full one with the Hornets after coming over in the Chris Paul trade. He still has plenty to learn and plenty of time to develop. For now, he's the team's best perimeter defender and a key cog to how the team will attempt to deter opposing offenses.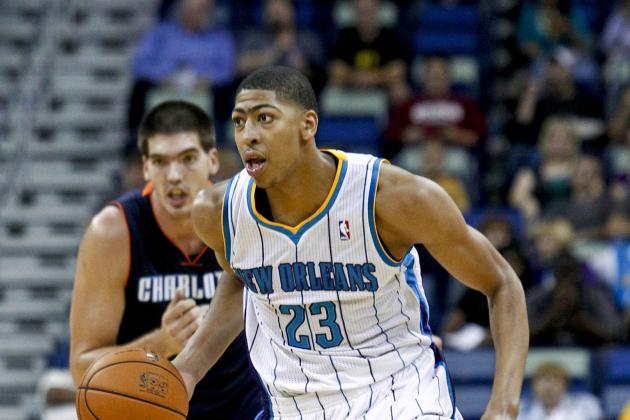 Derick E. Hingle-US PRESSWIRE

It's only a matter of time before Anthony Davis tops this list and establishes himself as one of the best players in the NBA. For now, his lack of experience has relegated him to being only the third best player on this year's Hornets team.
Davis has had quite the year so far. He won a national championship at Kentucky this past spring. He was the No. 1 overall pick in June. He won Olympic gold over the summer with Team USA and he's the favorite to win Rookie of the Year this season.
Davis is a one-of-a-kind talent. He's the kind of franchise big man teams dream of building around. His biggest strength is his elite shot-blocking and rebounding abilities, but he is strong in other areas as well. He has a solid jump shot for a big man and showed his range at times during the Olympics. He handles the ball better than most forwards and is coming along as a passer.
At only 19, he has his future ahead of him as an NBA pro, but he has the chance to have an immediate impact. He's been impressive at times during the preseason, especially on the offensive end. Once he adds more bulk, he'll be a bigger factor in the post instead of relying on his uncanny athleticism and speed to get the job done.
The pressure is on Anthony Davis to be a big part in turning around this Hornets franchise. There hasn't been this kind of excitement over a Hornets rookie in quite some time. Guys like Greg Oden and Kwame Brown have cracked under the same pressure Davis is currently under, but "The Unibrow" seems to be handling it all well so far.
If he lives up to the hype, the Hornets could find themselves in the rare position of being championship contenders and Davis' spot atop this list will be forever solidified.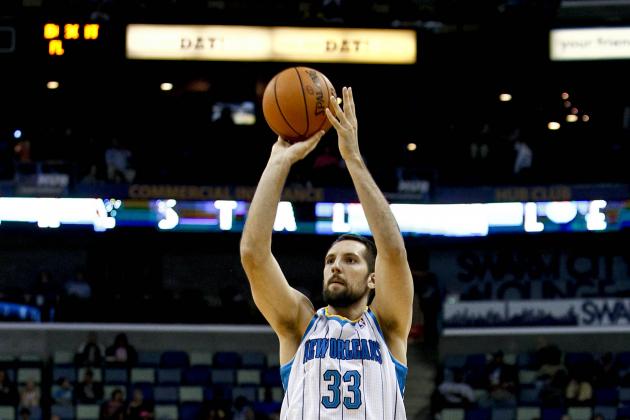 Derick E. Hingle-US PRESSWIRE

Placing Ryan Anderson ahead of Anthony Davis may be a slight that comes back to haunt me in the future. After all, Anderson doesn't even have a defined role with the team yet. Is he a small forward? Is he a center? Will they put him at power forward and move Davis elsewhere?
Anderson's skill set suggests he's better suited to be a small forward. However, his size and inability to defend quicker forwards make him more of a power forward. Anderson is one of the best shooting big men in the game. He attempted more three-point shots than anyone last year and managed to win the NBA's Most Improved Player award after raising his scoring average by six points per game.
That was in Orlando with Dwight Howard manning the middle though. This year, he'll be on a Hornets team with not a lot of proven talent and Anderson will be more of a focal point for defenses to pay attention to. It will be interesting to see how he produces without D-12 in the paint.
It will also be interesting to see how the Hornets utilize their prized acquisition. Ideally, he would play power forward and Davis would attempt to man the center spot. The problem is that Davis doesn't have the frame to handle playing center just yet. The team can't put Anderson at small forward either, because Al-Farouq Aminu's defense is too important to leave on the bench.
Basically, Anderson is making $36 million over four years to be the team's sixth man. As one of the team's better offensive weapons, he'll see his fair share of playing time. It's just up to the team to figure where they will choose to put him.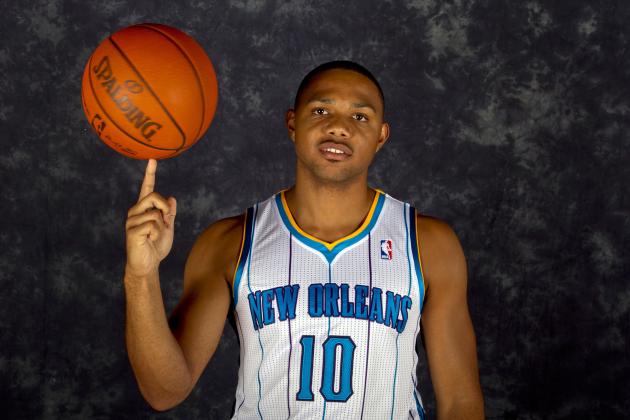 Derick E. Hingle-US PRESSWIRE

This was pretty much a no-brainer. When Eric Gordon is healthy, he's one of the NBA's best young shooting guards. He's a bulky, athletic scorer who can attack the basket or beat you with his jumper. The problem with Gordon is that he appears to be made of aluminum at times.
Gordon has yet to play a full season in his short NBA career. In his first season with the Hornets, he managed to play all of nine games. He's already being forced to sit out preseason games because his surgically repaired knee is still giving him trouble.
The Hornets agreed to match Phoenix's four-year, $58 million offer to make Gordon their franchise guy. The hope is that he's able to stay healthy and form an intimidating inside-outside combination with Anthony Davis. That hasn't been the case so far and the Hornets don't want to risk any further damage by forcing Gordon out there before he's ready.
Gordon is the team's best player and best offensive weapon. Without him, New Orleans is a lottery team. As great as Davis may be one day, the Hornets' rebuilding efforts will become moot if Gordon isn't healthy enough to be a part of it. Gordon averaged 20.6 points per game last year, his second straight season averaging more than 20 points per game.
There isn't anyone with the capabilities to put up those kind of numbers in Gordon's absence, unless Ryan Anderson continues to develop exponentially. The Hornets season and future is dependent on Gordon's knee. They only go as far as he takes them.
The team is paying him to be the face of their franchise, but he can't live up to that billing while wearing a suit at the end of the bench.