5 Biggest Keys to Boston Celtics' Upcoming Season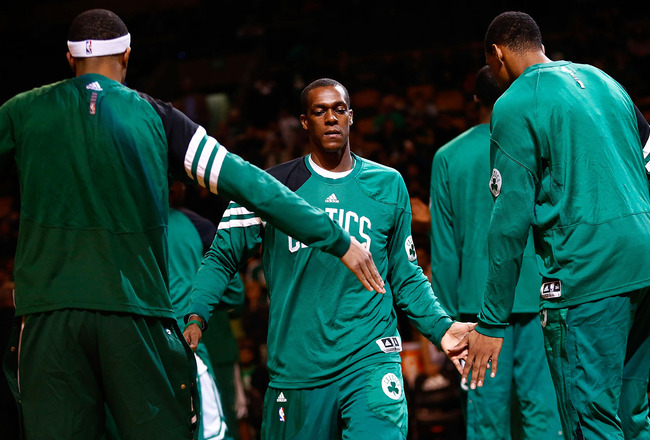 The Celtics look to repeat last season's success and maybe more
Jared Wickerham/Getty Images
With five preseason games in the books, we're now able to get a pretty good idea about the 2012 Boston Celtics.
What does the team need to do and what do they need to avoid in order to be successful? What is vital to that success and what can they do without? Who is primed for a breakout season and who is set to fade away into obscurity?
These are only a few of the many questions any given NBA preseason will provide answers to.
As we know, the preseason serves as a time for trials and experimentation. And yes, it's more likely that these concoctions will fail rather than succeed. But if for every three failed experiments you can find one that's successful, then this process was well worth it.
While some fans look at the Celtics' 1-4 preseason record as a mark of many failed experiments and a sign of caution, I look beyond the win-loss column and see an exciting window of opportunity.

Here are five keys to the Celtics' upcoming season.
1. Squeeze the Remaining Production out of Kevin Garnett and Paul Pierce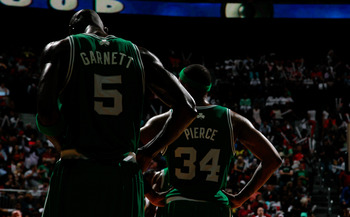 Kevin Garnett (left) and Paul Pierce (right) are set to surprise many doubters
Kevin C. Cox/Getty Images
Fragile. Old. Over the hill. Washed up.
These are just some of the adjectives used to describe veterans Kevin Garnett and Paul Pierce.
But while the duo's combined NBA experience is five years senior of the age of starting point guard Rajon Rondo—26-years-old—that doesn't mean they still can't play.
The 2011-12 campaigns of both former all-stars might have proven otherwise.
Pierce had a season to forget shooting wise.
His 44.3 shooting percentage and 36.6 percent from beyond the arc were his worst numbers since the 2003-04 season when he shot 40.2 percent from the floor and 29.9 percent from three-point range.
It only got worse in the postseason.
Pierce struggled mightily, only shooting 38.6 percent from the floor. It went down as his second-worst postseason output of his career.
Garnett shared much of the same difficulties.
During the regular season, Garnett shot 50.3 percent from the floor. The last time he shot that low was back in 2004-05 when he shot 50.2 percent from the floor.
Moreover, when the game was on the line, in places Garnett previously shined, he was nowhere to be found. Shots that used to go in, now bounce off the rim.
The mojo Garnett once possessed seemed to be fading.
But while the doubt only increased, both Pierce and Garnett proved they still had something left in the tank during the postseason.
Garnett showed the most improvement, averaging 19.2 PPG. It served as a huge leap from his two previous postseason averages of 14.9 and 15.0 PPG respectively. He also shot 49.7 percent from the floor.
Where he crumbled in the regular season, he thrived in the postseason. He kept the Celtics close late in some games and helped the Celtics pull away in others.
On the other hand, while Pierce's shooting may have slumped, the 14-year veteran proved to be as clutch as ever. It was most noticeable during the Miami Heat in the Conference finals.
Time and time again, when the Celtics needed a bucket late in the game, Pierce would be the one to step up and make it for them.
In Game 5, with the series tied 2-2, Pierce netted eight of his 19 points in the fourth quarter. That included a shot clock-beating three-pointer over the hands of LeBron James with less than a minute remaining. The bucket sealed the game and gave the Celtics a 3-2 series lead.
Pierce has continued on that note during the preseason.
In five games, Pierce is shooting 49 percent from the floor and 50 percent from beyond the arc, while leading the team with 15.8 PPG. This includes a performance against the Brooklyn Nets when Pierce scored 29 points on 10-of-17 shooting, while going 6-of-8 from three-point range.
Garnett has only played sparingly in the preseason, averaging 4.5 PPG in just 14.8 MPG. However, while on the floor he has made a difference.
The rest of the league might be ready to call for the curtains on the career for the pair, but they're still ready for the rest of the league to call them champions one more time.
The Celtics will need both if they hope to do just that.
2. Courtney Lee Successfully Filling in for Avery Bradley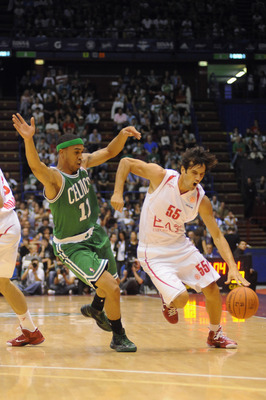 Courtney Lee (left) will be called upon to fill a void until January
Roberto Serra/Iguana Press/Getty Images
Avery Bradley spent over a year on the bench for the Celtics. In that time he averaged 3.9 PPG in 11.9 MPG.
The numbers weren't anything special, but he had impressed head coach Doc Rivers with his work ethic and his determination.
Last season Bradley was given the opportunity to start.
And boy, did he make the most of it.
In 28 games as a starter, Bradley averaged 12.3 PPG and shot 50.4 percent from the field. He proved to be better than expected and took away significant minutes from Ray Allen.
However, he suffered a shoulder injury in the playoffs last season and is scheduled to be out until January.
That's where Courtney Lee comes in.
Acquired during the offseason, Lee was brought in to offer depth at the shooting guard position. With Allen's departure and Bradley on the shelf, it's up to Lee to hold the reigns at the position for now.
His career average of 10.0 PPG isn't going to scare many opponents, but the Celtics were hoping his three-point shooting—38.6 percent—would demand some respect.
Thus far, in five preseason appearances, Lee is averaging 9.2 PPG, while shooting 46.9 percent from the field. He's seeing an average of 23.6 minutes per game.
While his production has been solid, his 27.3 percent shooting from beyond the arc is worrisome.
His preseason has been decent, but he's going to need to be better than that. If he doesn't improve during the course of the next couple of weeks, he might lose out on the starting role even before Bradley's return.
3. The Production of Jason Terry and the Celtics' Bench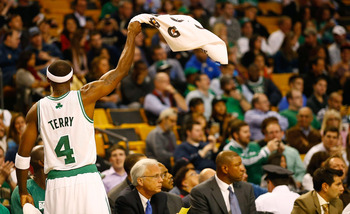 Jason Terry will be the leader of the Celtics' 6th man
Jared Wickerham/Getty Images
According to hoopstats.com, the Celtics had the second lowest points per game average from their bench last season. The team averaged only 21.4 PPG. Furthermore, their efficiency rating was the second lowest as well at 25.2.
Conversely, the Celtics' starters averaged 69.9 PPG and had an 80.8 efficiency rating—good for a ranking of No. 6 and No. 4 respectively. They also averaged the most minutes per game with 33.4.
When you take all that into consideration, it speaks volumes of the Celtics' starters that they were able to make a run to within a game of the NBA finals. One can only imagine just how far they would have gone if they had even a decent bench.
This offseason, the Celtics have reloaded and have added plenty of new faces to their bench. It includes names such as: Jason Terry, Jared Sullinger, Fab Melo and recently acquired guard Leandro Barbosa.
Throw in the return of Jeff Green after a year off, and the Celtics now have one of the most formidable benches in the league.
Green has been the most productive this preseason, averaging 13.4 PPG on 50 percent shooting and 41.7 percent shooting from beyond the arc. He's giving a really big push for an increase in playing time.
For a burst of energy, Terry has been effective as well. The former-Dallas Maverick is averaging 8.8 PPG, while shooting a blistering 60 percent from downtown.
Add Barbosa and his knack for long-range shooting, and the Celtics' bench is bound to put up points this season.
This is an aspect of the Celtics that will go a long way in determining just how successful they are this season.
4. Emergence of Jared Sullinger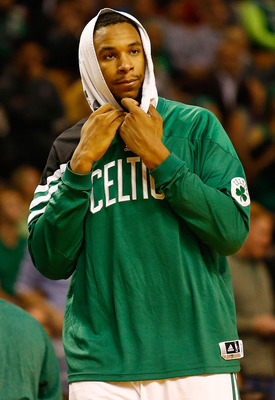 Jared Sullinger's growth this season will be vital towards the Celtics' success
Jared Wickerham/Getty Images
With the 21st pick in this season's draft the Celtics used the first of their two first round picks on Ohio State standout Jared Sullinger.
It's a move the Celtics have yet to regret.
Sullinger was excellent during summer camp and has continued his progress during the preseason. He is progressing even quicker than Rivers expected.
In five summer league games Sullinger averaged 13.8 PPG, 8.3 RPG and shot 40 percent from the floor in 28.3 MPG. He proved to be a strong presence down low, dominating his opponents with ease.
During the preseason Sullinger is averaging 10.8 PPG, 7.2 RPG and is shooting 55.6 percent from the floor in 24.6 MPG. He has transitioned dominance into play against NBA opposition.
With likely starter Brandon Bass also having a strong preseason, it is highly unlikely that Sullinger will start out the season as a starter.
However, he should receive significant playing time during the season. It wouldn't be a surprise to Sullinger in the starting lineup during the second half of the season.
He is the future of the Celtics. The sooner he can get to his peak, the better it is for the Celtics.
5. Rajon Rondo Must Take Full Control of This Team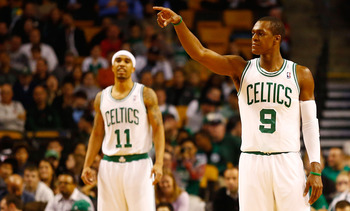 Rajon Rondo (right) will have to make this team his
Jared Wickerham/Getty Images
The days of the "Big 3" are over.
Forgotten in the shadows of the Celtics' 2008 title run was the strong play of then-second-year point guard Rajon Rondo.
Now, in 2012, it's finally his team.
Every year since his arrival, Rondo has seen his role in the team increase with every season.
His play-making ability is one-of-a-kind and was a large reason the Celtics led the Eastern Conference with 23.6 APG last season. His personal average of 11.7 led the entire league.
Rondo had a solid year all-around last season averaging 11.9 PPG, 11.7 APG and shot 44.8 percent in 36.9 MPG. However, it was the postseason where he really began to take the reins.
In 19 playoff games Rondo averaged 17.3 PPG, 11.9 APG, 6.7 RPG and shot 46.8 percent from the floor in 42.6 MPG. The averages in points, assists and minutes were all career highs.
The most significant improvement was Rondo's shot taking.
After ranking fifth in the team with 10.6 shots per game, Rondo jumped up to second on the team during the playoffs with 15.8 shots per game.
It emphasized that Rondo was done playing second-fiddle. He wanted the ball.
It showed during the conference finals against the Miami Heat.
In the seven-game series Rondo finished with 20 or more points four times—including a 44-point outburst in Game 2. Rondo averaged 20.9 PPG, 11.3 APG, 6.9 RPG and shot 48.8 percent in an incredible 45.1 MPG.
He gave birth to a new Rondo in that series.
It's the Rondo the Celtics need to see this season if they want to make a run for No. 18.
Keep Reading

Boston Celtics: Like this team?