Los Angeles Dodgers Free Agents: Who's in and Who's Out?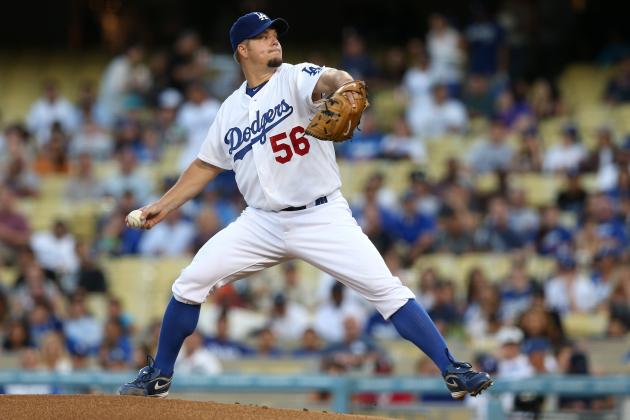 Stephen Dunn/Getty Images
Joe Blanton, acquired by the Dodgers in August, is a free-agent this offseason.
Following the dismal conclusion to the Dodgers' hyped 2012 season, we've taken a look at who the Blue Crew should pursue in this year's free-agency market as well as who it will most likely pursue.
With the Boys in Blue eager for another big-name addition to fine-tune the roster, we've also examined the front office's capacity to make a big transaction this offseason by dissecting the Dodgers' current financial status.
Now, we'll take a look at the Dodgers squad itself and decipher which free agents will still be wearing Dodger Blue in the 2013 season and which free agents will be saluting the City of Angels.
Begin Slideshow

»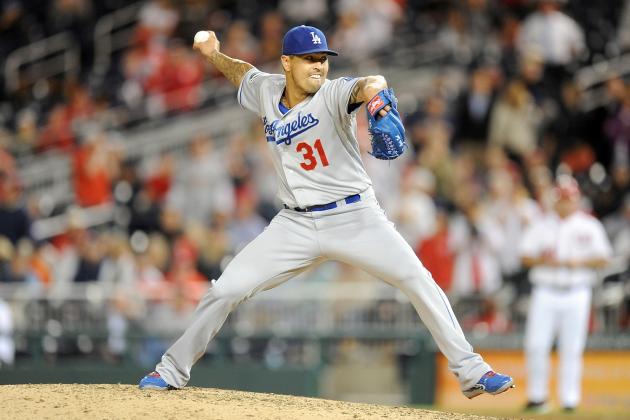 Greg Fiume/Getty Images

One of the Dodgers midseason acquisitions, Brandon League was an excellent reliever for the Boys in Blue after overcoming a couple of poor outings in his first days in La La Land.
As a former successful closer, League proved nearly unhittable when filling in as closer for Kenley Jansen amid Jansen's struggles with a heart condition.
With the status of Jansen's heart condition unknown, League may take over as the Dodgers' closer in the early stages of the 2013 season, and he will be a key asset to have in the bullpen regardless of whether he's a closer or set-up man.
League will be owed anywhere from $3-5 million depending on negotiations with the front office and should be at the top of the Dodgers' priority list for free agents to re-sign.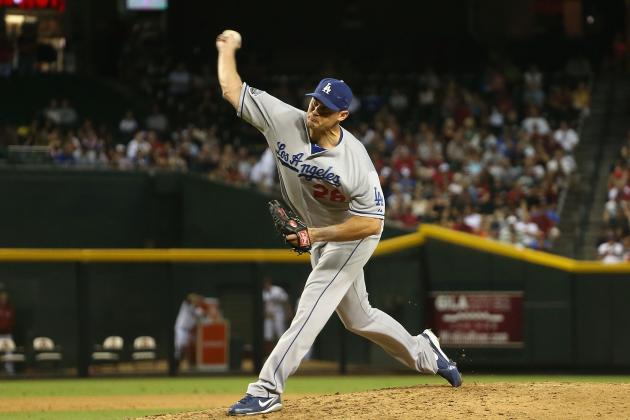 Christian Petersen/Getty Images

Jamey Wright came as advertised to the Dodgers bullpen: an experienced veteran with good command. You would have never been able to guess that Wright was 37 years old looking at him on the mound, but he certainly pitched like he had 16 years of big-league experience.
Don Mattingly often relied on Wright to eat innings for the Dodgers when their starters fell short, which proved to be vital on a team whose bullpen was unreliable.
Due to the mild talent in the Dodgers bullpen, the club should make its assessment of which relievers are beneficial or detrimental to the bullpen, and Wright is a player who should stick around.
Expected to earn around $900k like he did this season, the Dodgers won't be pulling their hair out if his performance should plummet in 2013.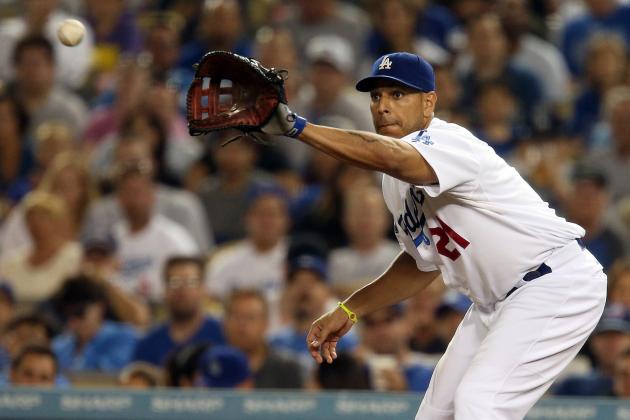 Josh Hedges/Getty Images

UDPATE: (10/29) Dodgers will not pick up Rivera's 2013 contract option.
Juan Rivera proved this season that he is versatile by taking over as the Dodgers' regular first baseman for the struggling (and now ousted) James Loney.
His offensive numbers aren't spectacular (109 GP .244 BA .286 OBP 9 HR 47 RBI), but Rivera often sparked rallies for the Dodgers when they most needed it by coming up with an extra-base hit.
The Dodgers outfield is overflowing with talent at the moment due to Carl Crawford's return from injury, so Rivera won't have a starting position. However, he will be a useful utility player.
The 34-year-old 11-year veteran is not only a viable backup for first baseman Adrian Gonzalez as well as in the outfield, but he will also be a key pinch-hitter down the stretch, especially if the Dodgers are to make a postseason run.
Rivera's contract extension stands at $4 million (the same as his 2012 contract), and the Dodgers would be foolish not to keep him in the dugout at that price.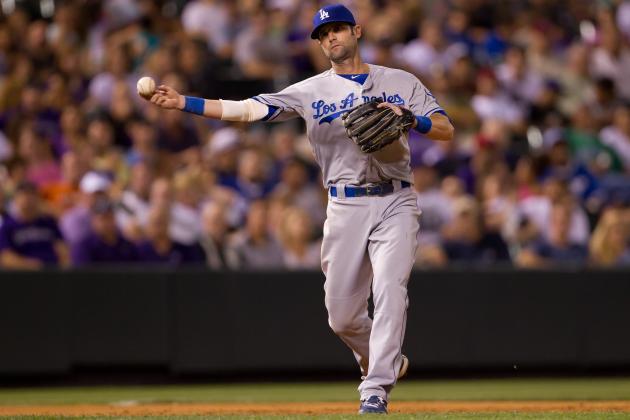 Justin Edmonds/Getty Images

Adam Kennedy was nothing special as a utility infielder for the Dodgers this season but he sufficed. His role became more prevalent when fellow veteran utility infielder Jerry Hairston Jr. suffered a season-ending injury, and to his credit, Kennedy had some clutch hits down the right-field line with his uppercut swing.
However, with Luis Cruz securing a starting position at third base, Hairston returning from injury, Elian Herrera proving himself ready for the big leagues and Nick Punto as a utility infielder as well, there is little use in signing Kennedy for 2013, regardless of how inexpensive he is (2012 salary: $800k).
Kennedy's groin injury at the end of the past season further decreases his chances of being signed by the Dodgers. If he decides to keep going, he has a year or two left in him, but not in Dodger Blue.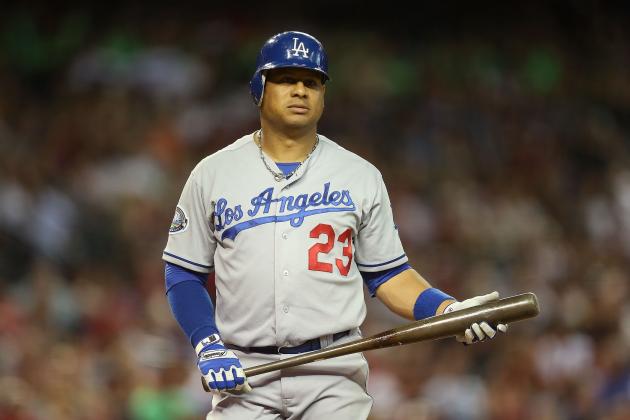 Christian Petersen/Getty Images

Bobby Abreu had some outstanding seasons in his 16-year MLB career, but his 2012 season with the Dodgers was not one of them. Turning 39 before the 2013 season, Abreu will probably hang up his cleats after this season.
His play with the Dodgers this season wasn't atrocious, but it surely was not desirable and eventually led to his designation for assignment (which he accepted instead of opting for free agency).
Thankfully, he came at a cheap price ($400k) from the Angels, who were happy to find a team that would take even the slightest chunk of the $9 million that Abreu was owed in the 2012 season.
There is already an abundance of outfielders in Chavez Ravine, and there is no possible scenario in which Abreu will fit into the Dodgers' 2013 equation.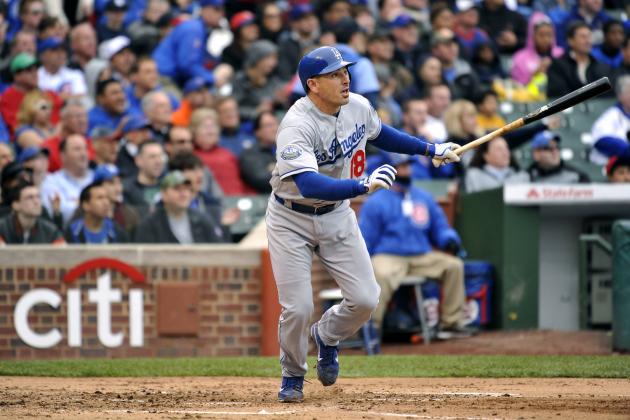 Brian Kersey/Getty Images

UDPATE: (10/29) Dodgers will not pick up Treanor's 2013 contract option.
The Dodgers backup catcher Matt Treanor technically has a contract option available for the 2013 season, but it's unlikely that the Blue Crew will see a place for him on the squad even as a reserve.
Although he was occasionally glorified as the team leader in clutch hits, that was a simple matter of circumstance. He was in the right place some of the time, but never created that "right place" for his teammates.
Treanor seemed like a supportive teammate and a positive veteran force in the clubhouse, but on the same note, hitting .175 with 29 strikeouts in 103 at-bats (one strikeout nearly every three at-bats) at the age of 36 isn't an attractive option for a new management that is serious about beefing up its roster.
With young prospect Tim Federowicz on the bench, the Dodgers would be better off buying out Treanor's contract for $150k and giving Federowicz a shot to backup A.J. Ellis.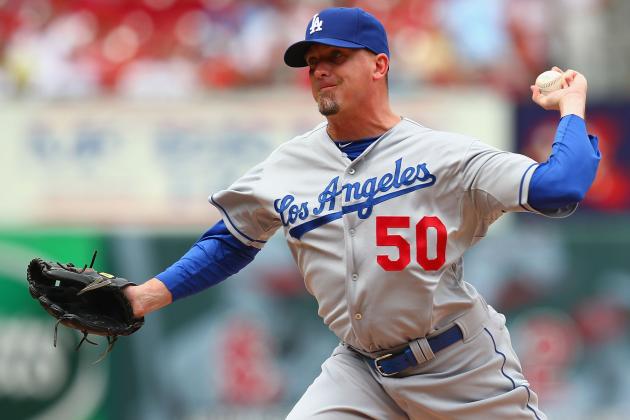 Dilip Vishwanat/Getty Images

A remnant of a vital transaction with the Miami Marlins that brought All-Star slugger Hanley Ramirez to Los Angeles, Randy Choate is a good reliever but didn't prove to the Dodgers this season that he's worth keeping around.
In his 36 appearances with the Dodgers, Choate didn't meld too well with Don Mattingly's short leash on relievers, which caused the sidearm southpaw to see only 13.1 innings as a specialist against left-handed hitters.
After his first two full-inning appearances, Choate never saw a full inning again and was pulled from a game without recording an out seven times. While Mattingly's managerial decisions play a huge role in this, it nevertheless shows that Choate doesn't fit in with the team's bullpen however high the team's expectations may be.
Better yet, the Dodgers will have sufficient lefties in the bullpen with the return of Scott Elbert from injury in addition to rookie Paco Rodriguez.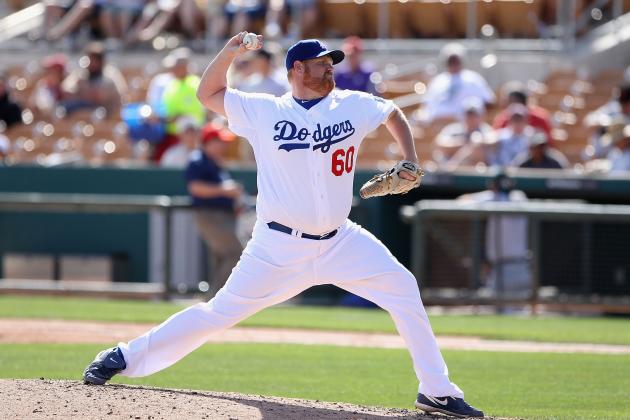 Christian Petersen/Getty Images

UDPATE: (10/29) Dodgers will not pick up Coffey's 2013 contract option.
Todd Coffey was brought into the Dodgers bullpen this season with the hopeful notion that he would be a tough righty, but he proved quite the opposite and would often blow leads in late-game situations.
Perhaps Coffey would have leveled out as the season went along, but he unfortunately didn't have the chance to prove himself due to an elbow injury that abruptly ended his season in early July.
While his Tommy John surgery will hopefully help his arm fully recover regardless of which team he plays for next season, the Dodgers would be better off buying out his contract for $300k and not gambling to sign him to a $2.5 million, one-year contract.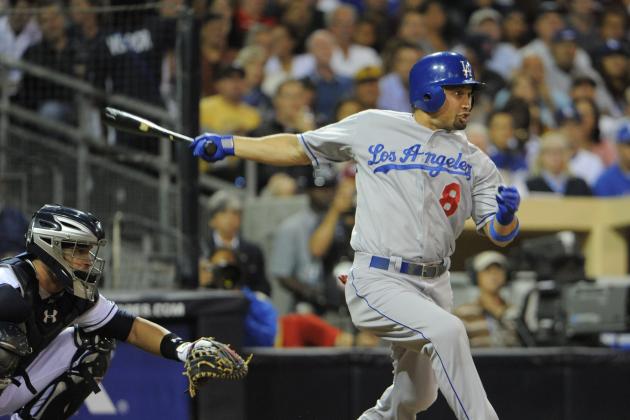 Denis Poroy/Getty Images

Shane Victorino won't be a Dodger next year for two simple reasons: 1) There's no room for him, and 2) he wants to start for whichever team he plays next season.
It's a good problem to have, but the Dodgers plainly have too many talented players in the outfield and can't manage to keep Matt Kemp, Andre Ethier, Carl Crawford and Victorino on the same team.
At 31 years old, Victorino feels like he still has plenty of gas in the tank and possesses the raw desire to continue to be in the starting lineup. Crawford is the same age but is more talented and much more of an offensive catalyst.
The Dodgers shouldn't and won't pay $7-8 million a year for Victorino to sit on the bench as a backup outfielder.
Thearon W. Henderson/Getty Images

Joe Blanton was brought to the Dodgers as a replacement for young ace Nathan Eovaldi, who was sent to Miami in the Hanley Ramirez trade. While he had a few impressive outings, he was generally nowhere near what the Dodgers needed as they aggressively pursued a postseason berth.
In his 10 starts as a Dodger this season, Blanton posted a 2-4 record and 4.99 earned run average and gave up seven home runs, which only sabotaged the Dodgers, who were struggling to put runs on the board.
Blanton will be owed somewhere around $5-7 million, and the Dodgers would rather salvage the extra cash and spend their money on a more promising starter like Zack Greinke.