5 Reasons Why LeBron James and the Heat Will Repeat as NBA Champions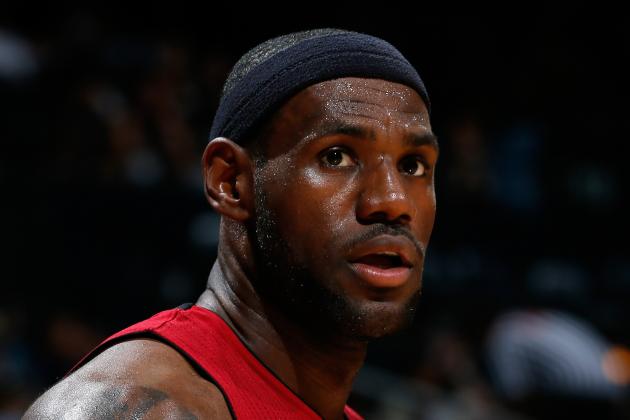 Kevin C. Cox/Getty Images

As a proud native of Northeast Ohio, I'd prefer to present five reasons why the Miami Heat's string of NBA championships stop this season at one.
I once dreamed of LeBron James realizing his maximum potential as a basketball player while wearing a Cavaliers uniform. I had hoped he'd demonstrate his unmatched level of skill and ability by bringing those championships to Cleveland.
There was even a moment, two seasons ago, when I thought maybe he needed his hometown's support on that quest for an NBA title more than he previously realized.
Instead, the support that Dwyane Wade, Chris Bosh and the Miami Heat provide him now turned out to be more than enough.
Five relevant reasons why the Miami Heat will not inevitably repeat as NBA champions this season do not exist. I'm not even sure there's a legitimate argument to support even one.
Entering his ninth season, at 27 years old, LeBron James is just now entering the prime of his NBA career—as crazy as that sounds for a guy who's already won three MVPs.
Despite the improvements Los Angeles made, the Lakers are still not better than the Miami Heat. The Oklahoma City Thunder will not take a step backwards this season, but they didn't do enough this summer to step past the Heat either.
Miami improved their championship roster by adding Ray Allen. Chris Bosh is also positioned to have his best season in South Beach to date this year too.
When the 2012-13 NBA season eventually concludes, like it or not, LeBron James and the Miami Heat will raise that Larry O'Brien Trophy as NBA champions for a second time.
Begin Slideshow

»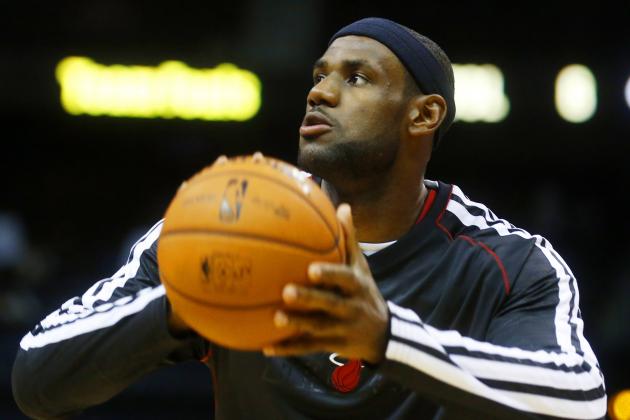 Josh D. Weiss-US PRESSWIRE

I was in the stands watching LeBron James play basketball as a freshman at St. Vincent-St. Mary High School in Akron, Ohio.
I then watched him enter the NBA with the Cleveland Cavaliers and exceed expectations that were previously unimaginable for a prep star making that leap to the next level.
My jaw was on the floor as he single-handedly defeated the Detroit Pistons in the 2007 Eastern Conference Finals, and I still believe he deserved his first MVP before he ever won it in 2009.
I mention this only to provide context for the following statement: LeBron James is just now entering the prime of his NBA career.
Coming off a season last year that seemed statistically perfect, with three MVPs on the shelf already, the most productive days for James as an NBA player are ahead of him.
It's so scary to think it would almost sound ridiculous if it weren't true.
There's no part of James the person who enjoyed trying to embrace that villain persona two seasons ago in Miami. Sure, he mean-mugged for the camera and tried to say things publicly to convince us otherwise, but he finally maximized his opportunity to win in South Beach once he gave all that up.
He said prior to last season that he wasn't going to allow himself to play angry anymore. He didn't, and then won big because of it.
He has no reason to be angry about anything anymore.
The fact that James is also recognizing just how much he can dominate from the "point forward" position will allow him to improve his MVP numbers from a year ago this season too.
He's the single greatest force on the basketball court today. There is absolutely no stopping him or his team this year. Anyone who thinks otherwise is lying to themselves.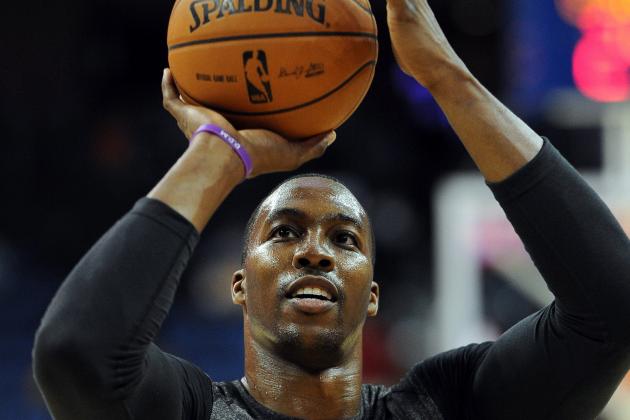 Jayne Kamin-Oncea-US PRESSWIRE

The Los Angeles Lakers look great on paper. They are one of the three best teams in the NBA alongside the Miami Heat and Oklahoma City Thunder. Nobody else in the league is close to that group.
But the Lakers still don't have enough to match up with the Heat on the basketball court, even with Steve Nash, Dwight Howard and whatever defensive scheme Mike Brown draws up.
In a potential NBA Finals series, the Lakers have no way to defend the Heat at the point of attack.
Ron Artest was once a great NBA defender. At 32 years old, he's still solid. But to think that he has any chance of slowing down Wade or James on the wing at this point in his career is foolish.
For as great as Nash is as a player, he can't even slow down Mario Chalmers right now. Matched up against Chalmers, or even Norris Cole, Nash actually would allow the Miami Heat point guards to become more of a threat than they typically would be.
As compared to a Finals matchup with Russell Westbrook, for example.
Bosh isn't going to bang with Howard inside, but he should be able to pull Howard out to defend his 15-foot jump shot. If James ends up at the power forward spot at times, Pau Gasol has zero chance of guarding him out there too.
The Lakers might be the second best team in the NBA. Kobe is still Kobe, and Howard will be a problem on the offensive end as well. But the Lakers don't have the athletes to keep up with Miami.
Not at this stage of their respective careers, at least.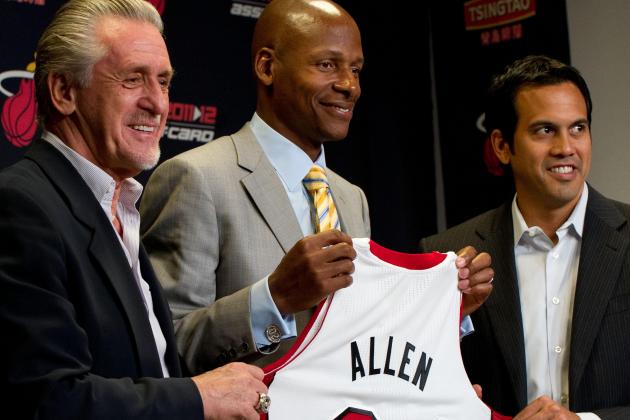 Steve Mitchell-US PRESSWIRE

I'm not sure the NBA community has fully acknowledged the impact Ray Allen will make for the Miami Heat this season. With the free-agent signing of Allen alone, the Heat improved upon their championship roster from a year ago.
Allen may not be the overall player he once was, but he's shooting the three-point shot more efficiently than he ever has in his career right now.
In each of his last two seasons in Boston, he set new career highs for three-point field goal percentage. As a complementary player to James, Wade and Bosh this year in Miami, that's actually all he need to focus on.
There are eight to 10 three-point field goal attempts per game available for Allen this season in the Heat's offensive attack. Whether he comes off the bench or ends up starting at times, he is more than capable of connecting on four or five of those every night.
If he makes four of those eight, like he did Thursday in China, he'll have an opportunity to average 14-plus points per game.
In doing so, he'll actually become that three-point threat they've talked about having in Miami during each of the last two seasons—a threat they've never truly had until Allen arrived.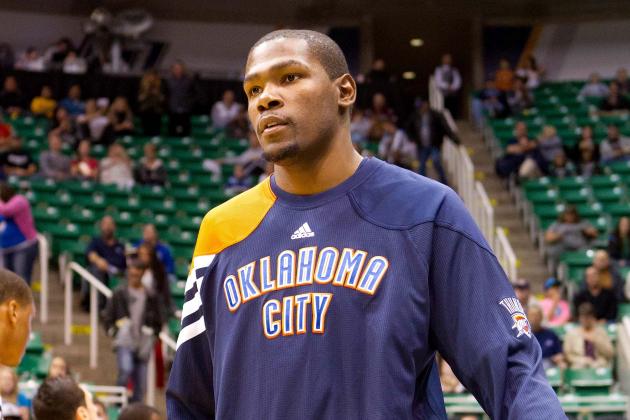 Russ Isabella-US PRESSWIRE

The Oklahoma City Thunder did not lose to a collection of aging stars last season in the NBA Finals.
While they are a young, explosive, talented and exciting team to watch, they're still not better than the team that beat them last year.
They're not going to be better than the Miami Heat this season, either.
OKC came at Miami with everything they had in Game 1 of the NBA Finals. That shot alone might've been enough to go on and win the whole series most years. But Miami responded by totally dominating the Thunder in all phases from that point forward.
The experience of taking their best shot at the Heat and still losing will ultimately haunt the Thunder. More than whatever was gained by the experience winning their first Western Conference championship.
While the Miami Heat added Allen and Rashard Lewis. The Thunder added Perry Jones III and Eric Maynor.
Jones III was a steal that late in the draft, and he will thrive in a role for OKC. Maynor is as solid a backup point guard as there is in the league, and it will help to have him back as well to be sure.
But those additions don't match what Miami did this summer.
The Heat don't have to get past the Los Angeles Lakers to play for a NBA championship, either. Kevin Durant and company will eventually win one, just not this season.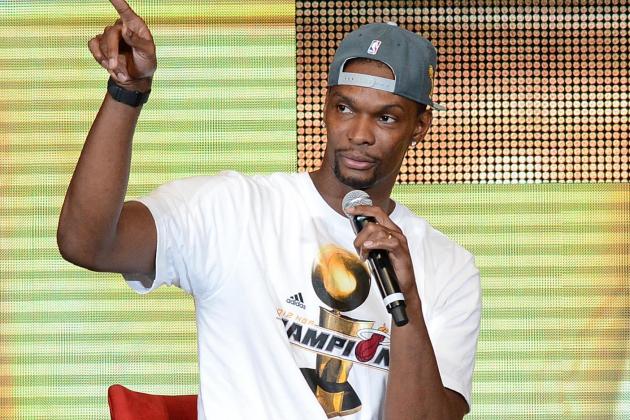 Steve Mitchell-US PRESSWIRE

Chris Bosh finally realized that everybody actually did appreciate him in Miami while he was sidelined during the playoffs last year.
It was tough for him to transition from being the franchise guy in Toronto to becoming definitely the third wheel in Miami prior to that revelation.
Maybe I'm wrong about that.
Regardless of whatever the reason is, I expect Bosh to have his best season in Miami this year.
He looked like a totally different player when he returned to the lineup last postseason. His numbers dipped from the 18 points and eight rebounds he averaged during the regular season, to 14 and eight for the playoffs, but his field goal percentage improved.
He hasn't shot over 50 percent from the floor since his last season in Toronto.
During the playoffs, battling back from injury, he shot it at just over 49 percent. If James commands the attention at power forward this season that he's capable of, Bosh will crack that 50-percent mark this season.
He'll be back over the 20-point per game mark if he shoots that efficiently, too, and will make the big three even bigger this time around.