5 Things We Learned About the Miami Heat During 2nd Week of Preseason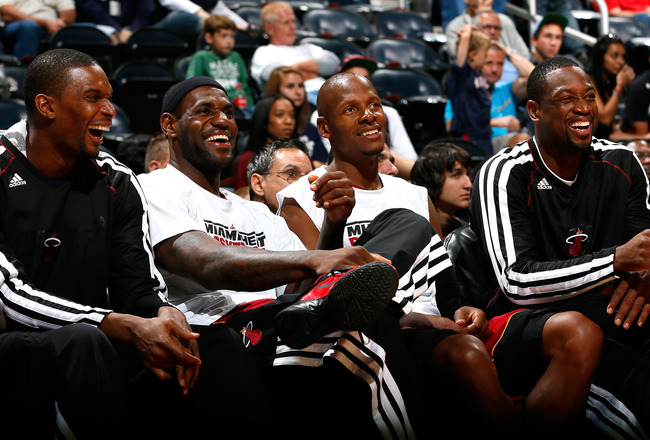 Kevin C. Cox/Getty Images
The second week of the NBA preseason is all wrapped up, and we learned quite a few things about the defending-champion Miami Heat. The Heat return to America after a two-game stint in China against the Los Angeles Clippers, in which they split the series 1-1 in front of an eager Chinese fanbase.
The Heat haven't played with a full roster in any of their preseason games, which has allowed coach Erik Spoelstra to experiment with various lineups and get closer to choosing the final two spots remaining on the team. Offseason acquisitions Ray Allen and Rashard Lewis have looked solid in their Miami debuts, but there is still plenty of time before we see how exactly their roles will be defined.
Miami now sits at 1-2 as they enter the third week of preseason. The Heat will play their next exhibition game against the Detroit Pistons on Thursday.
Here are five things we learned about the Heat early on after three preseason games.
LeBron James and Ray Allen Are Forming an Early Connection

Check out Allen to James at the 0:27 mark

While it's probably easy for anyone to form an on-court connection with LeBron James considering his unique skill set and forte for making the people around him better, it appears that LeBron and new teammate Ray Allen are clicking early on.
In the Heat's preseason opener, James and Allen found each other on several occasions, with Allen's quick pass to a streaking James for a monster one-handed slam making for one of the top highlights of the night.
James and the NBA's all-time leading three-point shooter paced Miami in its loss to Atlanta, combining for 35 points on 50 percent shooting. While the Heat lost, the duo looked to be developing an early chemistry.
As for the two games in China, LeBron's minutes were limited and Allen had trouble finding his stoke, but they still looked to be on the same page when it came to finding each other open.
Apparently all those years of playing against each other in the playoffs is paying off, and once Allen's role is fully cemented, James and his newly acquired deep threat buddy will likely be making magic together on the court.
Miami's Power Rotation Will Need Tinkering
Kevin C. Cox/Getty Images
With several injuries to Miami's bigs, Coach Spoelstra started Shane Battier at the power forward spot and Chris Bosh at center for all three of the Heat's preseason games.
The Clippers were able to maximize their height advantage in both contests against Miami, eating the Heat alive in the paint. L.A. out-rebounded the Heat, 101-70, in two games, while outscoring them in the paint, 78-68, as Clippers center DeAndre Jordan was able to feast on the smaller frontcourt.
Despite being overpowered, the Heat have faced this issue plenty of times in the last two seasons, and they have always been able to handle it appropriately.
Miami is an undersized team by typical NBA standards, but as they showcased in last year's playoffs, they are able to overcome that by fronting and utilizing LeBron and Bosh for matchup problems in the post.
When the regular season begins, Coach Spoelstra will have his power rotation figured out as he trims down the roster to its final 15. Still, that doesn't change the fact that the Heat will need to work on who's getting the bulk of the minutes off the bench and who they will be able to rely on to guard bigger centers like Dwight Howard and Andrew Bynum.
Rodney Carney Has a Legitimate Shot of Making the Roster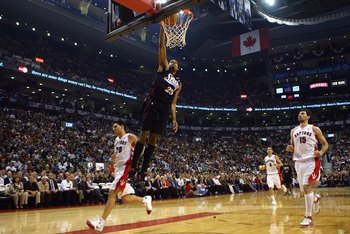 Dave Sandford/Getty Images
With most of the focus on Dwyane Wade's return and the play of offseason free-agent signings Ray Allen and Rashard Lewis, there wasn't much attention given to the pickup of journeyman veteran Rodney Carney.
The former first-round draft pick posted 11 points in the Heat's 94-80 win over the Clippers and then 15 points and five rebounds in the team's 99-89 loss to the Clippers. Carney also displayed his three-point shooting ability, going 6-of-10 from deep in the two games.
Carney brought energy and athleticism off the bench for Miami, and looked very effective for a guy who hasn't played in nearly two years. The problem is that the Heat are overloaded with wing players, and there might not be much room with shooters like Mike Miller and James Jones already on the roster.
Still, Carney showed that he has the potential to be a valuable bench asset, and he has a solid chance of getting one of the final two roster spots.
Dwyane Wade Is Still Rusty After Offseason Knee Surgery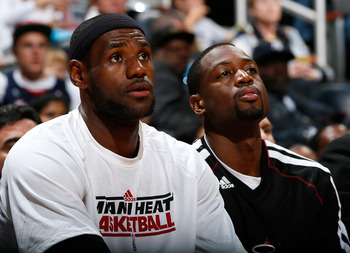 Kevin C. Cox/Getty Images
As good as it was to see Dwyane Wade return earlier than expected, it's obvious that he has some cobwebs to dust off. Wade, who is still recovering from offseason knee surgery, botched a routine dunk in both games against the Clippers.
Wade played just 31 minutes combined in the two games in China, averaging just six points, 2.5 assists and 2.5 rebounds, while shooting a woeful 5-of-16 from the field. He was still able to showcase some of his signature explosion on several plays, but he looked rusty overall.
The positive thing to take away from this is that the Heat are taking a very cautious approach with Wade, and they won't play him regular minutes until his body is fully ready to go. Once Wade's knee heels, he'll get the lift back in his game.
Ray Allen Is Acclimating to the Heat's System Well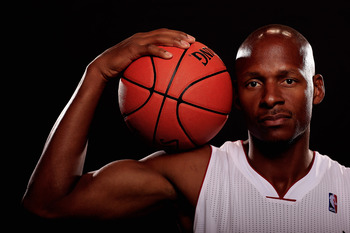 Chris Trotman/Getty Images
Despite coming off ankle surgery for bone spurs and playing in a new city after five years with the Celtics, Ray Allen has acclimated to the Heat's system relatively quickly.
While he's only averaging just over 10 points and has made a three-pointer in just one of three exhibition games, Allen is moving around the floor well. The NBA's all-time leading perimeter shooter nailed four three-pointers in the Heat's debut against the Hawks and put on a display of pretty fadeaway jumpers against both Atlanta and Los Angeles.
Allen struggled in Shanghai, but he showed some very positive signs in the previous two contests. He seems to be vibing well with LeBron James and did a good job of getting open for catch-and-shoots.
As Allen's role becomes more defined, he will surely be knocking down open jumper after open jumper with all the space he will be getting.
Keep Reading

Miami Heat: Like this team?