Lions vs Bears: 10 Keys to the Game for Detroit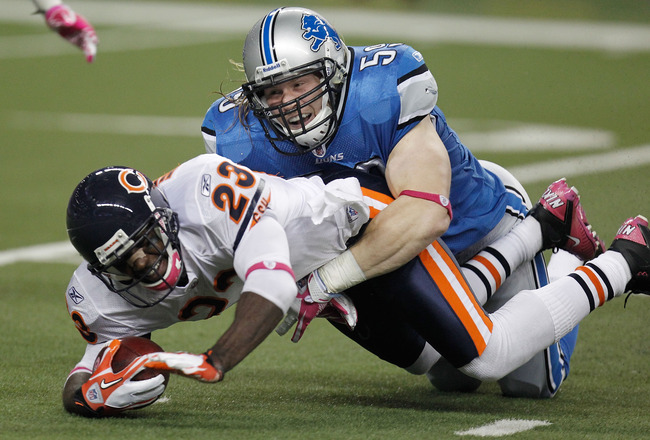 Gregory Shamus/Getty Images
Thanks to a thrilling comeback in the fourth quarter and overtime (again), the Detroit Lions are back to winning.
The Philadelphia Eagles are a pretty good team, so the Lions can take some pride in the win, but they did a lot of things that simply will not work for the rest of the season.
Many of them have been issues for the entire season but some cropped up newly last week (or returned from last season).
And while the Lions certainly did play well enough for a victory against the Eagles, they won't be able to get away with some of the mistakes they made last week.
It's not that I'm a big believer in the Bears, who on a weekly basis appear only a beat away from winning or imploding. Historically, the Bears are every bit as schizophrenic as the Lions have been for the last season-and-a-half.
But there's no denying that the Bears have talent, and there's even less denying that they are capable of taking advantage if their opponent gives them an opportunity.
So here are the ways the Lions can take those opportunities away and tighten up the NFC North race with a win next Monday Night.
Hanson and Harris, Aim for the Cameras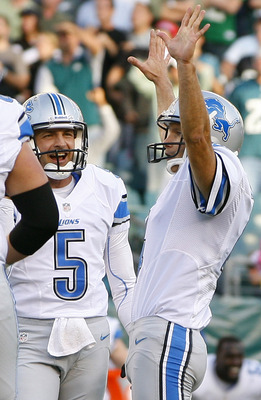 Rich Schultz/Getty Images
I don't mean the Lions need to showboat and play for publicity next week.
I mean aim for the cameras on kicks.
As in kick the ball anywhere but at Devin Hester. The special teams units played well against Philadelphia, which is always dangerous in the return game.
But nobody on that team is Devin Hester, not even close.
Hester and the Bears are a massive threat, especially since the Lions coverage units allowed Tennessee and Minnesota to win their games on special teams.
This is a team that scored less points against Minnesota than they allowed on special teams. The Bears are a team that can dictate the game on special teams even more than that.
So don't get cute, don't try pop-up kicks or angled punts or anything else. Find a cameraman on the sideline or end zone and kick it to him.
The ball can't possibly do as much damage to the camera as Hester can do with the ball.
Start the Game Down 14 Points in the Fourth Quarter (in Your Minds)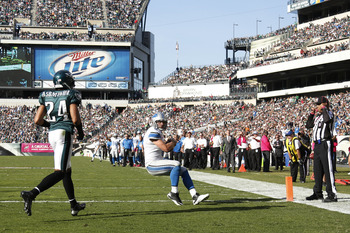 Joe Robbins/Getty Images
For some reason, the Lions tend to only play up to their potential when they have absolutely no other options.
I don't know if it's an intensity thing or a play-calling thing, or what. But for five games straight the Lions have been listless for the first three quarters and red hot in the fourth. They haven't scored a first-half touchdown since opening day.
The Lions made a habit of that last season, as well.
They wouldn't have set a record for most comebacks of 17-plus points in a season if they didn't have a bunch of games in which they went down by that much.
So whatever it is that the Lions do differently in the fourth quarter of games, maybe they can work on doing it from the opening drive.
If it's passing more, then pass more. If it's a sense of urgency and intensity, pretend you're starting the game down by two touchdowns. If it's aggressive play-calling and do-or-die decisions, then hey, call them. An interception 50 yards down the field isn't any worse than a three-and-out because of conservative play-calling.
Whatever it is, the Lions need to figure out some way to start scoring more, earlier. They can do that by just taking whatever it is that's working for them in the fourth quarter and applying it to the entire game.
Can't they?
Keep Doing That Offensive Balance Thing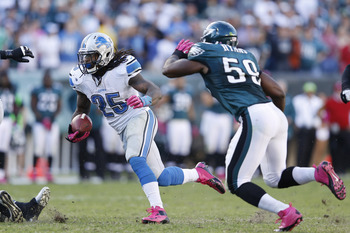 Joe Robbins/Getty Images
Too often, people hear "offensive balance" and assume that the implication is a 50/50 split between the pass and run.
In today's NFL, that's only an effective strategy for teams with poor quarterbacks and good running backs (see: Chiefs, Jets and 49ers).
Instead, what the Lions did last week against the Eagles was appropriate. They passed the ball roughly twice as much as they handed off to running backs, but it worked.
They got the defense biting on play-action passes and fakes because the opposing defense, for once, had to actually respect the Lions running game. This is what they mean when they talk about using the run to set up the pass.
It's not that the Lions have to run the ball equally as much as they pass it. Rather, it's that they need to maintain both the run and the pass as threats to keep the defense off balance.
That may be tougher against the Bears defensive front than most, but that doesn't mean the Lions should abandon it. Mikel Leshoure is ready, and Joique Bell is right behind him.
Dominate the Line of Scrimmage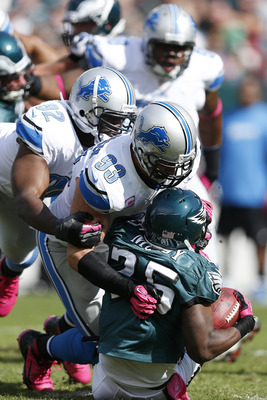 Joe Robbins/Getty Images
The Lions did this last week against Philadelphia and the results were very good.
For the first time all season, the Lions' vaunted defensive line dominated the point of attack and pushed it into the backfield. The results were gaps closing on LeSean McCoy and pressure closing in on Michael Vick.
The Lions discipline against a strong rushing attack was as surprising as it was impressive, but the pass rush is what really turned this game.
Vick was seemingly unable to throw a pass all game without taking a helmet to the chest. To his credit, he manned up and took the punishment, but it wasn't a formula for success.
Much of the Lions success in that game may stem from the Eagles' lackluster (to be kind) offensive line. But really, is the Bears line much better?
Plan to Stop Short, Quick Passes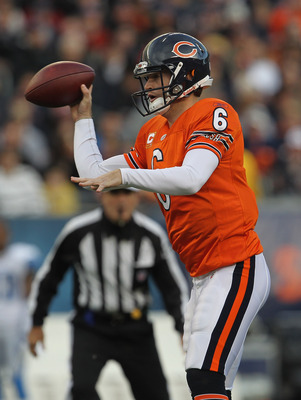 Jonathan Daniel/Getty Images
The Eagles were able to neutralize the Lions pass rush in the second half of last weekend's game, to an extent, by minimizing the time Vick held onto the ball.
That meant quick drops, quick reads and quick throws on short routes. The Lions cornerbacks have been vulnerable to these types of routes since last year, so there's no particular reason to think that the Bears won't try to take advantage.
The Bears' current offensive line has been subject to implosion recently, with the most recent example coming a few weeks ago against the Packers.
The Lions will try to make that happen again, and the Bears will try to neutralize it by getting the ball out of the pocket before the pressure can get there.
The Lions can neutralize that strategy, in turn, by sticking to the Bears receivers close to the line of scrimmage. They should be ready to jump routes, and shouldn't give too much respect to the deep ball until the Bears make it a threat.
Force Mistakes, Then Capitalize on Them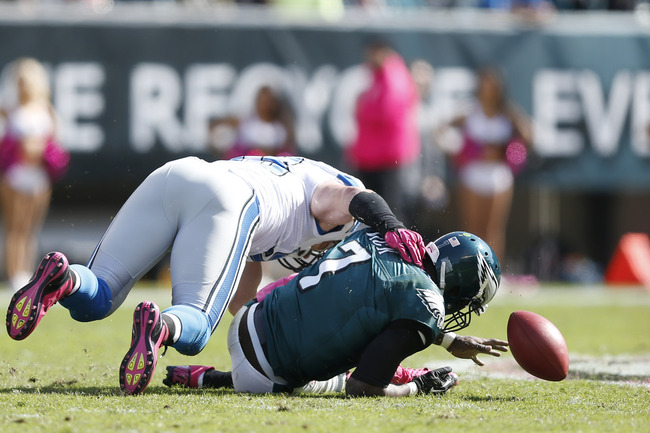 Joe Robbins/Getty Images
The Lions forced three turnovers last week. Finally.
A defense that made a living on clutch turnovers finally started getting some, including their first two interceptions of the season.
And if you believe Charles Woodson, there is reason to believe that will continue this Monday.
But what is notable is not how many turnovers the Lions forced last week, it's how much they got out of those turnovers.
The answer is zero points. The Lions were unable to capitalize and turn any Eagle turnovers into points.
Sure, they may have taken points away from the Eagles, and the two Vick interceptions effectively qualified as arm-punts. But to truly make a team pay for turnovers you have to turn them into points.
The Lions weren't able to do that against the Eagles, and they had to pull out a 10-point comeback and overtime winner.
They may not be able to do even that much against the Bears.
Do to Matt Forte What Was Done to LeSean McCoy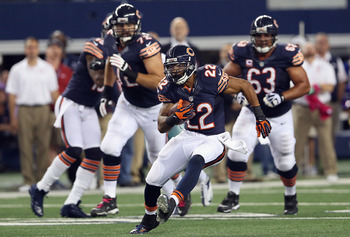 Ronald Martinez/Getty Images
The Lions have quietly and stealthily evolved into a very good run-stopping team, a revelation which culminated in their total shutdown of the Eagles running game (save a couple of Michael Vick scrambles).
In five games, the Lions have faced Steven Jackson, Frank Gore, Chris Johnson, Adrian Peterson and LeSean McCoy.
You can argue that a couple of those backs are washed up, but you cannot argue that they aren't talented.
Yet Peterson remains the only player to rush for 100 yards on the Lions this season. McCoy got stuffed repeatedly for a total of 22 yards rushing on the day.
If the Lions can replicate that performance against Matt Forte and Michael Bush, the Bears offense will be hamstrung, and that will put more pressure on Jay Cutler in more ways than one.
Scheffler Gonna Scheffler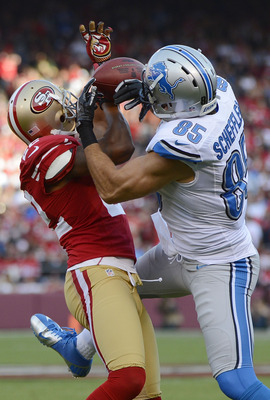 Thearon W. Henderson/Getty Images
With Brandon Pettigrew suffering from a persistent case of the dropsies, and every other non-Johnson receiver disappearing on the field, we turn to Tony Scheffler
Did you know Scheffler was the Lions' second-leading receiver against the Eagles with three receptions for 81 yards?
That's the kind of production the Lions have been hoping to get consistently out of Titus Young and Nate Burleson. But they're not getting that production out of their wide receivers, they're getting it out of Scheffler.
But hey, that's cool.
Scheffler helped the Lions stretch the field last week, and if he's the secondary go-to receiver, then so be it. At least somebody is doing it.
I've said for the last few weeks that the Lions need to get their secondary receivers going, and that remains true. But after five weeks, I'm no longer expecting it.
Instead, let Scheffler be the hot hand and go with him. His athleticism matches up well with a talented, but aging, crew of Bears linebackers, and he's big enough to win down the field against Bears safeties.
Beware Tim Jennings...Unless He's One-on-One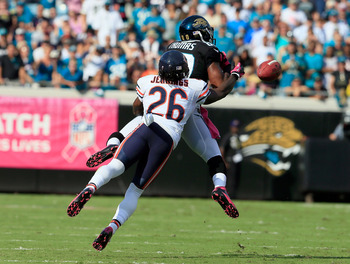 Sam Greenwood/Getty Images
Tim Jennings has been a turnover machine for the Bears for weeks,and looks every bit an elite cornerback.
Because of that, Jennings is a danger to the Lions passing game, especially considering how Matthew Stafford has been a bit more prone to interceptions than usual.
Because of that, Jennings is likely to draw the unenviable assignment of covering Calvin Johnson.
And because of that, the Bears might be dumb enough to think Jennings can cover Johnson in single-coverage.
If that's the case, Stafford needs to pound the ball in to Johnson until he's done enough damage to pull the coverage he deserves.
Of course, Johnson has beaten teams almost single-handedly for long enough at this point. There is no reason to believe that the Bears are willing to let the Lions' best player beat them.
Assuming that Johnson will be bracketed in coverage all day, with Jennings underneath, Stafford needs to beware that coverage. Knowing he has help over the top is going to let Jennings get a little risky with the way he plays Johnson.
That's not to say the Lions need to not throw to Johnson, of course. That would be silly. But certainly they should beware how, where and when they throw to him, and whether Jennings is lurking for a pick.
Quiet the Crowd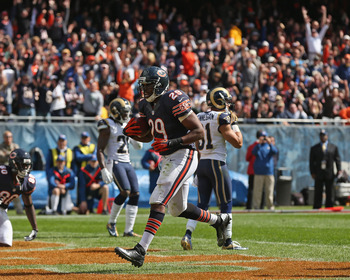 Jonathan Daniel/Getty Images
It's Soldier Field, and it's Monday Night Football.
It's Lions-Bears, and it's going to get loud.
Last year, a raucous Lions crowd (in part) forced the Bears into nine false starts. After that game, teams started practicing with the sound of jet engines in the background.
With the Bears at 4-1, and plenty of bad blood between these teams, there is no reason to believe the Bears crowd won't be equally as wild for a prime-time game.
With early scores and dominant early performances on defense, the Lions were able to take the Eagles crowd out of the game for almost the entire first half. The effect would have been even greater had the Lions scored touchdowns instead of field goals.
It's not like the Lions have been great at jumping out to early leads, but this game is perhaps the most important in which to score early.
This is going to be the most hostile crowd the Lions have faced this season, and for that reason, it would be a very, very good time to play well sooner rather than later.
Against this crowd, a daring fourth-quarter comeback is going to be considerably more difficult than usual.
And it's not easy to start with.
Keep Reading

Detroit Lions: Like this team?