Steelers Health Meter: Healthy and Injured Players for Week 7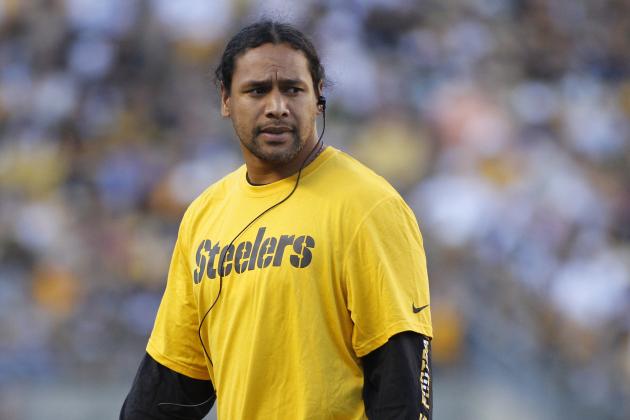 Justin K. Aller/Getty Images

There's really no question it's been an injury plagued season for the Pittsburgh Steelers in 2012. Both offensively and defensively, the Steelers have seen their team ravaged by the injury bug and it's ruining what was once a promising season.
The Steelers will be looking to get some of these guys back and with 10 days of rest coming and already three losses on the season, now is as good a time as any.
Let's gauge some of the Steelers stars health and see if they'll play in Cincinnati on Sunday.
Follow on Twitter: @dsnyder34
Begin Slideshow

»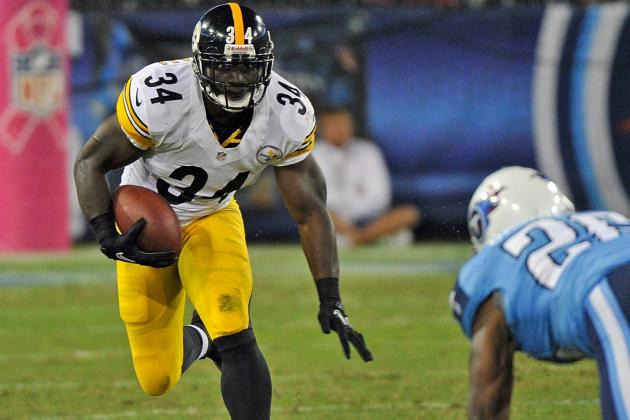 Frederick Breedon/Getty Images

Injury: Achilles / Knee
Week 7 Status: Questionable
In week 5, the Steelers dormant running game got a big boost as starting running back Rashard Mendenhall returned to action following a season-ending knee injury last December. Mendenhall rocked the Philadelphia Eagles and was a major contributor in the teams victory.
So obviously most of us expected Mendy to carry at least the same load Thursday night against the Titans and help the Steelers gash one of the lesser defenses in the league.
But Mendenhall suffered an Achilles injury early in Tennessee and didn't return to action in the loss.
The Steelers offense looked much better with Mendenhall in the mix and were pretty inconsistent on Thursday night while the former first-rounder was on the bench. I believe Mendenhall will play on Sunday, but most likely in a limited capacity, much like he did against he Eagles.
Any playing time Mendenhall gets is a good sign for Steelers fans at this point.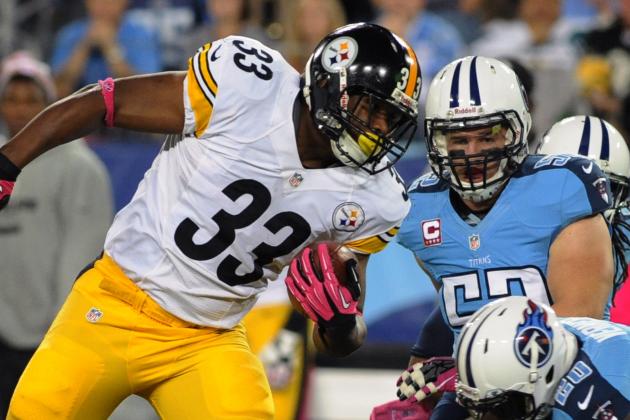 Al Messerschmidt/Getty Images

Injury: Ankle
Week 7 Status: Probable
As if losing your starting running back wasn't enough, the Steelers lost their back-up as well against the Titans after Isaac Redman, who happens to be the teams leading rusher this season, also went down with an ankle injury.
Redman was big early on, especially in the receiving game going over 100 yards against Tennessee, but left the contest for good in the third quarter.
His return, however, was listed as probable although he never did actually come back.
The Steelers have some depth at running back for what it's worth with guys like Baron Batch, Chris Rainey and Jonathan Dwyer, but it looks like Redman will be able to go against the Bengals this week.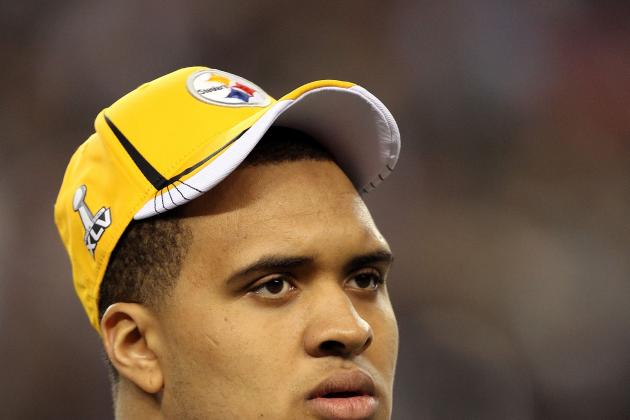 Ronald Martinez/Getty Images

Injury: MCL
Week 7 Status: Questionable
Maurkice Pouncey has been widely considered one of the best centers in the NFL since he came into the league and rightfully so. When he's on the field, he's been an anchor on an offensive line that's, let's face it, just not very good.
But Pouncey's biggest problem has been staying on the field and that issue continued Thursday against the Titans. Pouncey left early in the loss to the Titans with an MCL injury and did not return.
Doug Legursky has done a really nice job filling in wherever the Steelers have placed him, but he is much better suited in coming off the bench and into the Steelers rotation to keep the guys fresh.
Not much has really been said about the Pouncey injury and we wouldn't expect that out of the Steelers compound. At this point, you have to list him as questionable but my gut reaction says he probably sits this week.
Update (10/15/12, 4:50 pm): Maurkice Pouncey deemed "highly unlikely" to play Sunday against the Bengals via sources.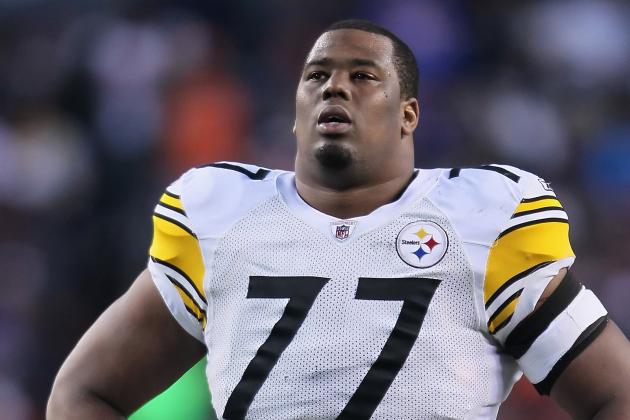 Jeff Gross/Getty Images

Injury: Ankle
Week 7 Status: Probable
After losing Pouncey early with the knee injury, things got a whole lot worse up front for the Steelers when right tackle Marcus Gilbert's ankle got rolled up on and he left the field.
The injury brought in rookie Mike Adams who, although talented, is very raw and showed it against Derrick Morgan.
With all the offensive line injuries, Gilbert was actually healthy enough to be on stand-by against the Titans so his odds of playing following 10 days of rest are actually pretty good.
The Steelers need Gilbert out on the field. He's been there best tackle this year and should continue to improve if healthy.
Update (10/15/12, 5:18 pm): Marcus Gilbert is OUT against the Bengals; rookie Mike Adams will start.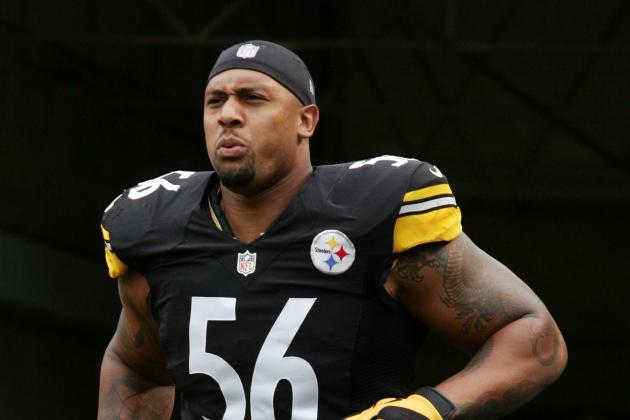 Charles LeClaire-US PRESSWIRE

Injury: Hamstring
Week 7 Status: Probable
The Steelers were without LaMarr Woodley on Thursday night with a hamstring injury and it showed. The pass rush was awful and the team brought Titans quarterback Matt Hasselbeck down just a few times.
Woodley has been plagued by hamstring injuries dating back to last season and they seem to be creeping back in.
Just the same, it seems like the former second round pick is ready to go for the teams game in Cincinnati. He'll provide a big boost to a pass rush that has been utterly dreadful without his presence in 2012.
Woodley will most likely not be at full strength, but he'll be able to rotate in with Jason Worilds to keep him fresh.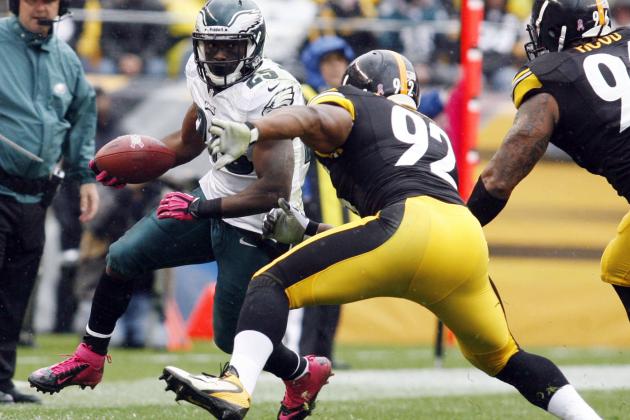 Charles LeClaire-US PRESSWIRE

Injury: Knee
Week 7 Status: Will Play
James Harrison has played the past two weeks and probably won't appear on the Steelers injury report at this point, but I put him on here because he looks like he's playing injured or at least not at full strength.
Harrison has been known around the league for years as a scary, hard hitting pass rusher who is one of the toughest to contend with. This season, he has just one sack and has been handled by the tackles of the Titans and Eagles in his only two performances.
It's becoming more and more clear that James Harrison's best days are well behind him. The question is, can he still be a solid contributor, or is he just another old guy on the Steelers defense?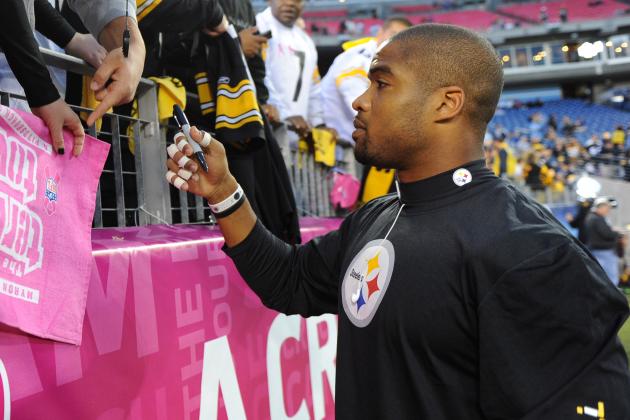 Don McPeak-US PRESSWIRE

Injury: Hamstring
Week 7 Status: Questionable
Chris Carter is an interesting injury to have on this report as he's not a big star for the Steelers. But make no mistake, Carter has been a major contributor for the black and gold this season.
With injuries to Woodley and Harrison early on, Carter and teammate Jason Worilds have had to step up and play bigger roles. Now that both starters are back, an injury to Carter shouldn't be a problem, right?
Wrong.
Woodley will be returning from injury this week and as I said, Harrison still doesn't appear at full strength. The Steelers have relied heavily on Carter and Worilds to spell their two starters and with Carter potentially out, that could put a monkey wrench in those plans.
There hasn't been a whole lot of news on Carter's injury and I wouldn't expect much. My bet is he toughs it out and plays on Sunday, even if only for a handful of snaps.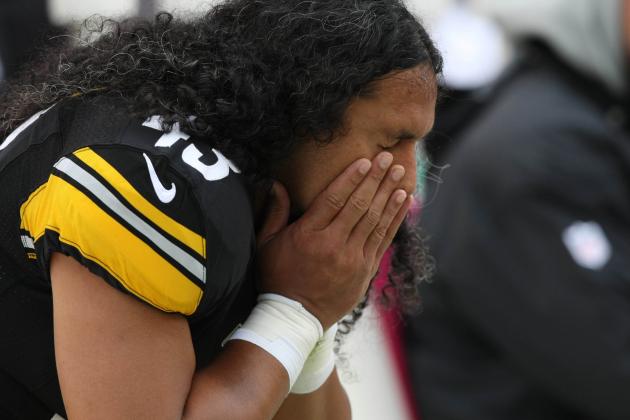 Jason Bridge-US PRESSWIRE

Injury: Calf
Week 7 Status: Doubtful
And, of course, the injury everybody wants to know about.
It's been just about as bad a start to a season as Troy Polamalu could have imagined. He was torched by Peyton Manning in the opener and then spent the next two weeks on the sidelines with the calf injury only to return against the Eagles and re-aggravate the injury on a routine play.
Troy hasn't really been the same player since the Steelers last made a Super Bowl run. His body seems to have given out on him and now you have to wonder how much longer will Steelers fans get to watch what was once one of the most exciting players in the league.
I would highly doubt Troy plays against the Bengals, given how quickly he was ruled out of the Tennessee game. The Steelers would be wise to let Polamalu rest and completely heal that calf injury. Just hope you can stay in contention long enough to get him back.