NASCAR Sprint Cup: 10 Lessons We Learned at Charlotte
Jared C. Tilton/Getty Images
As the chase moves through Charlotte and gets ready to set up in Kansas, there are several things we learned from the Bank of America 500.
Saving fuel would prove to be the key to victory on Saturday night, not horse power. The chase standings would also change, as Clint Bowyer emerged as the one driver to watch.
Brad Keselowski might have maintained his points lead, but Jimmie Johnson and Denny Hamlin were able to make up some ground they lost at Talladega.
Regan Smith would suffer some bad luck as he ended up in the garage before he had even run 100 laps at Charlotte. We would also see the re-debut of A.J. Allmendinger as he was able to get a ride with Phoenix Racing for at least the Charlotte race.
Several divers would slide even further down the chase standings, and as NASCAR moves into Kansas, the chase drivers are separating even more.
With Charlotte over and in the books, it's time to take a look at 10 lessons we learned by the time the checkered flag waved.
Clint Bowyer Could Be the One to Watch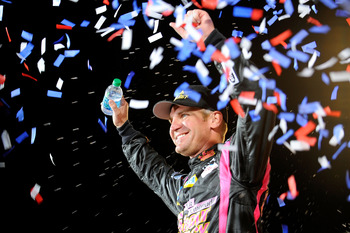 Jared C. Tilton/Getty Images
Clint Bowyer might not have been exactly thrilled with his car during the beginning of the Charlotte race, but he was able to stretch his fuel enough to get the win.
Now, as the point standings tighten up, it seems like Bowyer could be the one to watch.
Kahne and Gordon were strong possibilities to be the ones to shake up the three-man chase, but after poor finishes that would cost both drivers spots in the chase, Clint Bowyer seems to be the one with the best chance of shaking up the standings.
While Keselowski might be dominant when it comes to fuel mileage, Bowyer emerged as the King at Charlotte, not even having enough gas to do a burn out. Bowyer managed to separate himself from several of the other chase drivers and really only has to worry about Kahne coming up and trying to pass him in points.
Kahne still has a chance to move up and catch Bowyer in the chase, but if he can manage to stay ahead of Kahne in Kansas, Bowyer would easily set himself up to make a move when this chase narrows down.
Bowyer proved he is the one to watch coming out of Charlotte. With all the attention on Keselowski, Hamlin and Johnson, Bowyer could be the one to pull an upset.
It Wont Be Easy for Keselowski to Gain Ground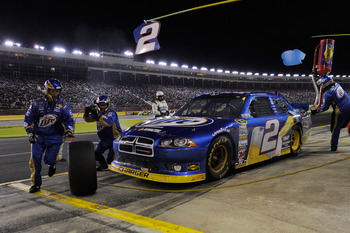 John Harrelson/Getty Images
Keselowski can try all of the pit strategies he wants—it won't make it any easier on him to gain a lead on Jimmie Johnson and Denny Hamlin.
Especially on these 1.5-mile tracks.
Keselowski might have led the most laps, but Johnson and Hamlin were right behind him. They both know Keselowski can't finish too far in front of them, and it showed this Saturday night at Charlotte.
Brad would try pit strategies to get to the front after getting a mid-pack spot during qualifying. His pit strategies might help get him to the front, but with the Hendricks' power and Johnson trying his own fuel mileage strategy, it was hard for Keselowski to hold Johnson back.
Hamlin finished second and ran in the top five for a good part of the race, making sure both Johnson and Keselowski were close.
It's going to be hard for any of the top three drivers to pull away from each other at these 1.5-mile tracks. The only way, in fact, is if something unlucky happens to one of the drivers.
If Keselowski was looking for breathing room, it didn't come from Charlotte. Making a mistake and almost running out of gas didn't help the Blue Deuce either.
Johnson and Hamlin ended up closing the gap on Keselowski. While it was partly Keselowski's own fault for running out of fuel, Johnson and Hamlin don't seem concerned about winning; rather, they seem focused on staying ahead of the Blue Deuce.
If Keselowski wants to win the chase, he needs to make a move at Kansas.
Second Chances Do Happen in NASCAR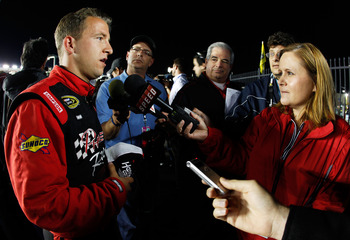 Tyler Barrick/Getty Images
When A.J. Allmendinger was suspended for failing a drug test, things were looking pretty bleak for the young driver.
He would eventually be let go by Penske Racing and would begin the Road to Recovery program. It was hard to believe Allmendinger would be able to come back from being suspended and find a ride.
With a bit of luck, A.J. would find himself racing in the 51 for Phoenix Racing for the race at Charlotte, partly thanks to the misfortune of Dale Earnhardt Jr. having to sit out two races, and Regan Smith being put in the 88.
James Finch needed a driver for his 51 team. Clearly Finch sees something in Allmendinger. Why not just take an up-and-coming driver from Nationwide after all, and offer them a ride for a couple of races?
Maybe one day the Dinger can make a full return to the Sprint Cup series. Still, he should consider himself extremely lucky that he has been given another opportunity to drive in the Sprint Cup series the same year he was suspended.
Is his current ride as big of a team as Penske Racing? No, but this is a great start for Allmendinger if he hopes to rebuild his reputation.
Jeff Gordon Is Done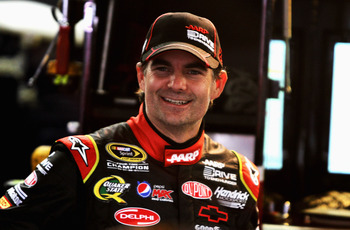 Jerry Markland/Getty Images
Gordon looked like the one driver in the chase that could shake things up.
A poor performance at Charlotte, though, takes Gordon out of contention.
It wasn't just the pit-road speeding penalty that would end Gordon's run. He was basically quiet the whole night, not really sticking out or doing anything.
Charlotte was where Gordon needed to make up ground on the chase leaders. Instead, he had a poor performance and lost ground, dropping down in the chase standings.
If Gordon couldn't make up ground on a cookie cutter track, what chance does he have of moving up later in the chase?
Charlotte was the best chance Gordon had to make a move, especially since Kahne seemed to be having trouble breaking into the top five. Instead, Gordon would finish in 18th, and with it, his chances of winning the chase would basically disappear.
He dropped three places in the chase after his poor finish. Any ground made up at Talladega he lost at Charlotte, and now that he is 50 points behind the leader, Gordon's chances of a comeback are lost.
Regan Smith Needs to Regroup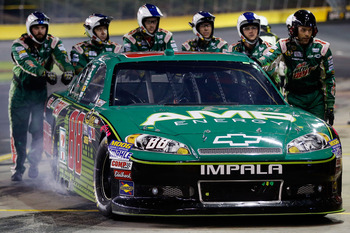 Chris Graythen/Getty Images
Regan Smith had a chance to make a name for himself when he was placed in the 88 at Charlotte.
And while he did make it to the top 10 at one point in the race, his night would end early as something went wrong with his car. With a blown engine, Regan would end up in the garage fewer than 100 laps into the Charlotte race.
If Smith is trying to take full advantage of his opportunity to race for Dale Earnhardt Jr., finishing a race would help.
He was quoted over at ESPN.com as saying:
It's disappointing. It's a good team, it's a good car and everybody at Hendrick Motorsports does a great job. I'm looking forward to next week.
Now he will need to wait for Kansas and hopefully put on a better performance there than he did this week.
Regan Smith having a hard time at Charlotte might just be by chance, or perhaps the young driver can't handle the Hendricks car like Dale Jr. can.
Regardless, Smith ended his night early, and if he hopes to make any impact this year, it will have to wait until Kansas.
Nothing Slows Tony Down...Besides Bad Pit Stops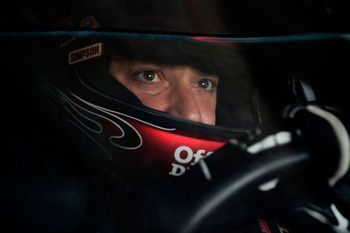 Tyler Barrick/Getty Images
Tony Stewart would start back in 32nd place on Saturday night.
He would get into the back of Brad Keselowski's car at one point and cause more damage to his car than the Blue Deuce.
Still, even with his banged-up car, Stewart would race to the front. He would make it up to the top 10, all the way from the back of the field.
Sometimes, it seems like nothing can slow Tony down.
Let's not forgot, this is the same driver that caused the huge wreck at Talladega.
Tony might be too far gone to make a comeback in the chase, but that doesn't mean he won't race the wheels off his car. He would eventually end up in sixth, and while he was able to make one of the biggest comebacks of the night, he would have to deal with other problems.
A poor pit stop toward the end of the race would drop Stewart back to 18th place.
Tony knows how to get the job done, but poor pit stops will only make his life harder.
Still, in the end, Stewart would finish in 13th. If he had a faster pit stop, he would have easily finished in the top 10. Stewart has proven time and time again that he is one of the best drivers in the NASCAR Sprint Cup series.
Charlotte was just another example.
Some Drivers Don't Care If They're Not in the Chase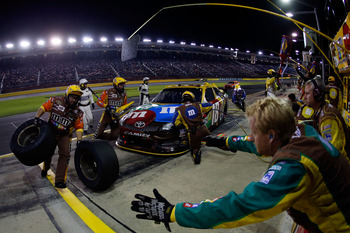 Chris Graythen/Getty Images
Kyle Busch has had a rough year.
From all the engine problems that have plagued the 18 team, to his recent stint with Toyota Racing Development, Busch has had another year filled with drama.
Not making the chase only added the Kyle's woes.
Carl Edwards is another driver who has had a pretty rough year. Missing the chase and not managing to get a single win all season has to be weighing heavily on Edwards.
And then there is Mark Martin in the 55, who still has what it takes to race against the younger drivers and make them earn their spots on the track and in the chase.
All three of these drivers would be in the running at some point at the Charlotte race. Whether it was Mark Martin battling with Biffle for the lead at the beginning of the race, or Kyle Busch and Carl Edwards, who at different points made it all the way up to second place, these drivers were in the mix at Charlotte like they needed to win the chase.
They might not have had the seasons they wanted, but that won't stop them from trying to go for the win and being the one who upsets the chase drivers.
As NASCAR moves into Kansas, look for these three to be in the mix again.
Fuel Mileage over Power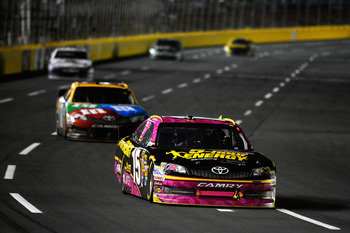 Jared C. Tilton/Getty Images
Charlotte seemed less about how powerful a car was, and more about fuel mileage.
Especially at the end of the race, a lot of drivers started to get lapped because the lead cars were able to stretch their fuel for so long. With three other 1.5-mile tracks still left in the chase, we will more than likely see the fuel mileage strategy payoff for other drivers like it did for Bowyer at Charlotte.
Denny Hamlin had a strong car, strong enough to make it to the end on power and was almost able to run down Bowyer in three or four laps. He probably would have passed him if he had been let loose one lap earlier. In the end, though, Bowyer's fuel mileage, not power, led him to victory lane.
Jimmie Johnson also had a strong car. He, however, seemed to be holding back as he would settle for third during the race. Johnson had to conserve fuel, worrying less about trying to win, and more about just finishing the race.
He was quoted over at ESPN.com as saying:
We were just being really cautious and didn't want to go out there and chase (Hamlin) and get ourselves in trouble. We're getting really good at this fuel mileage stuff; it's hard to get it right.
Keselowski would see his own plans backfire as he tried to stretch his mileage too far and almost didn't make it back to pit road. His usual fuel mileage strategy that gives him such an advantage at these 1.5-mile tracks backfired, and Keselowski finished in 11th place.
Fuel mileage and fuel strategy will play a major role in deciding who wins the chase. Teams like Hendricks Motorsports that are known for the power their engines get will have to rely on something else to help get them the wins for the remaining chase races.
Keselowski Leading in Points Isn't a Fluke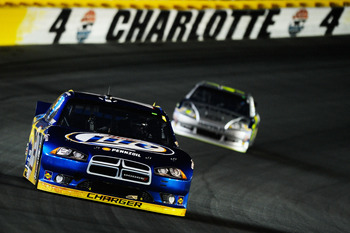 Jared C. Tilton/Getty Images
Keselowski might not have won the Charlotte race, but he did manage to prove his current points lead is no fluke.
He needed to send a message to the other drivers trying to take his lead away, and his message was sent loud and clear.
He will not go down without a fight.
Brad and the No. 2 team might have miscalculated when it came to the fuel mileage game, but he was still able to mount a comeback and maintain a points lead when the race was over. He also managed to lead the most laps at Charlotte, ahead of both Jimmie Johnson and Denny Hamlin.
His late-race screwup would cost him, though, as he would have to pit again to make sure he had enough fuel to make it to the end.
Still, a slip up like that can usually cost a young, inexperienced driver a spot or two in the chase. He was lucky that he managed to gain a points lead at Talladega, so when he needed to pit again toward the end of the Charlotte race, he would go down a lap but remain in first in the chase standings.
He kept his cool, tried to pass as many cars as he could before pitting again and would eventually finish in 11th.
Johnson and Hamlin might have closed the gap, but Keselowski was able to save himself from a disastrous situation and maintain his lead in the chase. Keselowski leading in points isn't a fluke, and now the Blue Deuce needs to get focused for Kansas.
It's Not a Three-Man Race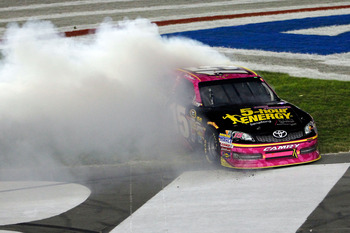 Pool/Getty Images
While all eyes might have been on Keselowski, Hamlin and Johnson, Bowyer was the one to emerge with the checkered flag and make everyone realize that the chase was far from a three-man race.
Kasey Kahne is another driver who still has a chance to shake things up. Having a good finish next week might move him up in points and bring him closer to the chase drivers ranked higher than him in points.
As we move into Kansas, the top five in points are the ones everyone should be paying attention to. Any of them could win at the next 1.5-mile track, and we might see the point standings shook up even more.
Of course, it will be hard for Bowyer and, more specifically, Kahne to pass the top three in points, but if they can manage their fuel on these upcoming tracks, they might be able to win the chase in the end.
Bowyer's win at Charlotte proved that Talladega wasn't enough to separate the top three drivers from the rest of the pack. As the weeks winding down the chase continue, look for both Bowyer and Kahne to be in the mix and turn this three-man race into a five-man battle.
Keep Reading