Houston Texans' J.J. Watt: 4 Reasons He Is Becoming a Top NFL DE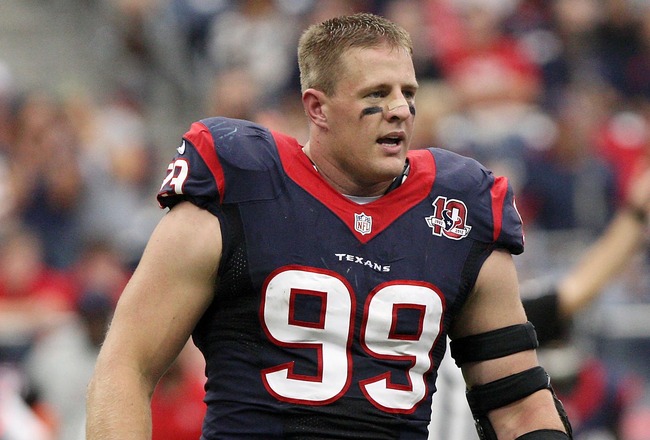 Troy Taormina-US PRESSWIRE
J.J. Watt's campaign for the NFL's MVP award continued in New York on Monday Night Football when the star defensive end helped lead the Houston Texans to their first 5-0 start in franchise history.
The Houston Texans put enough pressure on Mark Sanchez and the New York Jets to come away with a hard-fought road win. Watt again played a key part with more than a few game-changing plays.
The former first-round pick from Wisconsin is making a big name for himself, as he continues to show week in and week out why he's one of the best defensive players in the NFL.
Houston's 5-0 record and dominant defense simply wouldn't be without J.J. Watt. With the loss of Brian Cushing for the season, the team will depend on the star defensive end even more.
Here are a few ways J.J. Watt is becoming a top defensive end in the NFL.
Passes Batted Down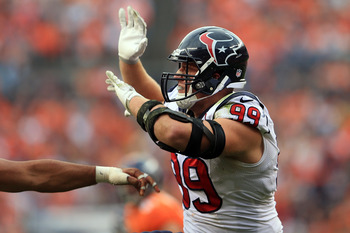 Doug Pensinger/Getty Images
J.J. Watt is cutting out a niche for himself as a one-man wrecking crew against quarterbacks this year. One major reason why is his knack for batting down passes.
In his last nine games, Watt has 12 pass deflections. Three of Watt's eight deflections this season have led to interceptions.
Watt is tied for third in the NFL in passes batted down, a list which features mostly defensive backs. The next closest defensive lineman to Watt is Arizona Cardinals defensive end Calais Campbell with four.
Watt isn't the first defensive lineman to figure out that batting passes down at the line is a last resort when a quarterback hurry, hit or sack isn't an option any more. But he's definitely one of the best the NFL has ever seen at doing it.
Watt's pass deflections have come at crucial parts of games, and none was more important than the last play of the game Monday night.
After seeing two NFL games this season end in regulation on Hail Mary touchdown passes, Texans fans had to be a little nervous when Mark Sanchez dropped back to pass on the last play of the game with the Jets down by less than a touchdown.
Sure enough, J.J. Watt batted the pass down at the line of scrimmage—game over, Texans win. Afterwards, the star defensive end could be heard on the game broadcast yelling "you can't throw it over my head!" as he celebrated another Texans win.
Watt's impact batting down passes has given him a unique way to impact football games in a way not many other defensive lineman do.
Pass Rush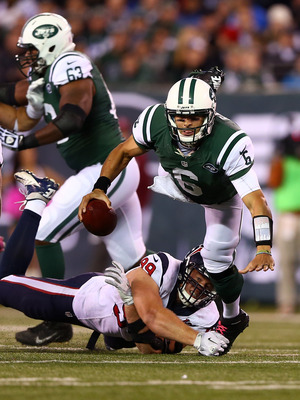 Elsa/Getty Images
In J.J. Watt's last nine games, he's registered 46 tackles, 13 sacks and 19 quarterback hits. The numbers are so gaudy, it's tough to even wrap your mind around.
The numbers all boil down to the fact that Watt is a premier pass rusher in the NFL and possibly the best in the NFL right now.
Watt's pass rushing is even more impressive because he doesn't line up as far out on the edge as most players who finish at the top of the league in sacks.
Lining up over the outside shoulder of the tackle on base downs and over guards on passing downs puts Watt up against offensive lineman on nearly every defensive snap. He doesn't have the luxury of facing tight ends or running backs one-on-one in pass protection like 4-3 defensive ends and 3-4 outside linebackers do.
All this means is Watt is dominating his position right now, and it usually isn't a position where you see players pile up many sacks.
Watt's pass rush ability is one of the main reasons why he's becoming one of the best defensive ends in football.
Run Thumper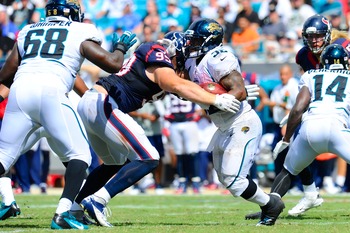 Dale Zanine-US PRESSWIRE
The Houston Texans rely on J.J. Watt to control opposing team's running games. Watt is often used to stunt or slant, which keeps offenses guessing where the defensive end will end up after the ball is snapped.
Watt's impact against the run is as important to the Texans' defense as his pass rush. Houston's front seven needs Watt to be stout against run plays to free them up to run and hit.
There's more speed in the Texans' front seven than size, so the team will rely on Watt, who is one of the defense's biggest players. Defensive coordinator Wade Phillips will use Watt to slant down on run plays, which keeps the defense from running away from him.
The Texans' scheme keeps Watt involved in stopping the opposing team's running game, and it's led to them being ranked ninth in the NFL in rushing yards against. The Texans are also the only team in the NFL that hasn't allowed a rushing touchdown yet this season.
Watt's impact on Houston's run defense will be essential going forward without Brian Cushing. At this point, his presence in this phase of the game might be more important to the team than his pass rush.
Motor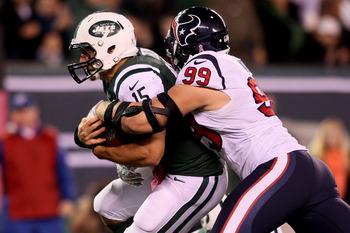 Alex Trautwig/Getty Images
The word "motor" is thrown around way too much in NFL circles. It usually only partially applies, but in J.J. Watt's case, he embodies what a motor truly is. This is what NFL scouts value so much during the NFL draft evaluation process.
Watt's motor has an impact on the opposing team's offense, but it also influences his teammates. The Texans have adopted an "effort" mentality on defense as a whole, and it started when Watt arrived in Houston. This mentality has made them one of the best defenses in the league for the past two seasons.
NFL talent evaluators place a high level of importance on motor players for all of these reasons. Former NFL scout Daniel Jeremiah commented on the subject recently via Twitter:
One of the most overlooked aspects when evaluating pass rushers? Relentlessness. Helps explain several draft busts and steals.
A relentless motor is just about the most precious quality a defensive lineman can possess. It can be the difference between a perennial Pro Bowler or just another guy in the defensive line rotation.
J.J. Watt's play exemplifies what a motor really is, and Houston's defense has depended on it all year.
Keep Reading

Houston Texans: Like this team?