Orlando Magic Players That ESPN's #NBARank Overvalued and Undervalued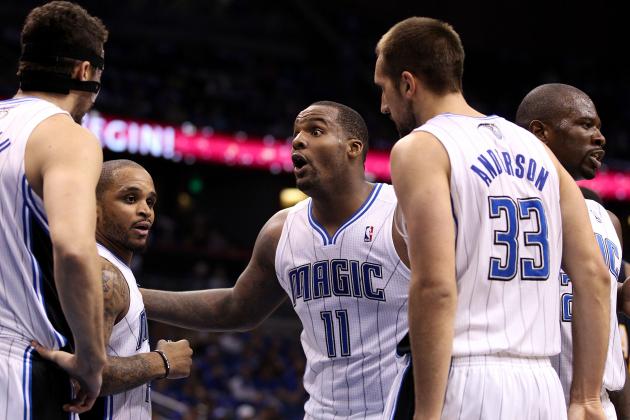 Marc Serota/Getty Images

Going along with the theme of my most recent article, I'm continuing to evaluate ESPN's #NBARank, with the topic of discussion this time being the Orlando Magic.
While the Magic certainly don't have a top-five player on the roster anymore after dealing superstar center Dwight Howard in the offseason, Orlando still has some solid pieces on its team.
The Magic may be afterthoughts in the Southeast Division as the defending champion Miami Heat garner all the attention, however Orlando still has some exciting rookies and reliable veterans that may make them better than expected.
With that in mind, I am going to break down which Orlando Magic players were over and undervalued in ESPN's #NBARank, which rates players on a 0-to-10 scale based on the "current quality of each player."
Feel free to give your two sense here or at my Twitter account, @TheNBAllen.
Begin Slideshow

»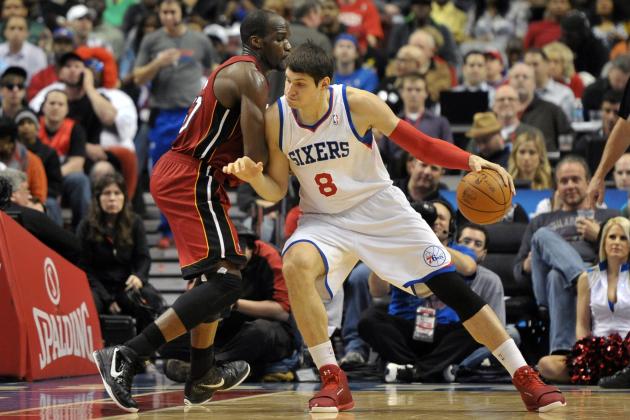 Drew Hallowell/Getty Images

Undervalued: While he may be a massive downgrade from Dwight Howard, the Magic have high hopes for Superman's replacement in the middle.
Vucevic showed some real promise in his rookie season in Philadelphia.
He was able to post respectable numbers of 5.5 points and 4.8 rebounds per game while playing behind Spencer Hawes and Elton Brand in the Sixers rotation. He averaged just 16 minutes per game and with a bigger role, Vucevic could be a breakthrough player.
In a transition season for the Magic, Vucevic could make an immediate impact on this team in what will likely be an expanded role. Taking all that into account, Vucevic is slightly undervalued as his current value is much higher on a rebuilding Magic team.
Check out the big man's range too.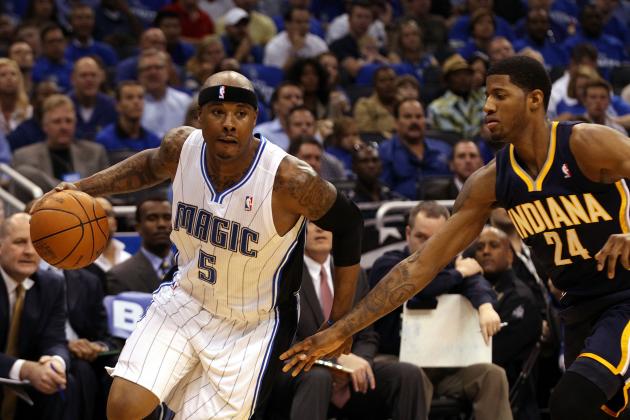 Marc Serota/Getty Images

Overvalued: Q-Rich really only had a handful of good seasons in his career, with 2004 and 2005 being his peak years.
Since then, he has steadily declined, with his two seasons in Orlando being the worst of his career.
Richardson's PER was an abysmal 8.73 and he shot 34 percent from beyond the arc last year. He was a liability on defense, didn't nail many open jumpers like he was expected to and barely made an impact for the decent minutes (18) he received off the bench.
There are plenty of players, such as Brendan Haywood, Nate Robinson and Raja Bell that deserved to be ahead of Richardson in the #NBARank.
Richardson likely wouldn't see much playing time on most other teams in the league.
Richardson's current value seems more appropriate in the 300 range.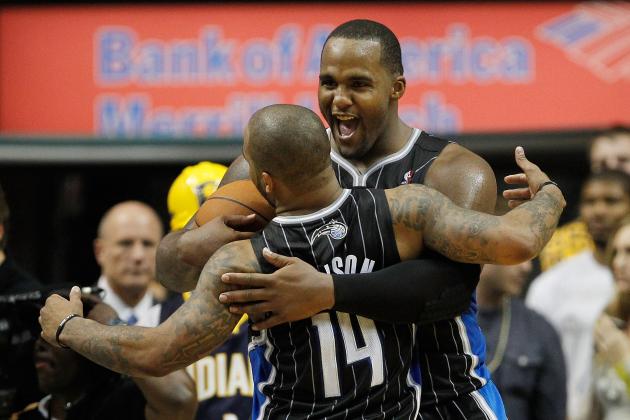 Gregory Shamus/Getty Images

Undervalued: When Dwight Howard went down with a back injury late in the season, Glen Davis came alive and put on a string of noteworthy performances.
Big Baby averaged 16.4 points and 8.8 rebounds per game in the month of April, where he made 12 starts. He thrived with Howard off the floor, posting nine double-doubles, including the postseason.
With Howard not clogging up the paint, Davis was able to find his niche and become one of the Magic's best players late in the season. Now that Davis is expected to start and hold a big role on this team, the former Celtic seems poised for a breakout year.
That should have been taken into account when ESPN felt he deserved a 24-spot drop in the rankings. Big Baby might want to reconsider his nickname if he continues his dominance from last season.
Davis' current value warrants top-125 consideration.
Gregory Shamus/Getty Images

Overvalued: Redick has improved his game drastically over the past few seasons, evolving so that he is more than just a one-dimensional player.
His hard work has paid off, as the ACC's all-time leading scorer averaged a career-high 11.6 points per game last season. But, how much were his stats inflated with a guy like Dwight Howard creating tons of open space for a stellar shooter such as Redick?
Redick is a great three-point shooter and a solid all-around player, but something about the No. 115 ranking just doesn't seem right, especially with more complete players such as Evan Turner, Carl Landry and Caron Butler ranked behind him.
After vast improvements in several areas of his game, Redick's current value is at an all-time high, but not top-115 worthy.
Redick is a top-150 player, but not top 120.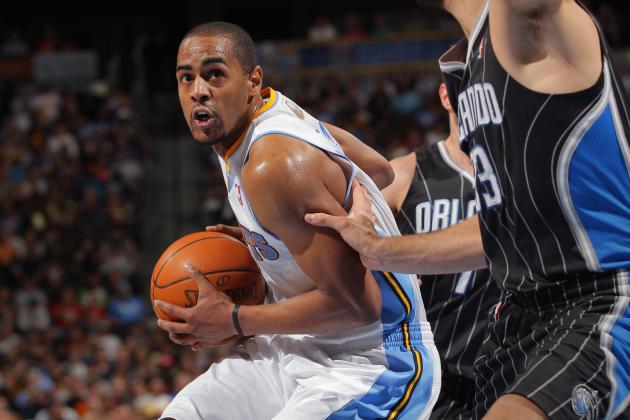 Doug Pensinger/Getty Images

Undervalued: Afflalo has increased his scoring average every year he has been in the league, posting career numbers of 15.2 points per game last season, but then somehow dropped two spots in the #NBARank this year.
Afflalo was the second-leading scorer on a very good Nuggets team that featured seven players in double-digit scoring.
As much as the Magic were criticized for the lack of value they got in return for Dwight Howard, the acquisition of Afflalo seems to be one of the lone bright spots.
Despite being on a crowded Denver team, he had career numbers while helping lead the Nuggets into the playoffs.
Now he arrives on an Orlando team lacking a go-to-guy.
This is an ideal situation for Afflalo, who is a budding star that can make a real difference on a team that won't have much firepower.
Afflalo's current value warrants top-75 love, and he should not have dropped two spots from last year's #NBARank. Afflalo continues to improve offensively, is an above-average wing defender and will likely be the face of the Magic franchise this year.
So, No. 80 does not reflect the current quality of Afflalo.