Boston Celtics: Comparing the 2012-13 Team with the 2007-08 NBA Champions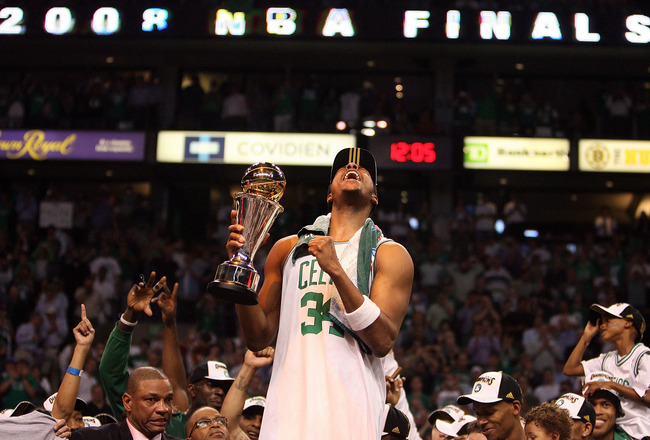 Elsa/Getty Images
The 2012-13 Boston Celtics have championship aspirations. Therefore, it is only natural that we compare them to their 2007-08 title-winning predecessors.
A lot has changed in the years since the Celtics raised their most recent banner to the rafters of the TD Garden. Familiar faces remain in Rajon Rondo, Paul Pierce, Kevin Garnett and Doc Rivers, but virtually everything else has been rearranged.
If the Celtics are to legitimately challenge for the 2012-13 championship, they will need to stack up to the green of six seasons ago, even though a lot of players who had big roles in that playoff run have been replaced over the years.
The four remaining Celtics are surrounded by skilled new players and geared up to make a run for the trophy that has eluded them since the 2007-08 season.
Starting Point Guard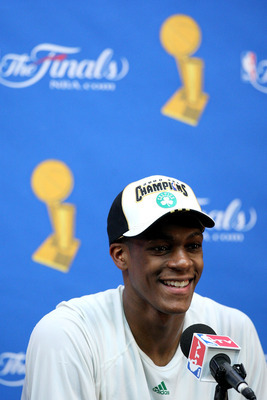 Kevin C. Cox/Getty Images
2007-08: Rajon Rondo (22)
2012-13: Rajon Rondo (26)
This is one of the spots in which the Boston Celtics have remained the same, but still so much has changed.
The name and number on the back of their starting point guard's jersey will be the same as 2007-08, but the player donning those threads is vastly different. Rajon Rondo of 2007-08 was not nearly as formidable as his current self. In fact, he was very much a background player on the championship team.
Rondo consistently deferred throughout the postseason run, though he did show bits and pieces of what was to come. In the playoffs, Rondo averaged 10.2 points and 6.6 assists, but shot just 40-percent from the field. Back then, Boston thought they knew what they had, now they've realized he's much, much more.
These days, Rondo is a leader on the Celtics and the focal point of the offense. His postseason averages of 17.3 points and 11.9 assists per game in 2012 are more in line of what to expect now. Should the Celtics make another run to the championship, Rondo will be at the forefront instead of an afterthought.
Edge: Rajon Rondo, 2012-13
Starting Shooting Guard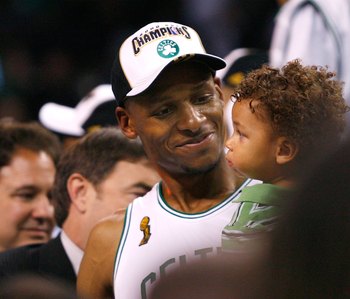 Jim Rogash/Getty Images
2007-08: Ray Allen
2012-13: Courtney Lee/Avery Bradley
The most recent change is at shooting guard. This move happened in the midst of the 2011-12 season, when Ray Allen became expendable.
Back in 2007-08, Allen was still one of the top scorers in the NBA. He had recently broken into his 30s and was rejuvenated by playing on the newly developed contender. The way the Celtics' three stars meshed together was perfect for Allen's game.
He didn't have to control the ball or take it to the basket quite as much, and he now had one of the best pick-setters ever with Kevin Garnett. Allen was able to take his opponents on a track meet every night and gave the Celtics dead-eye shooting from all over the court.
With the emergence of Avery Bradley in 2011-12, Allen took a backseat in a lot of ways. He lost his starting job for the first time, as the young Bradley gave the Celtics a stronger defensive unit.
At this point it is difficult to say who would be the starting shooting guard should Boston make a title run. With Bradley set to miss some time, there is an opportunity for Courtney Lee to win and keep the job.
With either Bradley or Lee, the shooting guard spot is now a strength on the defensive end. Both players are younger and more athletic than 2007-08 Allen. While the clutch three-point shooting may be missed, in his career, Lee is a 39-percent shooter from distance.
The bottom line, though, is that Boston has replaced a Hall of Famer at the end of his prime with two youthful but largely unproven players.
Edge: Ray Allen, 2007-08
Starting Small Forward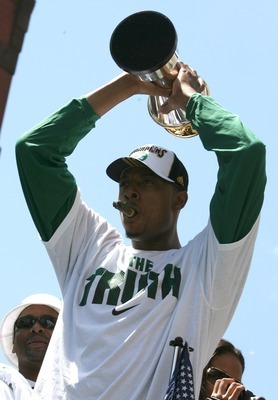 Elsa/Getty Images
2007-08: Paul Pierce (30)
2012-13: Paul Pierce (35)
There has been a noticeable change in Paul Pierce's game recently. It isn't a huge drop off, or a showing that he can no longer play the position—but something is different.
Pierce won't age the same as most players. His game isn't built on athletic prowess, but guile and power. He should be able to defy the aging process better than most. Still, there is no denying the slight drop in ability.
Pierce—at age 30—was a dominant offensive force. He was able to go mano-a-mano with the likes of LeBron James. Their epic, Game 7 clash in the 2008 playoffs is something that Pierce could not do now.
2012-13 Pierce, while unable to bring it on a nightly basis as well as his younger self, still has the ability to perform at an elite level in spurts. Take special note of his 36-point, 14-rebound night in the Atlanta series, and of course his huge three over James in the Eastern Conference finals.
Pierce will still be counted on to shoulder the bulk of the offensive load and will lead the Celtics in scoring once again. The difference will be his help in the second unit. For years, Pierce has been the end-all, be-all at small forward, but now there is help behind him. This can help keep him fresh and he should be able to give Boston similar production to what he did last season.
That slight drop is going to mean a slightly less effective Pierce. While his skills and numbers may drop, he is every bit the leader he was in 2007-08.
Slight Edge: Paul Pierce, 2007-08
Starting Power Forward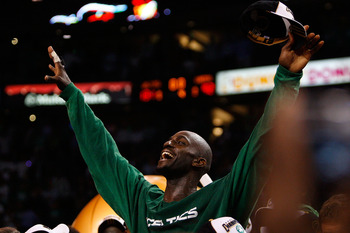 Jim Rogash/Getty Images
2007-08: Kevin Garnett
2012-13: Brandon Bass
In 2007-08, Kevin Garnett changed the tone of the Boston Celtics defense. The year prior to his arrival, the Celtics gave up nearly 100 points per game. In 2007-08, Boston allowed just 90.3 points, the second best mark in the league.
His impact on the Celtics championship run was immeasurable. While he remains on the team, his move to center last season allowed for Brandon Bass to enter the starting lineup. Bass got the job by default considering Boston's injuries, but then earned it with his play.
It is that play that will keep him here to start the 2012-13 season. Bass is nowhere near the defensive presence that Garnett was, but he is the ultimate role player. While he won't live up to the lore of Garnett in 2007-08, Bass takes very little off the table. He can even maintain the mid-range shooting game that his predecessor had with his patented elbow-jumper.
The benefit Bass has going for him is that power forward is a "by committee"-type position now. He has quality players like Jared Sullinger and Jeff Green behind him, who should see around the same number of minutes.
Edge: Kevin Garnett, 2007-08
Starting Center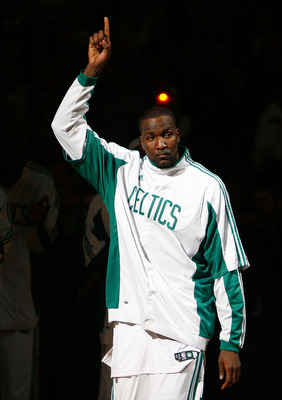 Jim Rogash/Getty Images
2007-08: Kendrick Perkins
2012-13: Kevin Garnett
The most meaningful change affecting the 2012-13 season is Kevin Garnett resuming the center position. His move to the Five marked the turning point of Boston's 2011-12 season.
Like Rajon Rondo, Kendrick Perkins was a young and inexperienced player at the time of Boston's last championship. He joined Rondo in taking a back seat while the Big Three led the team against the Lakers.
Though a supporting character, Perkins did exactly what he was supposed to in order to win. His six points and six rebounds a game were necessary for Boston's success. He was incredibly efficient—shooting 59-percent from the field—and played a crucial role in defending the Lakers' bigs.
Still, the dynamism that Garnett gives Boston at center is much more than Perkins ever could bring. Garnett has the ability to dominate matchups at both ends of the court, something Perkins could only do defensively.
The Celtics are definitively better off with Garnett manning the spot for the 2012-13 season. He gives them a much better opportunity to advances to the finals.
Edge: Kevin Garnett, 2012-13
The Sixth Man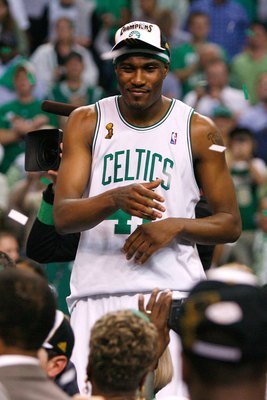 Jim Rogash/Getty Images
2007-08: James Posey
2012-13: Jason Terry/Jeff Green
In 2007-08, James Posey was as important a piece to the Celtics as any of the starters. He gave them a legitimate threat both offensively and defensively off the bench.
The Celtics are going to be very deep in 2012-13, and it is currently tough to distinguish who will be the sixth man. Both Jason Terry and Jeff Green figure to be central points on the second unit.
The similarities between Posey and Jason Terry are obvious. 2007 was Posey's first year in Boston, and 2012-13 will be Terry's first season in green as well. Hopefully, Terry will last with the team beyond one year—as long as he's just as productive.
Terry will be backing up the point guard spot, as well as playing some shooting guard. This is very important with Avery Bradley still recovering from injury.
Jeff Green is younger than Terry and probably more versatile. He will be the primary backup at the small forward position and perhaps the power forward spot as well. Green is similar in both size and game to Posey. Terry gives the Celtics another long range threat that they may be lacking in the starting unit.
Either way, the options Boston has on their second unit right now give them a better chance of having a better than Posey-like impact.
Edge: Jason Terry/Jeff Green, 2012-13
Bench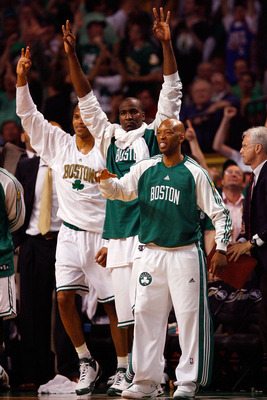 Jim Rogash/Getty Images
2007-08: James Posey, Sam Cassell, Leon Powe, P.J. Brown, Eddie House, Glen Davis, Tony Allen
2012-13: Jason Terry, Jeff Green, Jared Sullinger, Courtney Lee, Darko Milicic, Chris Wilcox, Fab Melo
The 2007-08 Celtics had a nice mix of veteran experience and youth on their bench. The franchise brought out P.J. Brown and Sam Cassell to help bring along their younger players, and future starters Tony Allen and Glen Davis also played minor roles.
The 2012-13 bench mirrors the mixture that made up the championship winners. Jason Terry is Cassell, a veteran guard with a wealth of experience. Jeff Green bares a likeness to Posey, Chris Wilcox is a veteran big in the vein of Brown. Jared Sullinger is a young and undersized power forward, a lot like Glen Davis was during the championship run.
It does seem like the newer version may have considerably more talent than their predecessors. This is where the 2012-13 Celtics have the greatest advantage over the 2007-08 team. They are incredibly deep and have the same mix that was necessary in that championship run.
Edge: 2012-13 Bench
What Is the Same?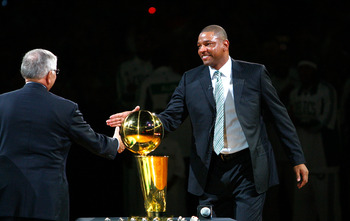 Jim Rogash/Getty Images
It is difficult to remember that far back, but Doc Rivers was not held in very high regard prior to the 2007-08 season.
The Celtics had gotten increasingly worse in each of his first three seasons at the helm. He inherited a team that had gone to three straight playoffs and after a one-and-done appearance, they missed the postseason twice under his guidance.
After the championship season, Rivers was praised for his ability to manage three superstars, as well as their minutes and personalities. The always amiable Rivers was suddenly one of the top coaches in the league. It is easy to remain skeptical after just that one season, with such an influx of talent it makes sense to believe Rivers had little to do with the title.
However, now with many more years of experience with the same core, his acumen can't be questioned so easily.
What has stayed the same is the meat of the Boston Celtics. Rivers has had many years now building trust with Rajon Rondo, Kevin Garnett and Paul Pierce. That is the core that will get them deep into the postseason.
What Has Changed?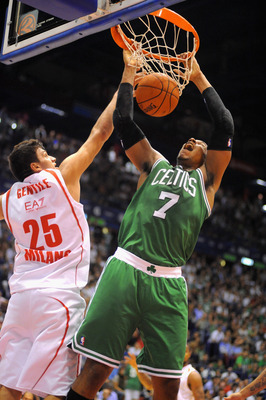 Roberto Serra/Iguana Press/Getty Images
What has changed has to be what will get the Celtics to the next level. Along with the improvements in Rajon Rondo, it will be the new faces that advance Boston to another championship.
Boston has replaced a weak bench from last season with a solid group of young potential stars and veteran players with game left in the tank. The second unit looks similar to 2007-08, but an improved 2007-08. There is more talent on the current bench than back then.
The 2007-08 group wasn't one that had been together a long time, they were largely new to each other. This is similar to the Celtics new crop of bench players. This group definitely has more talent, but can they mesh together the same way the team did years ago?
Still, the biggest change has to be Rondo. Six seasons ago, he was a shell of what he is now. He was a serviceable point guard who just needed to manage the game well enough not to screw up the proceedings. Now he controls everything that happens on the offensive end.
Will They Resemble 2007-08 Enough?
Jim Rogash/Getty Images
There are resemblances and connections to be made here. The 2012-13 roster is shaping up to at least semi-resemble that of the 2007-08 championship winners.
The head coach and core are still mostly intact, and Rajon Rondo has transformed from an inexperienced sideshow to one of the league's best players. Their bench the past few seasons has really been lacking, which makes the sight of the current reserves so pleasant.
This team will have much more options and thus be far less susceptible to crippling injury problems. Boston will have plenty of talent to sub into the starting lineup, while still allowing the bench to be solid.
The whole "ubuntu" theme had a lot to do with the Celtics success in 2007-08, and that began on a trip overseas to open the preseason. The Celtics have spent the past week playing two preseason games in Europe. If they return with the same chemistry built up, then the sky is the limit.
And, with Kevin Garnett still in green and white, anything is possible.
Keep Reading

Boston Celtics: Like this team?