NASCAR: The Top 6 Drivers That Every Other Driver Is Scared of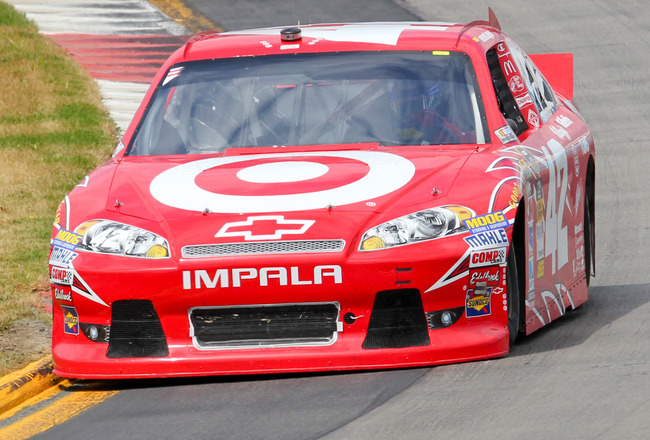 He may wear a target on his car and firesuit, but more often than not, Juan Pablo Montoya is the targeter, rather than the targeted.
Timothy T. Ludwig-US PRESSWIRE
Cue the theme from Jaws.
Dun-dun, dun-dun-dun-dun-dun-dun-dun-dun.
Can you feel the angst? The worry? How about downright fear?
While Sprint Cup drivers rarely admit it in public—unless they're ticked off after being wrecked (intentionally or not) by another competitor and with TV cameras and reporters around to record their every word—there are certain drivers that leave their competitors shaking in their fire suits at times.
There are the hot-headed types that will intentionally wreck a fellow driver for a perceived slight. They're the type that are the most dangerous—and invariably wind up having an invisible scarlet letter painted on their race cars and fire suits.
On the flip side—and no, I'm not talking about overturned cars—there are drivers who have such great talent that they're a threat to win every time they climb behind the wheel. And when they're on a roll and growing bigger and bigger in the rearview mirrors of other drivers, they leave those other drivers with little choice but to simply and almost meekly pull over to get out of the way.
Here's Bleacher Report's take on the six drivers every other driver is afraid of. Do you agree or not? Are there other drivers we don't list here that you feel should be included, too?
Either way, leave us a comment with your take.
No. 1 Juan Pablo Montoya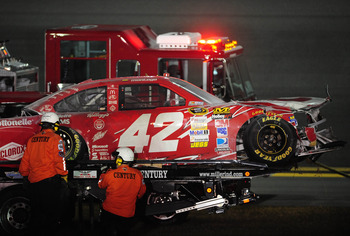 Once again, Montoya's car involved in another incident.
Andrew Weber-US PRESSWIRE
Too bad he wasn't in NASCAR when they made Days of Thunder, because JPM is the perfect guy to be told to go hit the pace car because he's hit everything else on the race track.
Heck, in this year's Daytona 500, Montoya made history by becoming the first driver to ever hit a jet dryer truck—and under caution, too!
Who can forget the fireball that erupted when JPM lost control and plowed right into the dryer?
And then there are all the drivers he's been involved in wrecks with over the last six years. It would probably be easier to name the drivers Montoya hasn't hit (are there any left?) than all those he has traded paint with.
Since coming to Sprint Cup in 2007, Montoya has been an enigma. He has such great talent as a race car driver, and has had incredible success in other forms of racing (particularly open wheel), but he's showed very little of that talent and success in a stock car.
He's won just two races in 210 starts and has made the Chase just once (finished eighth in 2009). But even more telling is if the current season were to end today, four of Montoya's six seasons in Cup would have ended with an overall finish of 20th or worse (and the fifth season was 17th).
It's probably too late for the 37-year-old Colombian native to go back to open wheel racing, but if he wants to learn what it's like to win and be successful again, that's likely to be the only place because he's just not cutting it in NASCAR.
No. 2 Kyle Busch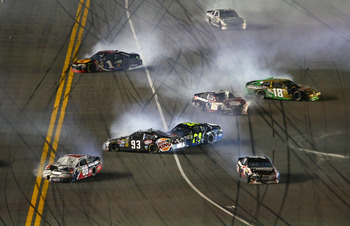 If there's a big wreck, Kyle Busch seems to find it.
Douglas Jones-US PRESSWIRE
First off, there's little denying that Kyle Busch is one of the most talented drivers NASCAR has seen in probably the last 20 years.
He makes winning and achieving success—when he's on his game—look effortless, almost easy.
But then there's Busch's dark side, the reckless guy with the I-don't-give-a-damn attitude. It's then when Busch is at his worst and becomes an incident waiting to happen—it's not if it will happen, it's more when it will happen because a controversial incident is invariably bound to happen.
How many other drivers has Busch intentionally turned over the years, be it in the Cup, Nationwide or Trucks series? Have we forgotten what he did to Ron Hornaday Jr. last fall at Texas, pile-driving Hornaday head-on into the racetrack wall (and ending Hornaday's championship hopes)?
NASCAR got kudos for suspending Busch for remainder of that weekend, and M&M's pulled its sponsorship of the last two races.
When he's at his best, there is nothing more exciting than watching Busch slice and dice his way through a field en route to the front of the pack and the checkered flag.
But it's the broody, moody side of him that leaves other drivers not knowing what to expect or which Kyle will show up on race day, putting fear into any and every driver that shares the race track with him.
No. 3 Tony Stewart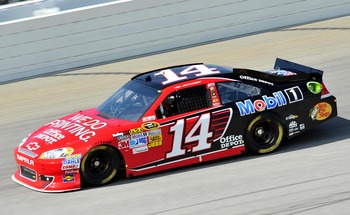 Tony Stewart is always ready to 'smoke' his opponents on the race track.
Rob Grabowski-US PRESSWIRE
Three-time and defending Sprint Cup champion Tony Stewart can have an occasional hot-headed streak at times, but for the most part, he's arguably the scariest driver out there when it comes to his immense and incredible talent.
When Smoke lives up to his nickname, he leaves everyone else in his wake. Look at how he won five of last year's Chase races en route to the Cup title.
Have you ever noticed that when he has a car that is the best in the field, and he's moving forward towards the front in the latter stages of a race, how so many other drivers steer clear of the No. 14?
Stewart is arguably as close to the late Dale Earnhardt in terms of talent and intimidation as any other driver we've seen in the last 10 to 15 years.
Ask most any driver on the Cup circuit who they most hate to see making a charge in their rearview mirror, and the answer is usually one of two drivers: Stewart and Jimmie Johnson.
No. 4 Brad Keselowski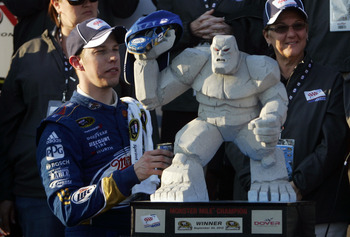 Brad Keselowski has become a monster at winning and intimidation.
US PRESSWIRE
The latest member of NASCAR's "What, me worry?" club, in less than four years Keselowski has established himself as one of the most intimidating young drivers on the circuit.
Frankly, this guy likes being a pain in the ass of his fellow drivers. He relishes the thought of being the intimidator, rather than the intimidated.
He will go toe-to-toe with any driver on the circuit and has made it his calling card to never, ever back down.
Some drivers might even call him "crazy Kes" for his head-on approach, but that has been one of the biggest ingredients for success among some of NASCAR's greatest champions ever. And the Polish Rocket will indeed become a Sprint Cup champ one day, probably sooner rather than later.
Heck, he's leading this year's Chase standings thus far, and has won two of its first three races.
This kid is for real, and has made the No. 2 Blue Deuce one of the most intimidating sights on a race track.
No. 5 Jimmie Johnson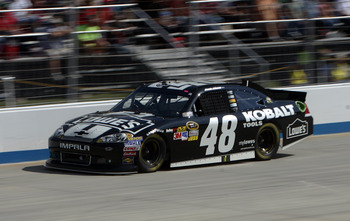 Is 'Five-time' Jimmie Johnson soon to be known as 'Six-time'?
US PRESSWIRE
How could you have a list of the most feared drivers and not include the man who is now simply known as "Five-time"?
Indeed, it appears Johnson is once again back on top of his game, much like when he won a NASCAR-record five consecutive Sprint Cup championships from 2006 through 2010.
Like Tony Stewart, Kyle Busch and the others we've included, Johnson is one of the last things other drivers want to see in their rearview mirrors.
It's not going to be a big surprise to see him rally in the remaining seven Chase races—heck, it wouldn't have to be much of a rally since he's already in second place—and take championship No. 6.
Few drivers give their competitors a bigger headache or more fear and angst than "Five-time."
Or should we start preparing to change that to "Six-time"?
No. 6 Kurt Busch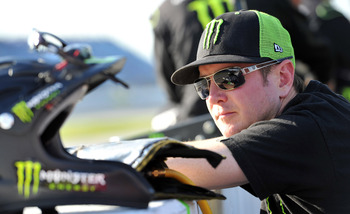 Kurt Busch used to be a monster on the race track -- and could become one once again.
Rob Grabowski-US PRESSWIRE
The elder Busch brother was once one of the most feared drivers on a race track. And he still is, to an extent, but he's lost much of his intimidation factor.
Fellow drivers that used to fear Busch now don't give him an extra inch or cut him a break just because of who he is or the talent he has.
About the only people that are still intimidated at times by him—and have become the targets of what he used to dish out on the race track—are the poor souls that serve on his pit crew, who have had to endure constant barrages of swearing, finger pointing and being called out even if they were not at fault for something KuBusch perceives as a mistake.
But fellow opponents may very well have to start fearing Busch again—and taking him more seriously—when he moves to Furniture Row Racing next season. While it's no Penske Racing, FRR is definitely a big step up from Phoenix Motorsports, of which Busch will soon leave to start working on the next chapter of his racing career.
Busch has learned a lot of lessons over the last couple of years—some hard-taught lessons at that. It will be interesting to see if he truly has learned those lessons well, or if he falls back into his bad habits yet again when he moves to FRR.
If it's the latter, fellow Cup drivers should be afraid once again, very, very afraid.
Keep Reading