Michael Vick: Fantasy Owners Shouldn't Sell If Eagles QB Flops vs. Steelers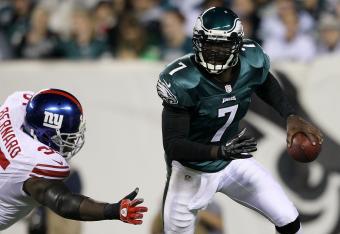 Alex Trautwig/Getty Images
Chances are, Philadelphia Eagles QB Michael Vick will struggle against a full-strength Pittsburgh Steelers defense on Sunday afternoon.
Droves of fantasy owners will likely jump ship off the Vick fantasy bandwagon—but selling his stock is not smart.
This is going to sound unconventional, but Vick has gotten a bit of an unfair shake in 2012.
In the first four games of the Eagles' schedule, the QB had to face a Cleveland Browns defense with Joe Haden, the always-difficult Baltimore Ravens, the upstart Arizona Cardinals and division rivals New York Giants.
Now, the Steelers will have safeties Ryan Clark, Troy Polamalu and former Defensive Player of the Year James Harrison all on the field for the first time this season.
Critics will say Vick takes too many hits. Part of that is due to his scrambling ability, whether it's as a ball carrier or extending the play with his nearly unmatched mobility. The other side of the coin, though, is that his protection has been consistently abysmal.
In every game, the Eagles have allowed multiple sacks, including five in Arizona; one of which caused at least a 10-point swing in the game.
However, last week saw some improvement from the Philly steak-fed bigs. Against the likes of Jason Pierre-Paul and Justin Tuck, the Eagles did allow two sacks, but gave Vick more clean pockets than he'd had all year.
Not surprisingly, it was the first time all season Vick didn't turn the ball over.
Will Michael Vick bounce back to be a fantasy stud in 2012?
Here's the big sell for keeping Vick: the schedule gets much, much easier in terms of opposing defenses.
Before abandoning Vick at the drop of a hat against one of the most formidable defenses in the NFL over the past decade, consider: two games remain on the schedule against the Washington Redskins, who have the 30th-ranked pass defense in the NFL.
Further, Smokin' Jay Cutler proved it was possible to shred the Dallas Cowboys secondary on Monday Night Football. Thus, the better all-around weapons Vick possesses should allow him to light it up at least once.
Also on tap: the New Orleans Saints and Carolina Panthers. Oh, and a Tampa Bay Buccaneers defense that yielded 510 yards to Eli Manning and the Giants.
The old saying goes that things may get worse before they get better. In Vick's case, this couldn't be more true in the event of a flop at Heinz Field.
Patience will actually pay dividends the very next week. Unfortunately, some owners may look ahead to the Week 6 tangle with Detroit and notice that the Lions have a Top 10 pass defense.
Going on one's first instinct, the gut call is to drop Vick. But before doing so, quickly break down the reasoning behind a secondary improving so much, minus Eric Wright, and adding a third-round pick in Bill Bentley.
How could this happen?
One explanation is that pretty much anyone is an upgrade over Wright.
The more reasonable explanation: Detroit faced Sam Bradford, Alex Smith, Jake Locke and Christian Ponder to begin the season. That's how it happened.
None of those quarterbacks are particularly bad, but none of them are known to direct particularly explosive passing offenses, either.
When the Lions come to Lincoln Financial Field, they had better hope their pass rush gets there.
Fantasy owners will regret letting Vick slide by the wayside should he get pummeled in Pittsburgh. Barring injury—that's the only caveat I could muster to scare people away—Vick should level out and have a strong 2012 fantasy campaign.
This article is
What is the duplicate article?
Why is this article offensive?
Where is this article plagiarized from?
Why is this article poorly edited?