Tom Brady vs. Peyton Manning: Breaking Down Historical Stats & Career Accolades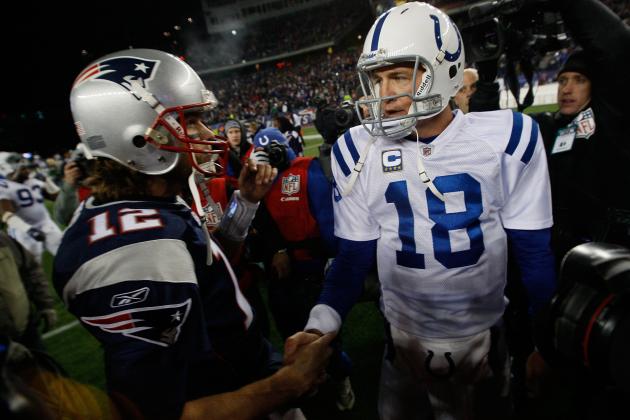 Jim Rogash/Getty Images

Finally!
The Peyton Manning-Tom Brady rivalry will be renewed in Week 5 of the 2012 NFL season.
Obviously, there's a slight tweak with Manning under center for the Denver Broncos. Nonetheless, through four games this year, the four-time NFL MVP hasn't missed a beat. Brady, on the other hand, has the New England Patriots offense rolling once again.
Additionally, with the two signal-callers squaring off once again, this game has high implications. Both teams are 2-2 and coming off important divisional wins last week. The contest will play a significant factor down the stretch as we near the postseason, so it's reasonable to have increased expectations.
To that end, let's break down some nostalgia between Manning versus Brady in honor of arguably the greatest quarterback rivalry in NFL history.
Begin Slideshow

»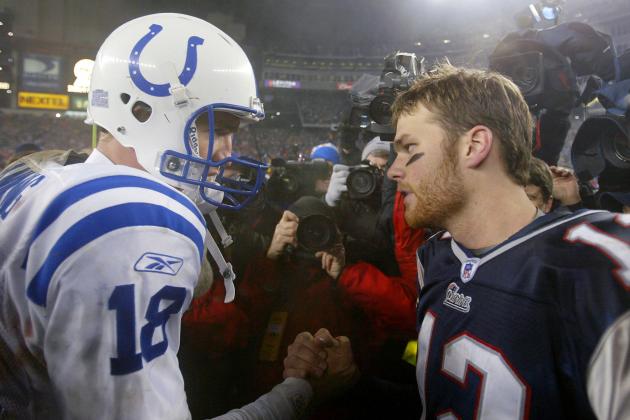 Ezra Shaw/Getty Images

Entering this game, Tom Brady leads the head-to-head, 8-4.
First meeting one another in 2001 as part of the AFC East, Brady and the Pats twice dominated Manning's Colts.
Winning 44-13 at home, Brady beat Manning again in Indianapolis by a score of 38-17. New England went on to upset the St. Louis Rams in Super Bowl XXXVI. Thereafter, Brady would not lose to Manning until the 2005 regular season.
After losing the first six meetings, Manning has gone 4-2 against Brady. The two have met three times in the postseason, twice for the AFC title. Brady leads the playoff series 2-1, but the quarterbacks are tied at one win apiece when the AFC championship is on the line.
The 2012 season has the potential for another postseason meeting after this October matchup.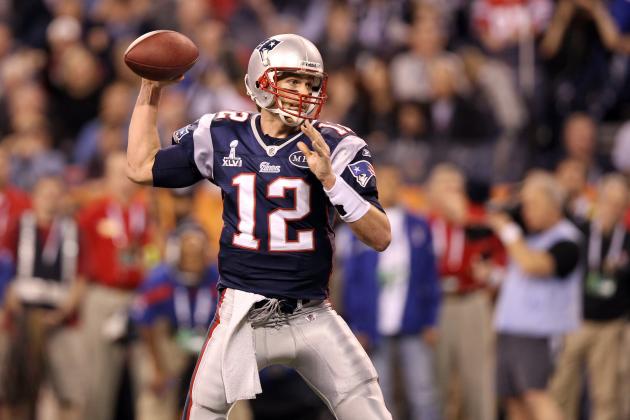 Ezra Shaw/Getty Images

With the exception of Super Bowl XXXVII, the AFC has been represented by only three different franchises since 2001-02.
The Patriots made it on five occasions, the Colts made it twice and the Pittsburgh Steelers made it three times.
In total, seven of the last 11 AFC Championship Games have featured either Tom Brady or Peyton Manning.
Wow.
Together, this duo is 4-3 in the big game and combines for a postseason record of 25-16.
Brady began his playoff career 10-0 and won three Super Bowls. Since then, he has gone 6-6 with two Super Bowl losses to Eli Manning and the New York Giants.
Meanwhile, Peyton went 3-6 through his first eight NFL seasons. Fortunately, he turned it around in 2006 and won Super Bowl XLI. Exclude that year's postseason and Manning is just 5-10 in the tournament.
In short, it just goes to show how difficult pro football becomes once January rolls around.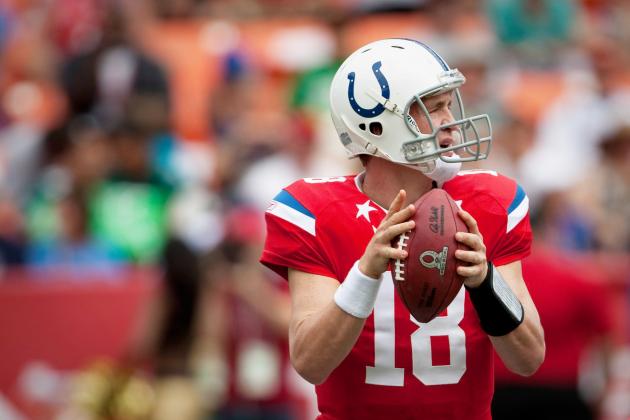 Kent Nishimura/Getty Images

If there's a definition for consistency in pro football, Peyton Manning and Tom Brady are just that.
As two of the NFL's best quarterbacks ever, no one at any position gains their level of recognition without being among the best each season.
Looking at their Pro Bowl and All-Pro selections, among other accolades, it's virtually impossible for Manning and Brady to enhance their respective resumes any more.
To date, Brady has been named to seven Pro Bowls and three All-Pro teams. He has two NFL MVP awards.
Manning, interestingly enough, outdoes his rival with 11 Pro Bowls, eight All-Pros and four MVP awards. Before not playing a down in 2011, Manning went to nine consecutive Pro Bowls.
Amazing.
Unsurprisingly, they were the two respective quarterbacks on the NFL 2000s All-Decade Team.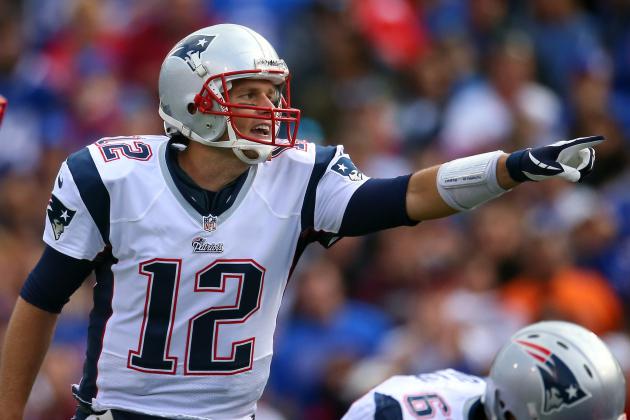 Tom Szczerbowski/Getty Images

Their stats are different, but there's no denying the efficiency level of Tom Brady and Peyton Manning.
Note: All stats are through Week 4 of the 2012 season.
Tom Brady
Passing Yards: 41,206
TDs-to-INTs: 307-116
Completion Percentage: 63.9
Rating: 96.5
Record: 126-37 (No. 1 all-time career winning percentage)
Peyton Manning
Passing Yards: 55,990
TDs-to-INTs: 407-201
Completion Percentage: 64.9
Rating: 94.9
Record: 143-69 (No. 6 all-time career winning percentage)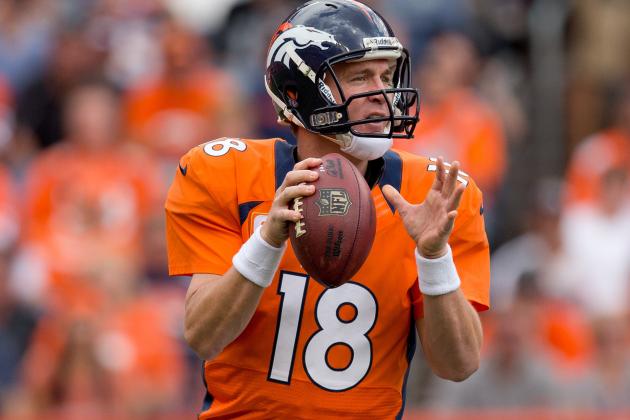 Justin Edmonds/Getty Images

Despite the fact that Manning is with the Broncos, nothing much changes regarding this rivalry.
He remains in the AFC, and provided that the Broncos consistently top their division while Manning is under center, we'll see more games against Brady than anticipated.
Obviously, a postseason meeting is another possibility, because New England remains the standard of the AFC East. With no legit teams other than the Houston Texans in the South, all Manning needs is to get Denver competing for wild-card spot and a postseason berth is likely.
Having dueled 12 times before this week's game, Manning and Brady have proven thus far in 2012 that they are still among the best around. Therefore, it's reasonable to expect another four-to-five meetings (including January), between these two gunslingers.
For the sake of pro football drama, history and the Manning-Brady rivalry legacy, let's hope a few more meetings occur after this week.
Follow John Rozum on Twitter.