5 Reasons Atlanta Falcons' Matt Ryan Is Top QB in NFC South Thus Far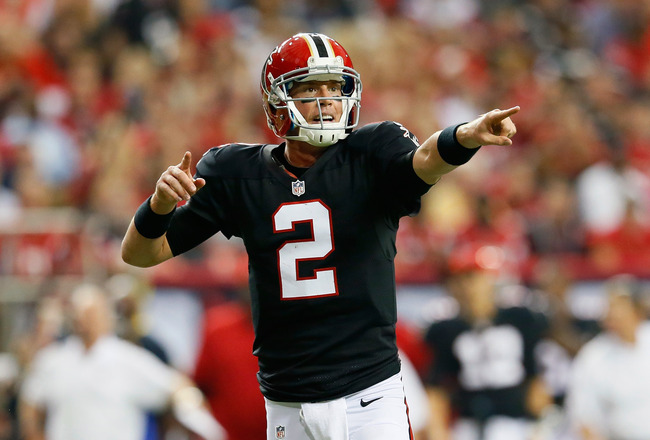 Matt Ryan has led the Falcons to a 4-0 record.
Kevin C. Cox/Getty Images
Matt Ryan is without a doubt the best quarterback in the NFC South so far this season.
Having led the Atlanta Falcons to a 4-0 record to start the season, Ryan has distanced himself from the other quarterbacks in the division.
Carolina Panthers quarterback Cam Newton has shown his struggle face the last two weeks. Josh Freeman and the Tampa Bay Buccaneers have lost three of their four games by 15 total points.
Then there's Drew Brees and the New Orleans Saints. Where do you start with this team? The 0-4 start by the Saints has shown just how important a good head coach is to a team.
Now enough about those teams.
Here are five reasons why Ryan is the best quarterback in the division as of right now.
Passer Rating and QBR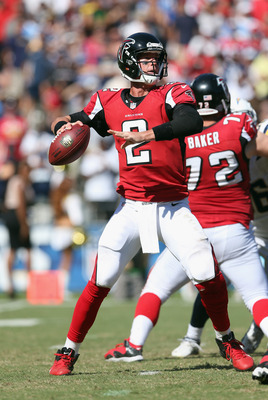 Ryan leads the NFL with a 112.1 passer rating.
Jeff Gross/Getty Images
Ryan currently leads the NFL with a 112.1 passer rating and is third in total quarterback rating with a score of 80.
His counterparts in the division aren't even in the top half of the league.
Newton ranks 17th in passer rating (87.5) and 18th in QBR (57.9), while Brees is 18th in passer rating (86.1) and 20th in QBR (53.8). Freeman is even worse, ranking 26th in passer rating (75.3) and 30th in QBR (33.1). Yes, Freeman is even worse than New York Jets quarterback Mark Sanchez in QBR (36.5).
While passer rating and QBR don't tell the entire story, they do tell some of it.
Ryan is successful outside of purely passing yards and touchdowns, and the numbers show it.
Matty Ice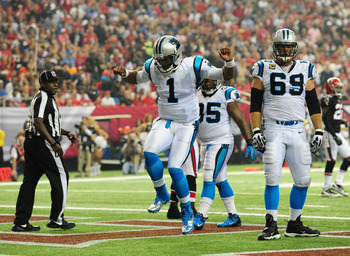 Cam Newton ticked off Atlanta fans by doing the 'A-Town stomp.'
Scott Cunningham/Getty Images
With the game on the line last week against Carolina, Ryan started with the Falcons on their own 1-yard line.
On the very first play, he found Roddy White on a 59-yard pass. That gave the Falcons life and a chance to kick the game-winning field goal.
In the pressure situation with Ryan needing to be on point for the Falcons to win, he rose up to his nickname—Matty Ice.
Meanwhile, Newton thought it was best to do the "A-Town stomp" after he scored a touchdown in the third quarter. Although he led the Panthers to eventually take the lead, Newton fumbled the ball when it counted the most.
Late in the fourth quarter, Newton fumbled the ball when he would've had a first down to seal the game. Instead, the Panthers were forced to punt the ball back to Atlanta.
It seems like Newton does a lot of celebrating, even with only seven total wins in his NFL career. Maybe he can learn a thing or two from Ryan about coming up big when it's needed most.
Uses His Top Receiving Threat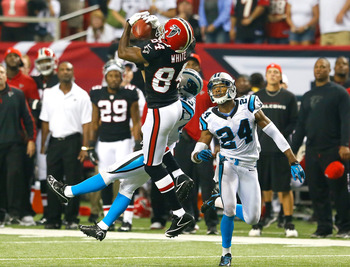 Roddy White has proved he's Ryan's top target.
Kevin C. Cox/Getty Images
In a game the Panthers desperately needed to win, Newton only targeted his top receiver Steve Smith six times. Of those six targets, Smith caught three balls for 52 yards.
Ryan used his top receiver, Roddy White, like there was no tomorrow. White had eight catches for 169 yards and two touchdowns, including the 59-yard pass late in the fourth quarter.
White is Ryan's favorite target, and he used his star receiver to help the Falcons get the win.
In New Orleans, there is no true No. 1 receiver as Marques Colston, Jimmy Graham and Lance Moore all compete for a majority of the catches. While this has been successful for Brees in the past, it's not working this year.
Tampa Bay is in the same boat, although one would think Vincent Jackson is Freeman's No. 1 receiver. The stats aren't showing it, as Jackson has only 16 receptions. Then again, that could be because he's only caught 16 of his 38 targets.
A quarterback must know who his go-to guy is in late-game situations. He has to have a receiver he can count on every time to get open and get a needed reception.
Each NFC South team has that go-to receiver. So far, Ryan is the only one using his go-to guy when it counts the most.
A Good Head Coach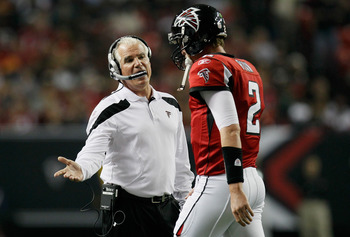 Mike Smith is a big reason why Ryan is successful.
Kevin C. Cox/Getty Images
If the situation in New Orleans has taught us anything, it's showed us how important a head coach is to a team.
Mike Smith has been a solid head coach and mentor to Ryan. Both joined the Falcons at the same time, and both are linked together in more ways than one.
Quarterbacks and head coaches have to be on the same wave length. If they're not, a team can struggle to get continuity within the offense. A quarterback has to know what the head coach wants to do, and that's exactly what Ryan is doing.
In New Orleans, Sean Payton is suspended for the year, and it's showing on the field. While Brees has still had some good games, the offense doesn't seem to be running as smoothly as it did last year.
Brees and Payton thought the same way and were successful because of it.
In Tampa Bay and Carolina, the quarterbacks and head coaches don't have a personality match.
Ron Rivera seems reserved, while his quarterback is very outspoken in Carolina. The roles are reversed in Tampa Bay. Head coach Greg Schiano is very vocal, while Freeman still has some things to learn about commanding a huddle.
Without a good head coach-quarterback relationship, a team won't succeed. Both need to have matching personalities and think in the same way.
Was 4-0 Mentioned?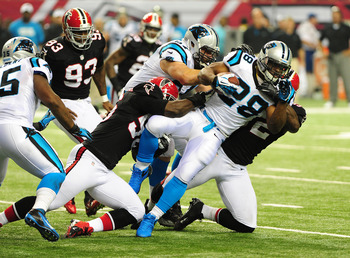 The Falcons are 4-0, and that's all that matters in the NFL.
Scott Cunningham/Getty Images
It all comes down to wins and losses in the NFL.
The Falcons are 4-0, while the Panthers and Bucs are 1-3 and the Saints are 0-4.
Eli Manning jumped into elite quarterback status with a second Super Bowl title, even after not having a stellar regular season.
Ryan has yet to reach elite status as an NFL quarterback, but the fact is, he's 4-0 and has been playing pretty well. He's played better than the other three quarterbacks in the division.
His team is 4-0, and he's at or near the top in many passing categories. What more can be said to argue who the best quarterback in the division is?
Ryan is still going to need to prove it over the next 12 games of the regular season. The fact is, he's playing at the top of his game right now, something the other division quarterbacks can't say.
Keep Reading

Atlanta Falcons: Like this team?