Grading the New York Jets Through the First Quarter of the Season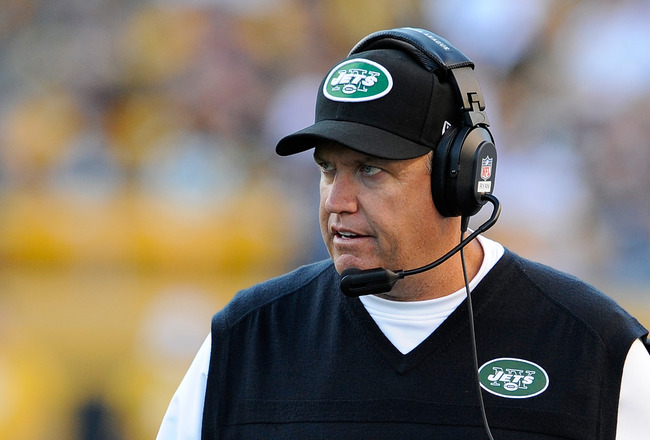 Joe Sargent/Getty Images
Through four games, the New York Jets have had a difficult time establishing an identity as the ground and pound team that they set out to be. Some units have had more success than others, but as a whole they have been very inconsistent and have left their fanbase unsure of what version of the Jets will show up from Sunday to Sunday.
As we find out from year to year, the season is long. Consistency throughout the year is a trait that every coach strives for and preaches to their team. The Jets have not received consistent play from any unit on their roster and that is certainly a reason that most are not very optimistic of their future.
Grading: Cornerbacks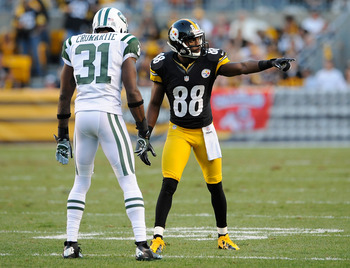 Joe Sargent/Getty Images
Now that Darrelle Revis is out for the season with a torn ACL it is up to other players in this unit to step up. Cromartie has been solid this year and has proclaimed himself the best corner in football now that Revis is out. Kyle Wilson was a first rounder a few years ago and will finally be given the opportunity to prove his worth. Beyond those two it is very thin on talent as Ellis Lankster, Isaiah Trufant and Joe Mcknight hope to step up in packages calling for more than two cornerbacks.
It has only been one game since Revis' departure and the corners held their own regardless of the final score being lopsided. Look for Cromartie to have a big year, he has had a chip on his shoulder ever since becoming the consolation prize for the Jets after missing out on Nnamdi Asomugha. Wilson has been solid this year and when we grade this unit at the half way mark we will know a lot more about the depth.
Revis: Incomplete
Cromartie: B+
Wilson: B
Lankster: B-
Trufant: B-
McKnight: Incomplete
Grading: Quarterbacks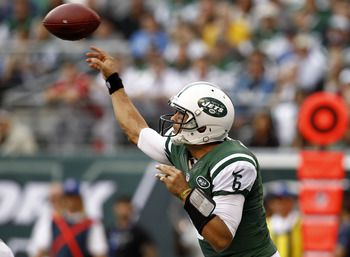 Jeff Zelevansky/Getty Images
This unit has been under the microscope since the beginning of Rex Ryan's tenure. Mark Sanchez has been given three years of experience without any credible backup threatening his starter status. Coming in to his fourth year as a starter, the Jets believed bringing in Tim Tebow would challenge Sanchez enough mentally to step up and take on this role more effectively.
Unfortunately, four games into the season it seems as though Sanchez has not taken any noticeable strides under new offensive coordinator Tony Sparano. His completion percentage, perhaps his most worrisome statistic in previous years, is still around that 50 percent mark. That has left him ranking dead last among NFL quarterbacks in this category.
The Jets offense still stalls and fails to move the chain far too often, and has been completely ineffective since the season opener against Buffalo.
Tebow, who was brought in to be used as a change-of-pace player, running the wildcat, etc. has been invisible and has gotten most of his playing time on special teams. The Jets have not really shown too much of the wildcat up to this point, so his grade will have to be an incomplete until further notice.
Greg McElroy, the second year quarterback out of Alabama, has not taken a snap thus far and that is likely how Jets fans would like to keep it. However, McElroy will receive an "A" mostly because he has been able to stay quiet and not come out with comments detrimental to the team.
That's already an improvement from last year.
Sanchez: D
Tebow: Incomplete
McElroy: A
Grading: Running Backs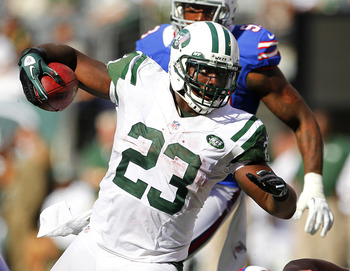 Rich Schultz/Getty Images
This unit has certainly been a disappointment to Rex Ryan and the New York Jets fans. Coming into the season, most thought that the Jets would boast an elite defense to match an effective running game. Through the first quarter of the season, the running backs have been an utter failure, ranking 22nd in the league in team rushing yards.
Shonn Greene has carried the ball 68 times and still only averages 2.8 yards per carry on those attempts. Joe McKnight has changed positions to help out at cornerback on the other side of the ball and Bilal Powell is relatively unknown and unproven in this league.
The Jets lack playmakers at this position; Greene does not make people miss and hasn't been able to match his early career success when he would spell Thomas Jones.
Powell has shown the ability to catch the ball out of the backfield and make some people miss, although he is in no danger of making the Pro Bowl this year.
Sparano needs a back who is ready to make the best of his carries. Look for Jonathan Grimes, a running back the Jets recently signed off the Houston Texans practice squad, to contribute soon if no one else steps up.
Greene: C-
Powell: B
McKnight: F
Grading: Offensive Line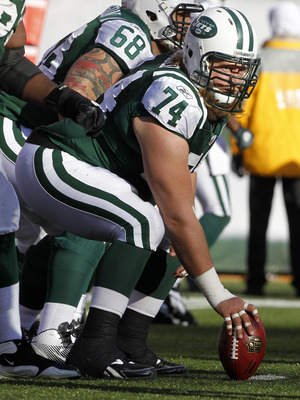 Rich Schultz/Getty Images
Coincidentally, this unit was under the most pressure to perform coming into the regular season, as Wayne Hunter was perhaps the most critiqued offensive lineman in the entire league. He has since been dealt to St. Louis while practice squad player Austin Howard has stepped in and played better than anyone could have hoped for.
Overall, the pass protection has been stellar and Sanchez has had more time to throw downfield than he has in the past. This could easily be the most improved unit on the team, from the beginning of training camp to now.
The run game is a bit harder to dissect. Does the lack of success lie at the feet of the lineman or the running backs? The truth is, the blame probably lies somewhere between both units.
The offensive line is made up of three Pro Bowl linemen, and it is troubling that they have not had more success.
Offensive Line: B-
Grading: Wide Receivers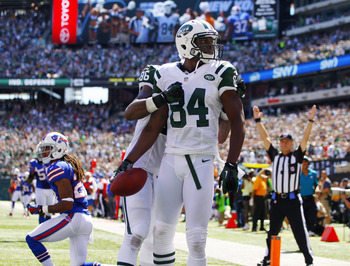 Rich Schultz/Getty Images
There were many question marks in the Jets receiving corps this year.
Where would the production come from?
Santonio Holmes suffered a foot injury this past week and seems to be out for the immediate future. Stephen Hill is young and very raw; he has been hit-or-miss for Sanchez in the first few weeks. Hill had a monster Week 1 with two touchdowns, but has since slowed down significantly with zero catches. Jeremy Kerley has been the one player on the Jets roster that is a threat for a big play whenever the ball is in his hands.
These receivers have had their moments but the team is struggling to find this production on a consistent basis. Injuries have certainly played a part from the very first day of the season, as newcomer Chaz Schilens has been on and off the field with his own health issues.
This unit is weak when healthy, and they must find a way to contribute some big plays when the opposition sells out to stop the run with eight defenders in the box.
Holmes: B-
Hill: C
Kerley: B
Schilens: C
Grading: Tight Ends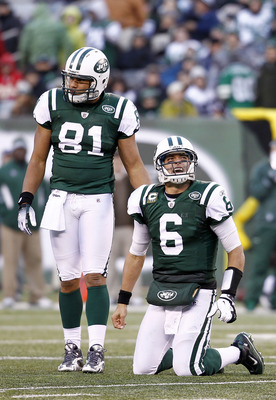 Jeff Zelevansky/Getty Images
The tight end is supposed to be a security blanket for quarterbacks, and that's precisely what Dustin Keller has been to Sanchez throughout their tenure together in New York. However, Keller pulled his hamstring in Week 3 of the preseason and although he has been saying he will be back since Week 1, he has yet to take a snap this season.
The Jets have experienced some real health concerns at this position with Dedrick Epps going down this past week with an apparent knee injury as well as losing Josh Baker in the preseason.
Jeff Cumberland has stepped up in Keller's place and he has been serviceable, but certainly does not match the skill set of Dustin Keller.
Keller: Incomplete
Cumberland: B
Grading: Defensive Line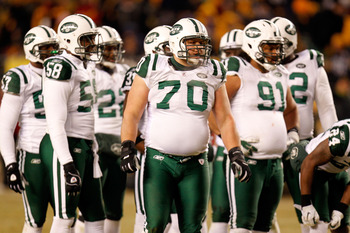 Gregory Shamus/Getty Images
The D-line is stockpiled full of young talent that has been handpicked by Rex Ryan to build his defense around in the upcoming years. They have spent their past two first-round picks on defensive linemen, but they are still young and inexperienced, and are having issues.
This unit is not spectacular at one particular thing. They have trouble stopping the run, the pass rush is non-existent and rookie Quinton Coples has not gotten the amount of snaps most people thought he would. Mike Devito and Sione Pouha have phenomenal leadership skills and that is very important in a locker room that seems to be lacking leaders. However, they have not played as well this year as they have in the past.
Second year lineman Kenrick Ellis has shown improvements. He is a rock that has been a headache for opposition to blow off the ball. The Jets have depth at this position with Marcus Dixon coming in when needed, but none of these players have stepped up to make big plays when the team needs them most.
Wilkerson: B+
Devito: C
Pouha: C
Coples: C
Dixon: C
Ellis: B
Grading: Linebackers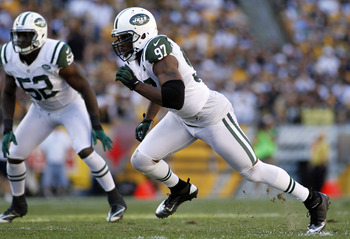 Justin K. Aller/Getty Images
Most defenses that Rex Ryan have coached and found success with have had some pretty impressive linebacking corps. This unit had been the strength of the Jets defense in years past but they seemed to have aged quickly in recent years.
David Harris is still a Pro Bowl-caliber linebacker and has been among the top tacklers in the NFL in recent years. Bart Scott has aged noticeably and his lost step has made it increasingly difficult for him in coverage. As a result, Scott is seeing less time on passing downs and his lack of speed is negatively effecting his run stopping ability as well.
Calvin Pace has always been solid for Rex Ryan but he has never quite met the expectations of his contract, as he was signed as an elite pass rusher. Brian Thomas is the longest tenured Jet and is a very underrated part of this team's defense. He was dearly missed last year when he suffered his Achilles injury. This year he has been spelled by Garrett McIntyre, who has played well in spots.
Aaron Maybin had a good year last season contributing to the pass rush, a facet the Jets had struggled with since Rex Ryan's arrival. He has not gotten the same pressure this year and if he cannot get to the quarterback, he does not bring much else to the table.
David Harris: A-
Bart Scott: C+
Calvin Pace: B
Brian Thomas: B-
Aaron Maybin: C
Garret McIntyre: B
Grading: Safeties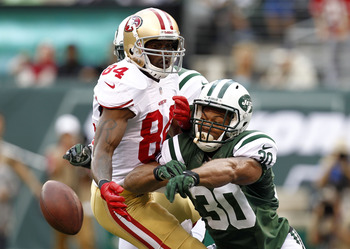 Jeff Zelevansky/Getty Images
The safeties were a big weakness for the Jets last year and it was one of the few problems that Mike Tannenbaum decided to address in the offseason. Newcomers Yeremiah Bell and Laron Landry have brought athleticism to a unit that was lacking on this team last year. Both players have been very physical and are certainly an upgrade over players at this position in the past.
Landry drew his first tough assignment of the year covering Vernon Davis this past week and held him in check rather well.
Both Landry and Bell come up and assist the team in stopping the run, and this may be the best unit the Jets have at this time.
Eric Smith is still around and gets in the game sparingly when three safeties are needed. It is definitely a physical unit.
Landry: A
Bell: B
Smith B-
Grading: Special Teams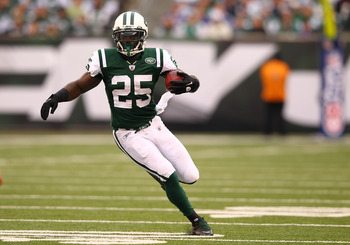 Al Bello/Getty Images
Mike Westhoff is known as one of the best special teams coaches in the league and this has been the most stable unit for this franchise. Joe McKnight has not quite had the success that he experienced last year. He led the league in return yards last year, which is a hard act to follow. Nick Folk won the kicking competition in camp, one that Westhoff referred to as the best competition he had ever seen.
Robert Malone was a late addition to the Jets heading in to the regular season and seems to have done a good enough job. Overall, special teams has done well besides a blocked punt last week.
Tebow has added a wrinkle in punt protection and has even converted a fake punt for a first down.
Kerley has returned a punt for a touchdown but has also fumbled a punt and turned it over. He has been good for the most part, but similar to the rest of his team, he has been inconsistent.
McKnight: B
Kerley: B
Folk: A
Malone: B+
Tebow: A
Keep Reading

New York Jets: Like this team?