Grading the Carolina Panthers Positional Units at the First-Quarter Mark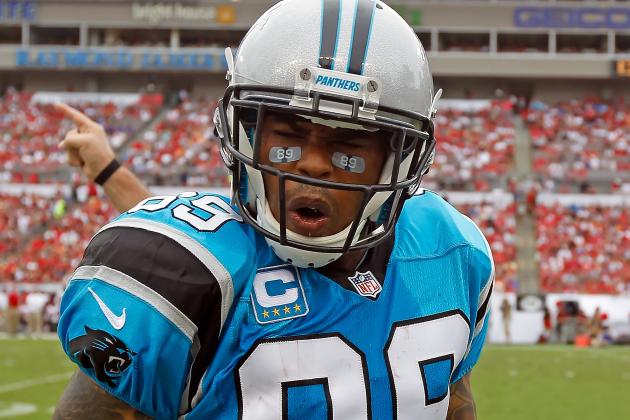 J. Meric/Getty Images
Steve Smith (89) was the Carolina Panthers' best player in the first quarter of the season.
The Carolina Panthers (1-3) have reached the first-quarter mark in the NFL season, and though September did not go as well as they would have liked, there is still room for optimism inside the Carolina locker room if not in the media.
The Panthers lost a season-opening road game they were expected to win, beat Drew Brees and the surprisingly winless New Orleans Saints in Week 2, laid an egg at home against the New York Giants in a prime-time Thursday night game in Week 3, and came within less than a minute of knocking off the undefeated Atlanta Falcons in the Georgia Dome in Week 4.
To call September 2012 a month of wasted opportunities for the Panthers would be an understatement, especially after posting a 1-2 mark in NFC South divisional play when they could have, and perhaps should have, won all three games.
Carolina's 38-7 loss to the defending Super Bowl champs in front of a national television audience was an anomaly that should not repeat itself again this season.
Cam Newton is not slumping and their running game did not disappear, but several elements of the Panthers offense have been underwhelming, or at least inconsistent, so far this season.
The defense has not improved significantly, either, despite the return of Jon Beason and Thomas Davis at linebacker, the beefed-up presence of veterans Ron and Dwan Edwards at defensive tackle and the addition of rookie starters Luke Kuechly and Josh Norman.
And the Panthers' special teams have continued to be less than special, though the punt and kick coverage units have largely kept returners in check after giving up four touchdown returns (on three punts and a kickoff) last season.
The first quarter of the Carolina Panthers' season has been remedial at best, but it has not been a total failure.
Here is a look at the Panthers' grades at each positional unit through the first four weeks of the 2012 NFL season.
Begin Slideshow

»
Kevin C. Cox/Getty Images
Cam Newton has had his fair share of ups and downs in the first quarter of the 2012 NFL season.
Passing: 68-of-107 (63.6 percent), 1,013 yards, four touchdowns, five interceptions
Rushing: 33 carries, 167 yards (5.1 average), three touchdowns, 11 first downs, two fumbles
Analysis
Cam Newton has experienced a season's worth of highs and lows in the first four games of the season, with the toughest stretch coming in his three-interception performance in prime-time during the Panthers' Thursday night Week 3 blowout loss to the Giants.
Newton was ripped on the sidelines by the Panthers' best player, All-Pro wideout Steve Smith, during the Giants game for pouting on the bench after being pulled late in the fourth quarter instead of standing on the sidelines and taking mental reps watching Carolina's backup quarterbacks Derek Anderson and Jimmy Clausen.
Newton had nine days off between games to put the Giants debacle in the rear-view mirror and prepare for his second career homecoming game against the Falcons, and he responded to a recent swath of media criticism by playing his best overall game of the season.
Though the Panthers did not get the win in Week 4, Newton completed 15-of-24 pass attempts for 215 yards, two touchdowns and zero interceptions, finishing the game with a 119.3 passer rating.
He also ran the ball for a career-high 86 yards on nine carries, including a 32-yard beauty around the left end on Carolina's first possession of the game and a four-yard touchdown run on a quarterback draw.
Final Grade: B-

Newton has improved his completion percentage over last season (up from 60.0 percent) and his 9.47 yards per attempt leads the NFL.
Newton's Week 3 performance against the Giants was atrocious, but he passed for more than 300 yards in the season opener and had two of the best games of his young career against New Orleans and Atlanta.
If he can continue to play as well as he did against the Saints and the Falcons—two games in which he completed a combined 29-of-44 passes for 468 yards, three touchdowns, zero interceptions and ran the ball 22 times for 152 yards and a pair of scores—his sophomore season will be considered a success.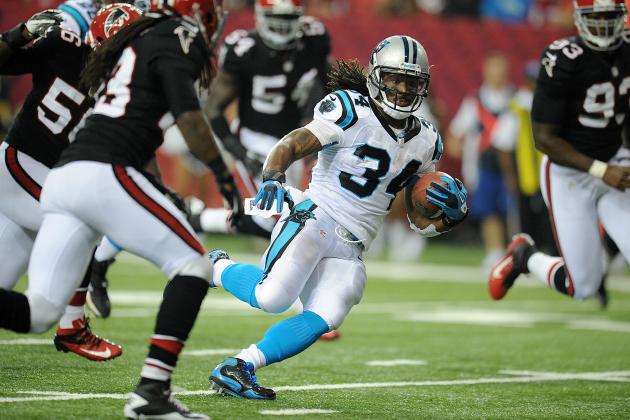 Kevin Liles-US PRESSWIRE
DeAngelo Williams (34) has been inconsistent in the Panthers' first four games.
Key Stats (via ESPN.com)

DeAngelo Williams: 42 carries, 167 yards (4.0 average), two touchdowns, nine first downs; four catches, 30 yards (7.5 average), zero touchdowns


Jonathan Stewart (two games): 21 carries, 91 yards (4.3 average), zero touchdowns, three first downs; two catches, 25 yards (12.5 average), one touchdown
Analysis
When DeAngelo Williams, Jonathan Stewart and Cam Newton are all healthy, the Panthers have one of the most talented backfields in the NFL.
With Stewart missing two of the Panthers' first four games, Carolina is 11th in the NFL in rushing (122 yards per game) after finishing third in the NFL last season (150.5 yards per game), but a big chunk of their rushing game has come from Cam Newton, who is tied with Williams for the team's lead with 167 yards on the ground.
In the two games in which Stewart has played, Carolina has averaged 209 rushing yards per game, with 219 yards against the Saints and 199 yards versus Atlanta.
But in the two contests he sat out with an ankle injury, Carolina ran the ball for just 33 yards per game, including a franchise-tying low 10 yards in Week 1 against the Bucs.
The Panthers got into a deep hole early against the Giants and largely abandoned the run, picking up only 56 rushing yards in a blowout loss.
Final Grade: C+

You can chalk this grade up to two "A" games, an "F" and a "C-minus" for the Panthers' rushing attack in the first four weeks of the season.
This may be more a function of the Panthers' offensive line play and Cam Newton's breakaway runs, but in the two games Stewart has played this season, Carolina dominated in the running department.
Williams had the unit's only really bad performance when he was held to negative-one yard rushing on six carries against Tampa Bay and he has averaged 4.67 yards per carry in the three games since.
Carolina cannot rely on Newton to pick up 75 yards per game on the ground every week, and one or both of the Panthers' running backs needs to begin approaching the century mark each week to kick the offense into fifth gear.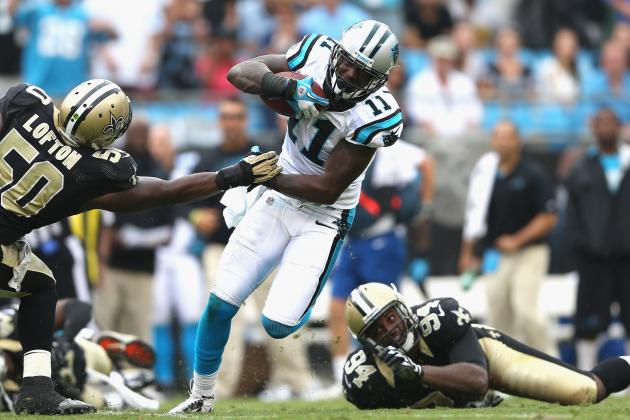 Streeter Lecka/Getty Images
Brandon LaFell (11) has been up-and-down through the first four games of the season.
Key Stats (via ESPN.com)
Steve Smith: 17 catches, 348 yards (20.5 average), zero touchdowns, 13 first downs
Brandon LaFell: 10 catches, 182 yards (18.2 average), one touchdown, nine first downs
Analysis

Steve Smith has been the Panthers' best player on the field in three of the first four games this season and Carolina's vocal leader does not show any signs of slowing down.
Through the first quarter of the season, he has been Carolina's most potent offensive weapon not attached to Cam Newton's hips.
Smitty started out the season with a pair of 100-yard games, but his production tapered off slightly in the past couple of weeks, with his low point coming in a three-catch, 52-yard performance against Atlanta in which he fumbled the ball after of a 10-yard run around the left end.
Carolina's No. 2 receiver, Brandon LaFell, also started the season off well, catching a touchdown pass in Week 1 and hauling in six catches for 90 yards in Week 2 against the Saints.
However, LaFell has been nearly invisible in the Panthers offense since his breakout performance, catching just one pass against the Giants and getting shut out completely in Week 4 at Atlanta.
The Panthers need LaFell to step up his game in the next few weeks, or he could begin to see his reps decline when David Gettis returns for Carolina's seventh game of the season.
Armanti Edwards and Kealoha Pilares—the latter having a 36-yard touchdown reception against Atlanta—could also emerge as weapons for Cam Newton in the passing game as the season progresses.
Final Grade: B-
Steve Smith's first-quarter performance grades out as an "A" while Brandon LaFell deserves a "C-minus" at best.
The Panthers need a second downfield option at the wide receiver position to open up the Panthers' passing game, and LaFell needs to improve his play dramatically or Carolina will be forced to try other options.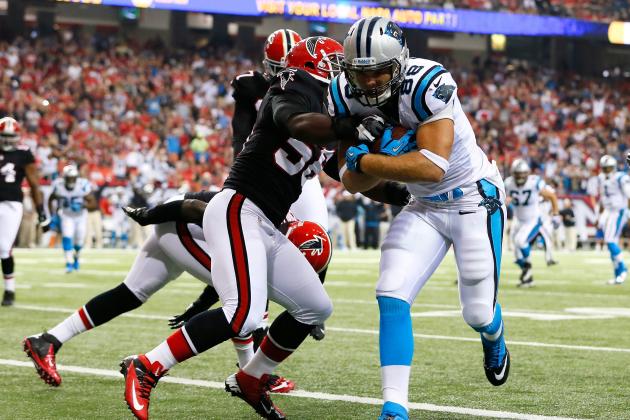 Kevin C. Cox/Getty Images
Greg Olsen (88) is Carolina's second-leading receiver behind Steve Smith.
Key Stats (via ESPN.com)
Greg Olsen: 20 catches, 256 yards (12.8 average), one touchdown, 14 first downs
Analysis
Greg Olsen has played great offensive football so far this season since stepping into the role of the Panthers' sole receiving tight end and Cam Newton's favorite target.
Olsen shared that role with Jeremy Shockey in 2011, though, and the Panthers could benefit from having a second pass-catching tight end on the field.
Gary Barnidge, Ben Hartsock and Richie Brockel have yet to catch a ball this season.
Olsen caught six passes against both Tampa Bay and Atlanta and he hauled in seven more catches against the Giants in Week 3, with his only quiet performance coming in a one-catch game in Carolina's first victory of the season against New Orleans.
Olsen has played his best football of the season in the past two weeks, picking up 98 receiving yards against New York and leading the Panthers with six catches for 89 yards and the Panthers' first touchdown of the day against the Falcons.
Before the season, Panthers head coach Ron Rivera predicted Olsen would put up similar receiving numbers to those posted by tight ends Rob Gronkowski (Patriots) and Jimmy Graham (Saints) in 2011, and so far he is proving his coach right.
Final Grade: B+

Olsen is having a career year through the first four games of the season, and if he continues at his current pace, he will obliterate his previous career highs of 60 catches for 612 yards set with the Chicago Bears in 2009.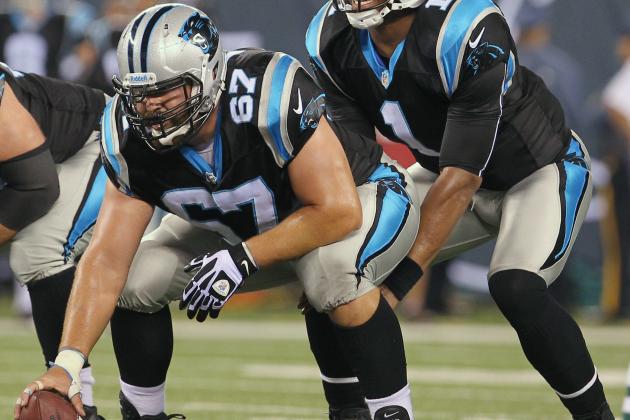 Ed Mulholland-US PRESSWIRE
Ryan Kalil (67) anchors the Panthers' offensive line.
Key Stats

Run-Blocking: 418 rushing yards (209.0 average) in victories; 66 rushing yards (33.0 average) in defeats
Pass-Blocking: Nine sacks allowed
Analysis
Carolina's normally dominant offensive line has been the Panthers' most inconsistent unit through the first four games.
As a unit, the Panthers' line played terribly in Week 1 and Week 3 losses to the Buccaneers and Giants, but they dominated at the point of attack against New Orleans and Atlanta.
The left side of the line has been disappointing with rookie guard Amini Silatolu struggling to learn his assignments and Pro Bowl tackle Jordan Gross having difficulty staying in front of pass-rushing defensive ends.
All-Pro center Ryan Kalil has continued to play at a high level while anchoring the unit and serving as the quarterback of the offensive line.
The right side of the O-line has performed solidly this season, though they were hampered by the absence of tackle Byron Bell against the Giants. Right guard Geoff Hangartner's play has been determined by the level of his competition.
According to Football Outsiders, the Panthers' offensive line was ranked 27th in the NFL in run-blocking and 20th in pass protection in a statistic called Adjust Line Yards through the first three games of the season.
Updated results through Week 4 were not yet available at publication.
Final Grade: B

The biggest problem with Carolina's offensive line in the first quarter of the season was their lack of consistency.
After the Panthers were hammered in Week 1 by the Bucs' defensive line, they held their own in pass protection against the Giants' dominant pass rush and they controlled the line of scrimmage against the Falcons and the Saints.
Carolina's O-line was embarrassed by their season-opening performance, but they have shown that they can protect their quarterback, open up huge rushing lanes and block at the second level when they are on their game.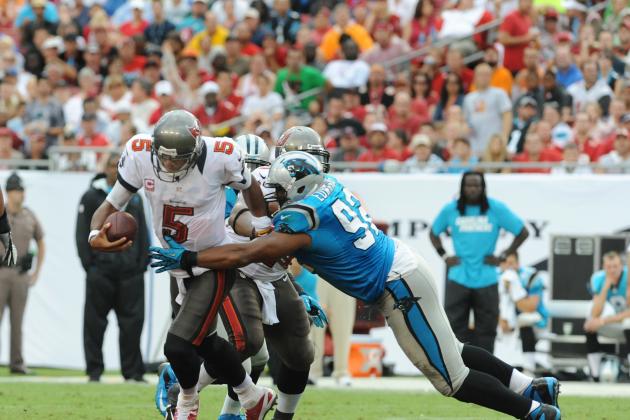 Al Messerschmidt/Getty Images
Dwan Edwards (92) has 3.5 sacks in four games.
Analysis
Like several of the Panthers' positional units, the defensive line had its share of ups and downs in the first four weeks of the season.
Penetrating defensive tackle Dwan Edwards has been the Panthers' best defensive newcomer in the first quarter of the season, racking up 16 tackles with a forced fumble in his first four games with Carolina.
His 3.5 sacks are tied with Charles Johnson for the team lead.
However, the man whose job it is to clog up the inside running lanes, Ron Edwards, only has four stops on the season.
Carolina's porous run-defense ranks 25th in the NFL (134.8 yards per game) through Week 4, with the defensive line unable to plug holes at the line of scrimmage and allowing opposing offensive linemen to get to the second level and occupy the Panthers' talented linebackers.
Final Grade: C-minus

After surrendering 95 yards to the Buccaneers' Doug Martin in Week 1, Carolina has allowed consecutive 100-yard rushing performances by the Saints' Pierre Thomas (110 yards), the Giants' Andre Brown (113 yards) and the Falcons' Michael Turner (103 yards).
The Panthers have to do a better job at stopping the run and it all starts up front with the defensive tackles.
Carolina should benefit from the return of suspended DT Andre Neblett if he is ready to play in Week 5 against the Seahawks.
Dale Zanine-US PRESSWIRE
Charles Johnson (95) had the best game of his career in Week 4, sacking Falcons' QB Matt Ryan 3.5 times.
Analysis
Carolina's defensive ends have been the unit's top performers through the first four games of the season, and they were especially dominant in Week 4.
The Panthers set a team sacks record against the Falcons, bringing down Matt Ryan behind the line of scrimmage seven times, including a franchise-record 3.5 sacks by Charles "Big Money" Johnson.
Johnson had another sack taken away when he latched onto Ryan's facemask during a fourth-quarter takedown.
Frank Alexander (1.5 sacks) and Greg Hardy (1.0 sacks) also got in on the action from the defensive end position in Week 4.
The Panthers also put consistent pressure on Saints quarterback Drew Brees in Week 2 and forced him to throw a pair of interceptions in the game.
Thomas Keiser added a couple of sacks of his own in September.
Final Grade: B+

The Panthers jumped from 22nd to seventh in the league in sacks following their outburst in Atlanta thanks to an outstanding pass rush from their defensive ends.
Carolina's pass rush has improved throughout the season and the unit has become the only dominant force on the Panthers defense.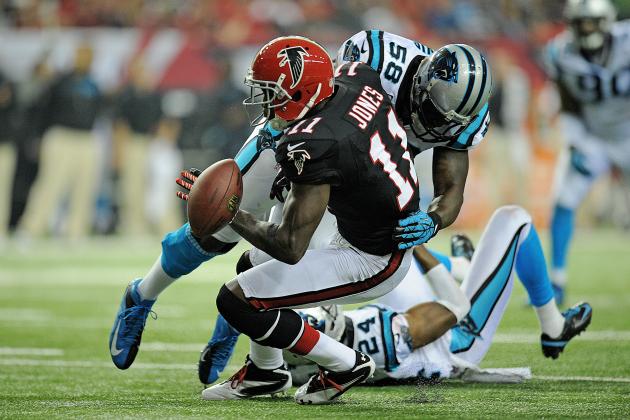 Kevin Liles-US PRESSWIRE
Thomas Davis (58) separates Falcons receiver Julio Jones from the ball.
Analysis
On paper, Carolina should be great at the linebacker position, but the Panthers' LBs have not performed well on the field this season.
The Panthers are 22nd in passing yards allowed (259.0 per game) and 25th against the run (134.8), and the linebackers have contributed to big gains by their opponents throughout the season in both categories.
Jon Beason (27 tackles) has looked like a shell of his former self through the first four games of the season, and the normally sure tackler has missed several open-field tackles this season.
His worst game of the season, and perhaps one of the worst games of his career, came against the Falcons in Week 4 when he whiffed on a couple of routine stops and had trouble taking down Michael Turner and Tony Gonzalez.
James Anderson (33 tackles) has quietly had a solid season and Thomas Davis has played extremely well in limited action.
But the other player expected to dominate for the Panthers defense this season, rookie first-round pick (No. 9 overall) Luke Kuechly, has not yet lived up to his own high expectations.
Kuechly is third among linebackers with 26 tackles in the first four games and less than a handful of his stops have been at the line of scrimmage for little or no gain.
Final Grade: C-
Carolina's linebacker corps was expected to be the strength of the defense, but until Kuechly consistently finds himself in the right spots and Beason improves his tackling, this unit will continue to be a weak link in the Panthers defense.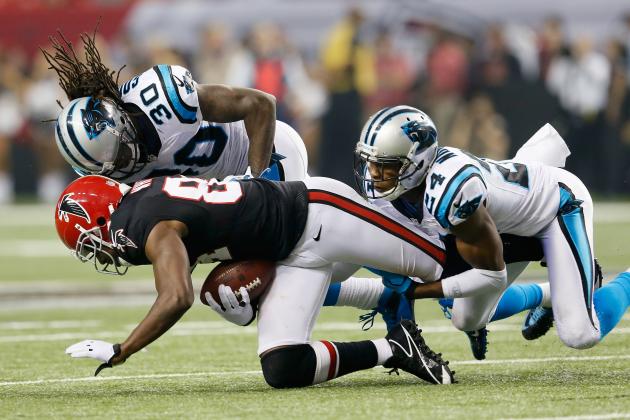 Kevin C. Cox/Getty Images
Josh Norman (24) has experienced baptism by fire in his first four NFL games.
Analysis
Carolina's rookie cornerback, Josh Norman, has become opposing quarterbacks' favorite target early on this season, which is no surprise with Chris Gamble locking down receivers on the opposite side of the field.
Gamble was fourth in the NFL in completion-percentage allowed last season according to Pro Football Focus, and he has not seen many balls thrown in his direction in the first four games.
In Week 3 against the Giants, Eli Manning repeatedly threw the ball in Norman's direction, completing nine passes for 138 yards to backup receiver Ramses Barden with Norman covering him most of the game.
Carolina's head coach, Ron Rivera, stated after the Giants game that the team still has confidence in Norman, but that he needed to step up and make a big play in a game to prove to himself that he has the ability to become a big-time player in the NFL.
Norman responded with his best game of the season against the Falcons in Week 4, breaking up a couple of passes and regaining the swagger that made him a fan favorite throughout the preseason.
Final Grade: C+

Carolina is 22nd against the pass (259.0 yards) after facing three of the NFL's best quarterbacks, and their low ranking is not all the cornerbacks' fault.
Norman will continue to be tested by opposing quarterbacks until he makes a couple of interceptions, and with his ball skills that should come sooner rather than later.
Gamble's biggest weakness continues to be open-field tackling and he displayed his distaste for contact with opposing running backs throughout the season.
However, he is a master at man-to-man coverage and he remains a gamble for opposing quarterbacks to target as long as Norman continues to struggle in coverage.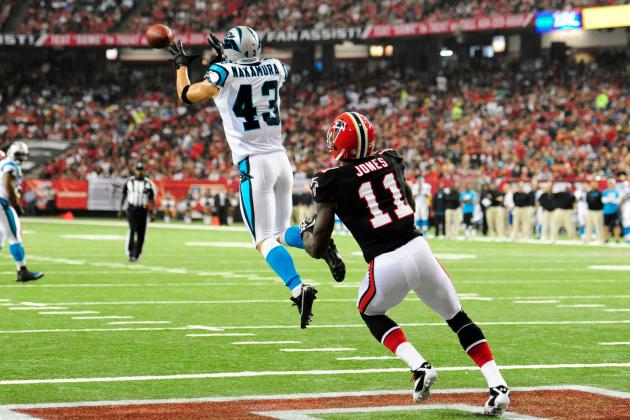 Dale Zanine-US PRESSWIRE
Haruki Nakamura (43) may have lost his position as Carolina's starting free safety for the first four games.
Analysis
Strong safety Charles Godfrey has been a serviceable "B+" performer so far in 2012 and he scored the Panthers' only defensive touchdown of the season on a nine-yard interception return off of Drew Brees in Week 2.
His 31 tackles are second-most on the team and he is tied for the Panthers' lead with one interception in four games.
However, his counterpart Haruki Nakamura's poor play brings down the unit's overall rating with a failing grade of "F."
Nakamura was burned three times by Roddy White in Carolina's Week 4 loss to the Falcons and he let Michael Turner scoot past him untouched for a 60-yard touchdown as the Panthers' last line of defense to start the second half.
White scored two touchdowns with Nakamura in coverage and he burned the safety twice on deep balls in which he simply out-jumped the smaller defender, first on a 49-yard touchdown and near the end of the game on a 59-yard pass that helped set up the Falcons' winning field goal.
Nakamura has been caught out of position and looked confused repeatedly throughout the season.
He will likely be relegated to a special teams-only role for the remainder of the season.
Final Grade: D+
Godfrey has been one of the Panthers' better defenders this season, but Nakamura's play really lowers the overall level of play at the safety position.
Nakamura should be replaced by last season's starter at free safety, Sherrod Martin, in Week 5 against the Seahawks.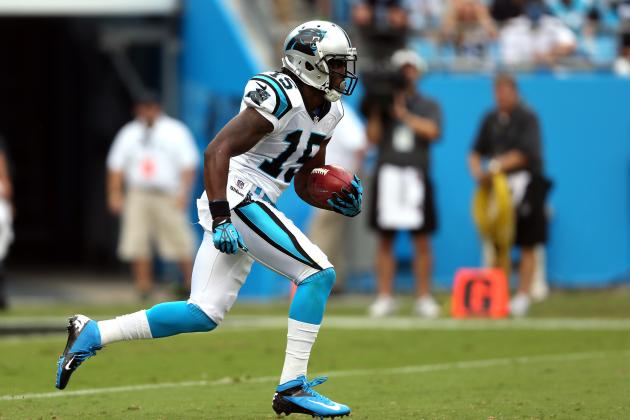 Streeter Lecka/Getty Images
Joe Adams (15) lost his punt and kick return duties after fumbling twice against the Giants in Week 3.
Analysis
A special teams blunder cost Carolina an opportunity to win their season-opening game against Tampa Bay when the Bucs blocked a fourth-quarter punt attempt by Brad Nortman with Carolina training by six.
Connor Barth kicked his third field goal of the game to stretch the Buccaneers' lead to 16-7 and Carolina was forced to kick a field goal with under five minutes go in a situation where they may have otherwise elected to continue the drive by attempting a fourth-down conversion.
Joe Adams did not live up to expectations in the first three games of the season as Carolina's punt and kick returner, averaging just 8.4 yards per punt return (23rd in the NFL) and 23.1 yards per kick return (25th in the NFL) in the Panthers' first three games.
Adams' low-point of the season so far game in the Panthers' Week 3 blowout loss to the Giants when he fumbled the opening kickoff of the second half and later muffed a punt in the fourth quarter, directly leading to 10 points.
Consequently, Adams was benched for the Falcons game in favor of Captain Munnerlyn (punts) and Kealoha Pilares (kicks).
His replacements did not turn the ball over and Munnerlyn even had a nice 20-yard return against Atlanta early in the second half.
Carolina's lone special teams highlight of the season came on a downed punt fielded by Pilares at the Falcons' 1-yard line with 59 seconds left in the game and the Panthers clinging to a one-point lead, but we all know how that turned out for the Panthers.
Final Grade: C-
Carolina's punt and kick return coverage units have improved over last season, but little else can be said for the Panthers' special teams units.
Kicker Justin Medlock made his only field goal attempt of the season so far in Week 1.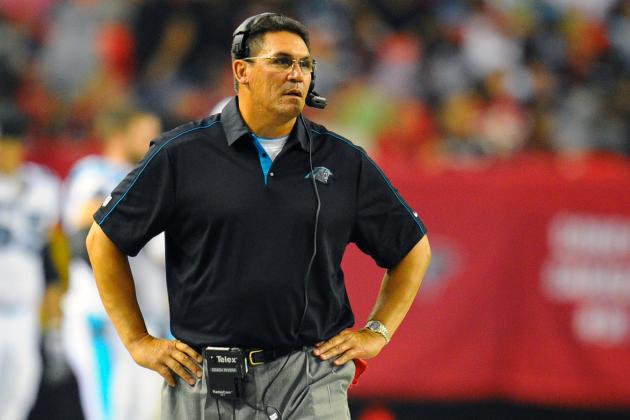 Dale Zanine-US PRESSWIRE
Ron Rivera and his coaching staff have failed to live up to expectations through the first quarter of the 2012 NFL season.
Carolina head coach Ron Rivera and his staff, particularly defensive coordinator Sean McDermott and special teams coordinator Brian Murphy, have not gotten off to a good start this season.
McDermott's unit is ranked 22nd in points allowed (27.2 per game) and 24th in total defense (393.8 yards per game).
Carolina's celebrated linebacker corps and veteran interior defensive line were supposed to help them stop the run, but poor tackling throughout the defense has allowed opposing running backs to top 100 yards in the last three games after Bucs rookie Doug Martin pounded for 95 yards in Week 1.
The Panthers' special teams also played poorly in two of the team's three losses, with the punt protection team giving up a crucial blocked punt in the fourth quarter at Tampa Bay and rookie return man Joe Adams fumbling twice in the second half against the Giants in Week 3.
Offensive coordinator Rob "Chud" Chudzinski guided Carolina to a pair of four-touchdown performances against New Orleans and Atlanta, but the potentially prolific Panthers offense played soft against the Buccaneers and the Giants, scoring just 10 and seven points in those two games, respectively.
Carolina is 20th in points scored, (20.0 per game) through their first four contests, with six of those points coming on a nine-yard interception return by Charles Godfrey against the Saints.
Final Grade: D
Ultimately, Ron Rivera is the guy who gets L's and W's put next to his name, and the Panthers' head coach did an unsatisfactory job preparing his team to play Tampa Bay and the New York Giants.
Rivera also had the final say in punting the ball to Atlanta with his team clinging to a 28-27 lead and the chance to ice the game with a 4th-and-1 conversion in Falcons territory inside the two-minute warning.
The Panthers' second-year coach is trying to restore a winning atmosphere in Charlotte, North Carolina's NFL team, and he was a great defensive coordinator before landing his first head coaching job last season. But he has to prepare his team more effectively in practice, make better in-game adjustments and learn to take more chances with the game on the line.
Jimmy Grappone is a Featured Columnist covering the Carolina Panthers and the NFL on BleacherReport.com.
You can follow me on Twitter @jimmygrappone and be sure to check out my archives for more Panthers articles.

Recent articles by Jimmy Grappone:
Rivera Shows True Colors in Loss to Falcons

Panthers' Winners & Losers vs Falcons

Panthers Keys to the Game vs Falcons
Panthers Not Ready for Prime Time