Philadelphia Eagles and New York Giants Rivalry: 8 Unforgettable Games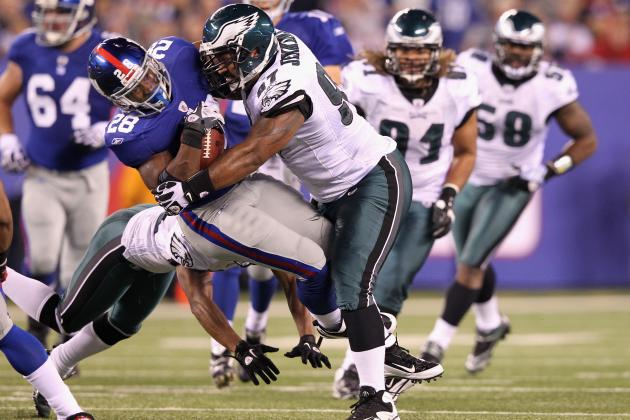 Al Bello/Getty Images

This week in Philadelphia, a legendary 79-year-old feud will be reignited on the lush green stadium floor of Lincoln Financial Field when the historic rivalry between the Philadelphia Eagles and New York Giants commands the football world's attention.
Since this saga began in 1933, these two teams have battled in both cities, leaving players and fans alike with personal stories that span nearly eight decades and spill far beyond the 100 yards of turf where the games played out.
This Sunday, from the first whistle, singing out like a lit fuse, until the final whistle blows, the Eagles and Giants will fight with a fierce intensity that will culminate, like always, with one team cavorting triumphantly and one team slumping in defeat.
In the end, there will be dozens of smaller tales to weave into the broader story of this never-ending rivalry. Be clear about what these stories within a story are called. These are not moments. "Moment" is much too tender a word for what occurs when these teams meet.
Call them events, incidents or clashes.
Just know that what happens during the 60 minutes of playing time and all the time until their next battle, whenever Eagles and Giants stand opposed on any field, there will never be anything as gentle as a moment.
Whatever these unforgettable game-changer episodes are named, here are eight of the most notorious ones.
Begin Slideshow

»
People still wince when they see this play.
Eagles linebacker Chuck Bednarik came packaged with an old-school mentality toward his job: hit them hard and drop them.
That is precisely what Bednarik did in November, 1960, when he barreled into Giants running back Frank Gifford, who was momentarily airborne before he dropped to ground unconscious.
When Gifford did wake up—in the hospital—he did not play football for another two years. Gifford had sustained a "deep brain concussion."
Approximately 10 years ago, Gifford discovered he had also suffered a spinal concussion and a fractured neck vertebrae, previously unknown because the doctors never never x-rayed his neck.
Decades after the incident, when medical staff examining Gifford's recent x-rays asked if he had ever been a car accident, he said no. That is, unless, you count a collision with a truck-like force named Chuck Bednarik.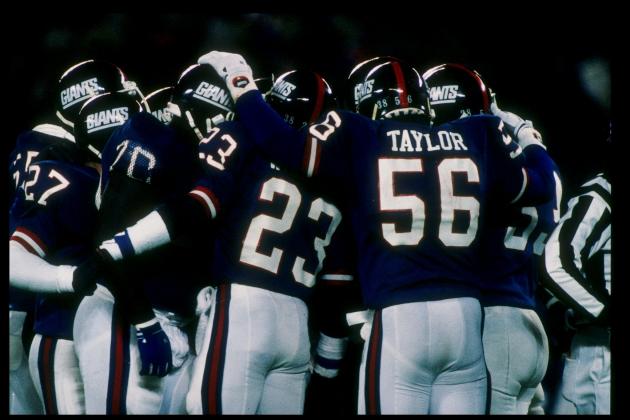 T.G. Higgins/Getty Images

In December 1981, the reigning NFC Champion Eagles hosted the Giants at Veterans Stadium in a Wild Card game.
Even though the Giants led 20-0 in the first quarter, the Eagles pressed back to a fourth quarter lead of 21-20. In the final minutes of the game, the Giants scored and advanced in the first playoffs they had played since 1963.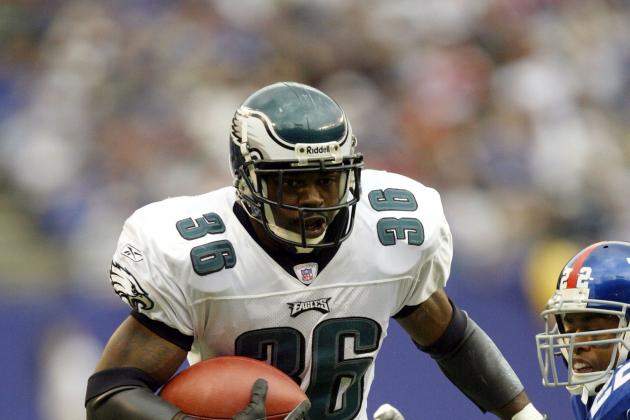 Chris Trotman/Getty Images

Nearly 10 years ago, with just over a minute left in the fourth quarter of a low-scoring 10-7 game, a Giants punt bounced on the 20-yard line and was picked up by Eagles running back Brian Westbrook. He wove through the field of Giant defenders for an 84-yard touchdown in October 2003. The Eagles won 14-10.
When Westbrook retired as an Eagle earlier this year, he noted the punt return against the Giants as the most memorable highlight in his nine-year NFL career.
Lawrence Taylor owes his place in the NFL Hall of Fame to Eagles quarterback Ron Jaworski. Or so said Taylor's son when introducing his father at his induction ceremony.
An unyielding lineman, Taylor made Jaworski a favorite target while the pair played opposite each other in the 1980s. Taylor says Jaws may have been the slowest of all his quarterback prey and Jaws apparently knew it.
When up against the infamous LT, Jaworski would break every huddle with one refrain in his head: "Where's LT? Where's LT?"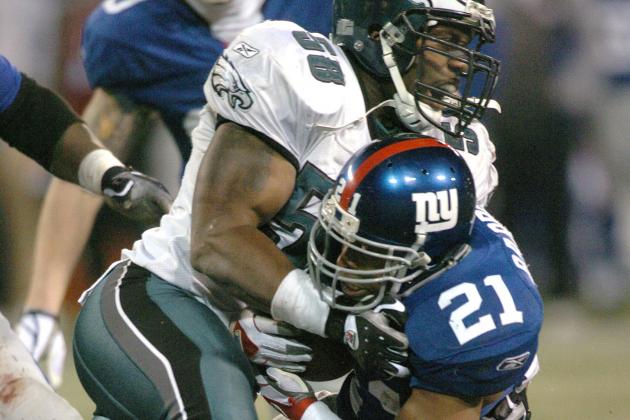 Brian Killian/Getty Images

In 2006, the Eagles had dominated the G-Men at Lincoln Financial Field, entering the fourth quarter with a comfortable 24-7 lead when a revived Giants team suddenly made several plays to tie the game and force it into overtime.
In the extra minutes, Giants quarterback Eli Manning threw a game-winning 31-yard touchdown pass to Plaxico Burress and the Giants took home bragging rights with a 30-24 win over the Eagles.
In this December 1989 matchup, with the game tied 17-17 in the fourth quarter, Eagles quarterback Randall Cunningham punted the ball 91 yards.
When the Giants took over, Eagle Mike Golic sacked quarterback Phil Simms, who fumbled the ball. The Eagles took over in the red zone and finished the game with a winning touchdown.
Known to New York fans only as "The Fumble," this November 1978 play occurred in the final 31 seconds of the game and a trailing Eagles team received an unexpected gift.
As Giants quarterback Joe Pisarcik bobbled a handoff to fullback Larry Csonka, Eagles cornerback Herman Edwards scooped it up and returned it for a 26-yard touchdown.
The remarkable part of the story is that Giants were ahead 17-12 and were expected to simply take the snap and kneel to run the clock down. Inexplicably, they attempted a handoff, thus ensuring the game's permanent enshrinement on the Eagles-Giants rivalry wall of fame.
Two years ago, in December of 2010, in the final 13 seconds of the game, Giants punter Matt Dodge planned to kick the ball out of bounds.
A bad snap and great Eagles defensive pressure instead caused Dodge to kick it straight to Eagles wide receiver action-threat DeSean Jackson, who ran it back for 84-yard touchdown.
Called the "Miracle at the New Meadowlands," Jackson even skimmed the end zone before finally scoring and making history in the since renamed MetLife Stadium.
It was final play of a game where, with less than eight minutes to play and down by 21 points, the Eagles came back to score three touchdowns.