The Top 5 Most Amazing Dunkers in Minnesota Timberwolves History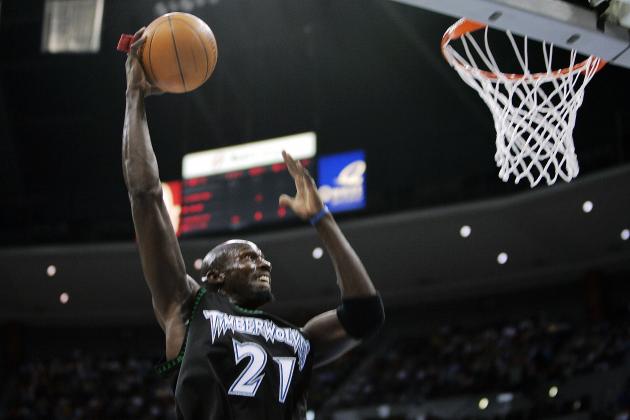 Brian Bahr/Getty Images

Historically speaking, the Minnesota Timberwolves have gone through some amazing players and some highly explosive dunkers. Without giving away any of the names too early, it suffices to say that the Wolves haven't had any shortage of spectacular dunks in their time in the NBA.
The Wolves seem to like having explosive dunkers on hand. For example, they currently have two of the 2012 NBA Slam Dunk Contest contestants on the roster, with Derrick Williams and Chase Budinger.
It's a bit difficult to decide who the best dunkers are, given that there isn't really a stat for dunks per game, but I'm going to review my top five dunkers in the T-Wolves history.
Begin Slideshow

»
Ricky Davis was traded to the Minnesota Timberwolves in 2006 and only stayed with them for a year. In that time, he averaged 17 points per game (PPG) and started all 81 games of the season (courtesy of NBA.com).
He also made it to the NBA Slam Dunk Contest in 2004, although he didn't win.
Ricky Davis had an up-and-down career, going through six NBA teams before leaving the NBA for good. The important thing to remember about his career, then, is just how beastly a dunker he truly was.
The Minnesota Timberwolves just chose Derrick Williams last year with the second pick of the draft. He's only had a year to establish his place on the team, but he's picked a great way to do it.
Possibly the most amazing thing about him so far is that he managed to make a name for himself despite the lockout-induced shortened season.
In his rookie season, he averaged 8.8 PPG, 4.7 rebounds per game (RPG), and he did so in just 21.5 minutes per game (MPG).
To top off a stellar rookie season, he was also selected for the NBA Slam Dunk Contest. That's a big honor for him. It is also a big sign of what is to come for Williams. I'm expecting big things from him this year.
He may be stuck in Kevin Love's shadow, but Williams is quickly making a name for himself with his ability to slam the ball like a boss.
Maybe the most amazing thing about Kevin Garnett is the fact that he has spent the last 17 years in the NBA, and he's still kicking. That gives a major indication of just how powerful he was when he was still in his prime with the T-Wolves.
Kevin Garnett spent 12 years as a Timberwolf. In his time in Minnesota, Garnett established himself as one of the most powerful big men of his time—probably all time. Nobody will forget how far he brought the franchise in the years he spent in Minnesota.
Garnett hasn't tried the dunk contest (yet); he's on this list purely for his game. Basically, we're talking about one of the meanest competitors the NBA has seen in its time. Garnett doesn't dunk to be a showboat—he just punishes defenders that get in his way.
Garnett is still bringing it in Boston, but we won't forget about just how good he was with Minnesota.
Gerald Green is a truly amazing athlete. If you don't believe me, watch the highlight—that dude can flat out jump.
Unfortunately, the circumstances that he was presented with in Minnesota weren't going to get him anywhere in his career. He was surrounded by forwards and really couldn't get any real playing time.
He left after just one season. He did go to the Slam Dunk Contest in his year with the T-Wolves, but he finished in second behind Dwight Howard.
Gerald Green defines what an amazing dunker should be. It's not just that he can dunk, it's the style with which he dunks that makes him unique.
In 1993, Isaiah Rider joined the Minnesota Timberwolves as a rookie. He averaged 16.6 PPG and 4.0 RPG. He made the All-Rookie first team and won the 1994 Slam Dunk Contest. By any standard, it was a great year for him.
He went on to spend the next three seasons in Minnesota, and had some of his best years there. In his time with the Timberwolves, he participated in two consecutive NBA Slam Dunk Contests and made a name for himself in the NBA.
The era of Isaiah Rider ended just a season after Kevin Garnett joined the team, just three years after it had begun. Rider helped pave the way for the T-Wolves to finally stop being a laughingstock in the NBA—and perhaps more important, he was the first truly amazing dunker in Timberwolves history.