Examining Chicago Bulls' Future Assets and How to Rebuild Around Derrick Rose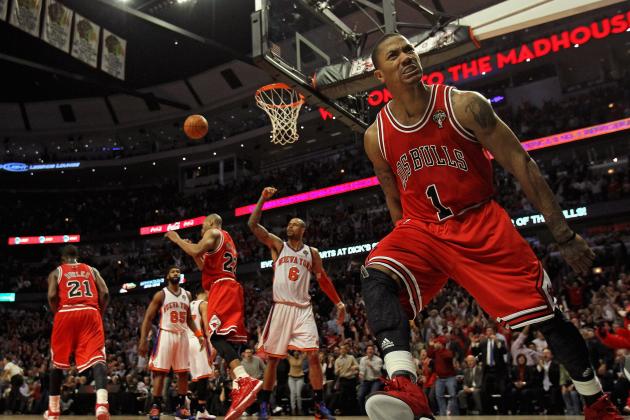 Jonathan Daniel/Getty Images

There has been some discussion about how the Chicago Bulls offseason was built around trying to establish freedom in free agency in the summer of 2013, but there may be a case that 2014 is the magical year, especially if building a team around Derrick Rose.
There are several reasons for thinking so when you consider when their prime assets are going to be coming here and when they will have true free agency freedom to sign another superstar to play alongside Derrick Rose.
Here's why and how the Bulls can rebuild the team without sacrificing winning over the next two years to stay a contender and bring the Larry O'Brien Trophy back to Chicago.
Begin Slideshow

»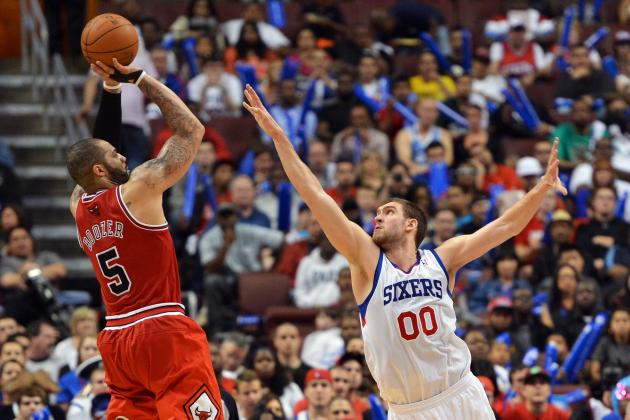 Drew Hallowell/Getty Images

Let's predicate this with saying that the 2013-2014 season is not a lost cause. The Bulls have won 85 percent of the games that Luol Deng, Carlos Boozer, Joakim Noah and, of course, Derrick Rose, have started over the last two years.
They still have Kirk Hinrich under contract next year. Their starting lineup for that season would be Rose, Hinrich, Deng, Boozer and Noah assuming they don't pick up on Richard Hamilton's option.
With a core like that, there's no need to rush out and buy a new team. Give the core of the team that won the most games in the NBA two years running one last chance, with a healthy Derrick Rose, to win it all.
If they do something magical next year, they should just leave the status quo, but if they don't, they have the assets to build another team around Derrick Rose.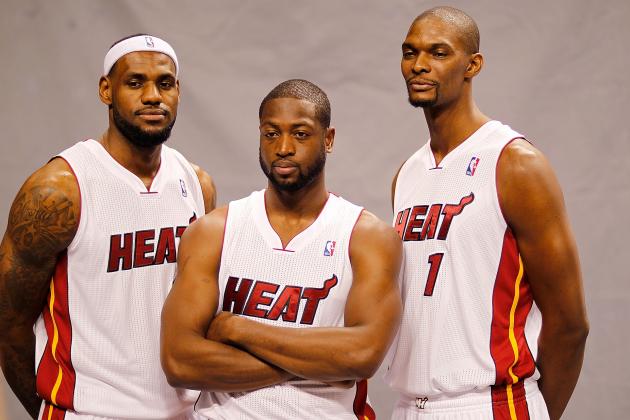 Mike Ehrmann/Getty Images

The Miami Heat and the Big Three have an interesting situation looming ahead of them. The year 2014-15, Chris Bosh, LeBron James and Dwyane Wade all have player options on their contracts. Wade will be 33, Bosh and James will be 30.
Assume for the moment that all three stay with the Heat. There goes $60 million, a.k.a "the salary cap."
Then you add that Udonis Haslem, who will be 34, and Mike Miller, who will also be 34, have player options on their own contracts totaling another $11 million.
Joel Anthony also has a $3.8 million option and he will be a relatively young 32 by comparison.
Add that all up and it's just a smidgen over $74 million., a.k.a. "the luxury tax." And that's just for six players, all of whom are over 30.
The Miami Heat might not be quite as scary heading into the 2014-15 season because they won't have the money to get any help from the bench, and they won't have the youth they need to keep the energy level up as they age.
Similarly with the Lakers, Steve Nash's two-year deal will be done. Kobe Bryant's contract will be done and he may very well retire. Pau Gasol's contract will also be up.
The NBA will be primed for a takeover in 2015 and the Bulls, with Derrick Rose turning 25 and just hitting his prime (no he hasn't hit it yet, and that should be frightening to the rest of the league) will be ready to hop in the driver's seat.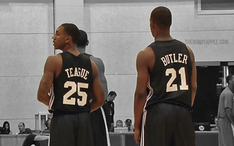 The Bulls have drafted incredibly well in spite of having lower picks to use.
The San Antonio Spurs, who have only one current lottery pick on their team in Tim Duncan, have proven that by drafting smart and developing players well you can build a contender with non-lottery players.
Marquis Teague, who perhaps came out a year "early" would have probably gone in the top 10 next year. Jimmy Butler would never have gone in the top 10 but his work ethic and commitment to doing the little things has "glue-guy" written all over him.
Butler is every bit Luol Deng's mini-me.
Over the next two years expect these two players to develop into extremely useful bench players. They will bring energy and intensity off the bench.
Teague in particular is fascinating to me because he has the potential to be Rose's mini-me. He has electric speed, maybe not quite Rose's speed, but he's even faster than his older brother, Jeff, who is plenty fast in his own right.
Bleacher Report's Bran Mazique has a nice write-up on him.
The thing about a Rose "mini-me" is that the offense doesn't have to change when the backup point guard comes in. Teague could run the same offense—not quite as well—but the same offense.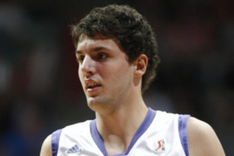 Nikola Mirotic was the Bulls draft and stash player from the 2011 NBA draft. At the time Mirotic was in the first year of a five-year contract with Real Madrid.
The Bulls can contribute up to $550,000 of his buyout without taking a cap hit. His buyout overall is $2.5 million, which means the Bulls either need to create cap space or Mirotic needs to pay for the other $2 million himself, which is unlikely because he wouldn't make much more than that in the NBA.
According to David Haugh, who interviewed Mirotic here,
The earliest Mirotic would leave Spain for the Bulls appears to be before the 2013-14 season, but many projections have 2014-15 circled on Bulls general manager Gar Forman's calendar.
So, the bottom line here is that the Bulls would need to create cap space, presumably by amnestying Carlos Boozer next summer, in order to buy out Mirotic's contract and bring him to the Windy City.
While that might generate some excitement, it might make more sense to wait another year.
Everything about this kid is exciting. Currently he's been leading Real Madrid in scoring this preseason with 20.2 points per game.
Here's where things get interesting. The speculation is that he's going to play power forward, but the Bulls are clearly intent on locking up Gibson for the future, and it doesn't make sense to intentionally backlog the position.
But, according to ESPN's 2011 scouting report of him he wouldn't have to be a power forward. Here are the positives they list for him.



Crafty forward
Great size, length for his position
Can play both the 3 and the 4
Very good shooter with range on his jump shot
Can put the ball on the floor and get to the basket
Quick first step
Excellent passer
High basketball IQ, fundamentally sound
Is an aggressive player on both ends of the ball
Can defend multiple positions
The boldface is mine. This is important because that would mean that Mirotic can play the 3 on both sides of the ball.
A player who can shoot from deep and drive to the rim? Say it ain't so!
Luol Deng's contract also dovetails nicely here. Hopefully the Bulls would be able to work out something with Deng, but hopefully for a little less money. Deng could help mentor Mirotic into the starting role and ultimately lead the second unit which he does remarkably well already.
Truth be told, Deng would be in contention for the Sixth Man of the Year if he weren't also a starter. That's intended as a joke—sort of. It's funny because it's true.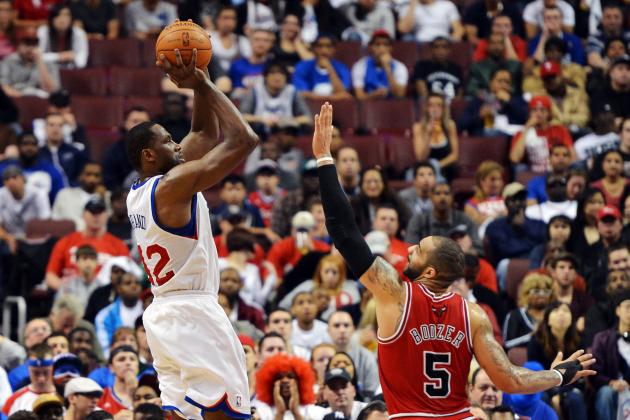 Drew Hallowell/Getty Images

As the current starters like Carlos Boozer and Luol Deng either go to other teams or else take lesser contracts and roles, they'll be replaced by the newer players. That will work out better for the Bulls in terms of contracts because rookie contracts are frankly cheaper.
That will also enable them a little bit of wiggle room in free agency. Assuming both that Boozer gets amnestied and that Gibson gets a roughly $8 million-$10 million contract, Chicago would be sitting on $40-42 million in salary entering 2014-15. That could give them room to add another high-caliber player.
Assuming the cap goes up an estimate $2 million a year that would give them $20 million to spend. Even if they used $8 million to keep Deng and $2 million on bringing over Mirotic, that would still leave them $10 million to ink another starter or fill out the bench with quality players.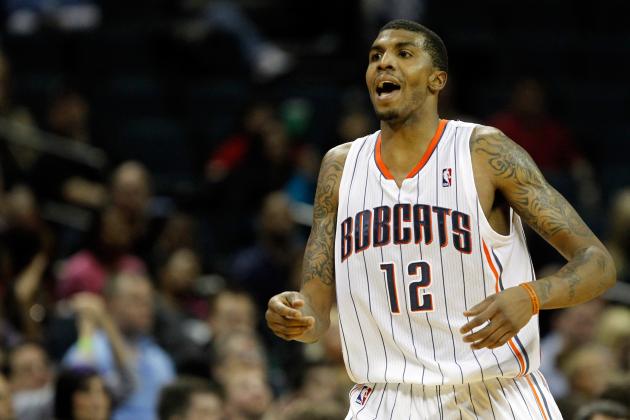 Streeter Lecka/Getty Images

See that pathetic waste of contract in the picture above? That's Tyrus Thomas, a player the Chicago Bulls traded away Lamarcus Aldridge to get.
Sigh.
Imagine Aldridge and Rose playing together. Don't go ruining my dream with little realities about how the Bulls wouldn't have gotten the No. 1 pick if they had Aldridge either.
One thing the Bulls have been remarkably gifted with is trading off their boo-boos though. Tyrus Thomas could ultimately lead to an NBA All-Star after all.
It's just a question of when. Real GM explains the nuances of when the Bulls will get their pick.
Charlotte's own 2013 1st round draft pick to Chicago (top-12 protected in the 2013 Draft, top-10 protected in 2014, top-8 protected in 2015 and unprotected in the 2016 Draft.
So here's the deal. The longer the Bulls wait (hopefully) the better the pick gets. Of course there's no promise that say, Michael Kidd-Gilchrist doesn't go off this year and lead the Bobcats to a playoff run, but it's a tad unlikely.
Top-10 protected in 2014 is not impossible. Eventually the Bobcats have to get a little better, right? The Bulls could then bundle their own first-round pick in 2014 with the Charlotte pick to move up even higher.
Not that it's a realistic scenario, but imagine how crazy it would get in Chi-Town if Jabari Parker and Derrick Rose were running the court together and winning titles?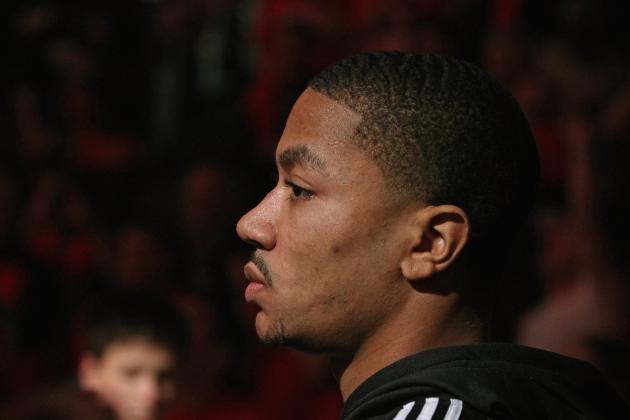 Jonathan Daniel/Getty Images

The Chicago Bulls will be slowly changing over the next three years as their assets turn into players and then into starters. There's a certain wisdom in the way management is proceeding here.
Derrick Rose has been the team leader on the court, but off the court he doesn't have the experience or maturity to be that person.
As he even goes through this experience of recovering from injury.
As he goes through the hardship of having to face another year of a season ending in heartbreak in a year where they really thought they could win it all, he'll learn to dig deeper and find another level.
As he goes through the process of learning to get the respect of the refs and how to get the "star treatment he deserves," he'll grow into his stardom. Right now he complains because he doesn't know how to wear it yet.
As he goes through all of these things, he is accruing the experiences he needs to go from just being an on-court leader and playmaker to a locker-room presence and guide. To a degree there is that now, but right now it appears that is Luol Deng more than Rose.
As the younger players come up they'll be looking to the former MVP for direction and guidance. The team will more and more become his in a complete sense, not just because he's the best player on the team but because he is also its most mature player.
In 2014-15 the Bulls could have a starting lineup consisting of Derrick Rose at the point, Jimmy Butler at the shooting guard, Nikola Mirotic at the small forward, Taj Gibson at power forward and Joakim Noah at center.
A talented bench would include both Marquis Teague and Luol Deng, a duo that could anchor a very deep bench.
On top of that, the Bulls own all their own picks over the next two drafts and could have the Bobcats pick to add as well. They could also have anywhere from $10-20 million to spend in free agency.
Having a bright future isn't quite as exciting as having a bright present, but even if this season doesn't work out well for the Bulls, there's a good chance things will be looking up two years from now.