Marquis Teague: Highlights, Analysis and Pro Projections
June 20, 2012

Andy Lyons/Getty Images
Marquis Teague has a ton of physical talent, but he needed at least one more year to learn the point guard position. He was the lead guard for the national champion Kentucky Wildcats, but he benefited greatly from such a talented set of teammates.
Teague is the younger brother of Atlanta Hawks' point guard Jeff Teague, and their games are similar. Like Jeff, Marquis has great quickness, and the 6'2" guard loves to play in transition.
He averaged 10 points but only 4.8 assists last year. On a team with so many weapons you'd think his assist total would be higher. He made himself eligible for the draft on April 18 along with the rest of the Wildcats starting five.
Had he stayed one more year he'd probably improve his stock, but he's ready to go now.
He did improve his assist-to-turnover ratio to two-to-one in the final 27 games of the season, but there should still be questions about his NBA readiness.
Here is a scouting report on Teague, highlighting his strengths and weaknesses. 
(Height, weight and stats per statsheet.com)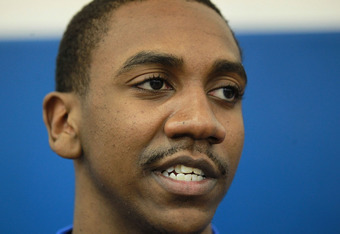 Andy Lyons/Getty Images
Profile
Height: 6'2"
Weight: 189 pounds 
School: Kentucky
Date of Birth: February 28, 1993
Best NBA Position: Point Guard
College Stats (key stats in bold): 10 PPG, 32.6 MPG, 41.1 FG%, 32.5 3FG%, 71.4 FT%, 4.8  APG, 2.5 RPG, 0.2 BPG, 0.9 SPG
Skill Grades
Athleticism: A
Size: A-
Intangibles: B+
Rebounding: C+
Ball Handling - B+
Defense: B-
Shooting: C+
Passing: B+ 
Post Game: D
Basketball IQ: C
Upside: A-
Strengths
Teague is blazing fast; in fact, he may be the quickest player off the dribble in the draft. He has good bounce and nice change of direction ability.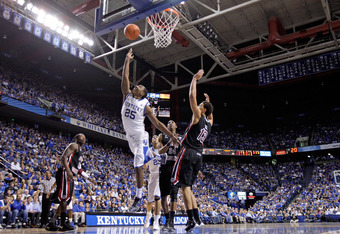 Andy Lyons/Getty Images
He has underrated strength on the drive that allows him to make plays near the basket. He uses a nifty spin move on one-on-one drives to the lane, and will expose mismatches off the dribble.
He has good court vision, and that shows the propensity to become a very good lead guard. If you couple that with his quickness, it leads to great upside.
These highlights show some of Teague's qualities:
Weaknesses
Teague is still learning the game. I wonder what his numbers would have looked like without so many amazing athletes to finish near the rim. Though I have no doubt he would have become a solid point guard, I think the elite wings and big men helped hide some of his flaws.
He is a below-average shooter, which is a major issue. He won't be able to blow by as many guards in the NBA as he did in college. He'll need to develop the shot to keep them honest.
The jump shot is something he can work on, but Teague is primarily in need of experience at the lead guard. Hopefully he lands on a team that places him in position to learn from an established veteran point guard.
NBA Player Comparison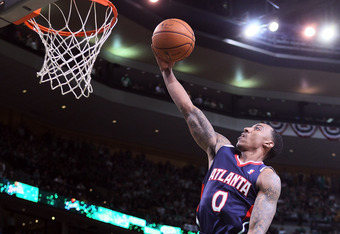 Elsa/Getty Images
Jeff Teague With Less of a Jump Shot and Better Playmaking Skills
Marquis' brother Jeff is an explosive athlete as well. He is a point guard in size only, as his instinct is to score. Jeff played and started all 66 games for the Hawks this season. He averaged 12.6 points and 4.9 assists per game. Jeff improved his scoring and assists numbers in each of his three seasons thus far.
Marquis has similar athletic ability, but he isn't as good of a scorer; though I do think he has an edge as a natural playmaker. This is important because at their size (both are 6'2") their natural position is point guard.
Marquis will have a solid NBA career, but he may have to ride the pine a little more than Jeff did early on in his career.
Draft Projection
Late first round.
Follow Brian Mazique and Franchiseplay.net for reactions, analysis and news from the world of sports and sports video games.