Baylor at West Virginia: Complete Game Preview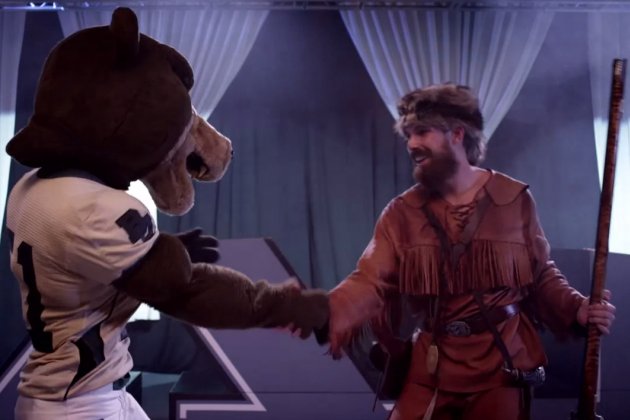 Photo captured from Big 12 PSA video via WestVirginiaU YouTube stream
Baylor and West Virginia have never before met on a football field, a fact that will be fiction come Saturday afternoon.
The game will be WVU's inaugural Big 12 Conference contest and will be one of only two matchups in Week 5 of college football featuring two ranked opponents.
The atmosphere in Morgantown will be as crazy as "Ward C" on Shutter Island, as the ravenous West Virginia fan base will finally be able to witness their team's long-awaited Big 12 debut.
So, let's dive right in and explore the depths of this weekend's battle between West Virginia and Baylor.
Begin Slideshow

»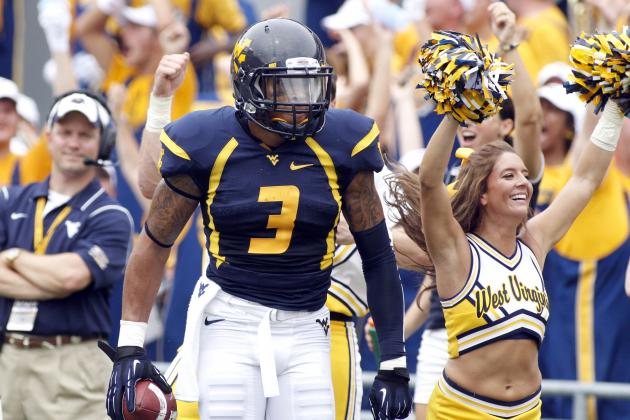 Justin K. Aller/Getty Images

Ranking: AP Poll: No. 9 | USA Today Coaches Poll: No. 7 | Sagarin Ratings: No. 19
2011 Record: 10-3 | Big East Conference No. 1 | Orange Bowl Champions
2012 Record: 3-0 Overall | 0-0 Big 12
Results
Week 1: Marshall 34, West Virginia 69
Week 2: BYE
Week 3: James Madison 12, West Virginia 42
Week 4: Maryland 21, West Virginia 31
Statistical Rankings
Total Offense: 529 YPG | No. 14 national | No. 4 Big 12
Scoring Offense: 47.3 PPG | No. 10 national | No. 5 Big 12
Total Defense: 398.7 YPG | No. 76 national | No. 8 Big 12
Scoring Defense: 22.3 PPG | No. 52 national | No. 7 Big 12
Season Recap
West Virginia began the season rated just outside of the top 10 nationally and has weathered the storm so far this season, while numerous other contenders have fallen off. Last year's Big East Conference champions disposed of rival Marshall easily in Week 1 as their offense totaled 655 yards, including 331 on the ground.
Next came James Madison, currently ranked No. 6 in the FCS. WVU again put together a strong offensive performance as quarterback Geno Smith netted more than 400 yards passing and five touchdowns as the Mountaineers cruised to victory.
With the third game came rival Maryland and a bit more adversity. The Terrapins dominated in time of possession in an attempt to keep the vaunted WVU offense off the field. Thanks to the efforts of UMD's shifty, skilled star Stefon Diggs, it almost worked, but WVU countered with a quick-strike star receiver of its own. Senior Tavon Austin recorded 13 receptions, 179 yards and three touchdowns to give West Virginia its third win heading into its matchup with Baylor.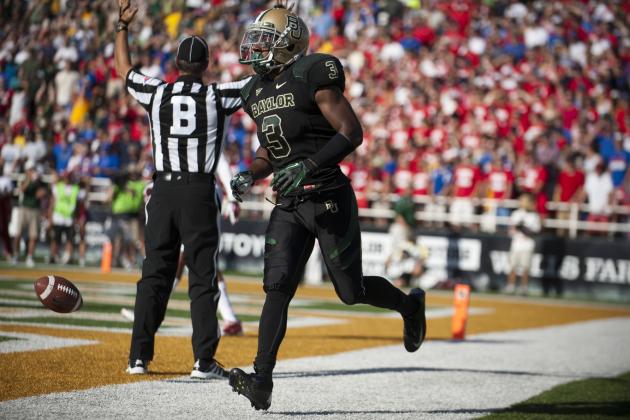 Cooper Neill/Getty Images

Ranking: AP Poll: No. 25 | USA Today Coaches Poll: No. 24 | Sagarin Ratings: No. 27
2011 Record: 10-3 | Big 12 Conference No. 3 | Alamo Bowl Champions
2012 Record: 3-0 Overall | 0-0 Big 12
Results
Week 1: SMU 24, Baylor 59
Week 2: BYE
Week 3: Sam Houston 23, Baylor 48
Week 4: Baylor 47, UL Monroe 42
Statistical Rankings
Total Offense: 568.7 YPG | No. 6 national | No. 3 Big 12
Scoring Offense: 51.3 PPG | No. 5 national | No. 2 Big 12
Total Defense: 492.7 YPG | No. 116 national | No. 10 Big 12
Scoring Defense: 29.7 PPG | No. 90 national | No. 10 Big 12
Season Recap
After the loss of Heisman Trophy winner Robert Griffin III, running back Terrance Ganaway and wide receiver Kendall Wright, Baylor began the season unranked. However, the Bears offense started off without skipping a beat, dropping 59 points on SMU behind four touchdowns from quarterback Nick Florence.
Next, after a bye week, Baylor found itself down 20-10 at the half after a sluggish start against Sam Houston State. Then the Bears registered 38 second-half points while holding the Bearcats to just three points in the final two quarters for the win.
Then, Baylor was faced with the task of taking on the notorious giant-killer Louisiana-Monroe on the road. In front of a raucous crowd, the Bears traded touchdowns with the Warhawks until the final gun, and BU escaped with a 47-42 victory on Friday night.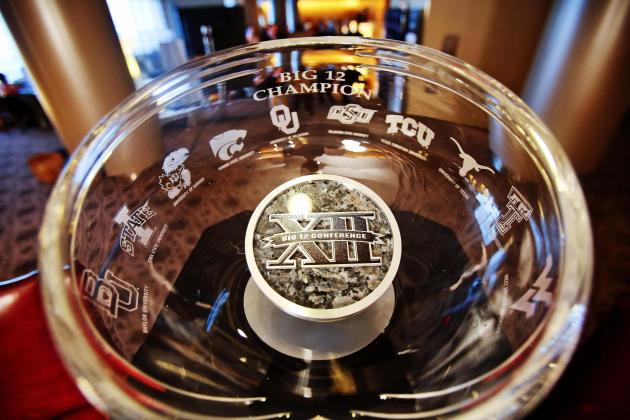 Kevin Jairaj-US PRESSWIRE

Both Baylor and West Virginia obviously share the same objective of winning the Big 12 title and this shiny trophy pictured here.
It will be the conference opener for both squads and each team will look to start the Big 12 slate off on the right foot.
Aside from that, it is WVU's first Big 12 game ever, so the Mountaineers will want to show the conference and the nation that they mean business right away. The only way to do that is to win. Also, West Virginia will be looking to pick up some much-needed momentum going into its prime time battle with Texas in Austin next weekend.
For Baylor, it will be the start of a three-game stretch against three ranked teams, two of which will come away from Waco. Also, the Bears will have another road game against Oklahoma down the road, immediately followed by a home game against Kansas State, the highest ranked team in the Big 12. A victory at West Virginia could prove to be crucial down the road.
Needless to say, this will be a huge game for the teams on both sides of the field on Saturday.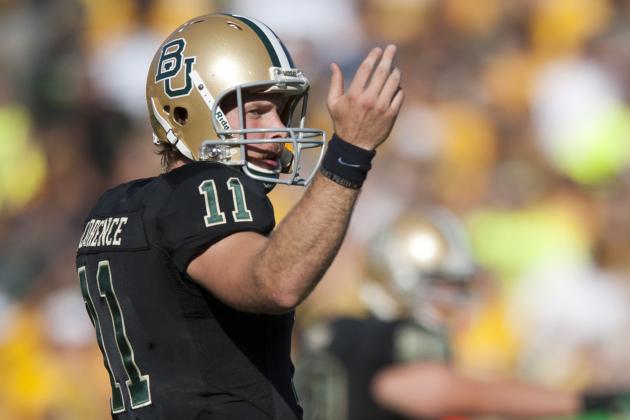 Cooper Neill/Getty Images

Baylor QB Nick Florence vs WVU QB Geno Smith
These two gunslingers won't even be on the field at the same time, but this is still the biggest matchup in this game.
The two seniors will be looking to carry their squads to victory and both of them have proven they have what it takes to do just that.
They also have two of the most talented receivers in the nation to target, a factor we'll look at in-depth a little bit later.
Smith is currently the No. 2 passer in the nation, averaging 357.3 yards per game, while Florence is just behind at No. 5 going at a rate of 334.7 yards per game.
However, the big statistical difference between them so far is interceptions. Florence has four in three games while Smith has zero. Whichever quarterback wins the turnover battle will end up on the winning side of this matchup.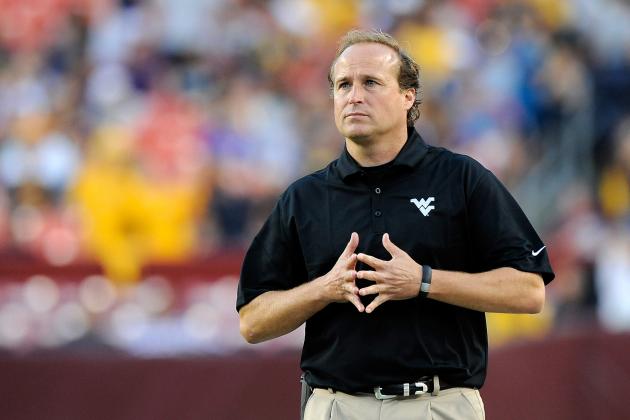 Patrick McDermott/Getty Images

West Virginia head coach Dana Holgorsen and Baylor head coach Art Briles are pretty familiar with each other.
The two coached together at Texas Tech back in the early 2000s, so this is definitely one of the biggest storylines heading into this game.
Both coaches expressed a mutual respect during their press conferences early this week.
Briles called Holgorsen a "no-nonsense type of person" and said he isn't surprised that he has earned a head coaching position at a prominent program (via BaylorBears.com):
"Dana [Holgorsen] is a great coach. He has done a great job everywhere he has been. He is very passionate, very attentive to detail, and very intelligent. I am certainly not surprised at all where he is at right now. I could see it back in 2000."
Holgorsen too expressed the fact that he isn't surprised at the success Briles has experienced at Baylor (via WVUSports.com):
"That wasn't the easiest job that he took over four to five years ago, and he got it to the point that they are going to bowl games. They are winning, they are ranked, they are being talked about on a national standpoint and they are building facilities that are fantastic. What he has done with that program over the last five years is impressive. It is not a surprise because he did the same thing at Stephenville High School, a prominent school in Texas. He did the same thing at Houston, and he is doing the same thing at Baylor."
The West Virginia coach also hinted that he is trying to emulate what Briles has done at Baylor:
"Art has been there for five years, and I hope four years from now, I can say the same thing about West Virginia from a program standpoint. The program is established. He has made his mark on the program."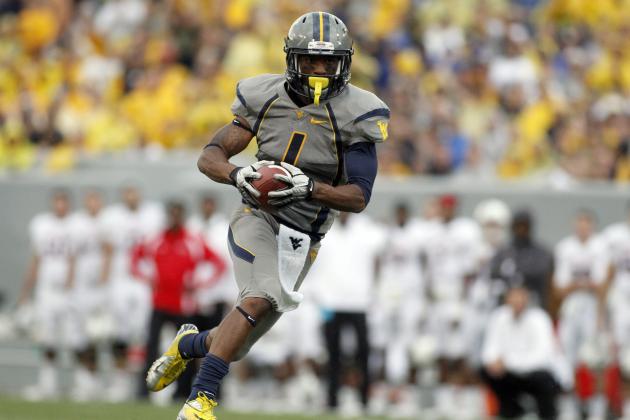 Justin K. Aller/Getty Images

WVU IR Tavon Austin—The senior receiver is coming off one of the best games of his career. Last week against Maryland, Austin had 13 receptions for 179 yards and three touchdowns. On the year, the Baltimore native has averaged 115 yards per game, good for No. 6 in the nation.
He has also hauled in five touchdowns and has 84 yards on the ground. Last year, he led the nation in all-purpose yardage and is undoubtedly one of college football's most dynamic players.
BU WR Terrance Williams—One slot ahead of Austin at No. 5 in the nation in per-game receiving yardage is Baylor senior Terrance Williams. The Dallas native has logged 117.7 yards per contest this year to go with four touchdowns.
Last season, he was honorable mention all-Big 12 as Robert Griffin III's No. 2 target behind Kendall Wright—now he's the go-to guy in this offense.
WVU WR Stedman Bailey—To complement Austin, WVU also has Bailey, one of the best deep threat receivers in the nation. He and Austin are the only two receivers in the Big 12 to total more than 1,000 yards in 2011.
This season, his numbers are almost identical to Austin's as he comes in at No. 8 in the nation, averaging 110.7 yards and has five touchdowns of his own.
BU WR Tevin Reese—Would you believe it? Baylor has another big-time receiver to match WVU. Reese comes in at No. 15 in the country, averaging 101.3 yards per game. At this point in the season, West Virginia and Baylor have the two most prolific receiving tandems in the country.
Two differing philosophies—The biggest difference between these two tandems are their average yards per catch. The two Bears are averaging roughly 20 yards per reception, while the two Mountaineers are averaging around 10 yards per catch.
This essentially points out the philosophical difference between these two offenses. They're both going to spread the field, but Baylor will employ a more vertical passing game set off the run, while WVU's offense is centered around shorter, high-percentage passes that set up for yards after the catch.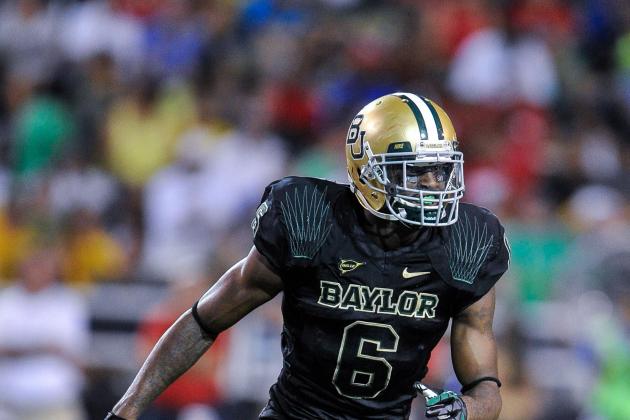 Jerome Miron-US PRESSWIRE

BU NB Ahmad Dixon—Dixon may be the most talented defensive player in this game. The junior is an elite athlete and one of the leaders of the Baylor defense. Last season, Dixon had 89 tackles, returned an interception for a touchdown and had three fumble recoveries.
This year, he's No. 2 on the team with 26 tackles and already has an interception. He has been used in a hybrid defensive back/linebacker capacity, so it will be interesting to see how he's used to contain the WVU playmakers.
WVU LB Terence Garvin—West Virginia has an athletic hybrid safety/linebacker of its own. Garvin is a senior who made the transition from safety to the "star" linebacker position as WVU made the transition from the 3-3-5 to 3-4 defense.
Garvin is also No. 2 on his team with 25 total tackles, including a team-high two sacks. WVU will use Garvin and a rotation of athletic linebackers to pressure Florence throughout the game on Saturday.
BU DB Demetri Goodson—Goodson is one of the more interesting players on the Baylor squad. Two years ago, Goodson was playing point guard on the Gonzaga basketball team. The Spring, Texas native then transferred back closer to home to play football at Baylor.
He was limited last year with an ankle injury, but has really come into his own this season. He already has 16 tackles, three pass deflections and an interception. He'll be key in slowing down the WVU passing game.
WVU S Karl Joseph—Just a freshman, Karl Joseph has already proven to be one of the most talented players in the West Virginia secondary. He leads all Mountaineer defensive backs with 18 tackles, including 3.5 for a loss and a sack.
The Orlando, Fla. native will have his hands full keeping up with the speedy Baylor vertical passing game.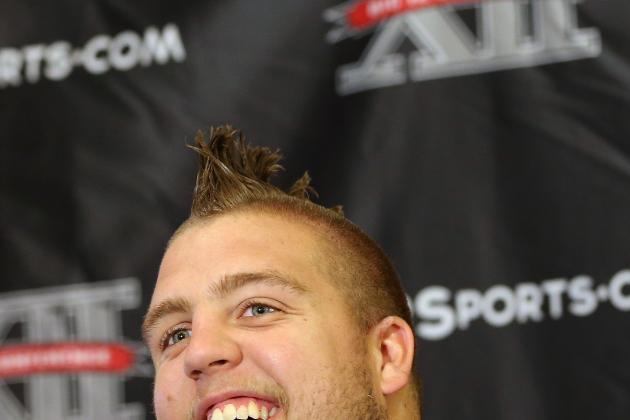 Kevin Jairaj-US PRESSWIRE
WVU Center Joe Madsen
Holgorsen on the Baylor offense:
"We have got to cover the field sideline to sideline because of their splits, and we have to make sure that they don't get behind us because they have got great speed and they are going to run the ball. They are a very balanced attack. They are going to run the ball 50 percent of the time, and then they are going to take shots down field."
Holgorsen on Baylor QB Nick Florence:
"He's a good player and a program player...Is he talented like some of the other guys out there? He's not as talented, but he is a winner and runs the ball well. We are going to have to make sure we contain him. He understands his system, he gets them in the right play and he does a good job of completing balls. He takes some chances, and hopefully he takes a few too many that we can capitalize on."
Freshman LB Isaiah Bruce on Baylor preparation:
"The coaches know what they're doing, and we should know how to play them. A lot of our coaches have seen this conference before, and this team a lot, so that gives us a lot of confidence that they will have us prepared and ready for this week's game."
Senior C Joe Madsen on the Big 12 debut:
"I can't wait. It's a new experience, new game, new people. I think we are going to go out there and play our best, and hopefully we have a good time and play our hearts out. It's a special thing. I hope we bring this conference a lot of great things."
Sources: Coach quotes | Player quotes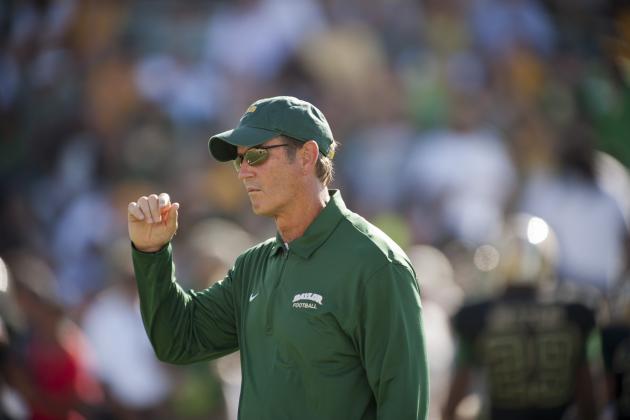 Cooper Neill/Getty Images

Briles on West Virginia atmosphere:
"They are going to have a good stadium, it's not like it's going to be a big first-time deal for them. They have been doing things right up there for a long time. The only significance is that it's their first Big 12 game."
Briles on West Virginia playmakers:
"Austin is definitely a difference maker without question. They've been dangerous for a long time...They're good football players. Geno makes it happen for them and they're in a good system. "
Freshman DT Trevor Clemons-Valdez on WVU
"We know West Virginia has a really explosive offense. We have our work cut out for us, but we are a great defense. We are a great team and we give great effort. I have all the faith in the world that we're going to go out there and handle business."

Dixon on West Virginia and the Big 12:
"We get to open those guys up to the Big 12. We get to show them how we perform in the Big 12. It's their homecoming as well. We know that they're going to be taking a lot of shots, so we have to stay focused and do what we have to do."
Sources: Coach quotes | Player quotes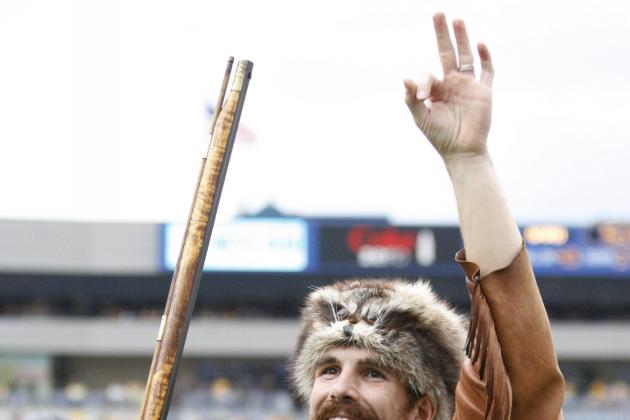 Charles LeClaire-US PRESSWIRE

When: Saturday, Sept. 29
Kickoff: 12:06 p.m. ET
Where: Milan Puskar Stadium | Morgantown, W. Va.
TV: FX broadcast begins at noon ET
Radio: MountaineerTV | Baylor All-Access | Sirius/XM 91 | ESPN Central Texas
Stream: No official stream available
Live Blog: Bleacher Report