Baylor vs. West Virginia: Live Scores, Analysis and Results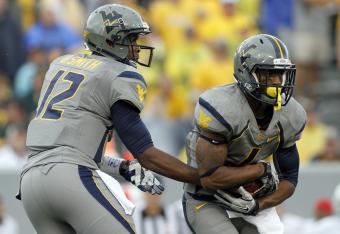 Justin K. Aller/Getty Images
FINAL: West Virginia 70, Baylor 63
"Shootout" doesn't even begin to describe this one. Geno Smith went for 656 yards passing to go with eight touchdowns. Nick Florence wasn't bad either, going over 500 with four touchdowns. Both spent the whole day shattering records.
Keep the conversation going below.
Also, stay tuned, as I'll soon post a link to the 10 things we learned from the wild one in Morgantown today.
Thanks to those of you who followed along today.
As promised, here's what we learned from today's game, other than how to dismantle a defense in 60 minutes or less.
Thanks for reading.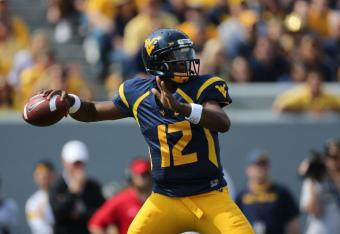 FINAL: WVU 70, Baylor 63
Thanks for following along folks. Feel free to continue the conversation on this one below.
If you watched, you know: An amazing shootout in this one.
That might do it. Great run by Garrison. Only bad part, no more touchdowns.
Stick 'um. What a catch by J.D. Woods.
West Virginia 70, Baylor 63 — 3:08 Fourth Quarter: Williams now up to 17 catches for 314 yards and two touchdowns. Baylor within one touchdown.
I don't know about you, but I'm hoping for overtime. If that happens, both teams will break 100, no doubt.
Williams (306) and Bailey (303) now are both over 300 yards RECEIVING.
WVU defense now cramping from being ran on all afternoon.
My dog, wearing a WVU Mountaineers collar, is now chewing on a stuffed bear.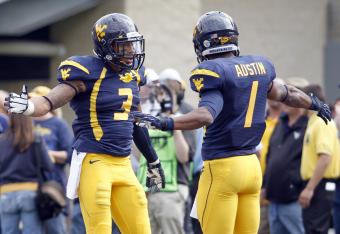 West Virginia 70, Baylor 56 — 5:55 Fourth Quarter: If you give Geno Smith that much time, he will kill you.
Bailey with another touchdown, which means another 70 pushups for the Mountaineer. That dude is going to be jacked.
This drive has been a real snoozer. WVU needs to pick up the pace a bit.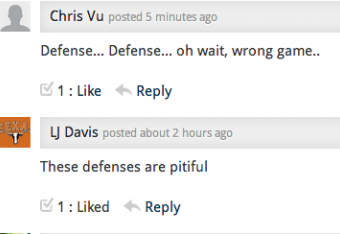 Great comment from Chris: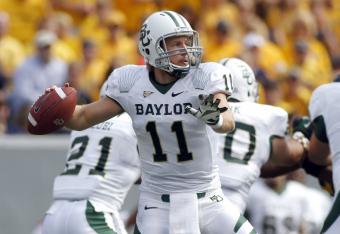 West Virginia 63, Baylor 56 — 10:49 Fourth Quarter: Another Baylor receiver on the stat sheet, as Antwan Goodley, hauls in his first reception of the day, a seven-yard touchdown.
Your move, West Virginia.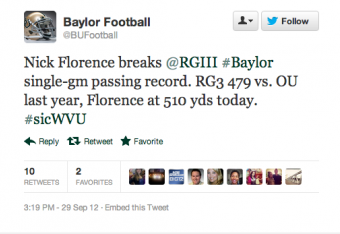 A record-breaking day for both quarterbacks:
I think both of these teams should just have their offensive players play both ways. Couldn't hurt.
Florence and Williams are both playing great, but their numbers just look puny compared to that of WVU right now.
For Baylor,
Florence: 21-of-35, 448 YDS, 3 TD, 1 INT
Williams: 12 REC, 206 YDS, 1 TD
(Two other receivers with more than 100 yards)
Bailey: 12 REC, 254 YDS, 4 TD
Smith: 38-of-43, 577 YDS, 7 TD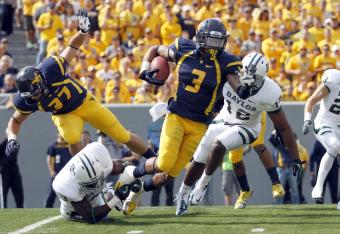 West Virginia 63, Baylor 49 — 13:55 Fourth Quarter: I don't even know what to say. 16 seconds, one play.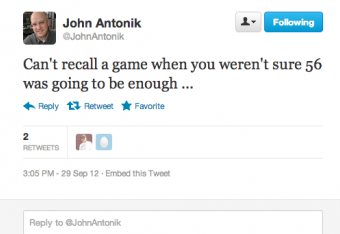 West Virginia 56, Baylor 49 — 14:14 Fourth Quarter: We still have a ballgame here in Morgantown folks.
WVU Director of New Media John Antonik: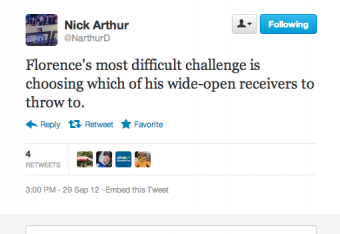 Rough life.
West Virginia 56, Baylor 42 — Start of Fourth Quarter: Baylor clipping its way down the field, still down by two touchdowns, as we enter the final quarter of play.
Big defensive stop, as Baylor displays some nice play and tackling in the secondary. The Bears aren't done yet.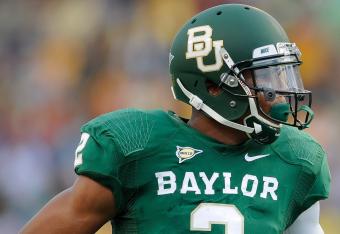 West Virginia 56, Baylor 42 — 3:18 Third Quarter: Great catch by Terrance Williams there as the lead is cut down to 14. The coverage from Brodrick Jenkins wasn't too bad but, Williams just beat him, which is why he came into this game as the No. 5 receiver in the nation.
Another crossing route from Baylor results in another third-down conversion. Baylor still looks strong on offense, but nowhere near as sharp as the first half.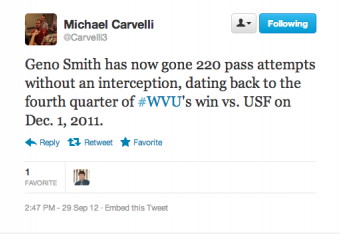 Yards and touchdowns are nice, but this is what makes Geno Smith truly great:
This article is
What is the duplicate article?
Why is this article offensive?
Where is this article plagiarized from?
Why is this article poorly edited?

WVU Football: Like this team?