Green Bay Packers vs. Seahawks: Sketching out a Game Plan for Seattle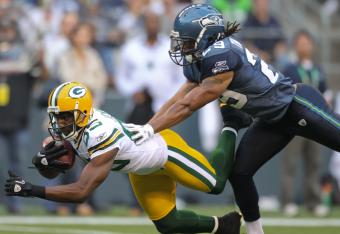 Otto Greule Jr/Getty Images
It has been an interesting start to the 2012 season for the Seattle Seahawks.
They opened up on the road, losing to an Arizona Cardinals team that everyone thought they would beat handily. The following week they were at the Link laying it on the Dallas Cowboys—another surprise outcome as Dallas had just laid it to the reigning Super Bowl champs the week prior.
Seattle's biggest struggles up to this point have come on offense. Against Ray Horton's rock-solid defensive unit, Seattle struggled in every way possible. Rookie Russell Wilson never had the passing attack cranked up as they only threw for 153 yards through the air. And let's not forget that Tom Cable's offensive line had major problems against Cardinals' linemen Darnell Dockett and Calais Campbell.
At home Wilson didn't put up crazy numbers against the Cowboys secondary, but he showed poise and confidence. He was 15-of-20 passing for 151 yards and one touchdown. Horton's pressure scheme the week before more than once confused Wilson, so I was expecting Rob Ryan to bring that same approach.
However, Ryan's defensive unit blitzed only seven times.
With the defense playing as well as expected, how will the Seahawks offense keep pace with the Packers on Monday Night Football? Let's take a look at what Pete Carroll's game plan should look like heading into Monday night.
When the Seahawks Are on Offense
Against Green Bay, Seattle needs to continue to do what they do best. Feed the ball to Marshawn Lynch and allow him to get into beast mode; something he did last week for the first time in 2012.
Currently, the Packers run defense is ranked near the bottom of the league, surrendering 140 yards per game on the ground.
Week 1, Jim Harbaugh and the 49ers offense carved up the Green Bay defense on runs outside the numbers. One thing San Francisco's offense is so good at is setting the edge in the run game.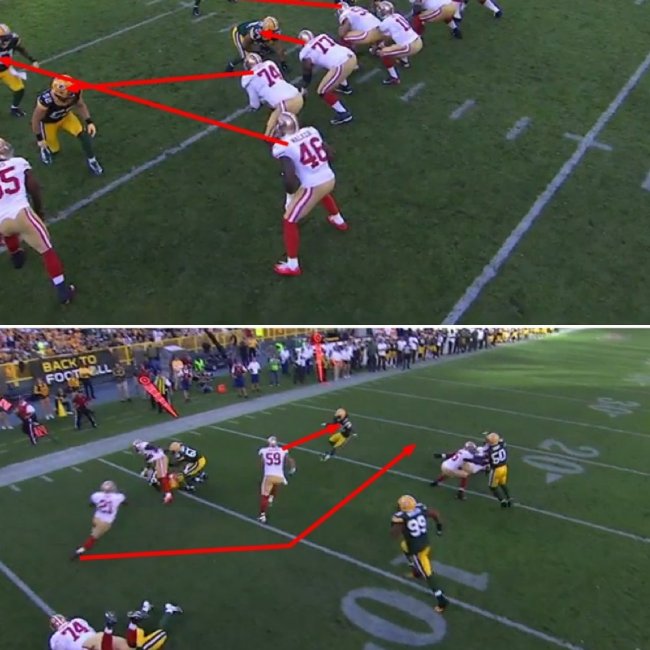 Given the athletic prowess of the Seahawks offensive line, I feel like the Seattle offense can use some of these same concepts in the run game on Monday night.
On this toss play, the 49ers' offensive grouping is one they utilize often: "12" personnel. You can see that right guard Alex Boone, center Jonathan Goodwin and tight end Delanie Walker will be the players who dictate the success of this particular play.
You may ask, "why is that?" The answer in large part lies in their responsibility to execute second-level blocks, which in turn gives Gore the ability to turn it upfield.
Even though Cable's athletic group isn't quite as dominant as San Francisco's offensive line, it doesn't mean it can't get the job done. Outside of Jerel Worthy and Clay Matthews, no one on the Packers has been able to play the run well. Pro Football Focus currently has Green Bay's run defense as third from the bottom. They are only behind Panthers and Bengals.
With that, the 'Hawks should be able to pound it right up the gut in addition to those outside runs.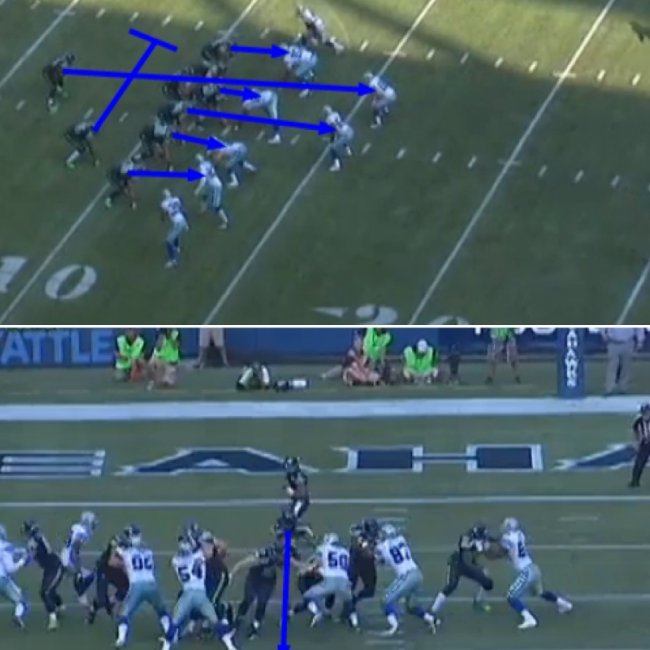 Against Dallas, Lynch made a living on A- an B-gap runs. Here is an example of a well-designed dive play out of "22" personnel. Everyone is blocking the man right in front of them except for Anthony McCoy and Michael Robinson.
McCoy's job is to come across the face of the fullback when the ball is snapped to seal off the outside linebacker on the backside edge. As the lead blocker, Robinson shoots the A-gap and heads upfield to meet inside linebacker Sean Lee head on.
Even though the play doesn't gain a whole bunch of real estate, it shows that strong blocking at the point of attack can pick up a solid five yards. Knowing your assignment and holding your blocks are two of the biggest keys to success on the ground.
If it can control the clock and play keep-away by pounding the rock, look for Seattle to extend its Monday night record to 18-8 all time.
When the Seahawks Are on Defense
Defensively, the Seahawks need to do exactly what Chicago and San Francisco did. Put pressure on Aaron Rodgers so that the pocket becomes as uncomfortable as possible.
Through two games Aaron Rodgers has been sacked eight times, hit six times and hurried 12 more times. 26 total pressures through the first two games has to make Mike McCarthy a little queasy.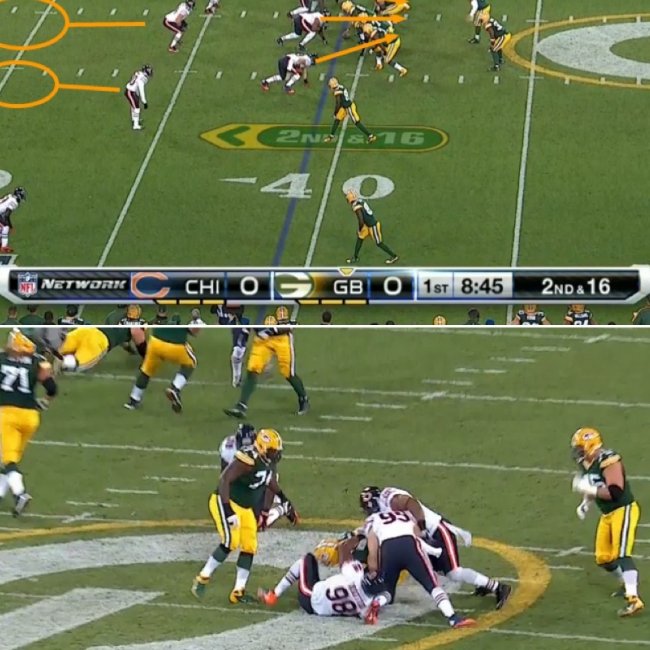 The Bears would often rush four and drop seven out of their classic Cover-2 look. And, even though the Seahawks don't run a lot of zone, Chicago's defensive tactics suggest that the Packers' offensive line is not playing well thus far in 2012.
T.J. Lang and Bryan Bulaga have been two of the most inconsistent offensive linemen for Green Bay. Tackle Marshall Newhouse has had a couple of mistakes as well, but overall he has been the most consistent in pass protection.
Another thing I noticed is that Rodgers has been holding onto the ball longer this year. I'm not sure if that's because the receivers aren't getting the separation they need or whether Packer opponents are better. Whatever the reason, it's worth noting that the Seahawks should have more time to rush the QB.
Remember, Rodgers didn't face one top-10 defense in 2011.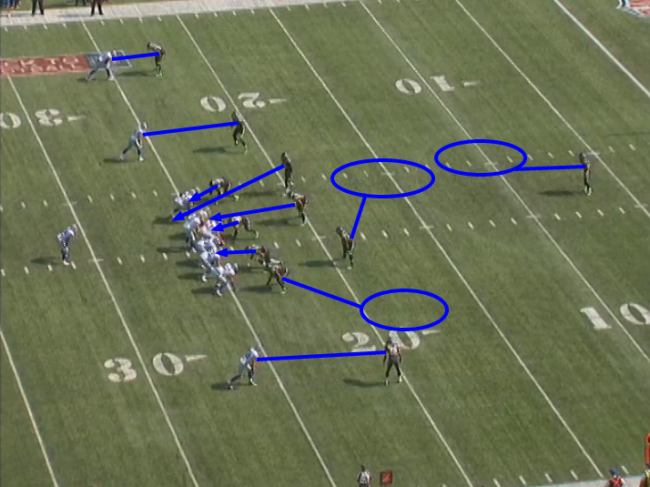 If defensive coordinator Gus Bradley decides the front four isn't getting enough pressure, he can then dial up a timely blitz.
On Romo's only pick of Week 2, Seattle brought Cam Chancellor from the secondary on a blitz along with linebacker Bobby Wagner. Wagner is the one who ends up hitting and forcing Romo into the bad throw. To compensate for the pressure brought by Wagner and Chancellor, Bradley dropped left defensive end Chris Clemons into coverage.
By dropping him into coverage, it allowed him to cover the flat on the strong side of the formation. Leroy Hill and Earl Thomas took care of the middle and the three corners were all alone on an island.
But Coach Carroll recognizes just how good of a trio he has in Richard Sherman, Brandon Browner and Marcus Trufant. He and Bradley can blitz, leaving only six in coverage because he trusts their abilities and skill sets. This week's matchup against Green Bay undoubtedly will be the trio's biggest test of the season thus far; they will have to keep Jordy Nelson, Greg Jennings, Randall Cobb and Donald Driver in check.
Attacking Rodgers, playing man-to-man press coverage and getting pressure with the front four will be the keys to winning this game. I'm confident that they will be able to stop the run without blitzing, so Green Bay's passing attack will be the primary focus.
In Bleacher Report's expert picks, I chose the Seahawks as the victor. And after doing this piece I'm even more confident that they can win at the Link on Monday Night Football.
Follow @TysonNFL
This article is
What is the duplicate article?
Why is this article offensive?
Where is this article plagiarized from?
Why is this article poorly edited?

Seattle Seahawks: Like this team?