Steelers vs Raiders: 10 Keys to the Game for Pittsburgh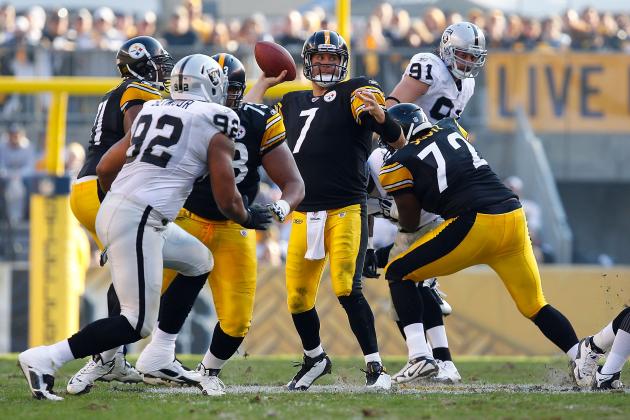 Jared Wickerham/Getty Images

The Pittsburgh Steelers (1-1) will face off against a historical rival this weekend when they travel to Oakland to play the Raiders (0-2). More recent history has heavily favored Pittsburgh in these games, but that doesn't change the fact that contests between these two are always physical and filled with bad blood and trash talk.
The Steelers cannot afford to take this game lightly. Here's a look at 10 keys to victory on Sunday.
Begin Slideshow

»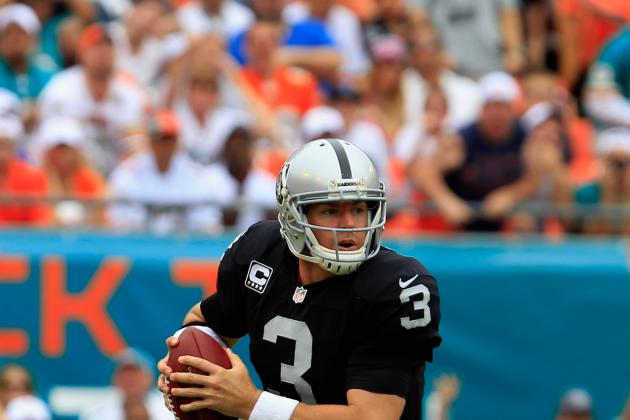 Chris Trotman/Getty Images

The Raiders haven't been able to produce much on the ground through two games, so the best they can hope for is that Carson Palmer breaks loose with a big passing day. While he hasn't been bad yet, he hasn't been able to win them a game.
The Steelers will look to put pressure on Palmer this Sunday. They'd be wise to use the same tactics that stopped Mark Sanchez cold: sending the inside linebackers and forcing the quarterback out of the pocket where he's less comfortable.
The more the Steelers can generate in pass rush, even if it doesn't lead to a ton of sacks, the better their chances are of forcing some turnovers.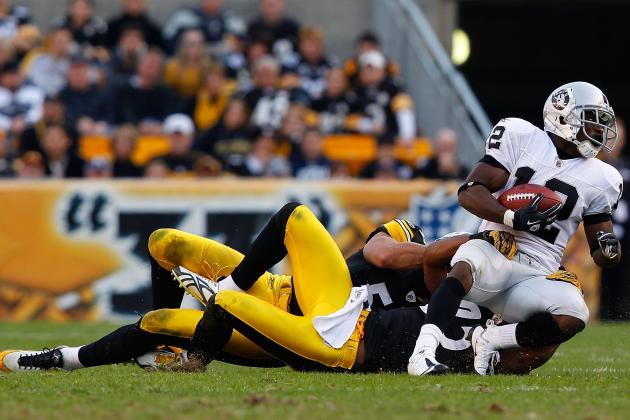 Jared Wickerham/Getty Images

The Steelers have found out in two games this season that their corners absolutely can not play zone against the league's wideouts. Receivers are victimizing them by catching short passes and then using a nifty move of some sort to get away from the first guy or two.
When the Steelers finally went into a press coverage scheme last week against the Jets, they were almost unstoppable. They have the speed to stay with receivers and they like to get physical. While that will likely lead to some annoying pass interference calls as they adjust, it is vital that they continue to play in the faces of receivers across the league.
Dick LeBeau is a smart coordinator. He wasn't showing it until the second quarter of the second game. If he keeps his corners in press coverage and suffocates opposing pass attacks, he'll once again look like the guy Pittsburgh fans and players adore.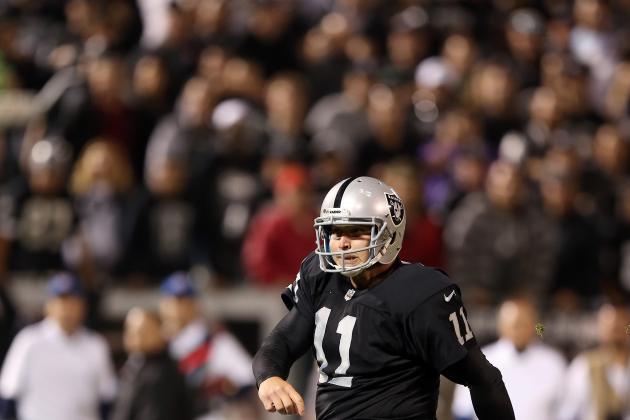 Ezra Shaw/Getty Images

The first part of this is for the Steelers to make sure that they use their punter to keep the Raiders pinned back into their end zone. This will force the Raiders to do something they haven't been very good at so far: driving on a long field for a touchdown.
The defense has its part in this too. The Raiders aren't going to fail to convert every play into positive yardage, but there's a good chance they can be made one-dimensional. If that happens, the Steelers will have to make sure they still keep Oakland on their side of the field.
Why is that important? Two words: Sebastian Janikowski.
The guy is a beast, one of the strongest kickers in league history and accurate from a mile away it seems. While ending drives with long field-goal attempts is not a strategy conducive to victory, it can keep a team in a game.
The last the Pittsburgh wants is for an opponent to be in a game late.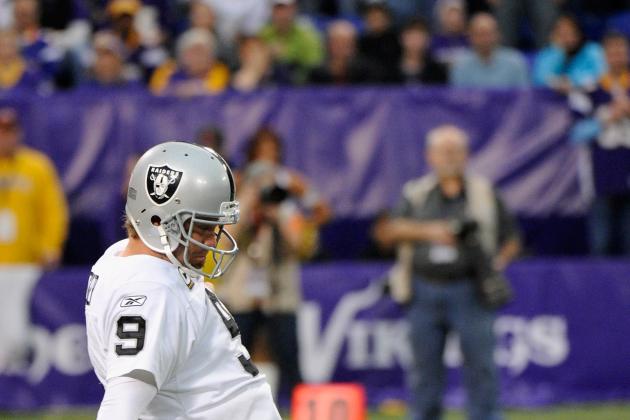 Hannah Foslien/Getty Images

On the flip side, there's Shane Lechler, the Raiders' best defensive weapon. Yes, he's a punter. Yes, the Raiders have some good defensive players. No, I'm not trying to disparage them at all. Lechler is just a beast. He can punt a ball deep in his own territory and pin a team down deep in theirs.
That is how you intimidate people defensively.
But the Steelers have the weapons to answer that challenge. Chris Rainey and Antonio Brown will likely get chances to return punts on Sunday. It's going to be important for them—and the guys blocking for them—to have a good game. They'll be responsible for not leaving Ben Roethlisberger to work from his end zone to start drives.
Offensively, the Steelers have proven capable of taking on long drives both in distance and time. That means they should be able to handle even the worst positions. It's all a matter of being smart and using quick passes to dig out slowly.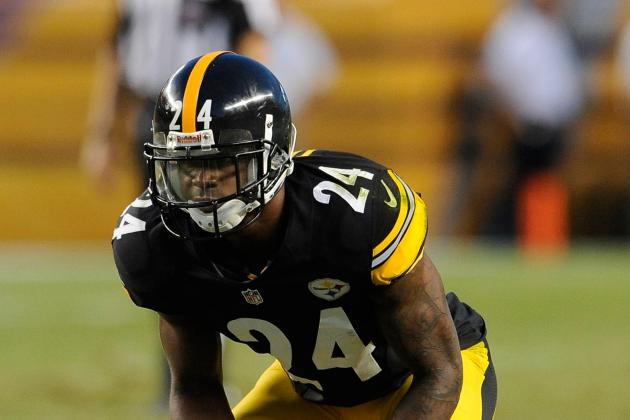 Joe Sargent/Getty Images

There are two teams in the NFL that I can see causing the Steelers to really lose their composure. Baltimore is one and for obvious reasons. The other team is Oakland.
Now historically, I wouldn't bet against Mike Tomlin's ability to maintain discipline on his sideline and with his players. But last week was a rough one and I thought there were a couple of points where guys were letting the Jets' continual trash talk get to them.
The Raiders aren't going to be any less offensive on Sunday. This is the team that punched Ben Roethlisberger blatantly. They like to be mean and tough. I'm not saying that's a bad thing either, but with the replacement officials calling just about anything, there's no point in taking chances.
I'm also fairly certain that the league will be more severe with discipline should teams continue to get out of control on the field. Officials haven't been good at maintaining control, so Roger Goodell may decide it's time to step in.
All in all, it's better just to say no to the bullies and make sure you aren't being a bully yourself.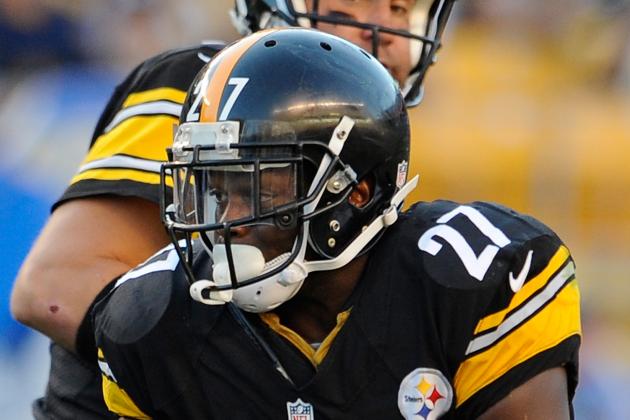 Joe Sargent/Getty Images

The Steelers have struggled to generate much on the ground in two games. They've average 70.5 yards per game rushing. That's pretty bad.
Against the Raiders, they should be able to get themselves better production. Oakland is giving up an average of 147.5 yards per game. Just for comparison, the Steelers are only surrendering 92 yards per game themselves.
Now anything can happen in any game, but those numbers indicate that the Steelers should be running the ball at least more effectively than they have so far this year. I would say the best way to do this is to adjust the rotation of backs a little bit.
I like what Isaac Redman showed late in the Jets game, but I really want to see Jonathan Dwyer get the majority of carries this week. Dwyer has a bigger head of steam running with the ball and he can get away from defenders with more consistency.
I want to see Redman in tight when the team needs to punch it in. He seems to be getting very good at that kind of "one yard or bust" role.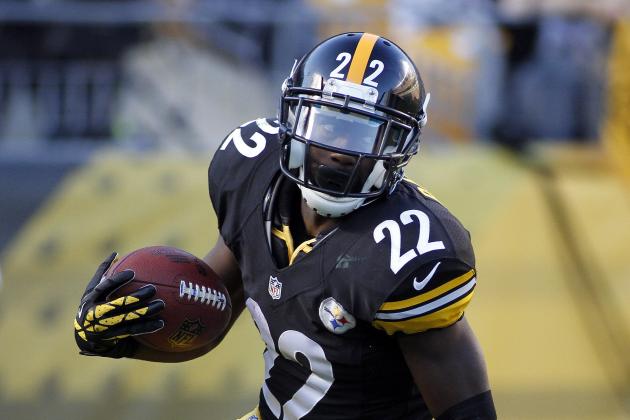 Justin K. Aller/Getty Images

During the preseason, the Steelers threw a ton of screen passes. It was a new element to their game that had been largely absent under Bruce Arians. That change in philosophy looked like it was going to pay huge dividends during the season.
But the Steelers, possibly because their running game has fallen apart, haven't done a ton with screen passes yet.
The shame of it is that they have the perfect weapon to make them work for big gains in running back Chris Rainey. He's an adept receiver out of the backfield and he can turn on the jets in a big way once he's got the ball in his hands.
With the Raiders having a difficult time stopping the run, I'd expect to see Rainey brought into the game plan. The Dolphins had success last week using Reggie Bush, who is a similar player to Rainey. The Steelers won't likely feature Rainey in the backfield, but on screens and some designed outside runs, he could be a very dangerous and effective player.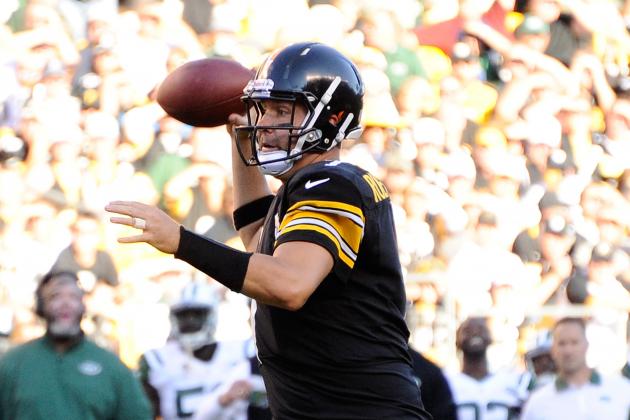 Joe Sargent/Getty Images

This is a big one for the Steelers, who have been very hard to stop when throwing the ball so far. Ben Roethlisberger is having an excellent season and all of his receivers have shown an ability to catch virtually any pass thrown in their direction.
That has to continue this week, especially against a secondary that is going through some serious injuries. Ron Bartell, the Raiders regular left corner, is gone for at least half the season with a broken shoulder blade. The Raiders may be without right corner Shawntae Spencer as well after he sprained his foot in last week's game.
The Raiders are likely to be very thin at corner and may have to sign someone off the street to fill in. That's a big boost for the Pittsburgh passing attack.
Oakland was already surrendering over 200 yards per game through the air. That number might go up considerably if Ben Roethlisberger and his receivers are able to victimize an overmatched group of corners. I'd expect Heath Miller to have a big day as well since the safeties will have to help out on the outside.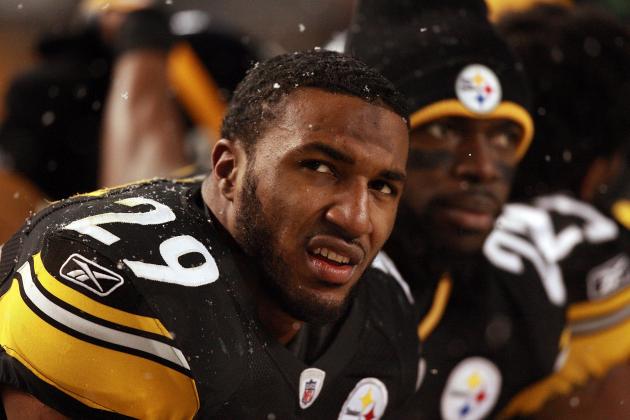 Karl Walter/Getty Images

The Raiders aren't the only team that's a little beat up on defense right now. The Steelers played last week without James Harrison and Troy Polamalu, two of their signature players. Neither has practiced this week.
The Steelers have a slew of players who are slightly dinged up as well. That list includes Heath Miller, Emmanuel Sanders, Mike Wallace, Mike Adams and Jonathan Dwyer among others. If any of those players are not at 100 percent on Sunday, the Steelers will have to find a way to overcome it.
Mike Tomlin will tell anyone that injuries are not an excuse for performance. This has always been his mantra and the Steelers have usually found a way to step up and deal with hurt players.
Last week, Ryan Mundy did an excellent job replacing Polamalu. While I have questioned Mundy's place on this roster before, I think he showed that he can be effective at strong safety. That's important because Polamalu isn't getting any younger and he gets banged up a lot.
The absence of Harrison has been more troubling, but the Steelers have adjusted their blitz schemes to cover it up. It really hurts them in run defense, where Chris Carter has trouble setting the edge and disengaging from blockers.
If the Steelers can rise to the occasion once again, they'll be just fine against Oakland.
Joe Sargent/Getty Images

The biggest sin for a contender facing a struggling team is to forget that it's also playing in the NFL. Regardless of the week, there are no sure outs. The NFL doesn't schedule UFL or CFL teams the way West Virginia University might schedule a lower-division foe.
The Raiders are having a tough time so far under first-year coach Dennis Allen. They've got injury problems and are trying to compete without talent at some key spots. That doesn't mean they can't beat Pittsburgh.
The Steelers are travelling across the country, always a daunting task, and facing the Raiders in their stadium. It will likely be loud and hostile. This is the team that was on the losing end of the Immaculate Reception 40 years ago. Suffice it to say they don't like Pittsburgh one bit out there.
The Steelers have a nasty habit of going to play a struggling team and letting it get the better of them. This has gone on for as long as I can remember. The best thing the Steelers could do is to go into the game, get a big lead quickly and then just keep their feet planted firmly on Oakland until the final gun.
If the Steelers can avoid the obvious traps in the matchup, they'll be victorious and will find themselves 2-1 heading into their bye week.