San Francisco 49ers vs. Minnesota Vikings: Key Matchups and Prediction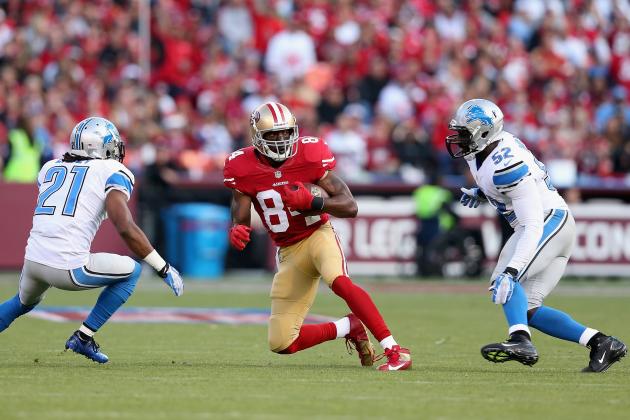 Ezra Shaw/Getty Images

Randy Moss' return to the Metrodome may be the most talked about storyline heading into Sunday's tilt between the San Francisco 49ers and Minnesota Vikings, but his performance will have little effect on the game's outcome.
Moss simply doesn't get enough playing time to make a major impact, but the Vikings would still be wise to pay extra close attention to him when he's on the field.
Meanwhile, Adrian Peterson and Frank Gore will be up against solid run defenses, and the 49ers may have their hands full trying to slow down Jared Allen, one of the league's best pass-rushers.
Those are the matchups that will make all the difference in this NFC clash. Let's take a closer look at them.
Begin Slideshow

»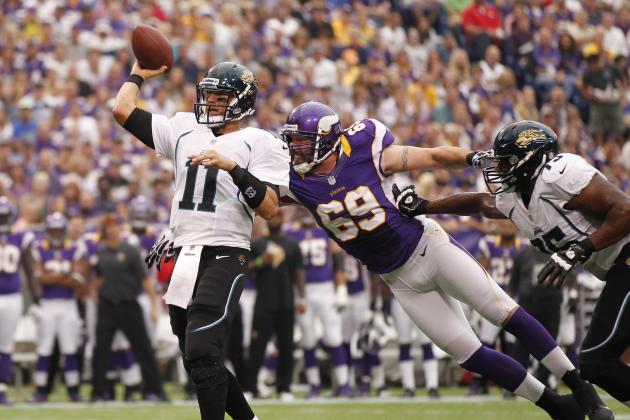 Andy King/Getty Images

Much to the surprise of most 49ers fans, Anthony Davis has been the steadier of the two starting tackles for San Francisco so far this season.
Staley has allowed three sacks, including two to Clay Mathews in Week 1.
One of the few ways Minnesota can win this game is by getting tons of pressure on Alex Smith. Jared Allen had 22 sacks last year (hard to believe he nearly broke the all-time record on a 3-13 team), and Brian Robison was second on the Vikings with eight.
Both will be looking to get into the sack column against San Francisco. If Staley and Davis struggle to block the fearsome duo, Vernon Davis might be forced to help out in the backfield on passing downs, which would make the entire San Francisco offense less formidable.
Advantage: Vikings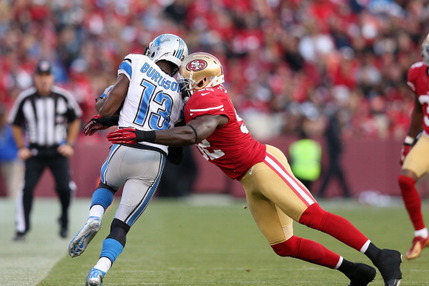 Ezra Shaw/Getty Images

Remember back in the preseason when Christian Ponder moved the ball efficiently against many of San Francisco first-team defenders?
Yeah, I know. That was just preseason against a vanilla defense. Got it.
But even in Minnesota's first two games, Ponder has played well, averaging 8.3 yards per attempt while not throwing a single interception.
One of the biggest reasons for Ponder's success has been his rapport with tight end Kyle Rudolph. The former Notre Dame pass-catcher has caught eight balls for 102 yards and a touchdown in two games.
Versatile linebackers Patrick Willis and NaVorro Bowman will likely match up with Rudolph one-on-one on several occasions.
San Francisco normally does an incredible job limiting opposing tight ends in the passing game, and defensive coordinator Vic Fangio will no doubt be focused on shutting down Rudolph and wide receiver Percy Harvin.
Advantage: 49ers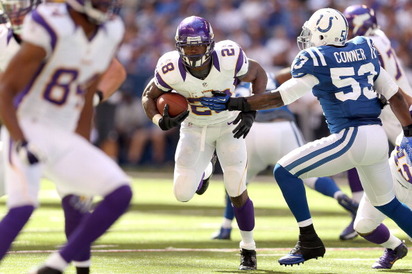 Andy Lyons/Getty Images

In two games against San Francisco, Adrian Peterson has rushed for just 88 yards on 33 carries.
Normally, stats that are amassed from games in 2007 and 2009 don't mean much for a game in 2012, but San Francisco's rush defense has been consistently stellar since 2007, and one of the big reasons why is defensive line coach Jim Tomsula.
Since his arrival, the 49ers have always seemed to clog up running lanes, and there's no doubt that Tomsula's coaching and scheme contributions have been instrumental in the unit's consistency.
Dating back to the beginning of the 2011 season, the 49ers have allowed just 76 rushing yards per game, easily the best mark in the NFL.
Peterson is so explosive and talented that he may be able to approach the 80-yard mark against the 49ers, but I'd be shocked if he reached the century mark against the best tackling defense in the league.
If the 49ers can take away the big plays from Peterson in the run game, they should be able to make Minnesota one-dimensional, which is the last thing the Vikings want on Sunday.
Advantage: 49ers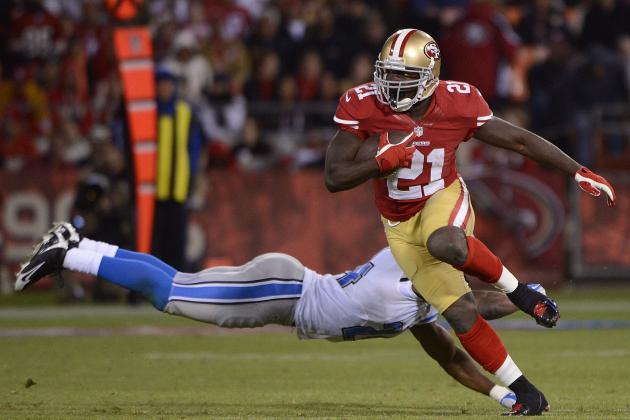 Thearon W. Henderson/Getty Images

The Vikings ranked 11th in rushing yards allowed last year, and this year they're allowing just 98.5 yards per game on the ground.
The 49ers average 167 rushing yards per game, which ranks third in the NFL.
Something has to give.
As good as Chad Greenway and Erin Henderson are at stuffing running backs near the line of scrimmage, Frank Gore has a lot pep in his step right now.
The last time Gore looked as fresh as he does now, he rushed for more than 100 yards in five consecutive games.
The 49ers' talented offensive line is gelling better than it ever has in the Harbaugh era, and it should create enough holes for Gore and Kendall Hunter to combine for well over 100 yards on the ground.
Advantage: 49ers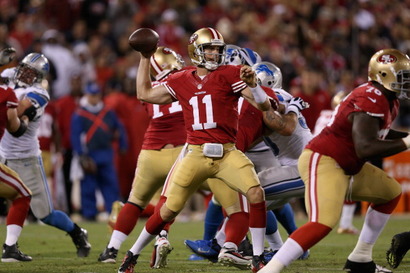 Ezra Shaw/Getty Images

Of the four aforementioned keys, the one that may make the biggest difference in this game is Frank Gore's effectiveness. The crowd noise in the Metrodome can be deafening, and combined with Minnesota's nasty pass rush, Alex Smith may struggle for the first time this season.
If Gore can gain the tough yards in the red zone and find the end zone a couple of times, the 49ers should have no problem winning this game.
And I believe he will do just that. The Jacksonville Jaguars' duo of Maurice Jones-Drew and Rashad Jennings rushed for 108 yards on 27 carries in Week 1 against the Vikings.
With the 49ers' stellar offensive line creating holes, Gore and Hunter should be even more productive. And once San Francisco takes a two-score lead, expect pass-rushers Aldon Smith and Ahmad Brooks to wreak all sorts of havoc in the Minnesota backfield to secure the San Francisco victory.
San Francisco 24, Minnesota 10