The Turnstile Awards: Which Offensive Linemen Are the NFL's Biggest Liabilities?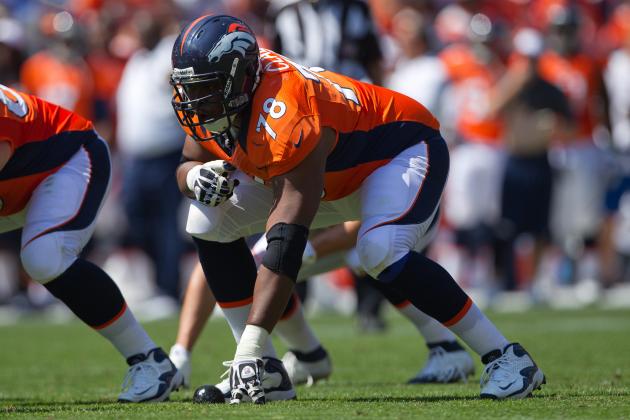 Justin Edmonds/Getty Images

What makes a good offensive lineman?
Run blocking is a big part of it, but there is no true statistical measure of value. And what about pass blocking?
I have created a metric to track the NFL's best and worst linemen based on how many quarterback pressures—sacks, hits or hurries—they have given up. The more quarterback pressures a lineman gives up, the higher the score.
Not all pressures are created equal, however. A lineman might give up plenty of hurries, but if he keeps his quarterback clean he will get more credit than one who puts his own quarterback on his back.
As such, the metric is weighted more heavily toward hits and sacks, and it is based on opportunity—if Player A has 30 fewer pass-blocking opportunities than Player B, Player A is going to have his score more adversely affected by a single sack than Player B.
The lower the score, the better. Anything below 1.0 is elite. Different positions offer different scoring ranges—tackles are going to give up more pressures as a whole than centers—so the range of poor scores varies.
It is early in the season, and some offensive linemen have had it much worse than others in terms of opponents. There are some interesting results alongside some obvious ones.
Data courtesy of Pro Football Focus.
Begin Slideshow

»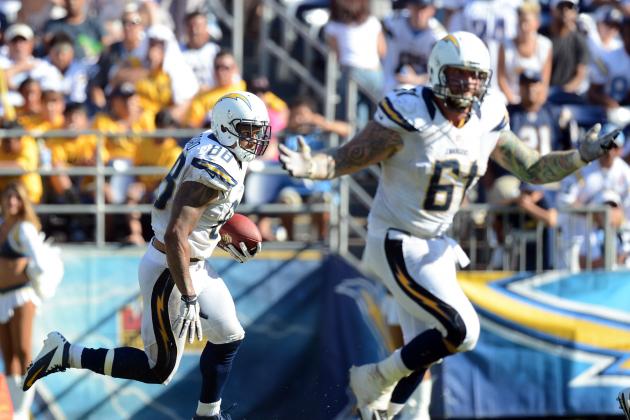 Harry How/Getty Images

Pass-blocking for centers is a different animal than for guards or tackles, mainly because they do not have to deal with pass-rushing specialists like Jared Allen, for the most part. They are also often double-teaming players.
Here are the guys who are at the bottom of the pool after two weeks.
5. Fernando Velasco, Tennessee
It is a bit unfair for Velasco, who had to face Vince Wilfork to start the season. He has given up three hurries and a QB hit thus far in the young season.
Turnstile Score: 1.95
4. Davis Baas, New York Giants
The Giants center has not had a particularly good year as a pass-blocker. He has never been terribly high up on the list as a starter, so this should not be surprising.
Turnstile Score: 2.13
3. Matt Birk, Baltimore
This could be a bit of a shocker, but Birk is 36 years old. Perhaps facing Geno Atkins, Cullen Jenkins and Derek Landri to start the season has been a factor.
He has been near the top of these rankings, finishing in the top five in the past two seasons alone. A turnaround would not be surprising.
Turnstile Score: 2.41
2. Nick Hardwick, San DIego
You might think that Tommy Kelly and Richard Seymour did much of the damage here, but Hardwick actually gave up all of his quarterback pressures against Jurrell Casey and the Tennessee Titans in Week 2.
Turnstile Score: 2.62
1. Samson Satele
Perhaps the Colts would have been better served by keeping veteran Jeff Saturday, who has done a nice job helping protect Aaron Rodgers in Green Bay.
In fairness, Satele has given up just one sack and two quarterback hits. Again, the small sample size that two games has provided is a factor.
Turnstile Score: 2.65
Biggest Surprise: Maurkice Pouncey, Pittsburgh
The younger Pouncey—Mike has him beat by a minute—has not been particularly good in the passing game thus far. The Pro Bowler should turn things around, though.
Turnstile Score: 1.65 (20th)
J. Meric/Getty Images

Because of the sheer lack of quarterback pressures, all of the top five qualifying centers have a TS of 0.00. That will change as they begin to give up a pressure here and there throughout the season.
These centers are ranked based on how many passing plays they have blocked thus far this season. These guys are all performing well thus far, but one bad game could send one tumbling to the back of the pack.
5. Will Montgomery, Washington
Perhaps a big reason for Robert Griffin III's success thus far has been the work of his offensive line, and it starts with the man in the middle. Montgomery has been a rock for RGIII thus far.
Turnstile Score: 0.00
4. Max Unger, Seattle
This is not surprising considering Unger was the best pass-blocking center in the league last season.
Turnstile Score: 0.00
3. Brad Meester, Jacksonville
The Jacksonville center has lingered in the middle of the pack for the past few seasons after finishing 2008 as a top-five pass-blocker. Perhaps he has made it back to the top.
Turnstile Score: 0.00
2. Mike Pouncey, Miami
The second-year center out of Florida is living up to his draft position a year after Jeff Ireland predictably made him a top-15 pick. He is outperforming his brother and helping Ryan Tannehill immensely as a result.
Turnstile Score: 0.00
1. John Sullivan, Minnesota
Another perennial middle-of-the-roader, Sullivan is providing good pass protection for second-year man Christian Ponder.
Turnstile Score: 0.00
Biggest Surprise: J.D. Walton, Denver
One of the league's worst centers in recent years—he was nearly dead last in this category last season—is not doing too badly thus far. Of course, it helps to have a Hall of Fame quarterback who knows how to avoid pressure.
Turnstile Score: 0.48 (12th overall)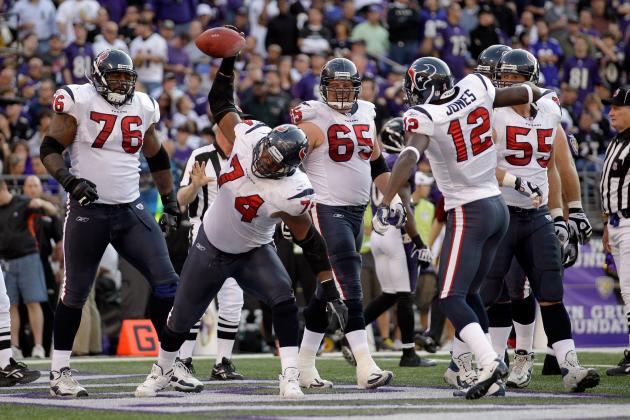 Rob Carr/Getty Images

5. Chris Spencer, Chicago
No wonder this happened Wednesday:
#Bears O-C Mike Tice on switching to Chilo Rachal: "Now it's broke, so we had to fix it."

— Sean Jensen (@seankjensen) September 19, 2012
Rachal was in the bottom third of the league the last time he was a regular in 2010, so we're not sure if this is much of an upgrade.
Turnstile Score: 3.47
4. Cooper Carlisle, Oakland
Carlisle has had more pass-blocking opportunities than most guards thus far. He has also allowed the most quarterback hits with five.
Turnstile Score: 3.54
3. Leroy Harris, Tennessee
Harris has had to deal with some good defensive lines belonging to New England and San Diego in the first two weeks of the season.
Turnstile Score: 4.04
2. Shawn Lauvao, Cleveland
He has only given up one sack and one hit to Brandon Weeden, but Lauvao is responsible for seven QB hurries in the first two games, the most in the league at guard.
Turnstile Score: 4.55
1. Wade Smith, Houston
This is a bit surprising considering the quality of the offensive line in Houston. The Dolphins and Jaguars have proved troublesome for the Texans guard.
Turnstile Score: 4.59
Biggest Surprise: Steve Hutchinson, Tennessee
Is Father Time catching up to Hutchinson? Not only has he not been very good in pass protection, he is part of an offensive line that has been offensive in the running game.
Turnstile Score: 3.03 (42nd overall)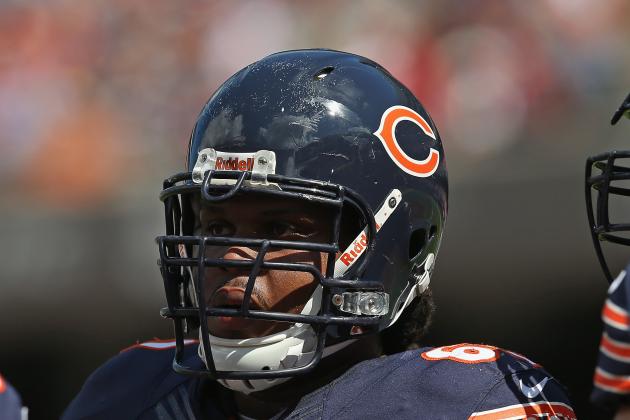 Jonathan Daniel/Getty Images

5. Ben Grubbs, New Orleans
Surprise, surprise—one of the league's better offensive guards finds himself in the top five here. The Saints did a good job replacing Carl Nicks this offseason, stealing Grubbs away from the Ravens.
Turnstile Score: 0.65
4. Rob Sims, Detroit
Matthew Stafford has not been on the run as much as he was last year, and Rob Sims is a big reason. The big lineman has allowed just one quarterback hurry this season.
Turnstile Score: 0.64
3. Kory Lichtensteiger, Washington
With a name like that, how could K.L. not be a good offensive lineman? Lichtensteiger is the first of three guards who have not given up any quarterback pressures this year.
The interior of RGIII's line looks solid thus far.
Turnstile Score: 0.00
2. Alex Boone, San Francisco
Alex Smith continues to be an efficient quarterback without turning the ball over, and pass protection is a big factor.
Turnstile Score: 0.00
1. Lance Louis, Chicago
Can the Bears clone Louis?
It is good that at least one member of the Chicago offensive line is doing his job well.
Turnstile Score: 0.00
Biggest Surprise: Jason Pinkston, Cleveland
Pinkston was awful in pass protection as a rookie, allowing 10 quarterback hits and 24 hurries last season. Thus far, he has allowed just one hit on rookie Brandon Weeden.
Turnstile Score: 0.65 (6th overall)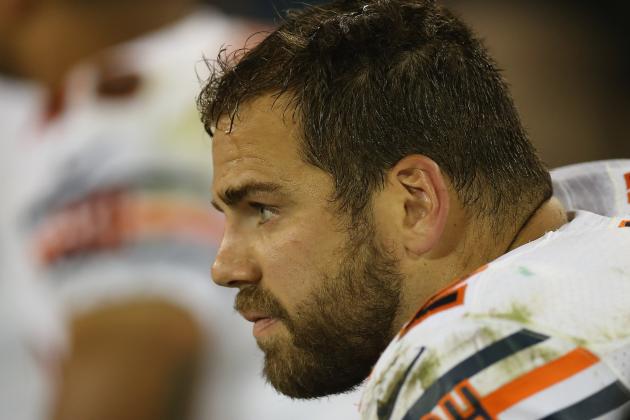 Jonathan Daniel/Getty Images

5. Jermon Bushrod, New Orleans
Perhaps a red flag should have gone up when rookie Chandler Jones abused Bushrod in the preseason. He has not helped the cause for New Orleans thus far, allowing three sacks on Drew Brees in two games.
Turnstile Score: 5.93
4. Jeromey Clary, San Diego
Clary had a fine game against the Raiders, but Kamerion Wimbley and the Titans made life miserable for San Diego's right tackle. It did not seem to affect Philip Rivers too much, but this must improve.
Turnstile Score: 5.95
3. Gabe Carimi, Chicago
If a bear goes in the woods, does it smell like Chicago's offensive line?
The altercation between Jay Cutler and his left tackle, J'Marcus Webb, has been highly publicized, but this second-year tackle has been particularly bad in pass protection.
Turnstile Score: 6.02
2. Barry Richardson, St. Louis
If Richardson beat former first-rounder Jason Smith for a starting gig, how bad is Smith? Or Wayne Hunter for that matter.
Turnstile Score: 6.13
1. D'Anthony Batiste, Arizona
This is an unfortunate situation for Batiste and the Cardinals. The journeyman had played in 18 games through his 4-year career before being shunted into a starting role after Levi Brown was lost for the season.
Chris Clemons, Chandler Jones and Co. have made things miserable for him and his quarterbacks this year.
Turnstile Score: 6.31
Biggest Surprise: Joe Staley, San Francisco
The stalwart on San Francisco's offensive line is tied with Bushrod for the most sacks allowed in the NFL through two games.
Turnstile Score: 3.54 (35th overall)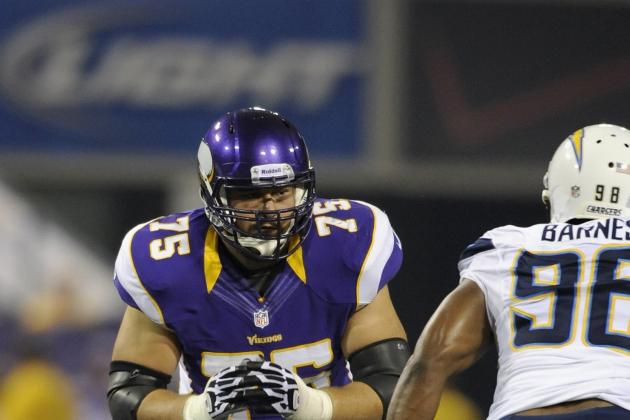 Hannah Foslien/Getty Images

5. Andrew Whitworth, Cincinnati
A perennial rock on the Bengals offensive line continues to do his thing in Cincinnati.
The same cannot be said for the rest of his line, which has allowed a league-leading 10 sacks on Andy Dalton.
Turnstile Score: 0.85
4. Jeff Backus, Detroit
Detroit's offensive line has been a pleasant surprise for Matthew Stafford, who has not been under pressure as much as he was a year ago. Backus has been a big reason after years of mediocrity as a pass-blocker.
Can he keep it up?
Turnstile Score: 0.80
3. Ryan Clady, Denver
One of the game's best is protecting Peyton Manning's blind side rather well.
Turnstile Score: 0.71
2. Anthony Davis, San Francisco
This could be the biggest surprise of them all. After being in the bottom five in 2010 and the bottom third of the league last year, Davis has been great for the 49ers in 2012.
He has allowed just one QB hurry this season,
Turnstile Score: 0.50
1. Matt Kalil, Minnesota
It seemed like Kalil was in for a tough year after a brutal preseason. That has not been the case.
Kalil has shown why he was the best offensive lineman of the 2012 draft, though he caught a bit of a break when Dwight Freeney was ruled out of Minnesota's Week 2 matchup with Indianapolis.
Turnstile Score: 0.47
Biggest Surprise: Orlando Franklin, Denver
Aside from the fact a rookie leads the league right now, Franklin is a pretty big surprise. The second-year tackle out of Miami has allowed just one hit and one hurry on Manning, whose offensive line has been rather good as a whole.
Turnstile Score: 1.19 (6th overall)