New York Jets: 7 Players Who Should Receive a New Contract Before Free Agency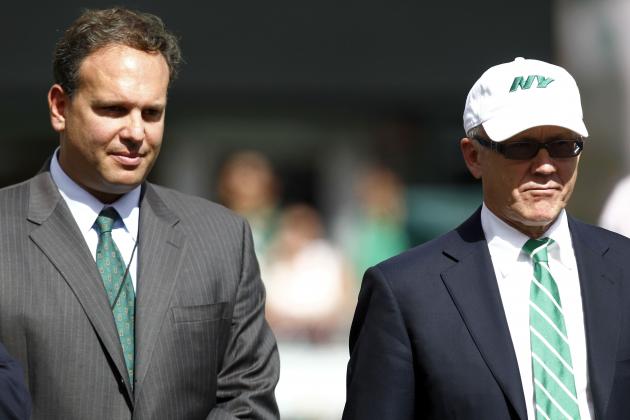 Jeff Zelevansky/Getty Images
The brain trust
The re-signing period is one of the most dangerous events of the offseason.
Teams have to throw money at their team, assuming that these players can repeat previous production and stay on the field at the same time. Many times, players are so valuable to a team that they are negotiated with far in advance in order to secure their services for years to come.
Now that the Jets are three weeks into the season, many players now see their worth and, in turn, might look to renegotiate their contracts in the middle of the season.
In this article, I am going to look at seven Jets who deserve the money that will come to them this offseason (or perhaps during the season). I assume that the Jets will find some way to afford all of these players, although it is somewhat unlikely.
Without further ado, let's see who'll be a returning Jet in 2013-2014!
Begin Slideshow

»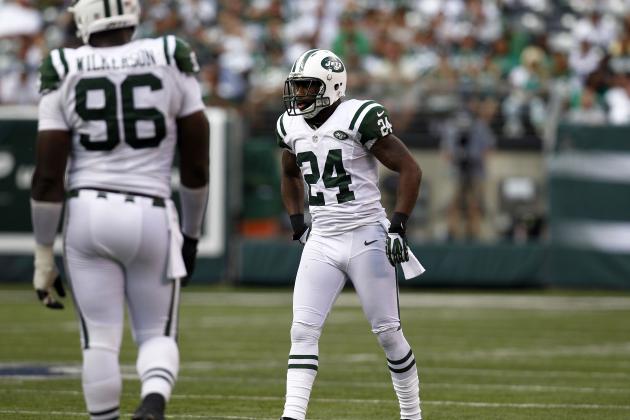 Jeff Zelevansky/Getty Images

I'm going to start this article with the most obvious player.
Darrelle Revis has more than earned his pay, and after the Jets' showing against the Steelers on Sunday, management loses nearly all of its remaining leverage in its contract dispute with the star cornerback.
Revis reportedly said that he wants $20 million per season. Unfortunately for Revis, there is absolutely no way that the Jets can afford to throw that much money at one player with their cash-strapped squad.
However, new backup right tackle Jason Smith will receive an $11.25 million bonus at the start of next year. Since that type of money is completely unacceptable, the Jets could technically cut him and save the cash.
With that newfound money, the Jets could sign Revis to a larger deal, worth about $16 million per season.
Darrelle Revis' New Contract
Four years added (making him a free agent in 2018) and $63 million added with a $20 million roster bonus.
UPDATE: Even with ESPN reporting Revis' serious ACL injury, I still think the Jets will feed him that much money, lest they want a Leon Washington-like tantrum on their hands.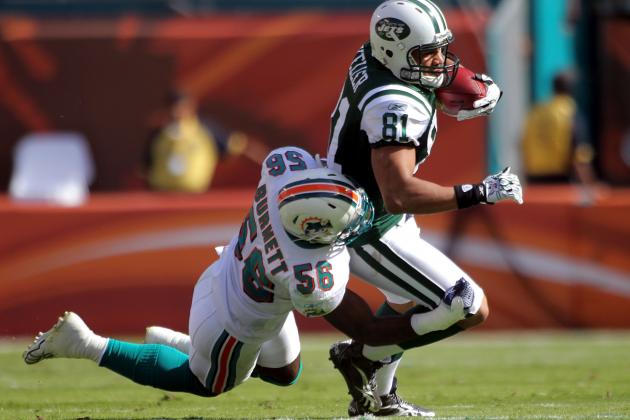 Marc Serota/Getty Images

Although equipped with a big mouth, Dustin Keller has sure hands and a strong rapport with Mark Sanchez.
Keller has improved every season with Mark Sanchez at the helm, and he should definitely run away from the pack as Sanchez's favorite target.
Even though he claims to be a Pro Bowl-caliber tight end, it's unlikely that he will ever be that good. Regardless, he deserves a serious extension before free agency hits in 2013.
Based on other tight end contracts, I see Dustin Keller receiving no more than $7 million per year. Look for a standard deal that is mainly base salary and some incentives such as Pro Bowl appearances or recording at least 75 receptions.
Dustin Keller's New Contract
Three years, $19 million.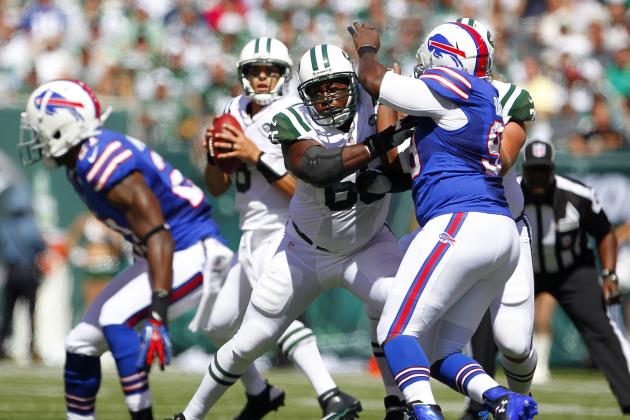 Rich Schultz/Getty Images

Brandon Moore's NFL career lasted much longer than anybody could have guessed.
One of the longest-tenured Jets, Moore is essential to the offensive line's success. He's one of the top pass-blockers on the line and has been a mainstay there for quite some time.
One of the most underrated linemen in the NFL, Moore finally got the credit he deserved when fans voted him into the 2011-2012 Pro Bowl. Unfortunately, other needs have usurped the Jets' need at guard (when Moore hangs up the cleats) and, therefore, the position has gone unaddressed. While this situation is not too dangerous at the moment, the Jets will need to find a replacement within the next two years.
Moore will probably be looking for more than $4 million. But at this point, there's no need for anything more than a short-term deal.
Brandon Moore's New Contract
Two years, $9 million.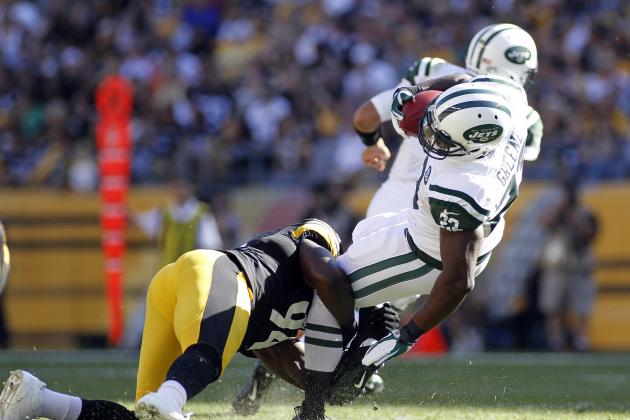 Justin K. Aller/Getty Images

What has the Jets' 2009 third-round pick from Iowa taught is this season?
He has pretty much recovered from a case of fumble-itis. He also runs much harder than he once did. While not a poor pickup, the Jets need to get faster in the backfield.
But, of course, the Jets strategically decided to carry as little available money as possible and allow their core players' contracts to run out (note the sarcasm use). This means that the Jets won't have much money to throw his way, and, realistically, I could see the two parties parting ways.
Whichever team does sign him, however, will need to fork over some pretty substantial cash if he eclipses 1,000 yards again this season.
Shonn Greene's New Contract
Four years, $19 million (with Green Bay).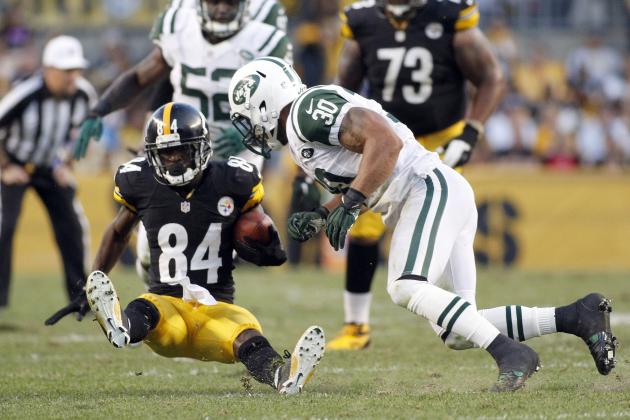 Justin K. Aller/Getty Images

His performance in the Dolphins game shows his on-field brains.
Every other play he's been in shows his overall physicality that is nearly unmatched in this league. Some people complain about Landry's penchant for penalties, but, as a hockey fan, I know that sometimes a hard hit can excite the crowd and wake up the team.
Besides his somewhat weak man-coverage, he is also playing completely out of position at free safety. Simply put, LaRon Landry is a strong safety. In Washington, he was a SS both before and after Sean Taylor's death, and the Redskins chose to use O.J. Atogwe at FS to complement Landry's hard-hitting style.
The Jets cannot continue to use him as a free safety as it's only going to further sabotage his playing style. I think Yeremiah Bell should be moved to free safety, and Landry should be moved back to his original SS position.
He didn't make much money this year as it was a "see-what-you-can-do" deal. Well, after three games, it's obvious that he's a physically intense player who likes hitting.
To that I say: "Give this man a new contract!"
LaRon Landry's New Contract
Three years, $10 million.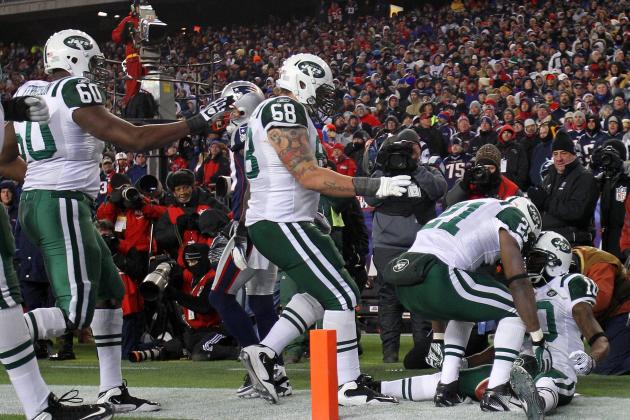 Elsa/Getty Images

Matt Slauson may just be the Jets' most consistent lineman behind Nick Mangold.
Slauson is durable, allows few sacks and occasionally opens big holes in the running game. He would likely be cheap, as he's not a fantastic lineman, but he is consistently good.
He'll never be the cornerstone of an offensive line, but he may be one of the anchors. With a potential backfield makeover this offseason, the maintenance of a consistent line is essential.
Therefore, I see no reason why he should be allowed to walk.
Matt Slauson's New Deal
Four years, $11 million.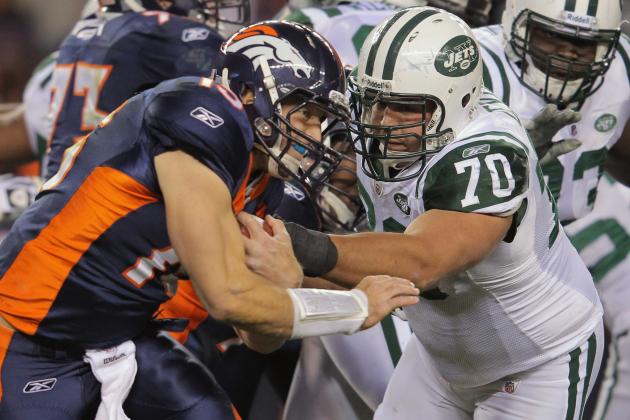 Doug Pensinger/Getty Images

I've never been a huge fan of Mike DeVito, but I've been more impressed by his play this season.
I think he's motivated and wants the starting DT job. One of the top run-stuffers in the league, he deserves a chance as the starting defensive tackle, especially if the Jets decide to stay with their 4-3 base defense.
As a member of a young defensive line, DeVito may need to start transitioning into an inside player. But for now, he's one of the few bright spots in the Jets' putrid run defense.
Mike DeVito's New Deal
Two years, 4.5 million.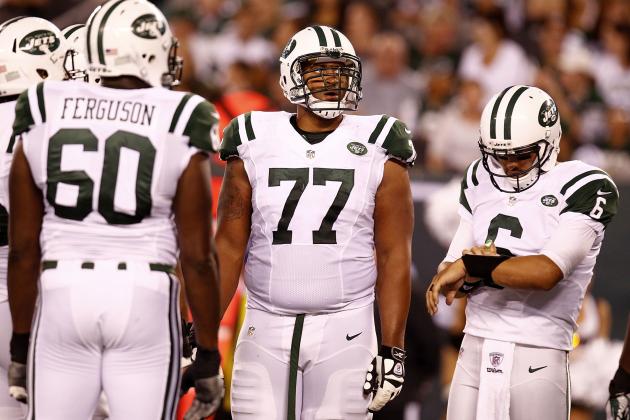 Jeff Zelevansky/Getty Images

I firmly believed that maintaining an offensive line is good for everyone involved: quarterbacks, running backs, wide receivers and coaches.
Note that the Jets have had great seasons when they focused on keeping the line together, such as when the group that featured D'Brickashaw Ferguson, Alan Faneca, Nick Mangold, Brandon Moore and Damien Woody.
As soon as Woody left, I had a gut feeling that Wayne Hunter couldn't hold onto the job, as he did show signs of vulnerability against the Steelers in the playoffs. In fact, he has turned out to be horrendous.
Now with Austin Howard in the fold, the Jets have had much more success. Sanchez has ample time to make a read and find a receiver.
For all those reasons, I think Howard should stay, and I doubt it'd be for much, since—as a restricted free agent—he's not making more than a million per season.
Austin Howard's New Deal:
One year, $990,000.
So, what do you guys think? I see most, if not all, of these players returning next season for another go-around. Leave a comment with your thoughts. Thanks for reading.