Are New York Knicks Fans Too Optimistic or Too Cynical About 2012-13?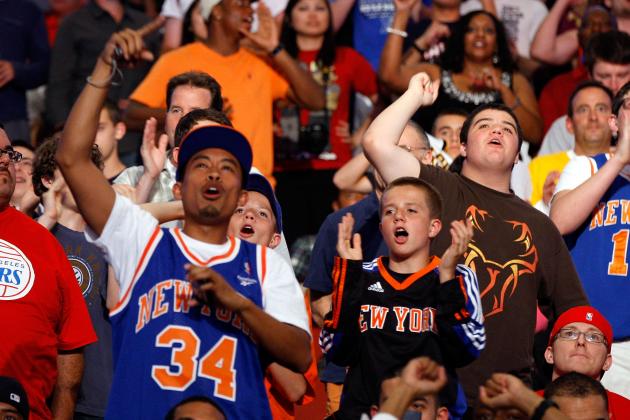 Mike Stobe/Getty Images

New York Knicks fans are primed for another NBA season that could go either way. They know the Knicks might again squeak into the playoffs and get bounced in Round 1, or that the Knicks might take the Atlantic, and march right into the Eastern Conference Finals.
They are prepared to sneer again at the team's perpetual folly, or elate at last in the Knicks (team and franchise) finally putting together a little something, something.
Many fans have already started sneering and elating, in a fit of premature articulation.
The preseason hasn't even begun, yet the cynics are crowing about Carmelo's shortfalls and predicting another typical Knicks letdown.
The most exuberant of the optimists wonder if the Knicks can beat the Lakers in seven.
So, what's the deal? Are Knicks fans too optimistic or too cynical heading into 2012-13? Oh, there's plenty of both to go around.
Let's pluck some comments from some of the best Knicks forums out there—including our own here at Bleacher Report—and see what the people think.
Begin Slideshow

»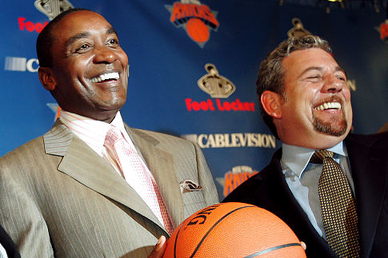 We can start with some baseline, reasonable cynicism and work our way up to frothing at the mouth.
At the official Knicks forum itself (KnicksOnline.com), there's a place for fans to air their hidden feelings in a thread called "Knicks Confessions."
"I think this is a great time to clear the air about anything you've held in regarding the New York Knicks Franchise," said the thread's head.
"My Knick confession is that throughout all of the starts Melo and STAT have made together, this team still has a sub .500 win margin," answered one.
"I support Amare fully yet have plenty of times wished (or at least wondered about it) we had used the Amnesty on him and kept Billups," answered another.
A third confessed, "I was the biggest Kenny Skywalker fan. I was young and dunk contests and flat tops influenced me easily." But that's beside the point.
My Take: Knicks fans have good reason to be cynical. The Knicks have little to show, for a lot of dough, for a long time. What's worse is the looming specter of Isiah Thomas returning to the fold. That can, in no way, be good, and raises fears of the team backsliding from the small-steps progress of the last several years.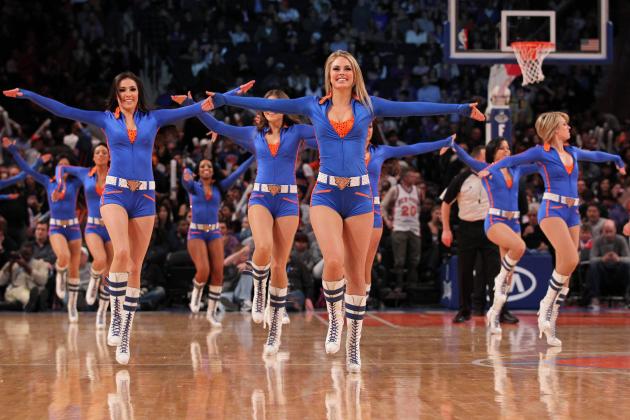 Anthony Gruppuso-US PRESSWIRE

As with our take on cynicism, let's build to a crescendo on the optimistic side.
Over at ESPN's Knicks forum, things are a bit lighter.
People really believe Amare and Melo can co-exist,
They played very well together during the Woodsanity run...which was equally as impressive if not more so than Linsanity. They were POUNDING out good teams and bad teams alike....playing excellent D as a team.....That is what you should base your opinions on what they can do together.
and more specifically,
Their offense is going either through either Melo or Amare. The PGs will make sure either one touch the ball 1st, before defense draws doubles. Doesn't mean they will work well together or run a pick and roll with each other. each should 20-25 shots.
What about Jeremy Lin vs. Raymond Felton?
Lets get this straight. I wanted Jeremy Lin back, but we have to stop acting like we lost STEVE NASH. Felton is the better ball handler, outside shooter, defender and true point guard. Lin is the better scorer. So in regards to what this team needs. We have Melo and Amare. Felton is better for that.
My Take: The Knicks gave fans plenty of reasons to be optimistic over the last three years with the signings of Amar'e Stoudemire, Carmelo Anthony and Tyson Chandler, a new coach, a couple of playoff appearances and essentially an overhaul of the entire roster and front office. But, finally, with a full offseason to prepare, a full season and a solid bench, fans have reason to be even more optimistic heading into 2012-13.
To get the true vibe of the cynics, scan the answers to, "Do you believe Carmelo will lead the Knicks out of the first round?" Here's the most relevant one:
It's funny, guys used to get on MDA because his "system couldn't win a championship", but MDA had 5 times the post-season success that Melo has had. I think it's the Melo system that will not lead us anywhere...Can Melo play with Amar'e? I think it's been proven that he can't. Amar'e is a turtle shell of his former self and we are seeing his negative emotions manifest in fire extinguisher punching, twitter name calling, things like that.
A Knickerblogger.net poster added this depressing thought,
I will be surprised if the Knicks make it out of the first round again, and I would be shocked if they made it to a Conference Finals. Against the Heat, however, they still have no chance.
My Take: I fear that last sentence will ring true in 2012-13. The Knicks are most likely unable to take on the Miami Heat. And if they continue their lackluster postseason performance, it is possible they could be bounced in Round 1 yet again. That would be most depressing, especially since there's not much tweaking the organization can do to this financially-handcuffed roster next offseason.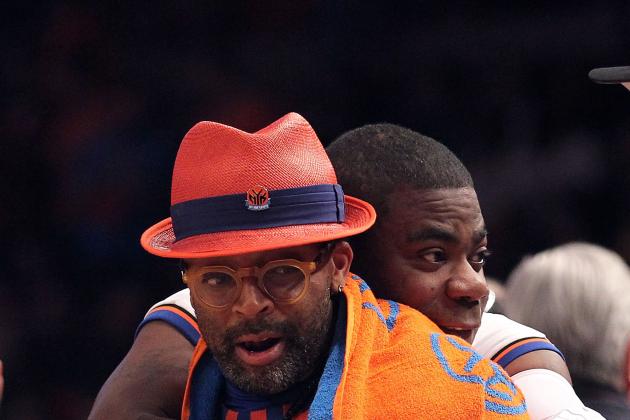 Nick Laham/Getty Images

Things get really excitable out there in the land of Knicks commentary.
From subdued excitement, as in this New York Post snake-in-the-weeds scheme:
let them take the knicks lightly, and prepare less for them, let them think it is the same old knicks,, let them ignore the plays and court vision of pablo, the hunger of felton, and let them think camby n kidd are washed.. Let them also think they will run out in the playoffs... I like it
To all out bravado over at RealGM: "Don't sell them short...Knicks can take the #1 seed...you heard it here first."
But nobody puts it better than our Bleacher Report contributors,
Def am excited. Finally look like a top team again. No more hovering around .500. Players are showing they want the title. Melo has been on a rampage since April. I've learned not to get in over my head with these Knicks; but I have high expectations this year. I don't see how we aren't a top team now.
My Take: It's easy to get excited about the 2012-13 Knicks. They are the best and most prepared team New York has courted in about 16 years by my tally, and definitely have a shot at winning the Atlantic. Only Boston stands in their way.
And, you never know, it's a long season: I can't say with 100 percent certainty that the Knicks won't take that No. 1 seed. Probably not, but this is a solid team on paper. If they work together, they could explode—offensively and defensively.
Steve Mitchell-US PRESSWIRE

RealGM has a thread loudly titled "OFFICIAL: I **** HATE DOLAN, THIS ORG, MELO, JR, ETC THREAD" (reproduced as is, with capitals). It's the No. 1 viewed thread in RealGM's Knicks forum, and is chock full of authors commenting with unreserved resignation on a failed 2012-13 season.
You have an owner who seems to hate Knick fans and has no intention of putting a championship contending team out there. The only thing a self-respecting long-time Knick fan should do at this point is to boycott the team until Dolan is gone.
The MSG Network has its own online Knicks community where one commenter boasts, "man is this franchise a train-wreck...I can't look away." Another says, "I'm never defending them again until they win at least one playoff round."
And, I can't forget my favorite Knicks forum, our commenters here at Bleacher Report:
It is clear that…Melo is too slow…not athletic enough…getting too old…has very low basketball IQ…takes worst of shots…lacks leadership…too selfish…makes everyone around him worse…and a Melo-led Knicks will never win a championship.
My Take: I can be cynical and despondent, but I can't side with the haters. James Dolan is an easy scapegoat, fairly and unfairly, but he has helped create the lineup we have out there, and it's a damn good one. Sure, it's all about his bottom line, but Dolan doesn't chintz on the dime.
As for Carmelo, I am sold that he has made numerous adjustments to his game and attitude over the past couple of years and he is unquestionably ready to take this team to the next level.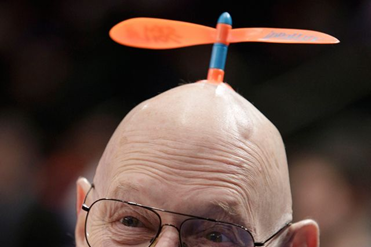 Let's gush.
"You never know until the games begin, but I truly believe the Knicks may have the most dynamic roster in the NBA," says a ProSportsDaily.com visitor.
"If Melo can put in consistent effort on defense he could be the league MVP in 2012/13," declares another Bleacher Report reader.
And what about the ultimate prize?
The Knicks can win a title with the current roster they have right now.

Championships are not won over night (Miami is a prime example of that) but its definitely in the making!!

The Knicks "Big 3" is good enough to win the Championship.
J.R. Smith guarantees it.
My Take: Well, it could happen, the Knicks winning it all in 2012-13. And so could an alien visitation to planet earth. Smith's guarantee is preposterous and only serves to put the team in opponents' crosshairs.
There is some dense competition in the NBA this year. At the top, the Knicks will have to get by the Celtics and the Heat, and then the Lakers or Thunder. Along the way, they will contend with competitive Eastern Conference squads like the Bulls, Nets, 76ers and Pacers for a favorable seeding.
Still, it's possible. No die-hard can say otherwise.
Otherwise, what are we playing for?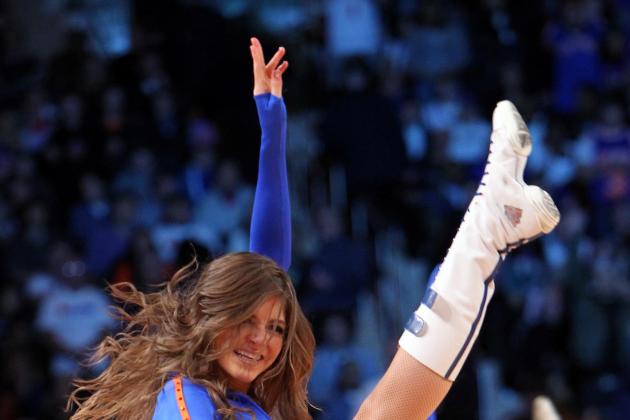 Nicole Sweet-US PRESSWIRE

So are Knicks fans too optimistic or too cynical about 2012-13?
Neither and both. This is New York.
Anything goes.
(The truth, though, is the optimists have it.)