New York Knicks
Can the New York Knicks Win a Title with Their Current Big Three?

Amar'e Stoudemire and Carmelo Anthony both want to bring a title to New York City.
Al Bello/Getty Images
June 18, 2012
It's all the rage in the NBA these days. 
You've got to have a "Big Three."
The Celtics started the trend way back in the 1980's when the trio of Kevin McHale, Robert Parish and Larry Bird were dubbed the "Big Three."
The expression lay dormant until Paul Pierce, Kevin Garnett and Ray Allen were united in Boston in the summer of 2007. 
Since then, it's become fairly ubiquitous around the league. The Lakers have Bynum, Gasol and Kobe. The Oklahoma City Thunder have Durant, Westbrook and Harden. The Miami Heat have LeBron, Wade and Bosh, and the New York Knicks have a trio of Carmelo Anthony, Amar'e Stoudemire and Tyson Chandler. 
It seems like a great formula for success, but it's not a magic bullet to win a title. 
The three that comprise a "Big Three" must be more than just very good basketball players. They have to compliment one another and play together as a cohesive unit. 
In the modern NBA, with its salary cap and luxury tax provisions, the presence of a "Big Three" often comes at the expense of the supporting cast. Teams simply don't have enough cap space to build a deep bench or sign other proven winners. All too often, too much money is already wrapped up in the existing "Big Three."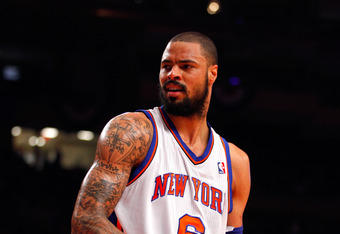 Tyson Chandler's great defense doesn't make up for his teammates deficiencies.
Jeff Zelevansky/Getty Images
This is the ultimate challenge for the Knicks. The talent of Chandler, Stoudemire and Anthony is indeed prodigious. The cost to the Knicks financially is as well. Adding to the challenges facing the Knicks are the defensive deficiencies of two of their three players. 
While Tyson Chandler is about as good a defensive big man as one will find in the NBA, Stoudemire and Anthony are both weak defensive players. Stoudemire in particular has never been a defensive standout.
Now, as his age advances and his injuries mount, his effectiveness on both ends of the floor is increasingly in decline. Bad knees and a bad back won't make a player who was never great on defense any better.
Carmelo Anthony is one of the best scorers in the league. There are holes in his game though—spotty defense, not great at operating without the ball. They're not the types of deficiencies that will prevent him from All-Star teams and accolades, but they do mean that he will need the right type of supporting cast to win the NBA's ultimate prize.
He doesn't have that in New York right now.
Not with a player in Tyson Chandler, who is as limited offensively as he is exceptional defensively. Not with Stoudemire making nearly $20 million a year as he ages and his body becomes increasingly fragile.
Beyond the debates about the strengths and weaknesses of the Knicks current "Big Three" is another problem. Their salaries mean that the Knicks have very limited ability to surround the three players with much more than a marginal support staff.
Next season, the three players will account for $53.4 million in salary obligations. That will leave very little available money to spend on a supporting cast. A supporting cast that is needed if a championship is the Knicks' ultimate goal. 
Maybe the Knicks can strike gold with another Jeremy Lin-type of scrap heap find? Maybe previously mediocre players all have career years simultaneously? Those scenarios seem like long-shots though, sort of like the Knicks' current title hopes. 
Like the new article format? Send us feedback!