Indianapolis Colts' Week 2 Winners and Losers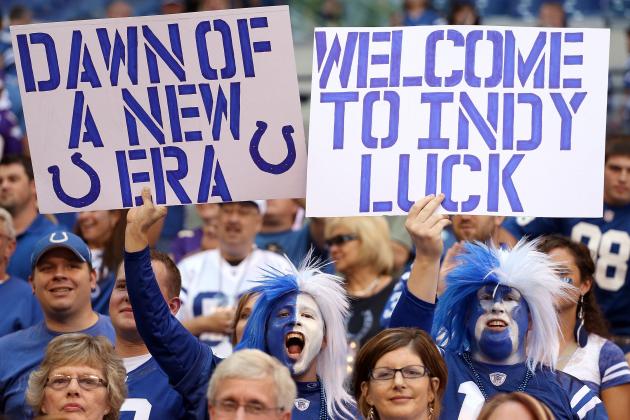 Andy Lyons/Getty Images

The Indianapolis Colts' home opener was clearly worthy of celebration with fans seeing only their third regular season win in the last twelve months. While Adam Vinatieri proved he still is clutch, other players also emerged from the weekend as big winners in yesterday's victory. Likewise there were some dud performances that certainly didn't instill much confidence in coaches or fans.
Who came out looking good and who has more work to do?
Begin Slideshow

»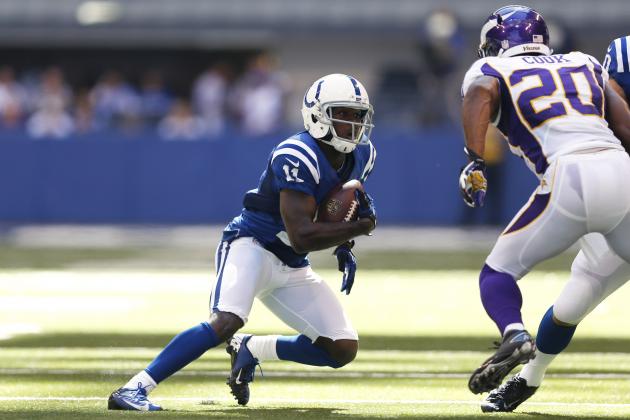 Joe Robbins/Getty Images

I've been down on Donnie Avery, and perhaps even too harsh. I was convinced that he wasn't a lock to be on the roster following his preseason injury and lackluster first game.
Thankfully I'm not making those decisions.
Yesterday Donnie Avery showed the ability to not only contribute but to change the game. He was behind the defenders most of the game, showed excellent hands and proved to be an incredibly reliable target. He caught nine of ten balls tossed his way and hauled in 111 yards in the process.
The truly impressive impact of his day was that it didn't come at Reggie Wayne's expense. Wayne still caught six balls for 71 yards. It's the kind of depth at receiver the Colts have badly needed.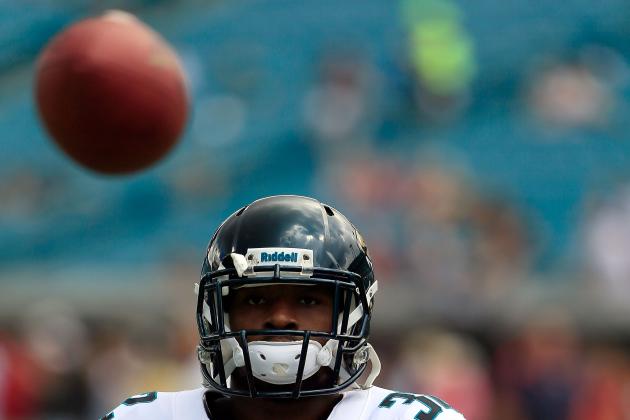 Sam Greenwood/Getty Images

Jacksonville lost not only to the Vikings last week but also to the Texans yesterday leaving them in the AFC South cellar. It's not the kind of start that new owner Shahid Khan had hoped for.
To describe the Colts/Jaguars matchup as a rivalry would be greatly underselling the game. It's a grudge match and it's deeply personal.
The Jaguars are 5-12 against the Colts since the inception of the AFC South. They're limping into the game behind horrible quarterback play and Maurice Jones-Drew, whose holdout may have damaged this team's mental game more than it hurt them on the field.
The Colts couldn't have picked a better time to find some confidence as it gives them a chance to head into the bye at 2-1 and in the hunt for the division crown early in the year. It's highly unlikely they'll compete with Houston but that level of confidence will do wonders for a rebuilding team.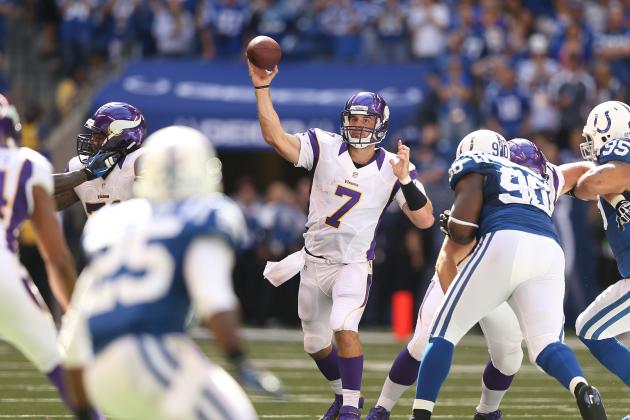 Andy Lyons/Getty Images
Redding had a banner day
Cory Redding had the kind of day Colts fans hoped they'd see: six tackles and a pass defended. He was a factor in controlling Adrian Peterson and provided good quarterback pressure as part of a much-improved pass rush.
When GM Ryan Grigson began signing players he felt would fit with Chuck Pagano's hybrid 3-4, Cory Redding was a bit of a mystery. Was there anything left in the tank? Would he live up to the expectations? Could he be the five-technique tackle the Colts badly needed during the transition?
Yesterday Redding answered critics with a resounding performance that should have fans pretty excited about this defense's future.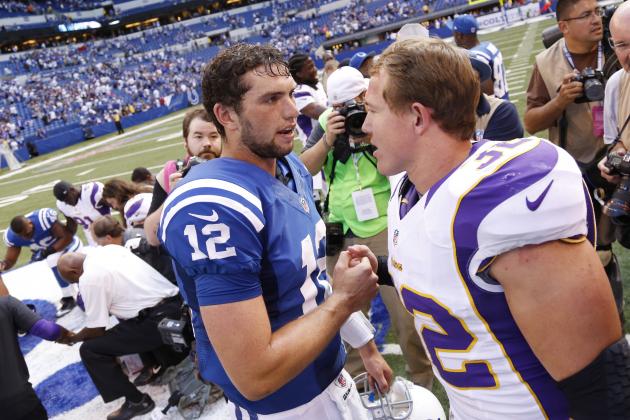 Joe Robbins/Getty Images

Andrew Luck had a fantastic day, showing the kind of poise and leadership that made him the first overall pick. He was practically flawless aside from a few errant throws. I was giddy watching him avoid the same mistakes he made last week. It was truly an impressive outing from the rookie.
Make no mistake—in all regards but one, Andrew Luck was a huge winner this weekend.
Unfortunately he also now has the expectations that come with winning. While he still will make rookie mistakes fans have tasted a bit of success and expect No. 12 to carry this team on his back.
The truth is much more complex—he can and will lead this team to more wins over the years and possibly inscribe his name alongside other Colts greats but it won't come easy. He's a competitor who expects to win but he's also a rookie adjusting to the game. There will be ups and downs.
In reality Colts fans should temper expectations, savor the moment and enjoy watching a superb young man become a legend. Just don't expect it to happen in a week.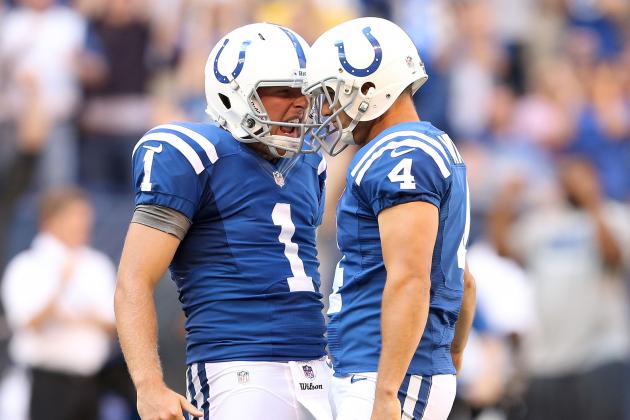 Andy Lyons/Getty Images

Some have openly questioned the sanity of keeping an aging kicker on the roster.
Some should openly question the sanity of those making such suggestions.
This is a team that will need Adam Vinatieri to win close games. They're not good enough yet to blow out even the worst teams in the league and they're still learning to finish, which often requires a clutch kicker
The confidence the team derives from having a guy like Viniateri on the roster is priceless as he proved again Sunday afternoon.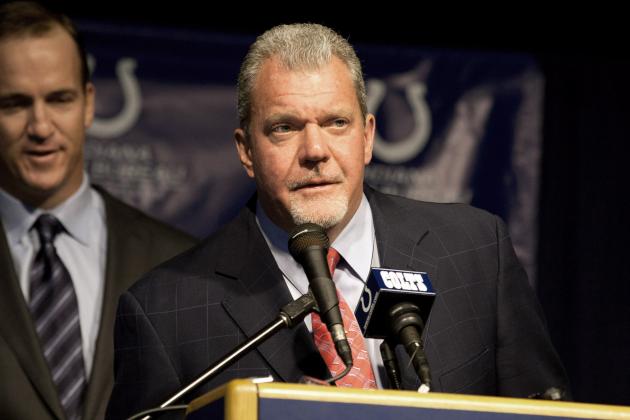 Joey Foley/Getty Images
'Pay no attention to the man behind me,' says Jim Irsay.
He's the pied piper of Twitter, the half-insane king of hat-tricks and possibly the most emotional owner in football.
He was also right about Peyton Manning.
Manning looks pretty good out in Denver but it's clear the future is bright in Indianapolis. Andrew Luck clearly improved over his turnover-prone game against the Bears. The defense, while far from stout showed great potential. Aside from two minor blemishes, special teams looked far superior to any prior incarnations during the Dungy/Caldwell era. At this point it appears that blowing up the roster was perhaps necessary.
In a decade the Colts may face this same dilemma but for the moment the team is on the right path.