FC Barcelona Stay on Top of La Liga, Beat Getafe: Grading the Barca Players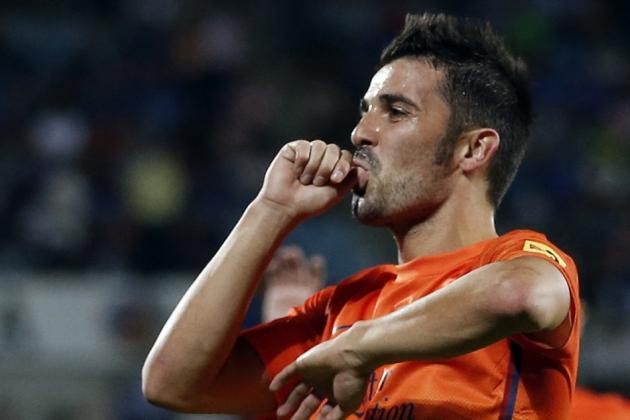 Photo courtesy of Reuters
Lionel Messi did not start as Tito Vilanova rested the Argentine for most of the game, but King Leo came out blasting off the bench as a Leo brace helped FC Barcelona defeated Getafe, 4-1.
Barcelona has been hit with the injury bug as Jordi Alba, Andres Iniesta and Alexis Sanchez were all out with injuries. Dani Alves was rested as well.
Cristian Tello had the first good look in the opening minutes of the game as he got a good through-ball to his feet, but could not get it past Getafe goalkeeper Miguel Angel Moya.
A controversial non-call in the 15th minute as Adrian Colunga was tripped up by Martin Montoya but the referee did not make the call.
Thiago had the next chance at the net in the 26th minute as he got by two defenders and had a clear shot at the net, but his shot hit the crossbar and a great chance to make it 1-0 was lost.
Barcelona finally got the lead in the 32nd minute as Cesc Fabregas found Adriano who came up and slipped it past Moya for the 1-0 lead. Fabregas—who was at the center of a mini-controversy this past week as reports came out the he was unhappy at Barca—came out and made his presence know. It's great to see Cesc turn it around. Hopefully, Cesc can keep it up.
The second half saw Getafe getting control of the ball a bit more. Adriano continued to shine as he showed speed. Adriano's speed was too much for Pedro Leon who tried to beat the Brazilian to the ball but to no avail.
Carles Puyol injured his knee in the 57th minute as he seemed to hyperextend his left knee. Javier Mascherano came in to replace Puyol. After the game, it was known that Carles suffered a ligament injury in his left knee. He's expected to be out four to six weeks.
Lionel Messi came into the game in the 58th minute for Tello. Messi was rested by Tito Vilanova partly because of the international play Leo was a part of a few days ago as well as to give Messi rest to be fresh for Barcelona's UEFA Champions League group stage opener against Spartak Moscow on Wednesday.
Messi made it 2-0 in the 72nd minute as Pedro was tripped up inside the penalty box and Leo put the ball in the back of the net. Messi got his brace just four minutes later as Martin Montoya crossed the ball inside the box, deflected off a Getafe player and found Messi's golden touch for the 3-0 lead.
Getafe did manage to get a goal in the game as a Getafe shot by Sarabia deflected off Javier Mascherano and in to make it 3-1.
David Villa came into the game in the 75th minute and got the fourth Barcelona goal on the night in the 89th minute as a lovely pass from Cesc Fabregas found Villa, who got his second goal this season. Villa is looking like he's "officially" back.
Final: Getafe 1–4 FC Barcelona
Great win! Time to hand out the grades on Barcelona's 4-1 victory over Getafe.
Begin Slideshow

»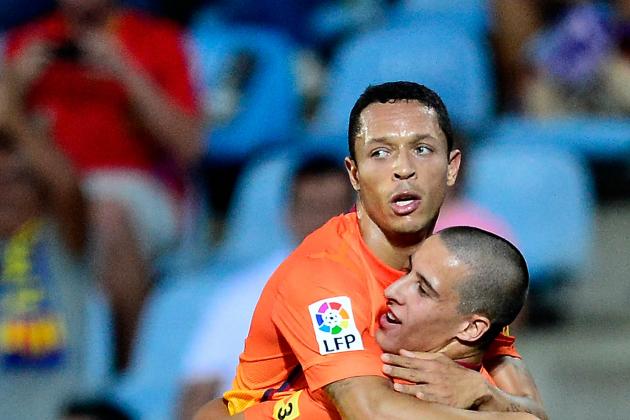 Gonzalo Arroyo Moreno/Getty Images
Adriano and Tello celebrate.
Victor Valdes: Great catch on a Getafe free kick in the 24th minute as the ball could have skipped and gone in. Came out when he needed to and did not make any major mistakes. The goal allowed was not his fault as the ball deflected off Javier Mascherano and Valdes had no shot of stopping it.
Grade: A-
Adriano: Great stop on Colunga in the 15th minute as the Getafe player tried to go one-on-one with the Brazilian but to no avail. Adriano was at the right place at the right time as Cesc Fabregas found him and Adriano slipped it past Moya for the 1-0 lead in the 32nd minute. Great speed shown in the second half as Pedro Leon tried to get past Adriano but could not.
Grade: A
Martin Montoya: It looked like Montoya gave away a penalty in the eighth minute as he tripped up the Colunga. Great speed all game and was able to find Messi via a Getafe defender's deflection for the 3-0 lead.
Grade: A-
Carles Puyol: Great to see El Capitan back playing. Strong first half for Carles. Got a bit shaken up in the 54th minute as he seemed to hyperextend his knee. He came in for one minute but had to be replaced by Javier Mascherano.
Later, it was revealed that Carles Puyol suffered a knee ligament injury. He's out four to six weeks.
Grade: B+
Gerard Pique: A fine first half from Gerard. He continued his solid defending in the second half as Getafe crossed in the ball a bit more.
Grade: B
Javier Mascherano: Came in for an injured Carles Puyol in the 56th minute. El jefecito looked strong as he continued to cause problems for the Getafe counterattack. Unfortunately, Mascherano got an own goal against him in the 80th minute.
Grade: B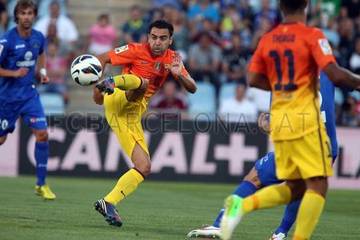 Photo courtesy of FCBarcelona.cat
Sergio Busquets: Yellow card for Busi in the 22nd minute. Not a bad game by Sergio. Busquets did the dirty work in the midfield, and that's what he's there for.
Grade: B
Xavi: With Messi and Iniesta out, the architect of the Barcelona attack had to set up his game and did. He controlled the flow and connected with Thiago and Cesc very well throughout the game.
Grade: A
Thiago: The next Xavi looked good in the first half as he controlled the attacking midfield for el blaugrana. Great play in the 26th minute as he got past the Getafe defenders and his shot hit the crossbar. Nice shot at net in the 30th minute and in the 33rd minute as Moya had to make the save. He came out for Lionel Messi in the 58th minute.
Grade: A-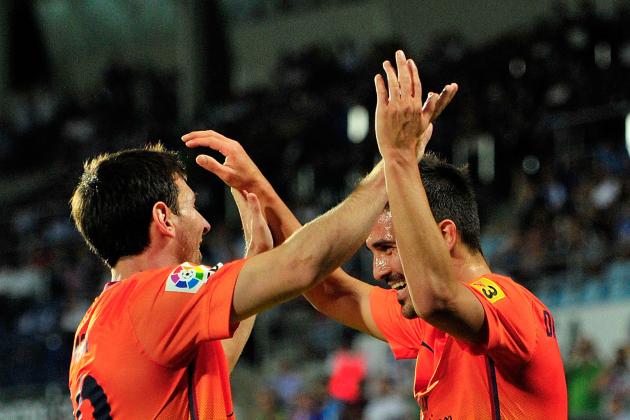 Gonzalo Arroyo Moreno/Getty Images
Leo and Villa
Cesc Fabregas: Cesc was terrific in the first half. He had a few chances at net in the first half, culminating with the sweet Adriano pass for the 1-0 lead. Fabregas continued his great play in the second half as he continued to find Tello, Pedro and later Messi with passes. A wonderful pass by Cesc to David Villa in the 89th minute to find Villa, who made it 4-1.
After a week of wondering if Cesc was unhappy at Barcelona, this was the kind of game Cesc needed for both his confidence and to shut up the critics (for now).
Grande Cesc! Way to bounce back.
Grade: A
Pedro: Great hustle as usual. He had a terrific shot in the 68th minute and got the penalty called in his favor it the 73rd minute. Solid game for Pedro as he's had a terrific start to the 2012-13 season.
Grade: B+
Cristian Tello: Nice shot by the kid in the opening minutes of the game. Tello displayed good passing as well. He took a good-looking shot in the 56th minute as he tried to curl it into the net and had a great chance just a minute later as he tried to put it to the right side of the net. He came out for David Villa.
Good game by the youngster. He's gaining confidence, and it's showing on the pitch.
Grade: B+
Lionel Messi: Came in for Thiago in the 58th minute. Messi was taken down in the 67th minute and it looked like a penalty. Messi got his goal from the penalty spot in the 74th minute and got a second goal just a few minutes later as a Montoya cross deflected off a Getafe player and found the feet of Lionel to seal the victory. A few times he looked like he might get his hat trick but was unable to. A brace is still terrific for a player who was on the bench for most of the game.
What more can we say about the greatness that is Lionel Messi. This game was just another reminder that we are witnessing perhaps the greatest footballer of all time.
Grade: A
David Villa: Came in for Cristian Tello in the 75th minute. El Guaje had the speed and he seemed hungry for a goal. His hunger was satisfied in the 89th minute as Cesc found Villa for the icing on the Barcelona cake.
As beIN Sport's Ray Hudson said during the broadcast, it was a vintage David Villa goal.
Grade: A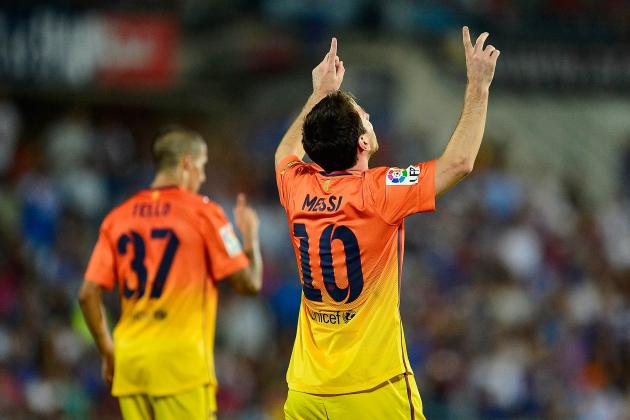 Gonzalo Arroyo Moreno/Getty Images
Grande Leo
As a team, FC Barcelona gets an overall grade of "A." The team showed strength in the first half thanks to Thiago, Xavi and Cesc's excellent play in the attack. Messi came in later to finish things off.
While it's always good to get a win, seeing Carles Puyol suffer another injury put a sour note on this game. All Culés wish a speedy recovery for El Capitan.
With Puyol being out, Tito will certainly rely on Javier Mascherano and Alex Song to set up in Carles' place. But the player all Barcelona fans hope gets plenty of playing time is Marc Bartra. He could be the centre-back of the future, and he needs more playing time.
Trial by fire begins now for Marc Bartra, Tito. No more excuses.
Barcelona will look to continue their winning ways this Wednesday as they take on Spartak Moscow in the UEFA Champions League group stage opening match at the Camp Nou.
Great win for FC Barcelona as they continue to be perfect in La Liga this season and remain on top of La Liga with 12 points. With Real Madrid's loss to Sevilla, Barcelona are now up eight points on Madrid.
Animo Carles. Get better soon.
Grande Barcelona! Leaders in La Liga and pulling away from Real Madrid and the competition.
Vamos!
Thanks for reading.
Remember, I will begin "FIFA Thursdays" every Thursday beginning September 27. I will be online from 10 p.m. to midnight ET playing against my readers.
So if you want to play against and beat me at FIFA 13, I'm on Xbox 360 and my username is Xoel7. Find me there. I look forward to beating many of you on FIFA 13. And you can guess which team I'll always pick.
It's a small way of saying thanks for checking out my articles and thanks for reading Bleacher Report.
Xoel, The Voice of FC Barcelona on Bleacher Report.
Don't forget to check out my other columns:
FC Barcelona: No Camp Nou on FIFA 13?
FC Barcelona: 4 Brazilian Players Barca May Consider Signing in January