New York Jets: 10 Players to Watch in Week 2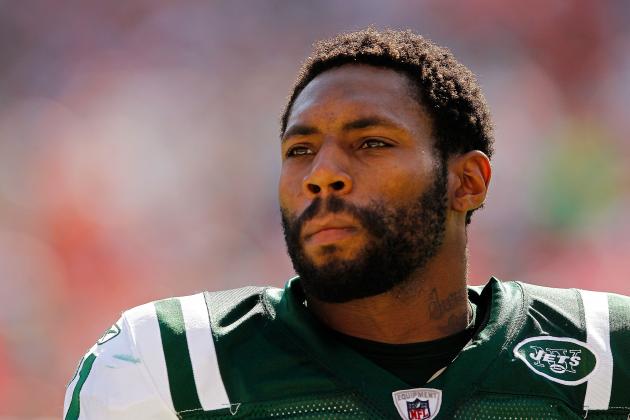 Mike Ehrmann/Getty Images

The New York Jets couldn't have asked for a better start to the season than their Week 1 demolition of the Buffalo Bills, but Sunday's matchup with Pittsburgh should provide a stiffer test.
New York will leave the friendly confines of MetLife Stadium for Heinz FIeld, the site of their AFC Championship loss in January 2011. That defeat showcased the Jet defense's struggles containing the power running game, an issue that should be at the forefront of Sunday's game as well.
The Jets' task will be made harder by the absence of several key players, none more important than star cornerback Darrelle Revis. Revis sustained a mild concussion against the Bills, and as a result, Gang Green will need to reconfigure its secondary this week.
The Jets showed last week that they can be a contender once again in 2012. Winning in Pittsburgh without Revis is a tall order, but the Jets can consolidate some of the positive signs from last week even if they do not emerge victorious on Sunday.
The following players will be critical as the Jets seek to overcome Revis' absence and extract a measure of revenge against the Steelers.
Begin Slideshow

»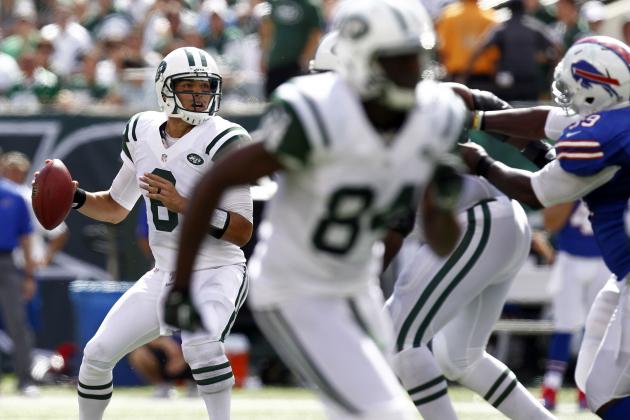 Jeff Zelevansky/Getty Images

Sanchez announced himself in a big way against the Bills, controlling the Jets offense and hitting for big plays while making few mistakes aside from an interception on the Jets' first drive. Sanchez looked comfortable all game, finding an open receiver on almost every play against the Buffalo defense.
Sanchez' job was certainly made easier last week by his offensive line. The Bills were rarely able to pressure the quarterback, and as a result Sanchez had plenty of time to survey the field and go through his progressions. It is unlikely that the Dick LeBeau-led Pittsburgh defense will afford the Jets the same luxury.
This is another important week for Sanchez, as people will be quick to dismiss his performance against Buffalo if he cannot follow up with another solid outing. If he wants to be the Jets' leader, he needs to play well in tough environments like the one he will face on Sunday.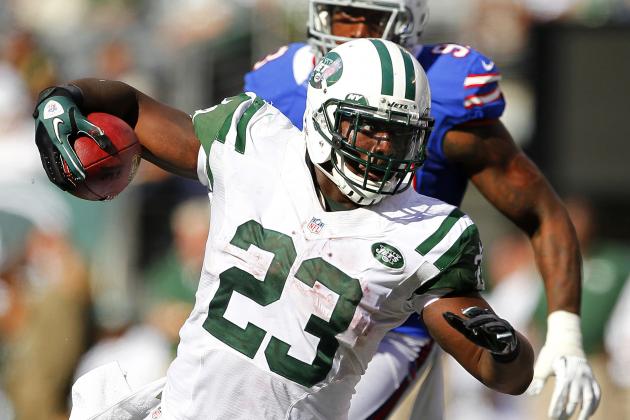 Rich Schultz/Getty Images

Greene did not have a particularly good day against Buffalo, needing 27 carries to gain 94 yards and providing most of his contributions once the game was already well in hand. He also fumbled, never a good sign for someone who has had ball-control issues in the past.
The Jets did not really need Greene last week; this will not likely be the case against Pittsburgh. Establishing the run will be a crucial component of the Jets' ability to slow down the Steeler pass rush.
This is an important season for Greene, who seems to always be on the cusp of establishing himself as a feature back but has not quite been able to make the leap. Like Sanchez, Greene needs to show up in big games this season.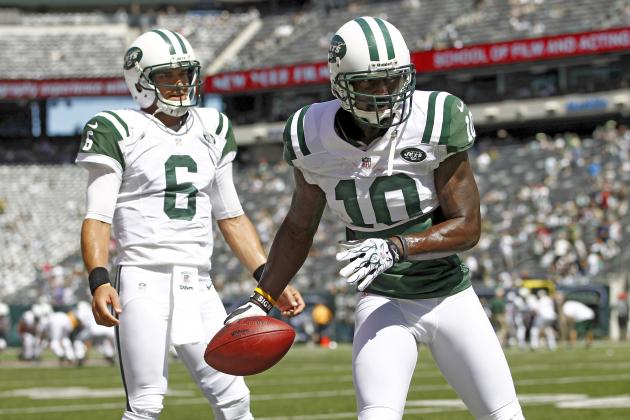 Jeff Zelevansky/Getty Images

With all the attention paid to Stephen Hill and Jeremy Kerley last week, Holmes' successful debut went largely unnoticed. He went for four catches for 68 yards. He also had a near-miss on a long would-be touchdown reception at the end of the first half as he was barely out of bounds.
All the better for Holmes, who should see more opportunities as defenses recognize that he is not the only weapon in Jets' passing game. If Hill starts to command double-teams, Holmes, who remains the Jets' most talented playmaker, will have a lot more freedom to operate.
As a former Steeler who was unceremoniously shipped to New York prior to the 2010 season, Holmes should have some added motivation this week. It wouldn't be surprising to see him have a big game.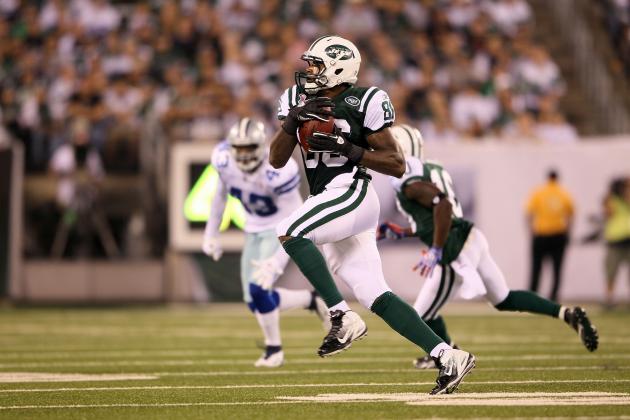 Elsa/Getty Images

With Dustin Keller sidelined by a hamstring injury, Cumberland should be the starting tight end this week. Cumberland showed his potential once again against the Bills, gaining 33 yards on three catches in fill-in duty.
Cumberland has the body and the agility to take over much of Keller's role. He is fully capable of both acting as a safety net for Mark Sanchez and beating linebackers down the field to make big plays.
Sanchez has always worked well with Keller, and it is important for Cumberland to develop the same relationship with his quarterback. Easy third-down throws against the blitz can go a long way for the Jets offense in this game.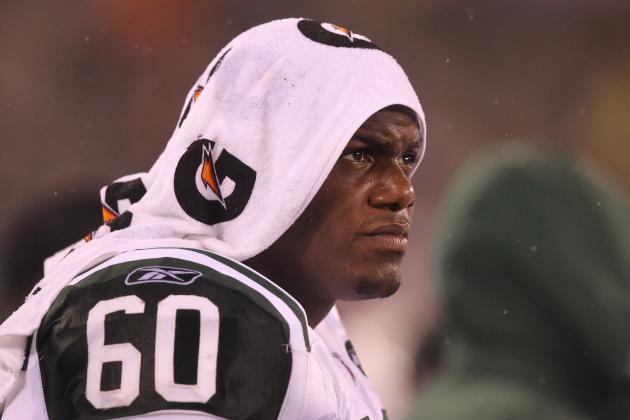 Al Bello/Getty Images

The Jets offensive line got off to an excellent start to 2012 last week, and Ferguson's strong game against Mark Anderson played a huge role.
Ferguson had some off games last season, perhaps as a result of scheme adjustments to support Wayne Hunter, but he remains an elite left tackle and a fixture on the New York offensive line. Solid play from Ferguson can help the line continue to protect Howard when necessary.
When Ferguson plays his best, he and Nick Mangold anchor a line that has the potential to be one of the best in the NFL. The Jets offense starts up front, and Ferguson and the line will be tested again Sunday in Pittsburgh.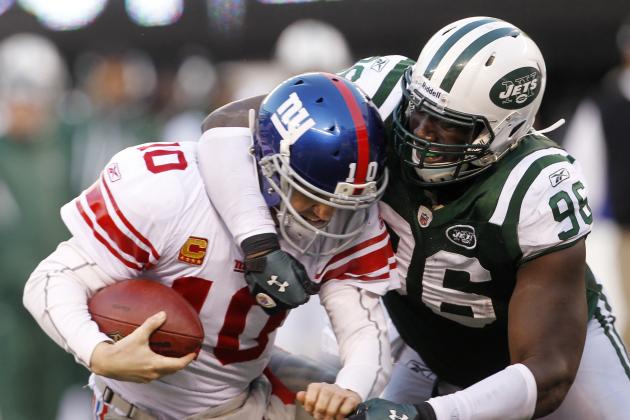 Rich Schultz/Getty Images

Wilkerson, touted as a breakout candidate throughout training camp, did not have his breakout game in Week 1. He and the defensive line pressured Ryan Fitzpatrick adequately and defended the run well initially, but it was the secondary that carried New York against the Bills.
The Jets need to put pressure on Ben Roethlisberger this week to help overcome the loss of Darrelle Revis, while at the same time limiting their blitzing in order to cover Pittsburgh's stable of receivers without their top corner. Wilkerson is capable of pressuring the quarterback out of the Jets' base defense.
New York will also need to combat Pittsburgh's power running game, an area where the defensive line was strong last week (C.J. Spiller had two long runs on sprint draws, and neither of the run was really the line's fault). A big all-around game from Wilkerson will help the Jets begin to offset the loss of Revis.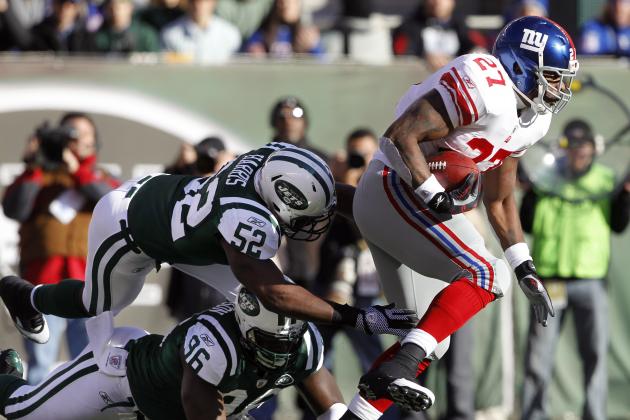 Rich Schultz/Getty Images

Harris is another player the Jets will ask to step up as they look to overcome Revis' injury. The Jets middle linebacker has been one of the defense's leaders for a while, and this role becomes even more important this week.
The Jets will undoubtedly change several of their schemes to account for the loss of their shutdown corner, and with Jim Leonhard gone, it falls to Harris to keep up communication and make sure everyone is in the right place.
Harris will also be expected to play an active role covering Heath Miller and plugging gaps against the run. He needs to have a complete game this week, as he often does.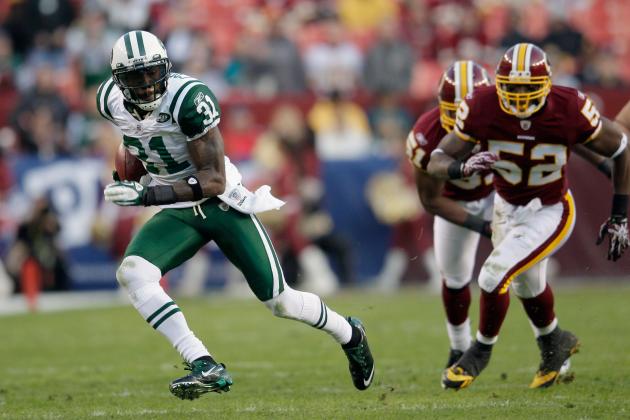 Rob Carr/Getty Images

Cromartie becomes the Jets' No. 1 cornerback in Revis' absence, and it will be interesting to see how much responsibility the Jets are willing to give him.
In Rex Ryan's system, the No. 1 cornerback is essentially isolated against the opposition's top receiver for the entire game, but the current form of that system was built around Revis rather than the other way around.
It would be surprising to see Cromartie receive as much responsibility, though Ryan's scheme is more effective when he can reduce the game to ten-on-ten.
The Jets may actually be getting a bit of a matchup break here because while Pittsburgh's receivers are very talented, Cromartie loves going up against players like Mike Wallace.
Wallace is primarily a deep threat, and Cromartie has been known to shut deep threats down. If Cromartie can cover Wallace one-on-one for much of the afternoon, it may be business as usual again for the Jets defense.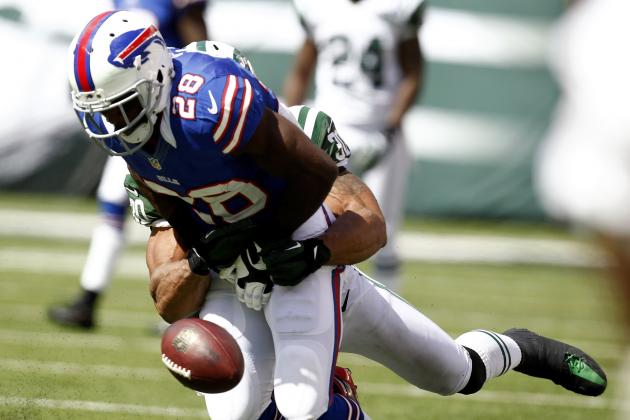 Jeff Zelevansky/Getty Images

Apart from one big missed tackle against C.J. Spiller, Landry was solid in his debut as a Jet. He clearly is a big hitter, and he showed no glaring issues in coverage either.
Landry's coverage capabilities will be tested this week as Revis' injury has put every member of the New York secondary on notice. Even if Cromartie can fill Revis' role, the Jets' cornerback depth will still be stretched, and Landry will undoubtedly be asked to bail out his teammates a few times.
Ben Roethlisberger is a dangerous quarterback capable of extending plays and converting big games. Landry will have to be careful to stay home and defend the Jets' back line.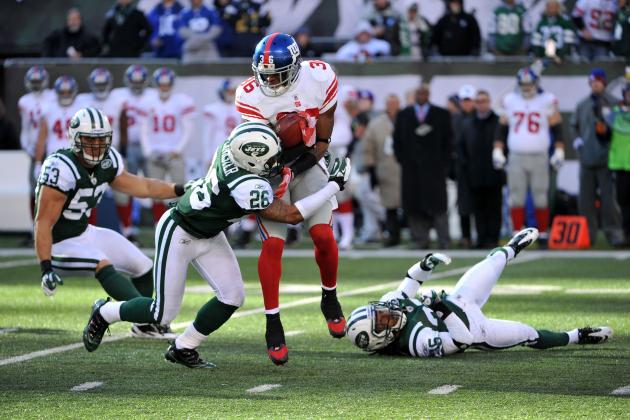 Christopher Pasatieri/Getty Images

Ellis Lankster will be the Jets' third corner this week, and similarly in Week 1, the Jets will primarily spend the game in nickel packages.
Lankster did not have a stellar 2012 debut, allowing a pretty easy touchdown pass to Scott Chandler in the red zone. Lankster's lack of size may be a concern, and the Jets will likely have to shade coverage to his area on the field.
It's all hands on deck for the Jets defense this week. Essentially, every player will have to step up his game in order to overcome Revis' absence against an elite quarterback. Lankster is no exception, and in his case, he will have to step up his game while seeing double or triple the number of snaps.