Jets vs. Steelers: 10 Keys to the Game for Pittsburgh
Ronald Martinez/Getty Images
For the Pittsburgh Steelers (0-1) and the New York Jets (1-0), Sunday afternoon's game will be of prime importance. For the Steelers, this will be an opportunity for them to face a possible contender and get themselves back on track after the heartbreaking loss to Peyton Manning's Denver Broncos in Week 1.
Here are 10 keys to the game for the Steelers.
Ball Control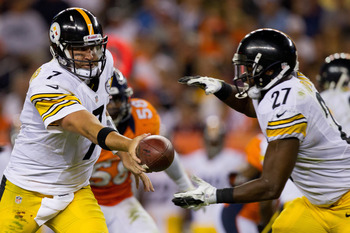 Justin Edmonds/Getty Images
What
The Steelers must control the clock in this game by holding onto the ball for long periods of time.
Why?
While no one is going to claim that the Jets are an explosive offense, they do have some great weapons in receiver Stephen Hill and wildcat quarterback Tim Tebow. These are guys who could hurt the Steelers if they get the chance.
Controlling the clock will prevent that.
I doubt that the lesson Peyton Manning taught last week about continuously using the no-huddle offense to tire out a veteran defense will be lost on the rest of the NFL. The Steelers had absolutely no answer for the no-huddle in that game. If they still don't, they need to stay off the field as much as possible.
Todd Haley's system showed up well in Week 1, proving that this team can still pass the ball a lot and control the clock effectively. The Steelers had one drive that lasted almost an entire quarter and several other lengthy ones.
The equation here is simple: control the ball, win the game.
Turnovers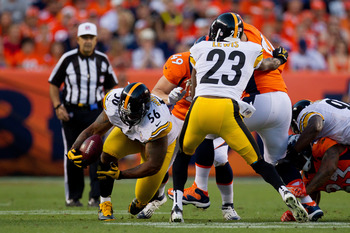 Justin Edmonds/Getty Images
What
The Steelers must force turnovers on Sunday. They must also take care of the ball themselves.
Why?
This is a key to winning any game against any team. If you look at any set of statistics, the team who wins the battle in this category almost always wins the game.
The Steelers were undone by two things in Denver. The first was their inability to generate a turnover once Peyton Manning went exclusively to the no-huddle. The defense had to focus more on base packages instead of exotic blitz and coverage schemes that cross-up a quarterback.
The other failing was a late interception by Ben Roethlisberger. I won't blame an entire loss on one play, but Roethlisberger needs to do a better job than he did on that throw. He stared down his receiver and he had to see Tracy Porter setting up to jump the route.
There's a video somewhere of Joe Montana staring down a receiver and then suddenly turning to his true target and firing a completion. That's something Roethlisberger should be doing.
Teams have come to respect the Steelers' talent at receiver. Now they have to be made to respect Roethlisberger's ability to read a defense. Usually, that ability is very good. On that play, it was poor.
Mark Sanchez is not Peyton Manning. He makes mistakes more often. The job of the Steelers will be to force him into those mistakes with pressure and good, smart coverage.
Pressure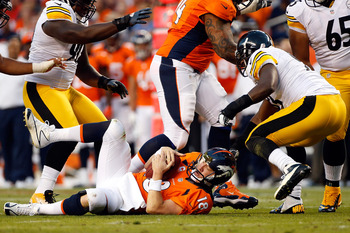 Doug Pensinger/Getty Images
What
Pittsburgh needs to generate continual and consistent pressure on the opposing quarterback.
Why?
The Steelers defense has always been predicated on a successful and vicious front seven. The work of James Harrison or LaMarr Woodley in conjunction with the defensive line has always taken the heat off a secondary that is rarely a priority when putting the roster together.
That has now twice come back to bite the Steelers against Denver.
I saw a lot of Casey Hampton on Sunday night. I won't say he didn't play well. He was his usual self and looks fully recovered from his knee injury. The problem is that he has never been athletic enough to generate good pressure up the middle.
Steve McLendon is good enough and athletic enough to bring that element to the team. He needs to be the every-down nose tackle. Pressure up the middle will force Mark Sanchez to the outside, where he's less comfortable, and likely into the pass rush of Woodley and Harrison.
Effective pressure creates turnovers. Turnovers will create opportunities for Pittsburgh and remove them for the Jets. It also will help mask the fact that Keenan Lewis and Cortez Allen are still learning to cover NFL receivers.
Blocking Success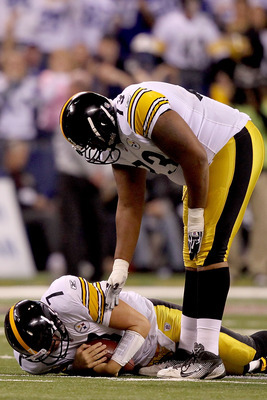 Matthew Stockman/Getty Images
What
Pittsburgh has to do a better job of delivering consistent blocking for run and pass plays.
Why?
The short answer is that if they don't, Ben Roethlisberger will be a heap of bloody flesh by November.
The longer answer is that the Steelers need to show the improvement they promised from the offensive line. They need to do it consistently and it needs to start this weekend at Heinz Field. Failure to do so will likely result in Mike Tomlin losing his temper and several players losing their jobs.
The only guy I will give a pass to from Sunday night is Max Starks. He played very well and handled solo duty with no major drop in production.
Willie Colon needs to cut out the penalties. Replacement officials or not, I'm tired of hearing that No. 74 committed a false start or held someone.
Maurkice Pouncey was effective but needs to do better when helping the guards. He doesn't always maintain good vision when doing that, which leads to openings in the middle of the line.
Ramon Foster and Marcus Gilbert should be back and they need to be. Doug Legursky and Mike Adams were failures in relief. Adams just isn't quite ready for the speed of the NFL game, and Legursky has never been as effective at guard as he is at center.
The three straight sacks to end the game bothered me. They showed a lack of either conditioning or effort. I'm not sure which, but that can't happen again. The game is 60 minutes—something the Steelers have seemed to forget in previous seasons as well.
Better blocking will lend itself to effective runs and bigger pass plays. The team cannot expect the runners to open all of the holes themselves or that Roethlisberger will always be able to avoid 11 guys trying to kill him.
Special Teams Success
Doug Pensinger/Getty Images
What
The Steelers must exploit any and all opportunities on special teams.
Why?
I would expect this game to be a fairly even battle. The Steelers' defensive problems neutralize their edge in offensive talent to some degree. In an even battle, special teams can break the tie.
The Steelers have Chris Rainey and Antonio Brown for returns. That's a dynamic and deadly combination, and one that can present different looks to an opponent. The Steelers need to make sure they block well in front of these elusive players.
Coverage units have been a major sore spot for this team for the majority of the last decade. While the new kickoff rules have neutralized the threat somewhat, the Jets have a good returner in Joe McKnight to contend with in this game.
We didn't get a really good look at coverage units or the return game against Denver. What we did get to see was impressive enough, but there needs to be more consistency to it.
With the winds at Heinz Field usually creating more havoc for kickers and punters, there should be opportunities to shine. The Steelers need to make sure they are the team that does that.
The Running Game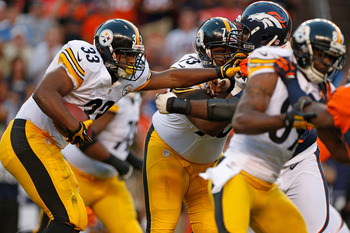 Doug Pensinger/Getty Images
What
The Steelers have to get more from their running game than they did in the first game of the season.
Why?
A productive running game helps the Steelers in many ways. It opens up the possibility of effective play-action, something that the Steelers have the talent to capitalize on with their wide receivers.
Ben Roethlisberger has a tremendous fake which can freeze a defense. Combine that with the speed at receiver and you can visualize some huge plays.
The Steelers didn't get a lot from the rushing attack against Denver. Part of that relates back to the blocking problems we've already discussed. Part of it is play selection.
My one beef with Todd Haley and previous coordinators is that they are slavishly devoted to the toss play.
It's not a high-percentage play for the Steelers and hasn't been effective since Willie Parker ran it. The Steelers don't have the right blocking scheme to make it work and they don't have the athleticism along the line to set the edge and keep outside linebackers and corners out of the play.
The Steelers have attempted the toss with guys like Jonathan Dwyer and Isaac Redman. Neither player is fast enough to exploit an opening on the edge. Both are more effective on off-tackle or inside runs. Chris Rainey would be the guy I'd use, but even then I think the toss is an unnecessary play.
Screen Passes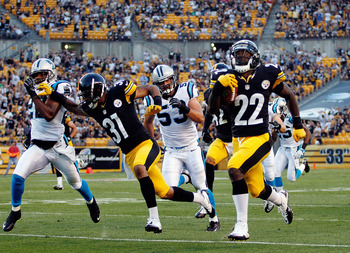 Justin K. Aller/Getty Images
What
The Steelers need to use screen passes against the Jets to cover weaknesses and set up other plays.
Why?
During the preseason, screen passes seemed to be the most effective part of Todd Haley's offense. They were used as substitutes for running plays at times, and Ben Roethlisberger and the runners showed a great talent for running them correctly.
The Jets like to bring pressure and they like to blitz regularly. That can be exploited by screen passes to receivers or running backs. The Steelers' receivers can block pretty well, likely thanks to Hines Ward's teaching over the years, so screens can become huge plays.
Effective screen passes early will force the Jets to pull back on some blitzes. That will also help cover for the continued growing pains along the offensive line.
Another happy side-effect of this will be that the Jets will expend more coverage on the backfield and less on the receivers and tight ends. This could really be a big boost for Heath Miller, who seems to find a way to get open all the time. This could give him even more space.
Screens will also open up the deep ball by bringing safeties up for support on some plays. This will be especially true if Haley disguises his screens as run plays.
Cornerback Coverage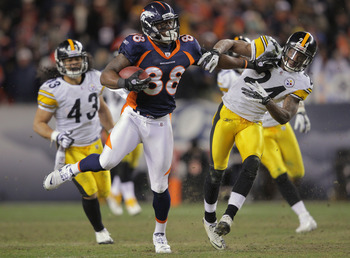 Doug Pensinger/Getty Images
What
The Steelers need to alter the way they approach coverage from their corners.
Why?
This has become a problem after the two games against Denver left the Steelers' corners looking poor.
Beyond Ike Taylor, the team does not have a corner who is really good at playing zone. Keenan Lewis doesn't have the speed to close a gap and take away a pass. Cortez Allen is still learning the nuances, but he showed promise in the preseason. The problem is that the Steelers need these players to step up now.
The solution is to put Lewis in man coverage regularly. He can stay with receivers and he can be physical. He does make mistakes with penalties sometimes, but that usually only happens when he's out of position and trying to close a gap. If he is on them from the start, he's okay.
Taylor didn't have his best game either, but I was most disappointed with how the Steelers used the corners in blitz situations. When did it become okay for a blitzing corner to pull up and try to deflect the ball?
A good quarterback is going to exploit a blitzing corner if they get the ball off in time. The Steelers need to either use a nickel guy to roll over to cover that in zone or they need to make sure the corner finishes the blitz.
Inside Blitzes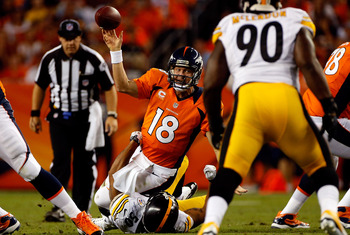 Doug Pensinger/Getty Images
What
Pittsburgh should use the speed at inside linebacker to blitz more from those positions.
Why?
We talked near the beginning about pressure and the importance of creating it. Building on that theme, the Steelers can use the athleticism of Steve McLendon and combine it with the work of their inside linebackers to create a real problem for an offense.
Most quarterbacks cannot recover from pressure up the middle. To this day, I'm convinced that it is the only way to beat a guy like Tom Brady.
Except for someone like Roethlisberger or Michael Vick, who can be effective outside the pocket, most passers don't respond well to being flushed out.
Mark Sanchez is a guy who isn't nearly as good when running with the ball as he is when he is able to pass from a clean pocket.
The Steelers have a pair of inside linebackers who are good at getting penetration, but the focus has always been more on blitzes from the outside. That should shift some to include regular blitzes by both inside linebackers. This would be particularly useful on third down situations where passes are obvious.
The need for a sack isn't as great as you'd think. Sometimes, the best way to force a turnover is to get heavy pressure and then just barely miss the sack. Quick decisions are rarely the best ones. The Steelers need to get Sanchez out of his comfort zone.
Playing the Full Game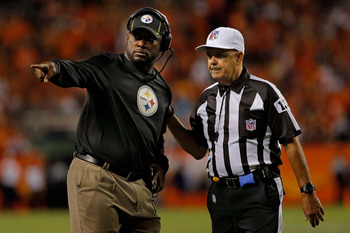 Doug Pensinger/Getty Images
What
The Steelers need to finish games. Too often, they have played only three quarters or have fallen apart very late.
Why?
I complained about this last season. I complained about it last week. This is a team that just doesn't know how to play 60 minutes of football on a weekly basis. There are too many times where a game suddenly got out of control in the fourth quarter.
Against Denver, it started a little earlier, but it was still aggravating to see the Steelers fight their way to a lead and then blow up.
Mike Tomlin doesn't like it, but he is the one who needs to change the culture on this one. I know the defense isn't as young as it used to be, but they aren't dragging walkers out there either. The offensive line is young, but that doesn't mean that they can decide that the last possession of a two-touchdown game doesn't matter.
Tomlin talks a lot about things like maximum effort and preparation for success. The Steelers don't show it consistently in games, however. They let penalties define a drive. They can't recover from mistakes. They lose focus late.
It's time for this to change. I would expect some focus on this issue after last week's game got away from them late.
Keep Reading

Pittsburgh Steelers: Like this team?