Indianapolis Colts: 5 Things We Learned About Andrew Luck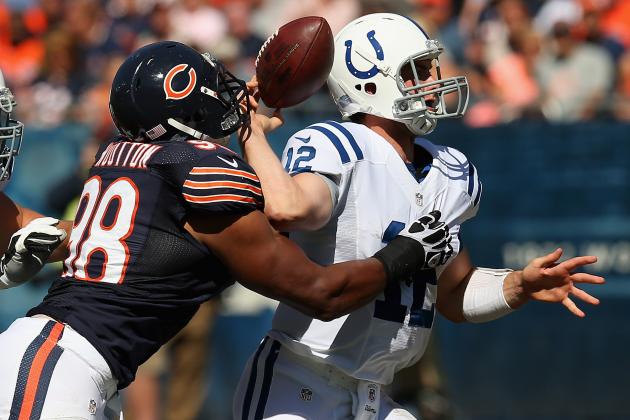 Jonathan Daniel/Getty Images

Being the No. 1 overall pick comes with some high expectations. Former top picks Sam Bradford, Cam Newton and Matthew Stafford can attest to that, but Andrew Luck's situation is a little different.
Luck is taking over for Peyton Manning in Indianapolis. Manning was the centerpiece of the Colts franchise for 14 years and is arguably the best quarterback the in NFL history.
Luck's debut was far from perfect. He completed 23 of 45 passes for 309 yards and a touchdown, but was intercepted three times.
It's easy to overact after Week 1, but there were some things to take away from Luck's first start at the NFL level.
Here are five things we learned about Andrew Luck after his Week 1 performance.
Begin Slideshow

»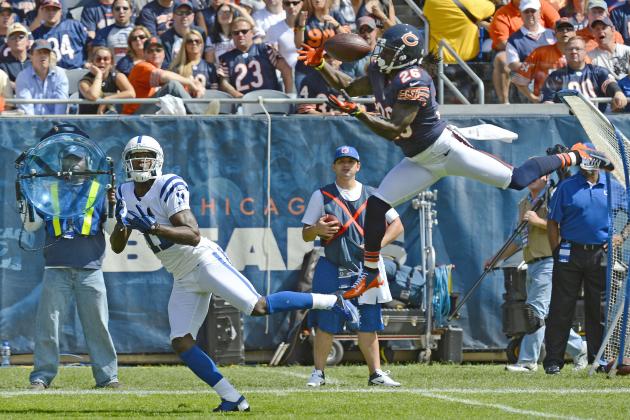 Mike DiNovo-US PRESSWIRE

The NFL is not the Pac-12.
Andrew Luck threw three interceptions Sunday, but two of them were incredible plays made by the Bears secondary.
Luck cannot take the chances he did in college. While he may have been able to get away with an under thrown ball at Stanford, defensive backs are the best-of-the-best in the NFL—Tim Jennings and Chris Conte showed him that.
Despite being touted as "pro ready" when coming into the league, Luck looked far from that against the Bears. It will take at least a few more games for Luck to fully adjust to the skill and speed in the NFL.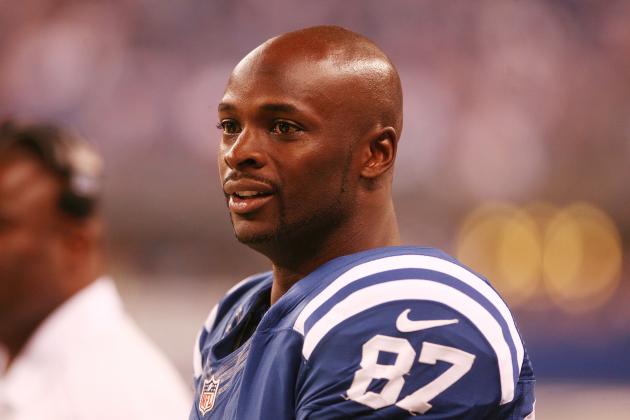 Mark Zerof-US PRESSWIRE

It looked like the Colts were going to do a clean sweep of their veterans in the offseason and start fresh, but it is a good thing the team kept Reggie Wayne around.
Wayne was targeted 18 times by Luck in Week 1, tied for an NFL-high. He caught nine of those balls for 135 yards.
All rookie quarterbacks need a safety net, and after Week 1 it is safe to assume that Wayne will be that for Luck. Wayne may not be the talent he was during the golden years in Indy with Peyton Manning around, but he is more than capable of being a leader and reliable target for Luck.
With the lack of talent the Colts have at the receiver position, Wayne's importance in the development of Luck cannot be understated.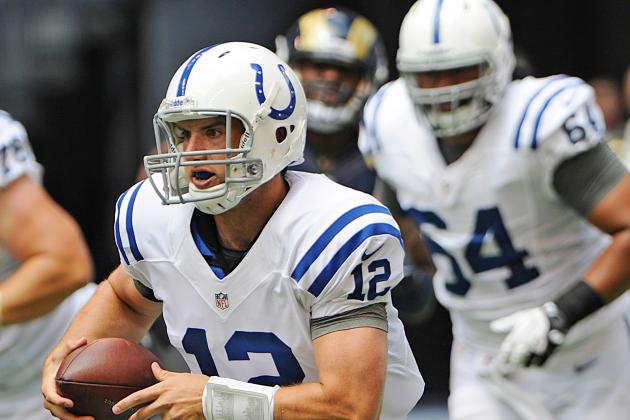 Jamie Rhodes-US PRESSWIRE

Luck won't put up Robert Griffin III or Cam Newton-like rushing numbers, but he has enough speed and agility to escape pressure.
Luck had two carries for nine yards Sunday. He also found himself on the ground multiple times. Luck was sacked three times, with one of those sacks turning into a lost fumble.
The ability Luck has with his feet is similar to Tony Romo. He won't pick up the big yards, but he will be able to extend plays—something he will have to do a lot with the shoddy offensive line he has in front of him.
Luck was facing the veteran-laden Chicago defense. Guys like Julius Peppers, Brian Urlacher and Lance Briggs are savvy veterans who know how to pressure the quarterback.
Hopefully Luck will have a little more time in the pocket in the weeks to come.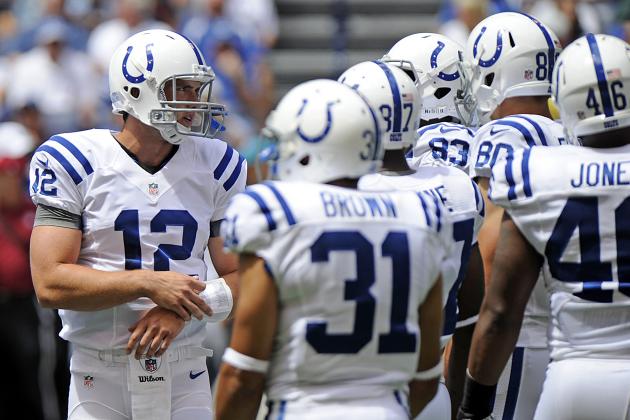 Jamie Rhodes-US PRESSWIRE

Despite being picked off, fumbling and repeatedly knocked down, Luck continued to get up and be a leader for his team. He remained poised in the pocket and it was evident that he was respected in the huddle by his teammates.
Luck gave some insight during an interview with Men's Health into what he thinks being a leader in the NFL entails:
Just because you're picked high, or young, or in somewhat of a leadership position, doesn't mean you know everything—by any means at all. I think there's a lot to be learned from your teammates and older guys around you. And there are many ways to lead. You don't have to change your personality to be a leader.
The first overall pick is still not proven, but it is only a matter of time before he is wearing a "C" on his jersey.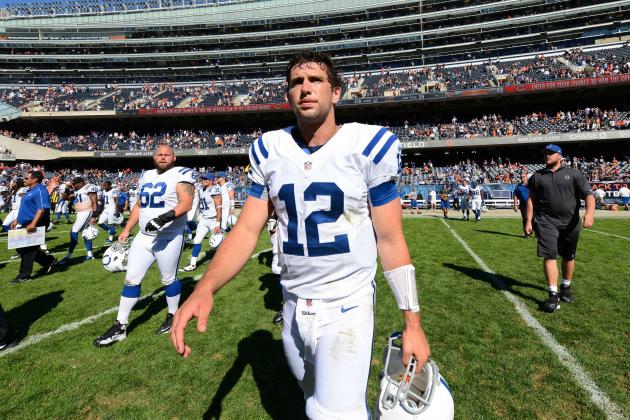 Mike DiNovo-US PRESSWIRE

While there was a lot of bad in Luck's debut, there was some good to take away from it.
Luck has little around him in Indy. He has an incompetent offensive line, a lack of talent at receiver and in the backfield, and a defense that provides little support. Despite that, Luck still threw for over 300 yards in his first NFL game.
Luck had nearly identical numbers in his debut to Peyton Manning's. In his NFL debut, against the Miami Dolphins, Manning was 21 of 37 for 302 yards, one touchdown and three interceptions. Luck was 22 of 43 for 309 yards, one touchdown, three interceptions.
Eerily similar.
Manning worked out pretty good for the Colts, and Luck will too. He is too good not to.
If the franchise continues to grow and put weapons around him, his potential is limitless.