Tampa Bay Buccaneers 2012: 8 Takeaways from Week 1 Win over Carolina Panthers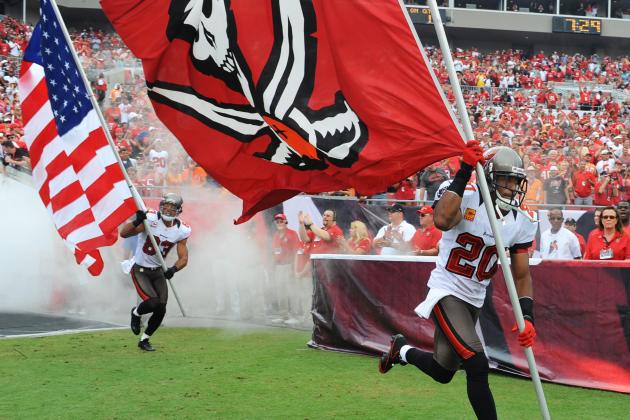 Al Messerschmidt/Getty Images
Ronde Barber led the Buccaneers in many ways during Tampa's week 1 victory.
At the beginning of every NFL season, all 32 teams are surrounded by questions. Whether good or bad, Week 1 can provide several takeaways which can help answer those questions. These are the eight most glaring takeaways from the Tampa Bay Buccaneers' week one win over Cam Newton and the Carolina Panthers. (These slides are in not in any particular order.)
Begin Slideshow

»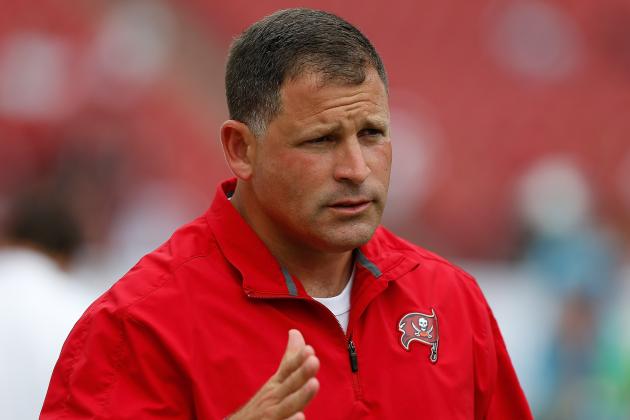 J. Meric/Getty Images
Discipline is the key in 2012
Last season Bucs fans may recall what could easily be considered the worst stretch of football in franchise history. Losing their final ten games, Tampa Bay put on a clinic of anti how to videos on playing winning football in the NFL.
Far be it from this writer to claim that the team quit on, then coach, Raheem Morris. But it does not take John Madden to see that several players looked very different in their first regular season game under first year head man Greg Schiano.
Schiano came in with a glowing recommendation from one of the league's best coaches, Bill Belichick. The Patriots coach has drafted several Schiano coached players, including Vince Wilfork and Devin McCourty. Even leading the often cryptic Belichik to rave about Schiano explaining, "He knows what he is doing. He will be fine."
Yes, that is a Belichick "rave".
The proof however was on the field, not only in the win column but also in the stat line. The Bucs allowed only 10 rushing yards to a team which ranked third in the NFL in rushing last season averaging more than 150 yards per game. This coming from a defense which last year gave up 10 yards every two plays on the ground.
Also, let us not forget the zero turnovers and zero first half penalties for Tampa Bay. The winds of change have surely caught this pirate ship's sail.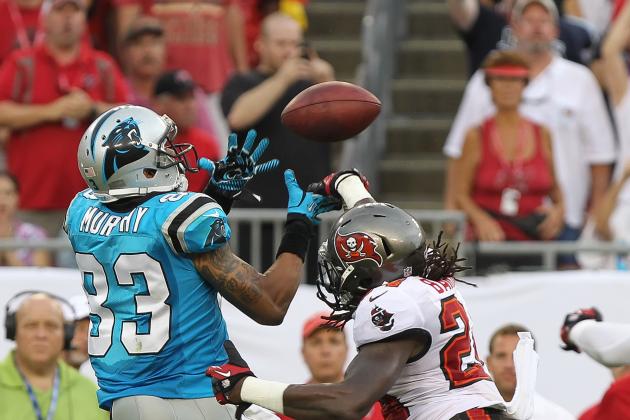 Kim Klement-US PRESSWIRE
This play may have cemented the Tampa victory
After one week, this writer has no problem proclaiming that this is the best safety tandem in Tampa Bay since the 2000's Super Bowl winning tandem of John Lynch and Dexter Jackson.
Ronde Barber may have technically started his 200th straight game at cornerback (lining up in the nickel position on the opening play) but he proved Week 1 that his position should have been safety for the last few years.
While Barber regressed at corner back, fans suffered through the likes of players such as, John Howell, Will Allen, Jermaine Phillips, Sabby Piscitelli, and often suspended Tanard Jackson. Sure some of these guys showed flashes, but moving Barber back would have most likely helped solidify the secondary years ago. Barber was dominant on Sunday, recording a sack and an interception, in addition to providing the spark of showing up to play on a day named after him.
Barber's leadership and football knowledge is a perfect compliment to the young physical dynamo and first round pick Mark Barron. Barron made some mistakes in coverage, completely blowing coverage on Carolina's lone touchdown. However, his support in the run game along with his ability to close in space provided a back end stopper that Tampa has not seen since Lynch. Plus, did you see that hit he put on Steve Smith?
One game or not, the writing is on the wall, Barron has all the makings of an all-pro.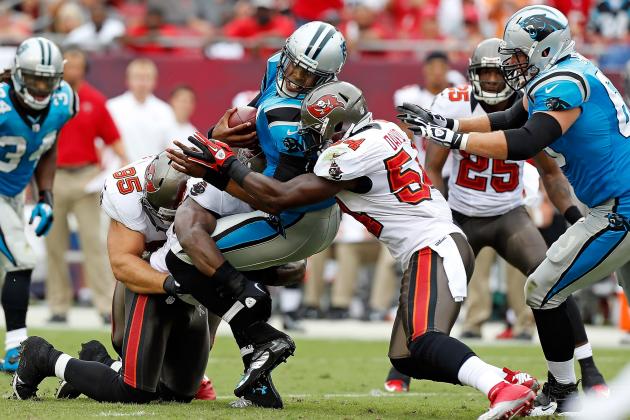 J. Meric/Getty Images
Lavonte David helped make Cam Newton very uncomfortable week 1
Last year, Mason Foster was highly touted by coach Raheem Morris taking over as middle linebacker for Barrett Ruud.
Seemingly overwhelmed with the responsibilities of playing his position, commanding a huddle and calling all the defensive checks Foster looked less than impressive and was constantly victimized in both the run and the pass.
Fast forward to 2012, a new rookie, Lavonte David has been given the responsibility of being named "the dot" of the Buccaneers defense by Schiano. "The dot" means that as the Buccaneers lone three-down linebacker, David wears the only helmet on the field with radio communication with the coaching staff. Not only did David handle the responsibility well, but led the team in tackles with six (four solo).
This is something that Foster could not do last year, and judging by his improved play against Carolina the burden being lifted from his shoulders was a positive. Playing the weak side linebacker position once occupied by future Hall of Fame shoe-in Derrick Brooks, David has already provided a giant sigh of relief in Tampa.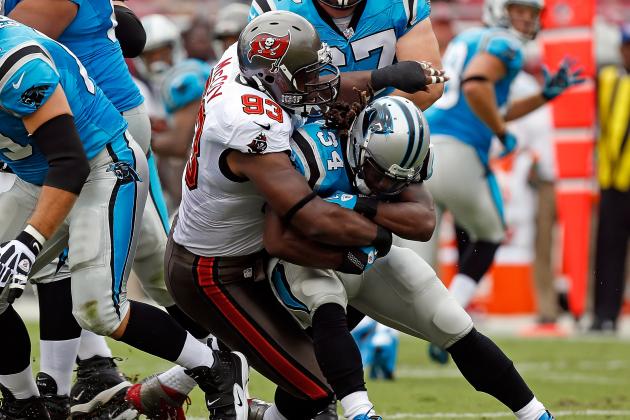 J. Meric/Getty Images
McCoy is the key cog among the Bucs D-line
Since entering the NFL as the third pick of the 2010 NFL Draft, Gerald McCoy has been a constant subject of disrespect among both media and fans in Tampa.
While concerns over tearing both biceps and ending his first two seasons on IR are warranted, McCoy is a stud. Just looking at the team's record when he plays, 12-8, compared to when he is out, 3-10, proves that. Even more so last Sunday however, McCoy showed just how dominate he can be. McCoy led the Buccaneer defense issuing multiple hits on Newton, including one sack.
He also contributed with two tackles for a loss. McCoy was inches away from recording a second sack, but Newton was able to slip his grasp. For the Bucs to duplicate the type of defensive production they showed against Carolina, McCoy must be healthy.
With the exiling of Brian Price and expected starter Amobi Okoye in the preseason, defensive tackle lacks depth in a bad way.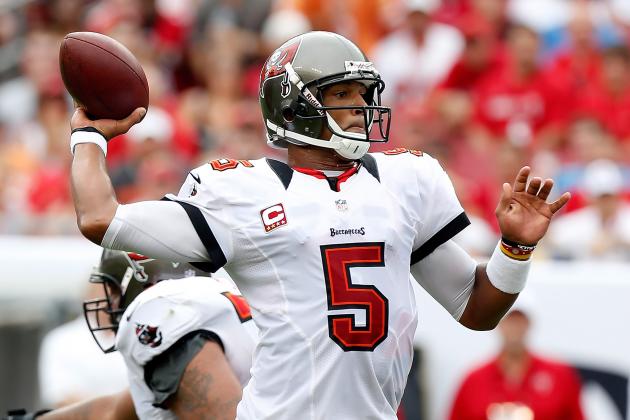 J. Meric/Getty Images
Freeman should be on board for the "ball control" offense
Twelve. That is the number of times that Tampa Bay scored 16 or more points in 2011, the total amount of points the Buccaneers put up in Week 1. Those 16-plus points allowed four total victories last year. The team has already amassed 25 percent of that total after one game.
Sixteen. That is the number of games where quarterback Josh Freeman accumulated more than 138 yards through the air in 2011, the number he reached in Week 1. He never once threw less than 27 attempts last year, while he only threw 24 passes on Sunday.
According to Pro-football-reference.com, Freeman threw an interception on a gaudy 4 percent of his passes last year. While this seems to be an outlier and something that should not continue, if Freeman found middle ground between that number and his amazing 2010 figure of 1.3 percent, at say 2.5 percent; 24 passes per game would give Freeman a final figure of less than 10 interceptions.
For those of you who are not mathematicians, 10 is greater than 22, at least when you are counting interceptions.
With the addition of a formidable running attack geared behind rookie Doug Martin, free agent acquisition D.J. Ware, and perhaps a smattering of LeGarette Blount, the pressure can be taken off of Freeman's shoulders. As we have seen in the past Freeman is at his best in the fourth quarter, but in order for that quarter to mean something, games have to be close.
Even if the game plan is focused around the ground game, Freeman will get his chances. When opposing defenses begin to respect the running attack more, things will open up for players like Vincent Jackson and Mike Williams. Not to mention Dallas Clark, who made a living off of the play action in his years with Peyton Manning.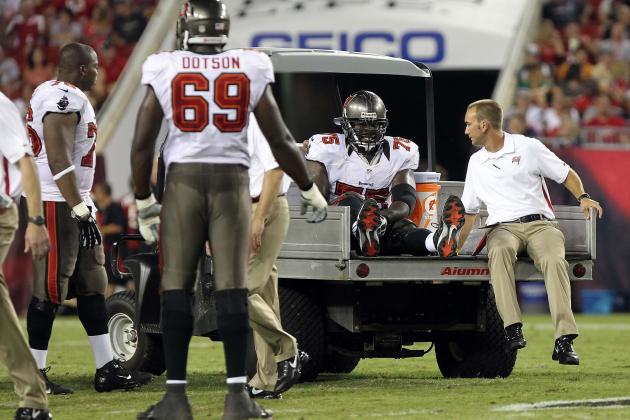 Kim Klement-US PRESSWIRE
Without Joseph the entire offense is in jeopardy
When Davin Joseph went down with a season ending knee injury in the preseason, you could hear the collective sigh from Raymond James Stadium in St. Petersburg. Hopes were the highest they have perhaps ever been for the Buccaneers offensive line. Combining Joseph and Pro Bowl left tackle Donald Penn with the best guard in football, Carl Nicks via free agency gave this unit instant credibility.
After Week 1 versus a pedestrian defensive line in Carolina, Joseph's replacement, Ted Larsen was exposed. Most Bucs fans may not notice how badly Larsen was abused, but when you play high school football with a guy who now starts in the NFL, eyes tend to follow them.
It was obvious that the coaching staff seemed unnerved after Joseph's injury by the retreads and unknown rookies that continuously got plugged in with the first and second teams in practice and the final preseason game. The final verdict was undoubtedly the correct one, as Larsen was still the best available option. Making matters worse are the declines Jeremy Trueblood takes when Joseph is out of the lineup.
If the right side of the line does not live up to the play of Penn, Nicks and center Jeremy Zuttah; one of the strengths coming into 2012 could quickly become a glaring hole.
Is Aaron Sears back yet???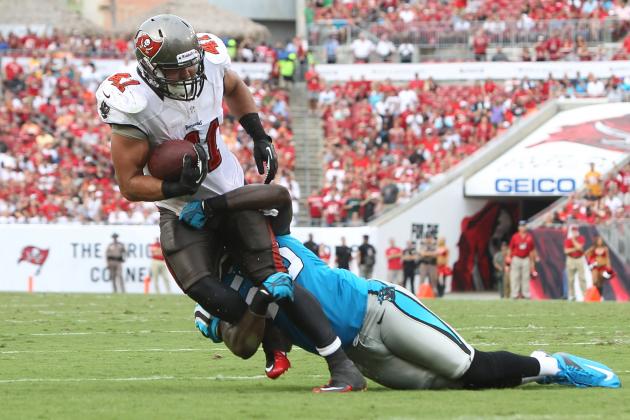 Kim Klement-US PRESSWIRE
The lack of explosiveness on this play near the goal line was troublesome
Early in the second quarter Tampa offensive coordinator called a masterful series which the team executed to perfection moving 91 yards from their own 8-yard line to the Carolina 1-yard line.
Then on third and what looked like less than a yard to the end zone, up 10-0 for the first time in what seems like a year and a half, Sullivan called a pass to fullback Erik Lorig.
This was confusing to say the least. Leave it to the coaches to make those calls, but we can all be sure that Lorig should not be getting more touches around the goal line. I can't imagine Tom Coughlin and the Giants' staff are staying up this week game planning for Lorig and his lack of elusiveness.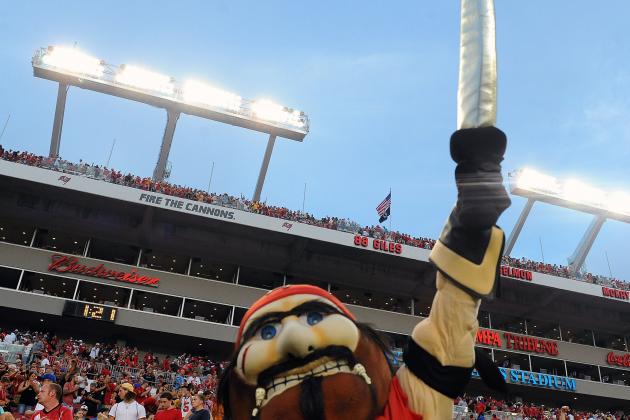 Al Messerschmidt/Getty Images
Look out NFC South
Judging by the lack of national media attention you might not be aware, but the Tampa Bay Buccaneers are tied for first place at 1-0 and looked pretty darn good in doing that. Funny to think nobody around the country cares about how Super Cam got shut down.
That's Tampa for ya!